We

take a look

at the

challenges and

opportunities that lie on the road to integration for multimodal, multi-operator bus

ticketing
In 2019, the announcement of the National Bus Strategy for England set out aspirations for 'turn up and go' services, feeder networks, and integration not just between bus operators but with other transport modes. 
Beneath that are commercial and operational challenges that must be tackled to make collaboration not just necessary, but attractive, in a world where private companies have long held autonomy over decision-making.  
We examine areas where interconnection has been rolled out successfully, what it took to make it work, and what comes next for connected services. 
A commercial case
A lack of incentive for shared ticketing prior to the National Bus Strategy does not mean operators had not sought it out before. In many cases, schemes have already been developed by operators.  
Robert Montgomery, former UK Managing Director Bus for Stagecoach, gave a presentation at the UK Bus Summit on 12 February 2015 on how multi-operator smart ticketing could be delivered commercially in partnership between operators and local authorities in all nine city regions in England.  
The summit came at the point when smart ticketing was just being rolled out within the industry, a moment of rapid change for operators. It gained momentum after government support saw distribution of funding to local authorities for the pursuance of such schemes. However, major operators were already looking to smart ticketing, and Robert notes the problems that the involvement of local authorities brought.  
"Some weren't big enough to handle it," he says. "Some weren't interested. And some seemingly wanted to change the whole world with their schemes. In parallel with that, operators were beginning to deploy smart tickets themselves. It got messy." 
Robert highlights that the high number of transport authorities in England complicated efforts of interconnectivity, so operators took the lead instead.  
Oxford provided the fertile ground for such schemes to take off. The local authority brokered an agreement for more joint services between Stagecoach and Go-Ahead. At the heart of that was a desire for one travel card and one weekly ticket that could be used between operators. "That was the beginning of something," explains Robert. "Representatives from Go-Ahead and Stagecoach sat in a room, both with their own smartcard systems and both on the ITSO standard, and asked how to make those tickets interchangeable in order to develop a joint ticketing scheme in Oxford." 
Beyond that, a desire emerged for a multi-operator smartcard in Tyne and Wear, which involved Go-Ahead, Stagecoach and Arriva. The same exercise done in Oxford was applied to Tyne and Wear. Merseyside came next, with Arriva and Stagecoach. Work was done to integrate a smartcard system for the city's rail requirements into Arriva and Stagecoach's systems to create an interconnected Merseyside scheme.  
Similar exercises followed in Sheffield and in Manchester. The latter demonstrated how smaller operators could get on board with such schemes, too. "We said to Transport for Greater Manchester (TfGM) that we had no problem with having all operators in the scheme," says Robert. "The real blockage was that they didn't have their own cards or facility.  
"We agreed with TfGM that if it wanted to provide any small operator in Manchester with smart ticketing equipment, we wouldn't object, within reason. It was in our interest, as well, to have multi-operator shared ticketing. We would also send our engineers to ensure the machines communicated if they didn't work properly to make it as easy as possible for smaller operators." 
In those schemes, when it came to fare apportionment, each operator had its own weekly ticket. In roundabout terms, if a single-operator ticket price was set at £9, it was agreed to add an additional pound premium to make that ticket a multi-operator ticket, giving access to any operator.  
Revenue sharing from that had two elements. The first was the cost to retail, through provision of cards and other costs incurred, where a payment was given from the scheme to cover that retail cost. The rest of the revenue was then shared between the operators based on travel – generally by journey.  
"In an urban area of that sort, that was OK," Robert says. "The average fare for a journey in Manchester, Leeds or Sheffield doesn't vary hugely by distance – they tend to home in on the same kind of value as a cash transaction – so simply taking the revenue and spreading it was broadly accurate, backed up by surveys." 
What this exercise established was that technology was not a barrier to such smart ticketing schemes – the barrier in any multi-operator scheme had been around commercials and politics.  
"All those schemes happened, and happened very quickly," says Robert. "There had been very little progress when it was all down to local authorities. Ticketing expertise wasn't their core skill – it was ours. We were able, as operators, to make it work far better." 
Political barriers
In South Yorkshire, where Stagecoach operates both the Supertram system and a significant portion of the bus network, integrated ticketing was successfully implemented. Not only did it produce a single-operator, multimodal ticket – allowing seamless travel between a Stagecoach tram in Sheffield and a bus – it also worked in conjunction with TravelMaster, the local authority scheme, to include multiple bus operators in the initiative.  
However, efforts to integrate the Manchester Metrolink tram system with bus schemes faced a more turbulent path. Political and revenue-driven concerns led TfGM to resist incorporating Metrolink into a multimodal scheme that mirrored bus fares, given the hefty government grants it had received for Metrolink. 
That landscape has shifted in recent years, with multimodal bus and tram tickets being available prior to the launch of the Bee Network, albeit at a premium. As Robert emphasises, the technology required for this integrated approach is available. But the true challenge remains in navigating political and commercial landscapes. 
Robert recalls efforts between 2015-2016 by the five major bus groups to bring contactless capped ticketing to all the UK's major cities. These efforts, ambitious in their scope, resulted in informal government consent. Proposed was a criterion that only buses equipped with contactless systems would be permitted to operate registered services. A target date was set for 2022, to coincide with the expiry of existing smart ticketing technology, to make a transition easier. However, despite the groundwork and potential, politics intervened. 
Efforts to merge those plans with work on similar initiatives being undertaken concurrently by Transport for the North (TfN) stagnated. Robert notes that the complications of blending a national proposal with one funded for a specific region led to an impasse.  
"TfN had government money to fund what it was doing, and trying to get to the stage where that money could be used for a national scheme, and not just for a northern scheme, led to it all getting bogged down." 
Success requires buy-in
In other areas, partnership between local authorities and operators has been lauded as a great success. Leicester City Council is one example which has been vocal about its wins on Enhanced Partnership (EP) aims, as well as patronage recovery on its bus services.  
Leicester has one of the first multi-operator tap on, tap off (TOTO) ticketing scheme. Other areas with multi-operator capping only use single fare scales.  
TOTO is only one variant of broader ambitions of multi-operator ticketing. A range of tools and different product types make up variants of a flexi ticketing scheme that has existed several years in Leicester (revenue stayed where it fell on those original paper-based multi-operator tickets, with no apportionment – a limit of the technology at that time). The single zone scheme now allows customers to buy multi-operator tickets in advance, on bus or through mobile phone applications, or using TOTO, where the flexi price is charged retrospectively. 
That money goes into a single trips data and revenue pot. Graduated fares in Leicester mean flexi tickets bought in advance are valued at the same amount, while tapping in and tapping out is required, adding up trips on different fares until it reaches a single-operator cap.  
For TOTO, single-operator capping is combined with multi-operator capping on the same platform. Each trip is valued at the cost of that journey until it adds up to a cap. When it hits the single-operator cap, that revenue is distributed to the operator concerned to be divided out internally how it feels appropriate. When the revenue meets the multi-operator cap (where trips are then valued at the same amount), the money is sent to the multi-operator pot, and distributed pro-rata by the number of trips.  
"TOTO is a different system because it works out fares according to what operator/distance is made all the way through the day and the week, so if you only travel on one operator on a given day, it will work out what the best fare is for that operator," says Andrew Gibbons, Programme Manager (Buses) Transport Strategy and Programmes at Leicester City Council.  
Leicester had the advantage of an existing flexi scheme and the process of collecting in data on usage and money on a record basis, where money and usage is pooled and reconciled every quarter based on what each operator is owed according to proportionate trips given by usage data. Each keeps its own revenue to the point of operational matters, but operators are invoiced if they owe money into the closed pot. Those operators that owe money pay it to the council, which then pays it forward to operators that are owed money.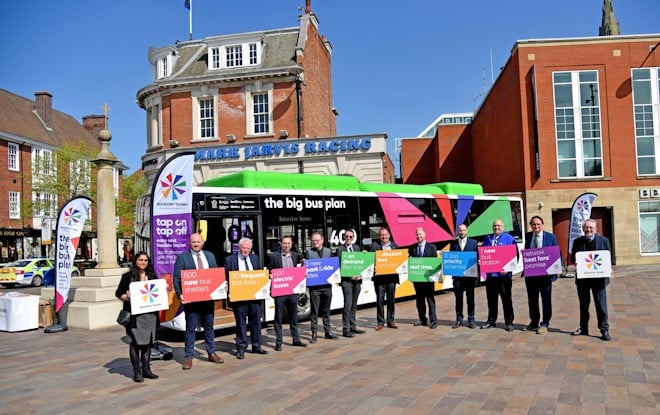 "We got the trust of the operators that we were doing it properly," explains Andrew. "We've got a clearance and revenue reimbursement system in place and a legal agreement that everyone was happy with. We'd already expanded the number of flexi products and the different platforms you can get on mobile phone as well as on the bus, and we'd already got it on smartcard at the time. We also increased the range so that it included student, child and adult.
In 2019 we agreed a roadmap based on different milestones, and with all the various aims – to try and speed boarding times, improve integration, get more people using buses to non-central workplaces – we came up with a roadmap which was three bits, firstly to expand the flexi range. The second stage was for each operator to introduce TOTO single-operator capping, and the third stage was to introduce multi-operator capping. For that we got funds via the Transforming Cities Fund." 
The advent of the operator-led Project Coral is what saw the scheme trialled at Leicester, and it was thanks to existing homologation of payment service providers that it was rolled out more easily. The Project managed the introduction of the multi-operator TOTO capping, with the process completed during the pandemic. A more robust IT system is being developed under Project Coral to broaden the scheme nationally. That same platform will help also, it is expected, integrate rail.  
David Brookes, Commercial and Operations Director at Centrebus, one of the parties involved in the Leicester EP scheme, notes how it was the good organisation of Project Coral and the cooperation of all parties involved that helped to make the scheme a reality. He says it would have been a challenge to achieve something of this scale without the buy-in of those multiple stakeholders.  
"It's a complex project to deliver and, as an independent, it would be difficult to be able to deliver it without something like Project Coral being involved," he says. "For multi-operator, you do need somebody to head the project – you have to bring all those different parties together. It went well, and I think that is testament to how well it was organised." 
Integration with other modes will be "horses for courses", according to David, and will rely largely on the engagement of local authorities and operators. 
Bijel Mistry, Transport Development Officer (Programmes) at Leicester City Council, notes how usage on the network has since trebled, while revenue has doubled. "That's why operators are continuing to pursue it," she says. "Operators have seen the benefits themselves; they're getting the increased revenue and trips through it. 
"The operators are very committed and driven, and want to put that effort in to making it work. That's made a massive difference in having us having this successful multi-operator scheme."