Nottinghamshire County Council is about to launch its fourth DRT scheme. An increased familiarity with apps and online booking gained during the COVID-19 pandemic is attracting younger people to the scheme, as well as changing perceptions.
Nottinghamshire County Council (NCC) operates Nottsbus Connect, a network of supported local bus services provided by some 40 operators that NCC says is helping to improve public transport links across the county.
Pete Mathieson, Team Manager, Development and Partnerships with NCC, is one of those responsible for the development of improved bus services and bus infrastructure across the county.
"NCC is committed to investing in local bus services," he says. "Over the last year the council put around £4m into providing local bus services that the commercial sector can't provide.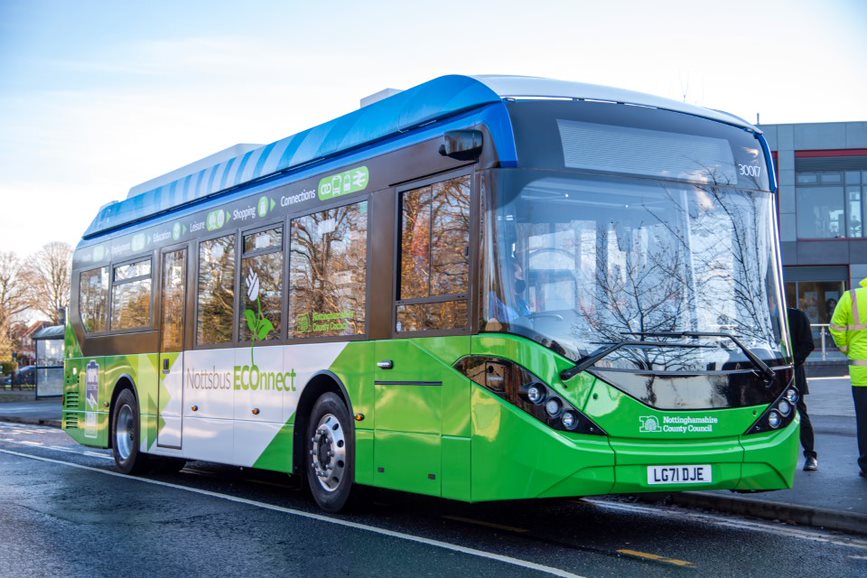 Nottsbus Connect is a key element of this, providing feeder routes from local villages to the main transport network. But with pressure on budgets we've been looking at different solutions."
Pete explains that one of those different solutions has been demand responsive transport (DRT).
"In the mid-2000s, and funded by government, we introduced DRT schemes in various locations across the county. These schemes had basic routes but the minibuses could go off route. Bookings were made by telephone. The principle then, as it is now, was to provide feeder services into bus stations and main line services. In 2013, learning from experience, we changed the schemes to focus on the rural communities around Ranskill (Retford) and Collingham (Newark)."
Pete notes the early apprehensiveness from passengers about the system.
"This was still something new for many people," he says. "But as word spread, the mood changed. Passengers got to know the drivers, and the drivers got to know what the passengers wanted. But although generally well-used, the system was still seen by many aged under 50 as a service for older people."
Supporting operators
During the COVID-19 pandemic NCC supported bus companies through the administration and deployment of the COVID-19 Bus Service Support Grant (CBSSG), Bus Recovery Grant (BRG) and Local Transport Fund (LTF) core funding for bus service support, including concessions.
"This, along with the commercial COVID-19 grants, went some way in ensuring operators would be ready to start running once the country opened up again," says Pete.
In 2021 the government published its National Bus Strategy for England. NCC had noted the statement that the government saw this as a way of delivering a better deal for bus users.
"We saw this as an opportunity to discuss change," says Pete. "As now, we were acutely aware of budget pressures, but as NCC isn't motivated by profit, but by delivering what is socially necessary, we could see great opportunities to further develop rural connectivity and improve travel opportunities. We recognised that this could be the time to expand our DRT schemes.
"However, in some quarters DRT has sometimes been seen as little more than buses running around just in case and carrying fresh air. We wanted to take the opportunity to introduce a system that would alter that perception, showing that DRT buses are being used when needed and not wasting fuel. With the major developments in app-based service delivery we realised that this was the opportunity and motivation to develop fully flexible DRT schemes. We were successful in getting £1.5m from the government's Rural Mobility Fund. We match funded to the tune of £800,000 per annum."
DRT in the evening
On 30 August 2022, with the planning completed, three new fully flexible DRT zones were introduced in north Nottinghamshire under the new branding 'Nottsbus on Demand'.
Two zones brought new and improved daytime connectivity to the rural areas to the north and south of Ollerton. In Mansfield, and trying out something very new and different, an evening service was introduced between 1930hrs and midnight on Thursday, Friday and Saturday.
"The Mansfield evening zone is playing a key role in demonstrating to younger people how a bus can be part of their travel plans," says Pete. "It's starting to change perceptions of what a bus is. The early results are encouraging but we continue to monitor the service, and listen to feedback and make tweaks to improve the service.
"The three 'Nottsbus on Demand' schemes are app-based and users must sign up for an account. However, passengers can still phone to book. We now have around 3,000 accounts. Some 75% use the app. The remaining 25% are those who don't have a mobile phone, don't want to use the app, or simply prefer to talk to real person. From the start in August last year until this March, we carried around 17,000 passengers. Some 200 people a month are downloading the app. The figures show that 80% of users pay, with only 20% being concessions."
Pete notes my eyebrows raising with that last statistic.
"Yes, you might expect a larger percentage of concession users, but we're actually seeing a younger age demographic using the services," he explains. "I think that can be attributed in part to them being more familiar with apps. They're used to doing everything online. DRT is almost a rural version of a Uber taxi. That might be an unusual concept for older people, but for younger people, it's now the norm."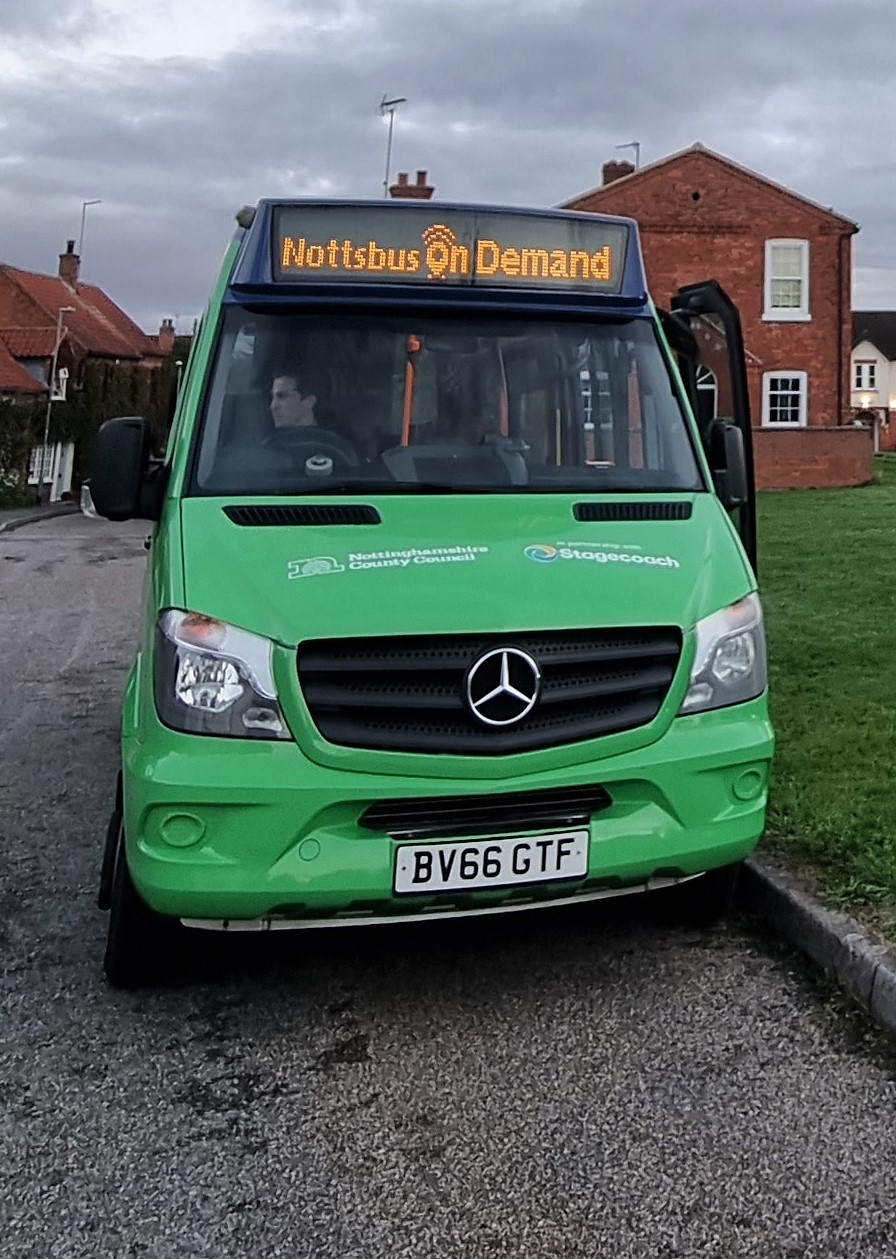 Identifying pick-up points
NCC has a standard specification for the vehicles used on the system – 16-seat Mercedes-Benz Sprinters. The North Ollerton zone is operated by NCC with two vehicles integrated into the NCC adult social care fleet. The South Ollerton and Mansfield zones are operated by Stagecoach East Midlands with two vehicles. A fifth NCC vehicle is available as a floating resource between the two zones.
The DRT software is powered by Via. Drivers have a hand-held device that tells them where to go. The driver logs on and enters the details of the bus. The system is monitored by NCC with app users able to see where the bus is.
"The app is a significant step forward in terms of the customer interface," says Pete. "But there is one drawback. A passenger must identify their pick-up from the NaPTAN/Traveline-powered list of bus stops. Gone are the days when the bus could pick you up from your front door. However, the driver has the contact information for the passenger, so if needed can get in touch to update the booking. The system optimises the route for each bus, so passengers are reminded to monitor messages as the exact time and pick-up stop may alter slightly depending on demand."
A flat fare is charged, currently £2 for a single journey and £14 for a 10-trip ticket. Passengers can pay on the app, or pay when they board using cash or contactless. The NCC-operated vehicles use machines supplied by Ticketer, with Stagecoach using ViX.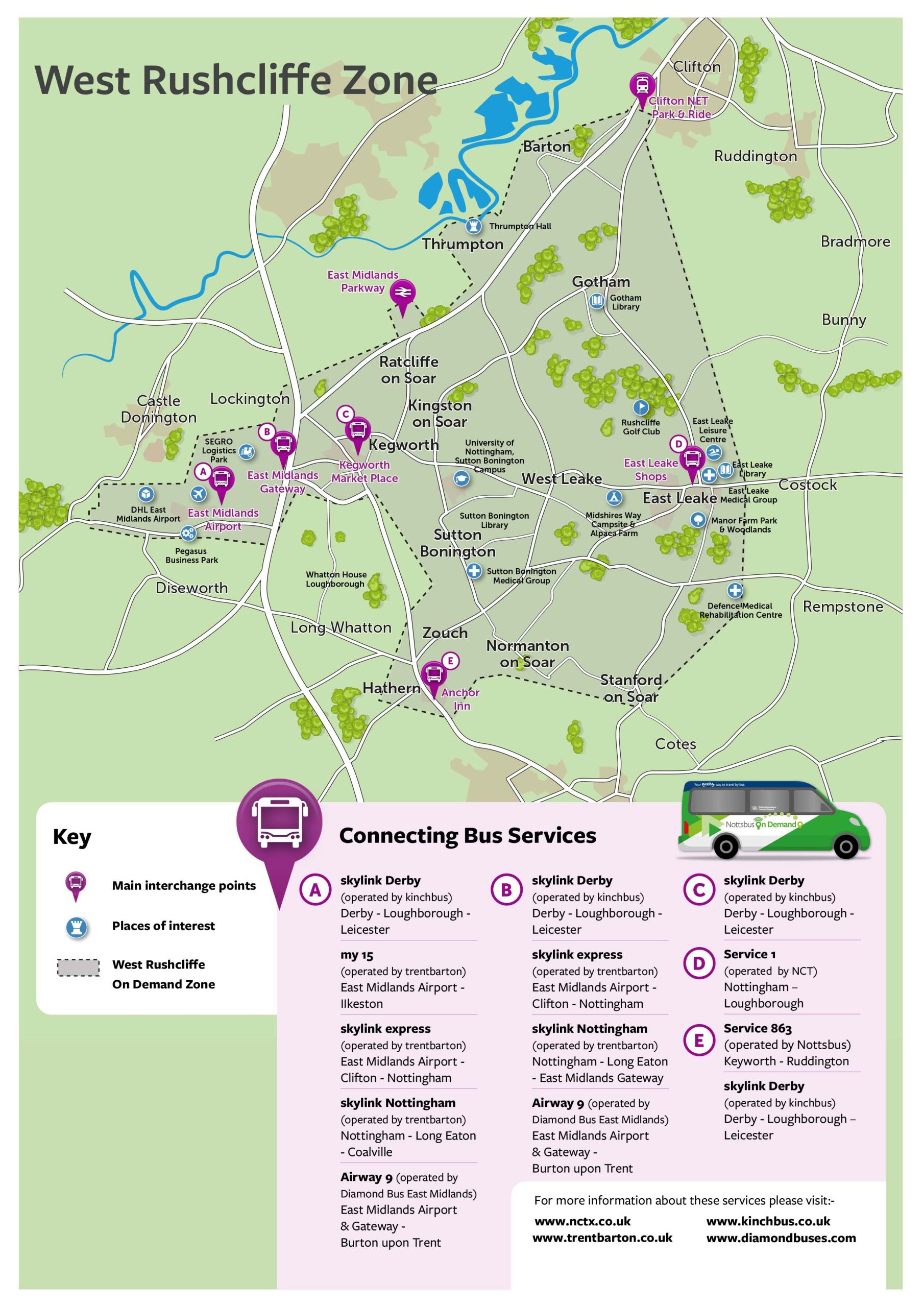 Future commercial DRT opportunities?
The original Rural Mobility Fund award covered a fourth scheme. That scheme started on 15 May in Rushcliffe, covering many of the rural communities between Hathern, a few miles north west of Loughborough, and the Clifton park-and-ride terminus of the Nottingham tram. The successful bidder for the service is KinchBus, part of the Wellglade Group, which is operating two Sprinters out of its Loughborough garage.
But if the funding was there, why the delays in introducing this latest service?
"We felt it was important to wait until there was a more stable market," explains Pete. "We are part of a DfT-organised RMF discussion group. The members share experiences and we listen. It has been invaluable. No more new schemes for now, however we're always keen to hear from operators who can see a commercial application using DRT, possibly linked to Section 106 activity, or where a need has been identified but there are low numbers of passengers involved. NCC has borne the basic costs and has the experience, but there may be other opportunities to provide greater social mobility working with new operating partners.
"The seed funding has enabled us to introduce these four schemes through to 2025. NCC is committed to DRT but what will happen in the future depends on so many things. What we're finding is that the schemes are teaching people of all ages about a new way to travel."
But as Pete notes, there's one challenge that needs a very different approach.
"Social media is a key communications channel to reach younger audiences," says Pete. "But how many young people are going to follow or engage with a county council? The council's role in transport is not often understood. Our communications team is looking for a social media influencer. DRT really has come of age!"