Ember takes a tech start-up approach to running coach services. routeone visits its Edinburgh head office to learn how technology is improving the passenger experience and realising modal shift
From its trendy office space on the top floor of Edinburgh's Argyle House, where the only bus in sight is a scale model placed in the window, zero-emission coach operator Ember could initially be mistaken for one of the fintech start-ups for which co-founders Keith Bradbury and Pierce Glennie previously used to work.
Just like the staff working at those start-ups, Pierce and Keith began as outsiders to the industry they entered. But that cleanslate approach is central to a disruptive philosophy that drives the company. Everything Ember does has one goal in mind: To build a better experience for the passenger.
All about disruption
It soon becomes apparent that being fresh to the industry does not dissuade Ember's co-founders from big ambitions. In fact, the pair see it as a boon, as it was for those in the financial technology industry.
When the pair decided to start Ember, they did so with "a fresh piece of paper", taking a technology-led approach in firm rejection of legacy tailwinds. It's easier to do that when starting from scratch. "This is about trying not to enter with preconceived ideas," Pierce says. "It's hard within an established organisation to create that mindset shift because of the inertia, and the risk involved in making a change."
For Ember, no such risk existed when it opted to take a new approach to public transport. After all, it had no passengers – if the company wanted to redesign its entire route network, it could. "That's a valuable stage in a business," Pierce adds. "To make mistakes, to learn things."
Taking that approach seems to have paid off. The first round of the Scottish Zero Emission Bus challenge fund will soon part-fund 26 battery-electric Yutong TCe12 coaches on top of 10 the company has already won through the Scottish Ultra-Low Emission Bus Scheme, and two bought without funding. That will have turned Ember into a respectably sized operator in a matter of two years, even with COVID-19 disrupting plans. Now, it is vocal about ambitions to cover much of Scotland with a zero-emission scheduled coach network, backed by a lively Scottish Government consulting on a 20% reduction in car kilometres travelled by 2030. That means huge potential growth for Ember in building a comprehensive Scottish coach network.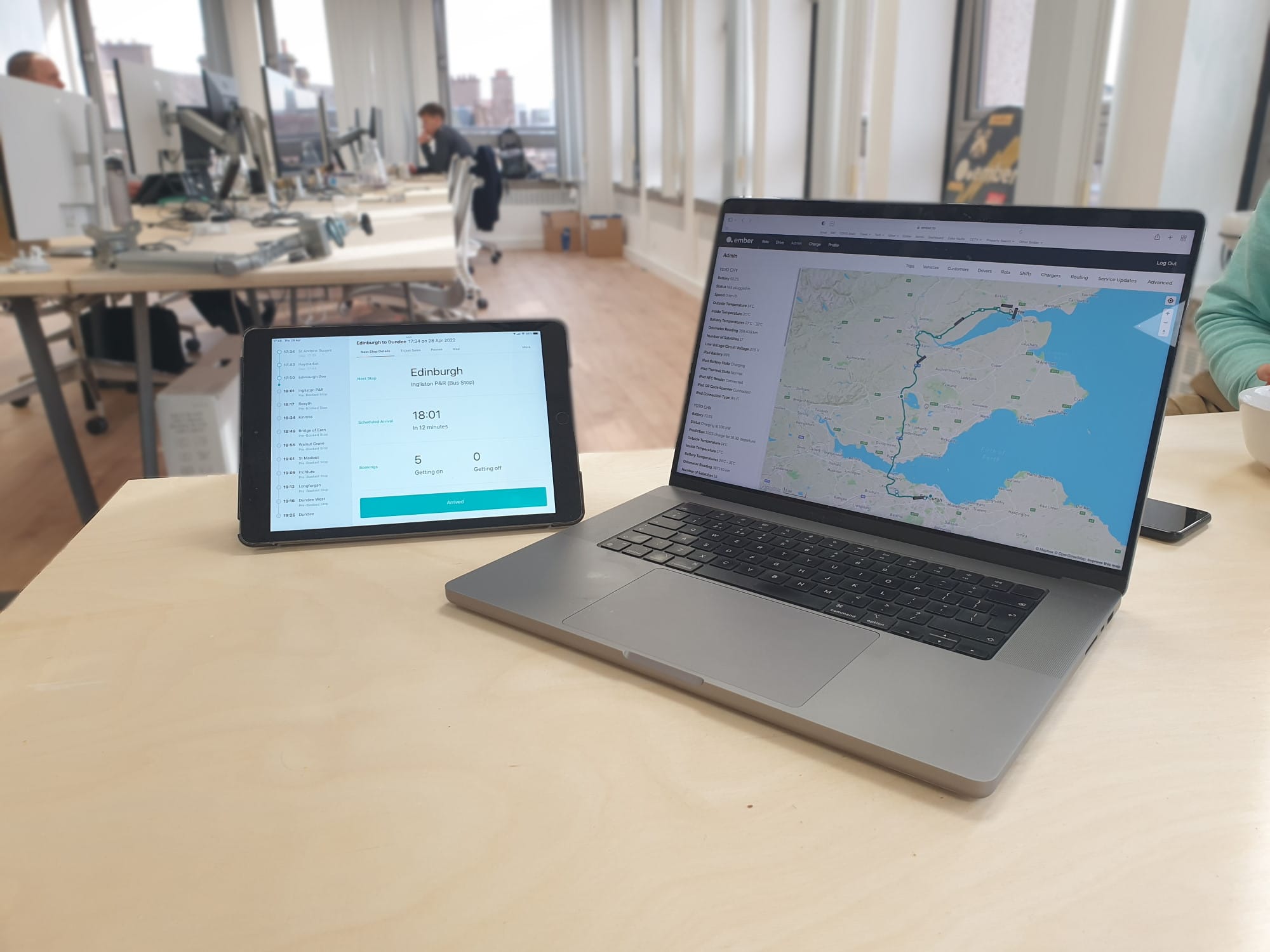 But there is no growth for growth's sake. Ember's approach has been to find a model that works well, do the upfront work to resolve problems, then scale it up to something much larger. Keith acknowledges how lucky the company has been to have worked with Pelican Bus and Coach and Yutong in these early stages: "They both had belief in us," he says. "When we first approached Pelican we did not have a limited company registered. We had never run buses before. We approached on a random email address, asking detailed questions. A lot of manufacturers wouldn't reply. Pelican both replied from the start, put us in contact with the right people, took us seriously, and never once told us our idea was crazy. We're now working with it on customising vehicles to charge in ways that haven't been done before, at least not in the UK, and that becomes more possible when you can show a trajectory of being a key customer. Pelican has always been supportive, never shied away from it, and never told us to buy a diesel coach instead."
Equally, the company recognises it cannot have a large impact from an environmental perspective with a small number of vehicles. Benefit comes with scale.
"We came into this from the beginning wanting to grow, and to be a large company," Keith adds. "That's for a couple of reasons. The first is this persistent problem with emissions, and wanting to tackle that with zero-emission services. The second is to build a service and public transport offer that is as good as, if not better, than taking a car. There's loads of stuff we try to do to make that a reality for passengers."
Passenger experience is at the core of this philosophy. Ember argues that tech has fundamentally changed the way a customer's experience can be delivered, and that it plays a part in many specific elements within a coach or bus operation.
"Using technology, you can think a lot more about the individual passenger's journey," Pierce explains, using a connecting ticket as an example. "If we know someone has 10 minutes to connect, we can then see the impact of their bus running late and calculate the cost of delaying the next. That sort of thing is not possible to think about in real time; there is too much going on. If you have a tech understanding of this, you can think about every single passenger's journey, and a solution to that, instead of a one-size-fitsall model."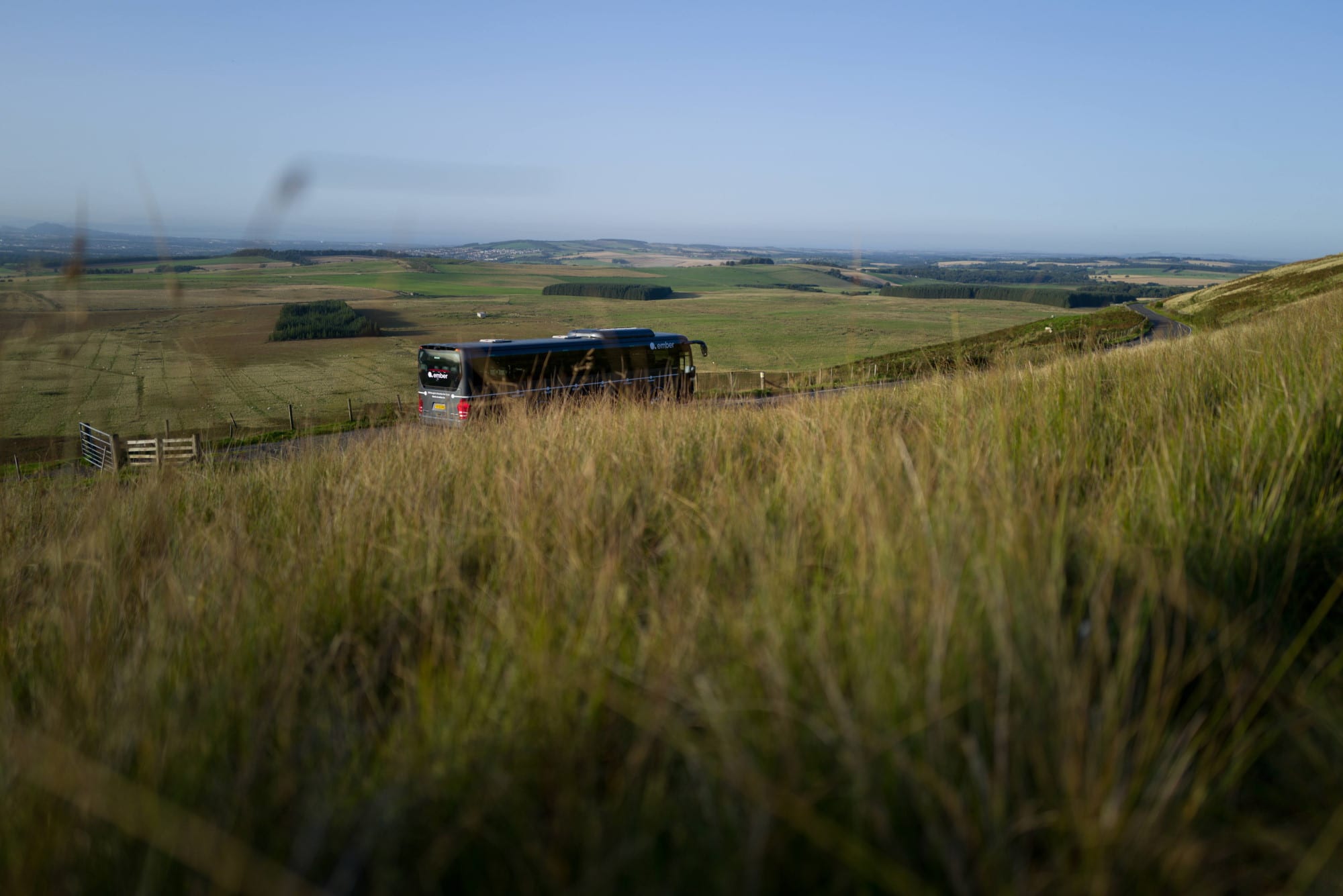 Using tech to tackle pain points
In a nutshell, Ember's approach is to ask how technology can target passenger pain points. But it has to know what those pain points are, and the barriers to travel. For a start, it does not see electric as a reason to charge a premium. Quite the opposite – it argues efficiency gains using electric should drive costs down.
That is because Pierce and Keith wanted the service to be good value for money from the beginning, relative to alternative forms of transport such as train, bus services, and car travel. They argue that, from an economic perspective, if a service is keenly priced, customers will come regardless of features.
But the pair did not settle on that. Ember brings a premium economy style experience to economy pricing. "The key thing here is value for money, not cheapness," Pierce explains. "And we have never gone for a gimmick, or promotional offers. That's not attractive relative to a car, and people don't want that if it means they have to wait three hours for their bus."
In asking what proposition looks most appealing to passengers, Ember's management team drew on their own experiences of using public transport across the world. Seat pricing is one example – Ember uses flat ticket pricing, no complicated structures or changing prices. There are no charges for cancellations, even up to an hour after the passenger has missed a service. Simplification of tickets prevents misunderstandings between passengers and drivers or conductors. "Simplicity creates a streamlined operation," Keith says. "We don't want to discourage cancellations. The vast majority are genuine, and customers will move to the next available service. Why compound the problem of a bad experience by arguing about a cancellation?"
"Pelican both replied from
the start, put us in contact
with the right people, took
us seriously, and never once
told us our idea was crazy"
In fact, one of the few things the company does not promote loudly is the fact its coaches are zero-emission. Local government in particular has been keen to change that, nudging for advertising banners on the side of the vehicles to shout about the green credentials. Pierce says he might consider it, if drivers of electric cars did the same.
"We don't want to shout about that as the loudest thing," Keith adds. "The thing we want to shout about is the overall experience of things like reliability, frequency, customer features, and support where customers need support."
The combination of being able to book and modify a booking easily, and not penalising people if their plans change, is what aligns Ember to the convenience of car travel. That is the reason it has incorporated those elements into its pricing structure.
There has also been close to zero marketing. So far, the operator has relied almost entirely on word-of-mouth for growth, and Ember has not solicited feedback. "That's so much more powerful if someone has a positive experience," says Pierce. "When passengers have a positive experience, they talk about it."
Ember already gets a good deal of positive feedback on cleanliness and drivers, two elements it understands are key to a good passenger experience and which it prides itself on: "It doesn't take much to have a bad experience on board, and that can put someone off using a service again."
Building up a network
The tech-focused approach has also allowed Ember's network to respond organically to passenger demand since it started operating in 2020. Keith and Pierce demonstrate how ticketing works. Drivers are shown passenger, ticketing and journey details through an iPad mounted in the cab, which changes in real time when bookings are made and can add new stops to the route, or take them away if they are not needed.
"We didn't have demand-responsive stops when we first launched," Pierce says. "It was during COVID-19 with suppressed passenger numbers. You would come off some junctions between Dundee and Edinburgh, and no-one would get on because it was a minor stop. We eliminated that by adding far more stops than we had before, but only going to them when a passenger books.
"This has become really popular with those communities. We have small villages where no-one has been running bus services because it is not viable, but when we started doing this, a community of perhaps 500 people cottoned on to the fact there is now a direct service to Edinburgh. They start saying hello to each other on the coach. This is really important for modal shift."
Bridge of Earn, a small town en route, is exactly one example. It had no direct services to Edinburgh, no railway station, and no well-placed bus stops for motorway access. It has now become one of Ember's most popular stops. Almost all passengers using the service there will be modal shift from car. "That's where you can clearly say technology has enabled, almost at no incremental cost to us, to add a stop, and serve passengers who had no service before," Pierce adds.
Bridge of Earn also demonstrates Ember's general philosophy on how it wants to build up more routes and a wider network. Where it can have end-to-end points, such as Glasgow to Aberdeen, it can have many stops in between, served intelligently by technology that keeps journeys efficient. It is a travel option for many people, at times they want to travel. Eventually that network can be integrated with last-mile transport. Ember is already integrated with Edinburgh's tram system, giving passengers easier access to Edinburgh Airport. Cycle schemes, demand-response services and even car clubs could be other options.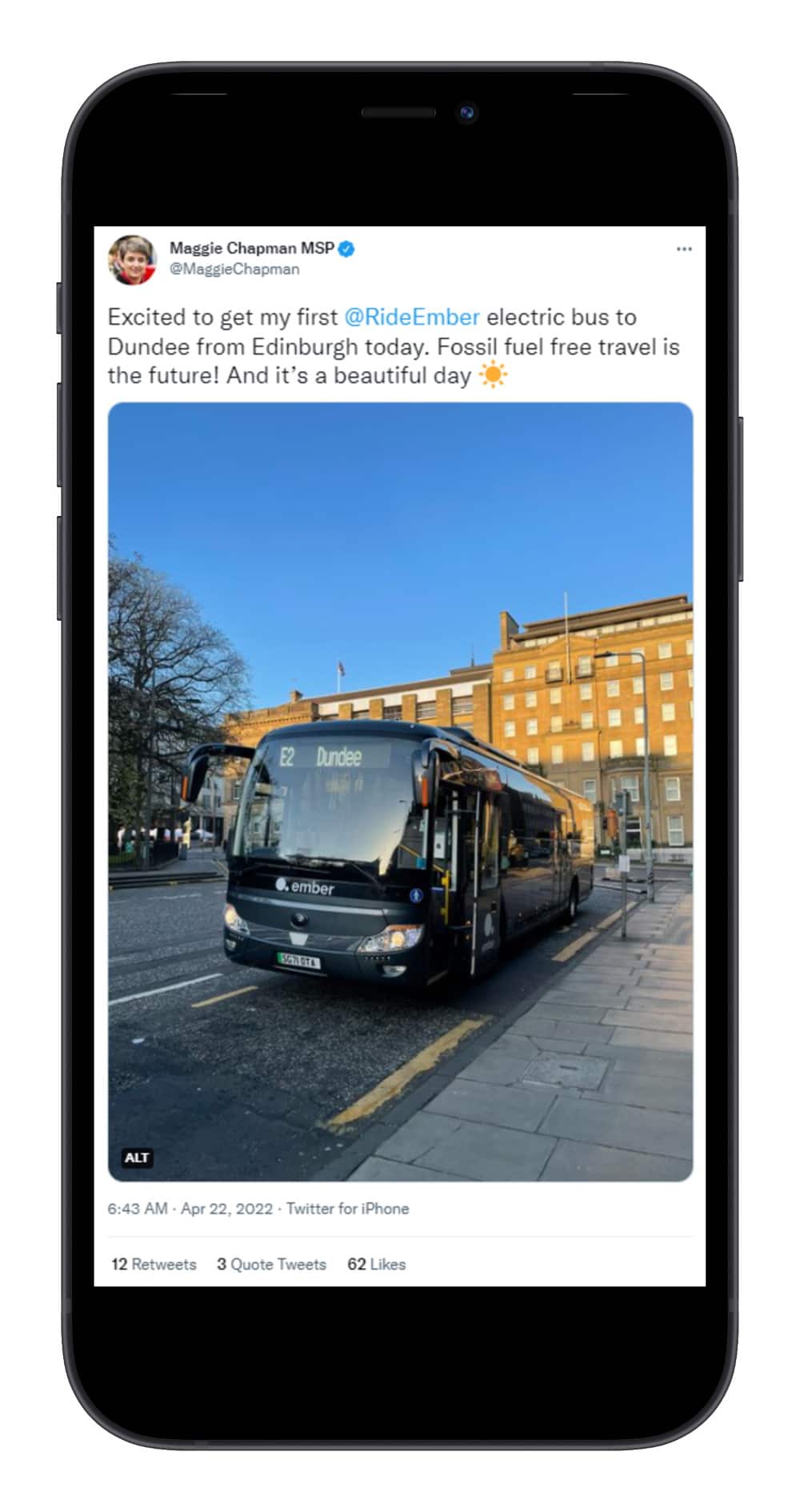 Building convenience
The next hurdle for Ember to overcome in its journey of convenience is frequency. An obvious step, according to Pierce, is to go hourly. But if the passenger numbers support a half-hourly model, he acknowledges the huge opportunities that brings. "It reinforces the effect," he explains. "More passengers means more services can be laid on, which increases convenience, and attracts even more people, allowing for even more services."
That takes risk, but Ember has already been there. When it started with two buses in 2020, it ran services every 150-180 minutes. It has now doubled that to every 90 minutes in the daytime. Initially, that sent short term passengers per coach down, but within a few weeks it had doubled those numbers. "You take a risk. You double costs. But you have to have faith that, ultimately, you're making your service more convenient, and you're going to reach new pools of people. Each time you do this, you'll find people who previously didn't take your services now thinking it's a good idea."
And for those who believe older demographics are discouraged by technology, Ember suggests considering the fact that roughly 20% of its tickets are through concessionary pass holders, over 95% of which are booked online. Perhaps with the legacy of limited space on buses during COVID-19, passengers now need that certainty that they have a seat reserved.
Still at the beginning
Ember's work is not done, and both Pierce and Keith acknowledge that they are still at the beginning of this journey. Their brand is only particularly well known in certain key pockets, and creating a network which becomes a travel option for a large proportion of journeys within a country is a big challenge. Emails come in from Dundee regularly asking when an Ember service to Glasgow will be laid on. Glaswegians travel to Aberdeen, to Edinburgh, to Inverness. Ember wants to serve all those journeys.
Higher frequency, and integration with the passenger's last-mile transport, are the other two challenges. There is a huge amount more that could happen there. But Ember is at a strong starting point.
What is consistent in Pierce and Keith's approach to these elements is that they always come together for one reason: A better passenger experience.