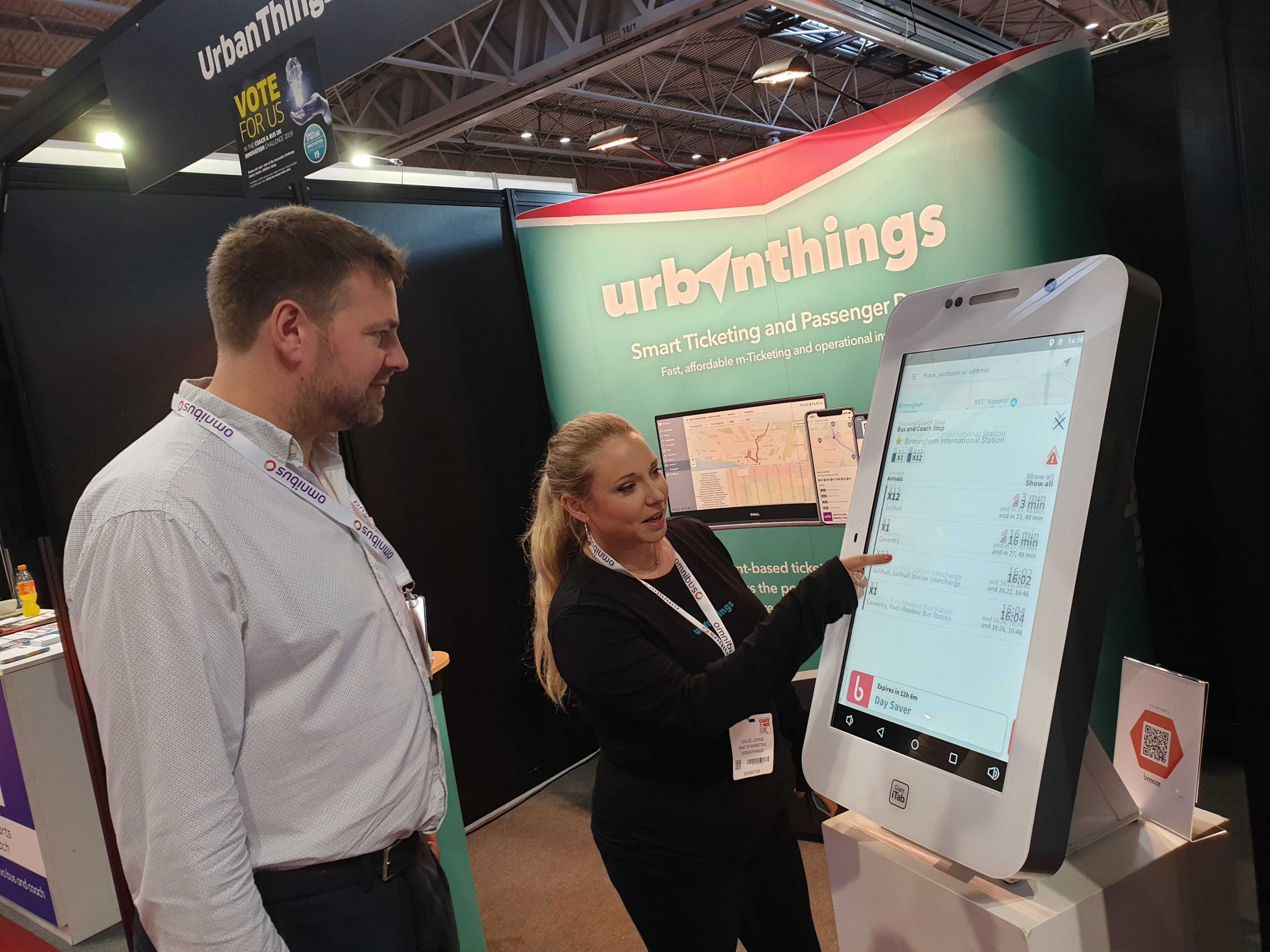 How do you present passengers the most relevant data on bus capacity, and give them the confidence to travel safely? UrbanThings believes it has the answer: Its new platform gathers data to predict how buses will look as they leave each stop, rather than as they arrive
Before the impact of coronavirus COVID-19, tech companies were already developing technology to allow operators to optimise services. Their obligations have shifted to passenger protection at present, but the advances being made will serve that former purpose well into the future.
UrbanThings is the award-winning start-up headed in the UK by tech guru Carl Partridge and his team. The company is well known for developing empowering user-facing apps such as Bus Checker and Ticketless, the latter of which won the company silver at the Coach and Bus UK 2019 Innovation Challenge. In addition, it has introduced smart new bus ticketing methods, such as hex tag technology, already in use by a number of UK operators.
The UrbanThings solution for COVID-19
When UrbanThings joined the race to produce a transport solution during the coronavirus COVID-19 pandemic, Carl realised early on that the burgeoning trend of presenting passengers information on the capacity status of an approaching bus was not providing all the necessary information; it could even be discouraging travel unnecessarily.
The logic is that many of those passengers reported as being on board might be alighting at the next stop, so a full bus might become a half-empty bus by the time it reaches a users location – but the user, not knowing this, could have chosen not to travel by then.
What commuters needed, then, was a reasonably accurate prediction of how empty or full that bus would be at the point they were taking their seat.
Power through passenger data
UrbanThings has always been interested in collecting passenger data to benefit operators.
Its product offering, consisting of a suite of components such as a web portal and passenger app, allows operators to collect passenger data and understand how their network is being used. "Once an operator can understand things such as where passengers are boarding and alighting, capacity planning becomes much easier. Fuel savings can be made on infrequently used routes, single-deckers can replace double-deckers at specific times – there are many aggressive savings that can be made with this data," Carl explains.
Data is sourced from smart card tap-ins, ticket machines, the mobile app, third parties such as contactless EMV providers, and from Bluetooth beacons positioned around the vehicle – the latter allowing operators to understand when passengers alight. "Once all of those things are combined, we end up with a system that allows us to understand the live occupancy of a vehicle… how many people are on that vehicle in real time," he adds.
Then, coronavirus COVID-19 hit. Lockdown is beginning to ease, and operators need to follow social distancing guidelines to keep drivers safe and restore passenger confidence in public transport.
UrbanThings soon realised its ability to calculate occupancy was in demand – to allow operators to provide safe travel to passengers. But Carl felt more had to be done than simply relay passenger occupancy data. This was the background to its bid for an Innovate UK grant, which the company won in May.
"We realised we can collect this occupancy data, but we feel being able to tell the occupancy of the bus when it is arriving is only half of the solution. What they really need to know is the occupancy when it leaves the stop."
The grant proved essential to the project's swift development. "It's extremely important to get government support for these projects," Carl says. "Without it the industry is experiencing significant damage from coronavirus, and the money helps us ensure we have the resources to build the solutions the industry needs."
Ipswich Buses to use system this year
Recognising that buses shed significant numbers of passengers on commuter routes, in town hubs and at busy stops was a 'fundamentally different approach' Carl explains, and led to the bid for a system that collects occupancy data, stores it, and then examines historic data to predict how crowded vehicles will be in the future. "We won the funding to go ahead with the project, have approached a number of stakeholders and are working with an existing customer – Ipswich Buses – to deploy the system in the next few months," he adds.
Occupancy data with Ipswich Buses will be captured and used to predict future passenger patterns. That data will be put into the passenger facing Ticketless app and used to help commuters plan safer journeys. The project began only two weeks ago – evidence, according to Carl, that this will be built rapidly.
As far as what the passenger will see, through the app users will be able to see live vehicles moving along a map. Tapping on them will show the user how busy each vehicle is, with accurate data presented by both technology and through drivers reporting the number of persons on their vehicle. Presented on an in-app arrival board will be the predicted occupancy of the vehicle leaving the stop.
UrbanThings believes it will bring confidence back to public transport, use of which has been slow to catch up with the uptake in private cars as lockdown measures are eased. "I think people are more likely to travel if they have this information," Carl says. "This is a substantial tenet in confidence in public transport so we want to work with our customers and the industry to get this information out there, increase ridership, and make travel safer."
In addition to making travel safer now, operators will benefit beyond the pandemic. Details for each bus, each route, the number of passengers alighting and boarding is grouped by time and overlayed for predictions of use.
Carl is excited for the future possibilities, especially as it lays the foundations for flexible fares. On the horizon could be a reality of 'Uber' style bus ticketing, where passengers pay only for the time they spend travelling on the vehicle.
Such a system may rescue bus confidence now, and break down many of the barriers to public transport use in years to come.