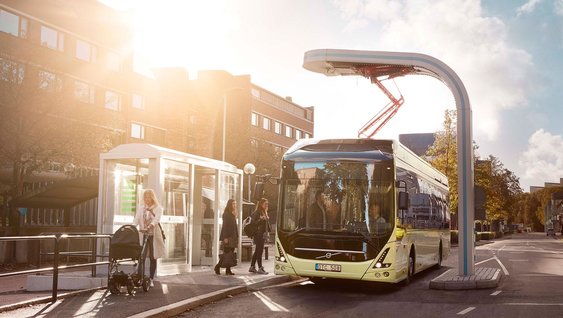 A new venture between Volvo Buses and Stena Recycling subsidiary Batteryloop promises to extend the service lives of bus batteries and conserve natural resources through second life energy storage.
Bus batteries have significant capacity to offer even when they are no longer suited to bus applications, Volvo says. After the batteries have been removed from Volvo's buses they will be sold to Batteryloop and reused as energy storage units for a number of years, in applications that include buildings and charging stations. At the end of second life, they will be safely recycled, explains Batteryloop President Rasmus Bergström.
The agreement has a global reach and encompasses all batteries for which Volvo Buses is responsible in its worldwide battery-electric fleet. The reuse of bus batteries is part of a sustainability strategy at the heart of Volvo Buses' 'value chain'.
Repurposing the batteries into static applications removes the necessity to use new batteries for energy storage, which is expected to increase.
According to Volvo Buses, an energy storage unit offers new scope for storing renewable energy, which can then be used to meet peaks in electricity demand. Surplus can be sold back to the power grid.
President of Volvo Buses Håkan Agnevall says: "Volvo Buses is one of the pioneers in electromobility which provides clean, quiet and efficient public transport. We have a clear-cut sustainability strategy at every single stage of our value chain, and we are now taking yet another step forward through planned, consistent reuse of bus batteries. In our electromobility operation we are thus creating a new circular business cycle and this cooperation is truly a major step in the right direction."
Adds Mr Bergström: "We see that there is a fast-growing market in different kinds of properties, and also for charging stations for electric vehicles both in industry and in society. Our co-operation with Volvo Buses will provide a valuable contribution to development of the infrastructure that needs to be built up."
A previous join project between Volvo Buses and Batteryloop saw bus batteries used as energy storage units to provide electricity to the Fyrklövern residential area in Gothenburg. Electricity in those units is supplied by solar panels fitted to the apartment buildings' rooftops.