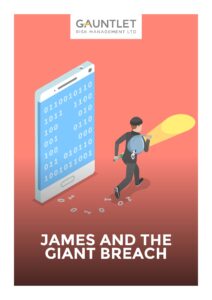 Sunday (September 13) was Roald Dahl day, and in honour of its eponymous author, coach and bus insurance specialist Gauntlet has dedicated its new cyber protection booklet – James and the Giant Breach (a play on the title James and the Giant Peach) – to him.
Many businesses fail to purchase cyber protection, Gauntlet says, and as a result the firm has adopted a 'plain English' approach to dispel confusion around the subject.
The illustrated booklet is available for download and spells the case for safeguarding operators' data and systems – and to never assume their business will not be targeted.
Characters bring the subject matter to life and highlight mistakes made within office environments. The booklet uses Gauntlet's independently commissioned cybercrime survey statistics to highlight key points.
Gauntlet points out that 88% of breaches are the result of human error, and that businesses may be more vulnerable after dealing with the coronavirus COVID-19 pandemic.
Gauntlet Managing Director Roger Gaunt says: "After 26 years in the coach and bus insurance sector, we fully appreciate that operators have never faced challenges as huge as the current ones.  However, we want to avoid them having yet another expensive headache to think about on top of these, whether that is at work or in their personal life.
"Cybercriminals show no sympathy and we are seeing cybercrime increase during the pandemic as they know businesses, people and procedures are vulnerable and that it is easier to catch people off guard right now.  While financial loss and the cost of getting encrypted systems back up and running are two dangers, there is also that of a GDPR fine if data is compromised. Our message is for every operator to make sure they are not the 'James' dealing with a giant breach."