As 2023 approaches, routeone speaks to three coach operators around the UK to gauge the mood going into the new year. Is there good cause for optimism?
Obstacles persist, such as higher costs and staff and driver shortages, but coach operators across the UK are moving confidently into the new year – reporting that rates increasingly reflect operating costs, and work in the sector continues to grow.
Cheslyn Hay-based Parrys International is entering 2023 in anticipation of its 50th anniversary. It recently released its latest brochure and owner Dave Parry says he has seen the UK and European coach holiday situation improve dramatically over recent months, particularly with the removal of restrictions that have plagued continental coach operation since the onset of the COVID-19 pandemic.
"We operate over 50% of our trips to Europe normally, which we lost over two years. A lot of other operators have dropped out of the European market, and we rarely see British operators abroad," he says.
Parrys has managed to cope, however, notwithstanding long running troubles with Eurotunnel, where Mr Parry recently argued that rates and a lack of forward visibility are pushing coach operators to ferry crossings instead. Likewise, shockwaves from the war in Ukraine have seen the withdrawal of itineraries in bordering countries such as Poland.
But the business reports that it saw a marked increase in traffic in September. "I think people are still fairly confident," Mr Parry adds. "If you look around and see the amount of people who are travelling again, it's risen to 2019 levels at airports. There's an opening here, because there are certainly fewer people in our sector that are travelling to Europe – and we can offer much better value, better service, better quality in Europe than we can in the UK. We've got so much to do, it's a case of having the capacity to do it, and making sure that it all runs well. As far as we can see, we're happy with the arrangements and with the forward bookings."
Mr Parry is also confident that rates will continue to do well, even with higher operating costs. "Everyone is expecting to pay more," he says. "We're certainly having to pay more – there are more taxes involved, increases from hotels, the cost of crossing has gone up considerably, the price of fuel has gone up, and we have given a 10% wage increase to our drivers – customers are prepared to pay. I don't think people are hesitant if they know they're getting good value for money. There is a backlog of holiday funds for a lot of our clients that hasn't been spent, and they're ready to spend that now on quality holidays."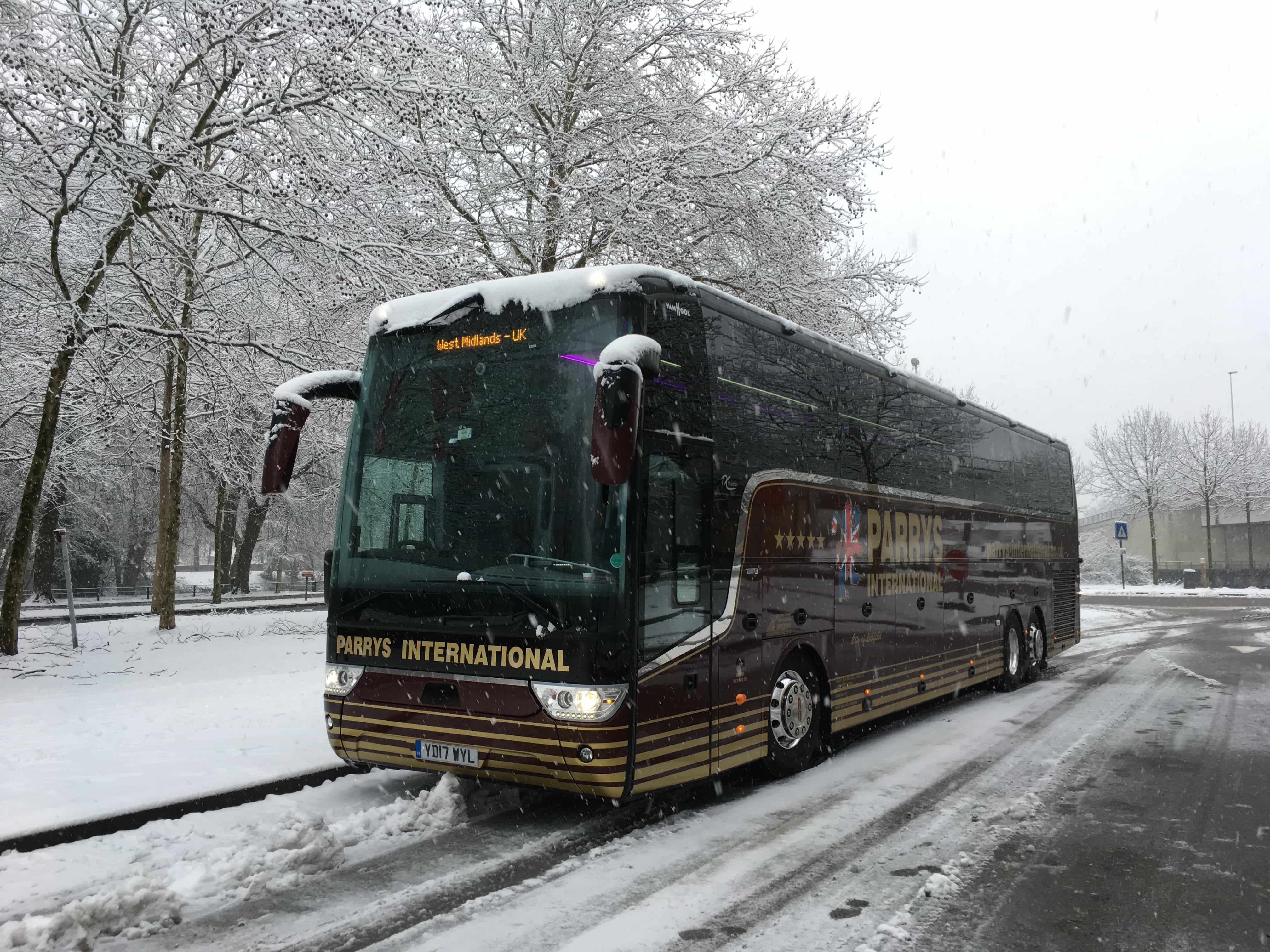 Recruitment issues
Staff continues to be the biggest pressure for Copeland's Tours Director Jason Burn. He argues that, while the business has the ability to earn, profit margins are being watched closely due to fuel increases and cost-of-living mitigation.
To deal with staff shortages, Copeland's has put numerous drivers through the licence application process, but it continues to see retention difficulties. That puts pressure on the business and is seeing office and workshop staff taking on more driving duties. "We've taken two 17-year-olds into the workshop as apprentice mechanics. Next year they will be turning 18, so I will be looking to put them through the licence application process – not as drivers, but as auxiliary drivers – to cover illness and rest days," he adds. "We've gone back to the grassroots of 'grow your own'. We're currently looking for office staff as well and have the same problem – there's a big gap between somebody being interested, to getting a medical, applying for the licence, doing the training, and then getting the licence.
"When you can walk into a business like McDonald's and go straight into on-the-job training, it's far too long-winded a process in our industry from somebody being interested to doing a professional job."
But Mr Burn is looking forward to 2023, confident in the company's loyal customer base. "We've got the work there in front of us," he says. "We've got a good clientele. We can get finance; the majority of the fleet is ours, and we can get the vehicles we need. But who we put behind the steering wheel is the big challenge."
Rising rates in Scotland
Entering 2023 after a busy 2022 with a variety of tours and school contract work brings uncertainty for Milligans Coach Travel, and its Operations Manager, Morag Milligan.
The East Ayrshire operator, which turns 75 next year, remains cautious about the recovery of holidays and daytrips, citing market uncertainty. Adding to that are obstacles such as the price and availability of new coaches, and many hotels being fully contracted by government at short notice.
"We did see a decline in passengers booking coach holidays last year," says Ms Milligan. "They were still wary because of COVID-19. But I'm not sure how it will go this year – it's a waiting game. You don't know what people want to do next. With foreign travel returning, coach holidays might take second place to holidays abroad now."
The advantage is that Milligans is experiencing better luck getting rates where it wants them to be. The operator has reduced its fleet over the last two years by half, to 10 vehicles now, with driver shortages as one of the reasons for the downsize. It now says it has found equilibrium, and is operating a mixture of school work and private hire, with a dearth of coach operators in its area meaning rates are no longer dictated by third parties.
"There's not as much competition," says Ms Milligan. "I've never been the cheapest for prices, but I'm getting a lot more work at my rates now than ever before, and I do think that's because of the shortage of coach operators."
When working for tour companies, Milligans says it bases prices on mileage and drivers' hours calculations, rather than accepting a set rate per day – and it has not struggled to find work with that approach. It would take a "phenomenal rate" for it to commit to working with a tour company, Ms Milligan adds. "I think people are going to have to accept those rates, instead of dictating their own rates to coach companies," she says. "They need to consider fuel, drivers' wages, and the fact inflation has risen. If operators continue to run for low rates, then they are running into a downward spiral."
That advantage of higher rates, she adds, is that the company can therefore be more selective with work. That provides the family with the potential for more free time – something the events of recent years have made important to many.