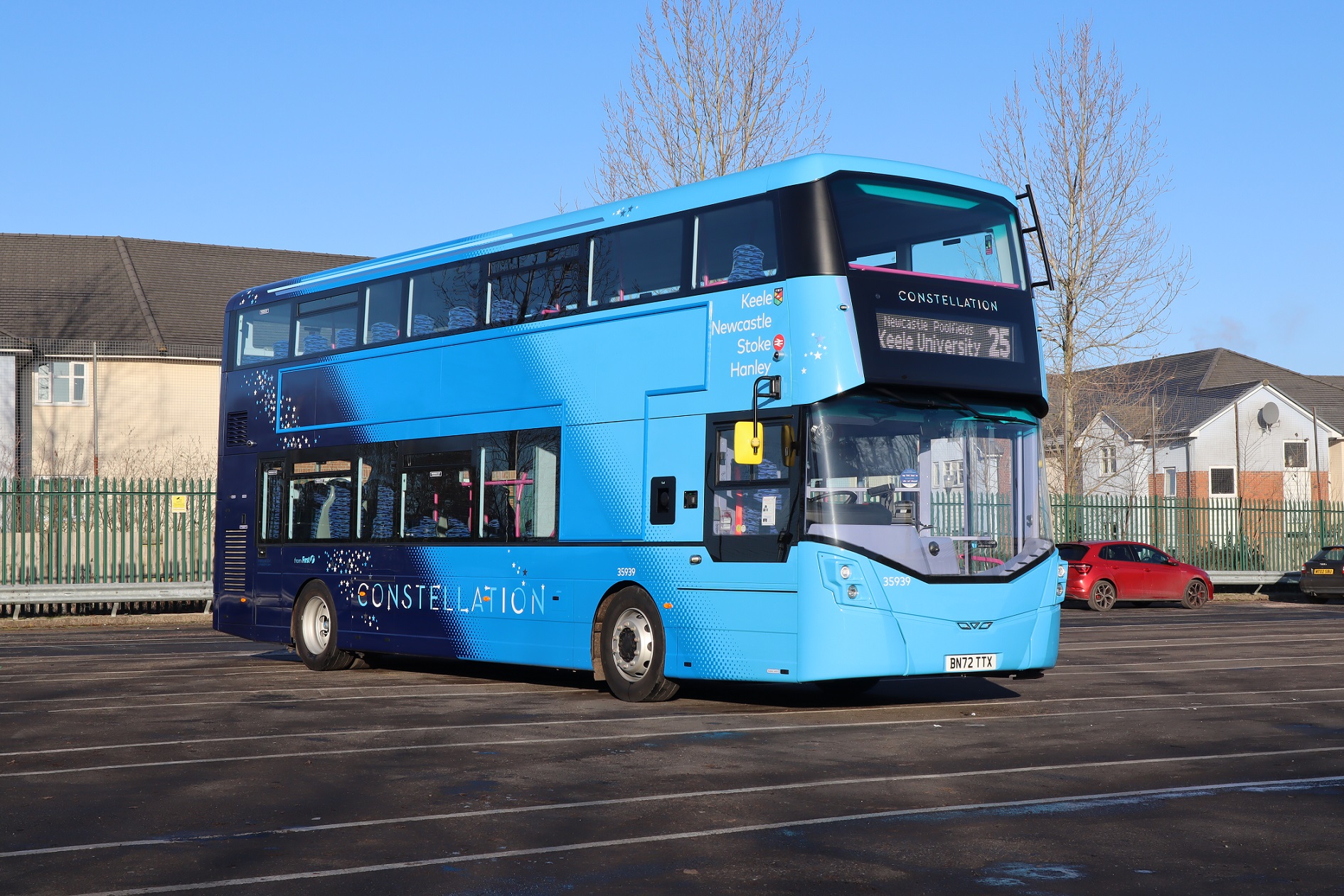 A batch of Wrightbus StreetDecks currently being delivered to First Potteries represents the first new double-deckers supplied to the Staffordshire operator or its predecessors for over 33 years. They have debuted a blue-based Constellation brand for route 25 between Keele University and Hanley.
Design work for the identity been carried out by Best Impressions, with vinyls supplied and fitted by McKenna Brothers. Of the StreetDecks, 10 are to carry the new identity with two unbranded as spares, says First Potteries Operations Manager Tim Shufflebotham. They are among the final new diesel buses to be delivered to First Bus.
Entry into service of the first examples was expected on Monday 19 December. They will replace life-expired Volvo B7TLs dating from the mid-2000s. When that task is complete, the operator says that around 75% of its fleet will comply with Euro VI.
Inspiration behind the Constellation brand has come from an observatory at Keele University, says Marketing Manager Martin McGowan. "It is a simple, if slightly abstract, idea. If people need to ask why we have used Constellation, then it is doing its job," he adds. "A star map could also be said to be of a similar layout to a bus network map."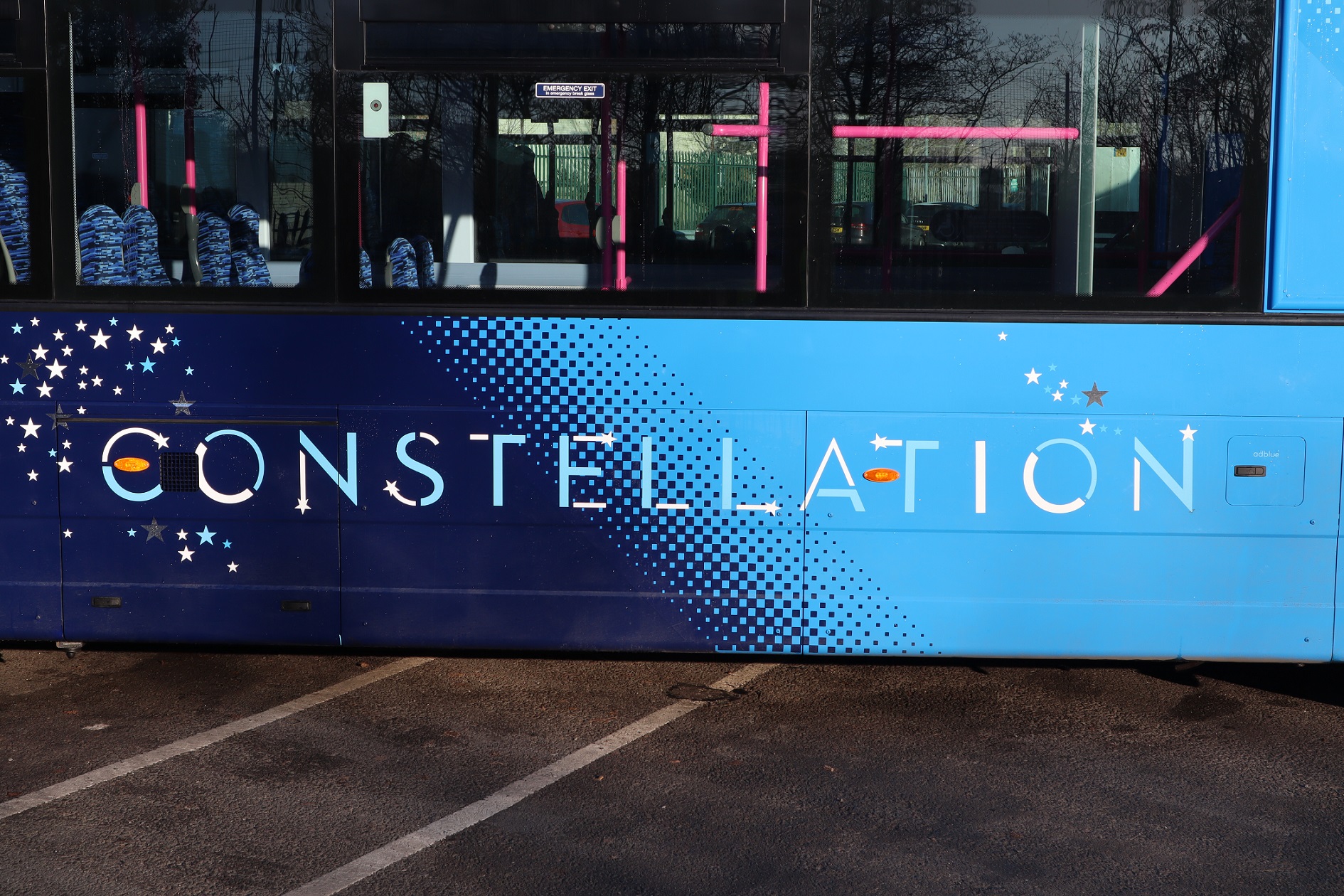 Work continues to be undertaken with the educational institute, which has provided its crest to be part of the route detailing on the StreetDecks. A second stage of promotion will follow in 2023.
It will also involve the Royal Stoke University Hospital (RSUH), which is served by route 25. That will see the addition of interior branding. Keele and RSUH are closely linked via a medical school.
Mr McGowan adds that improvement to vehicles used on the Keele University service sits alongside efforts around sustainable transport by the centre of learning.
Keele has seen changes to students' living patterns that has led more of them to reside beyond walking distance from the campus, but a desire exists to create a 'lifestyle' approach for time spent at the university outside times of academic study. The multi-operator Keele Key ticket will soon receive promotion to that end.
Driver familiarisation with the StreetDecks has been ongoing for some weeks ahead of service entry. First Potteries Staff Manager Dave Dowley notes that similarity of the cab area across the StreetDeck and StreetLite has simplified that work, adding that fitment of 'flank cameras' to the double-deckers is useful.
Through the two monitors above the driver's line of sight, that system uses external cameras at the rear above the lower deck window line to give a wide view to each side of the bus. Seat moquette is to the same pattern as that used in recently refurbished StreetLites for the Mainline brand, but with blue fabric to match the Constellation livery.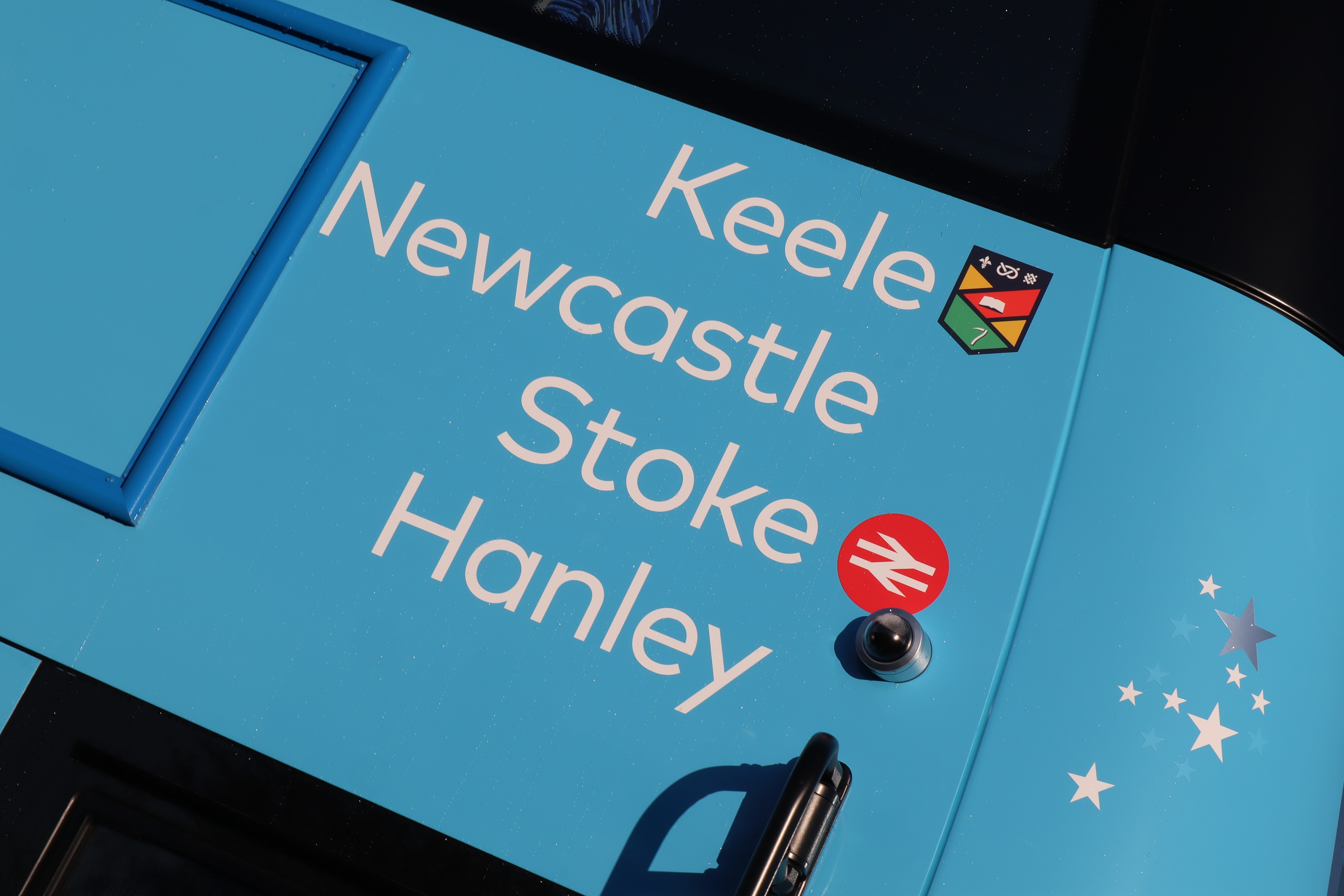 Power in the StreetDecks is from the Daimler OM 934 unit driving through a Voith gearbox. They have engine stop/start technology.
Prior to the Constellation buses, the most recent new double-deckers for the fleet were a batch of 10 Leyland Olympians delivered in 1989 during a period of independent ownership.