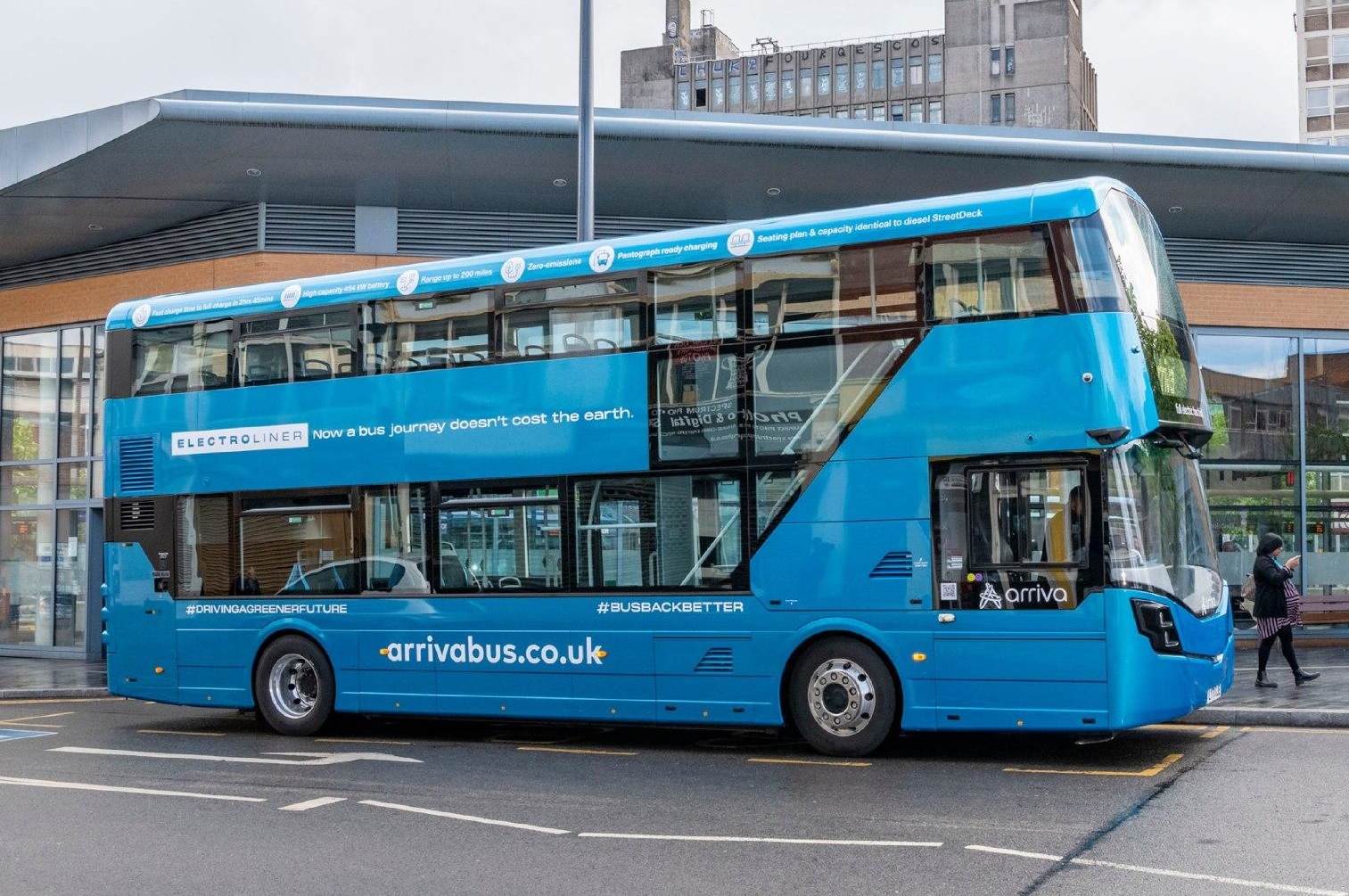 Arriva Midlands and Metroline have placed separate orders with Wrightbus for a total of 61 StreetDeck Electroliner battery-electric buses. 22 will go to Arriva for use in Leicester as the group's first zero-emission double-deckers outside the capital. Metroline will take 39 for use on Transport for London services 142 and 297.
The Metroline buses will follow a batch of StreetDeck Hydroliner hydrogen fuel cell-electric buses previously delivered to the operator. Group Engineering Director Ian Foster says the Electroliner was chosen after testing demonstrated "excellent" energy consumption, something that he is confident will further improve in the future.
"As with the hydrogen bus order, it is essential that wherever possible, we purchase vehicles with a high local build content, supporting the UK supply chain backing our own technical expertise in the zero-emission arena," Mr Foster adds. The buses for Metroline represent the second London deal for the StreetDeck Electroliner, following an earlier order for the model from Abellio.
Those for Arriva Midlands form part of the successful Zero Emission Bus Regional Areas bid by Leicester City Council. They will enter service from October 2023. A StreetDeck Electroliner demonstrator was earlier trialled by the operator and the 22 due will be preceded by 36 new diesel buses due over the coming months.
Arriva Commercial Director Andrew Godley says the operator is "delighted" to have placed the order. It forms part of a widespread introduction of battery-electric buses in Leicester through the successful ZEBRA bid and other improvements to services involving the Leicester Buses Partnership, of which Arriva is a member.
Adds Deputy Mayor Cllr Adam Clarke: "This investment is another great step forward with the Partnership. By the end of next year, half of Leicester's bus travel will be on quiet, electric, high-quality vehicles."
Wrightbus has underlined that the StreetDeck Electroliner is "the world's most efficient double-decker battery-electric bus." According to testing for Zero Emission Bus certification by Zemo Partnership, the model with 340kW/h of battery capacity consumes 0.68kW/h per km; with 454kW/h of energy storage, it consumes 0.75kW/h per km.