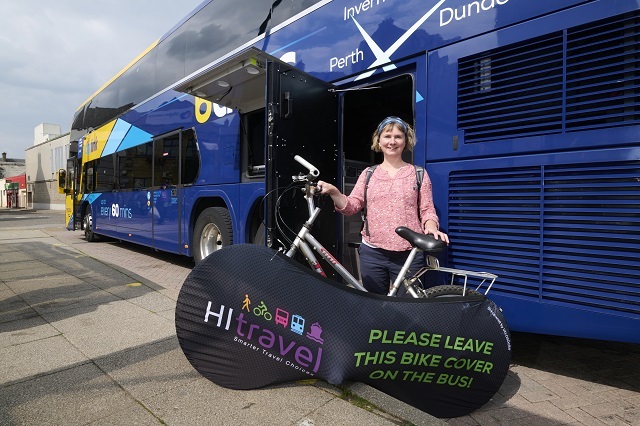 A 'bike sock' scheme to enable the safe carriage of cycles on some scheduled coach routes in Scotland has been extended to a wider range of services after strong demand was recorded.
A pilot began in summer 2021 as a partnership between Scottish Citylink and Stagecoach, with funding from HITRANS, the regional transport partnership for the Highlands and Islands. That saw two reusable 'bike sock' covers made available on coaches running on routes radiating from Inverness to Caithness, Fort William, Skye and Ullapool.
Those covers fit over the bike, including its wheels and its chain mechanism, meaning that the cycle can be carried safely in the coach's luggage compartment. HITRANS says that the Inverness to Ullapool axis proved most popular.
For 2023, coach services that offer the 'bike sock' service include some centred on Inverness and others between Uig, Fort William and Glasgow.
A majority of feedback gathered during the pilot was from potential customers who "wished to have the comfort and security of being able to book their bike on the coach when they purchase their ticket," HITRANS says.
As a result, the partners have introduced a booking service that permits reservations for both to be made together. The cycle sock and space are added via the same method as reserving extra underfloor space for luggage, although unlike the bicycle booking, luggage is charged for.
Says HITRANS board member and The Highland Council member Cllr Ken Gowans: "This excellent partnership with operators is good news for local people wishing to take the coach and then cycle for their onward journey, as well as visitors travelling to and from the Highlands and Islands for cycle touring holidays. It also enabled car-free travel to parts of our region with no train service."