The Alexander Dennis Enviro200AV autonomous bus for the CAVForth project won the headline Vehicle of the Year honour at the inaugural Self-Driving Industry Awards in Margate on 17 November.
The award was made to the manufacturer along with autonomous system provider Fusion and the operator of the UK's first full-size self-driven bus service, Stagecoach, at the ceremony, which was presented by Carsofthefuture.co.uk.
Councillor Rob Yates, Town Mayor of Margate, presented the award to Peter Stephens, Public Affairs Director at Stagecoach, and Matt Lawrence, Fleet Business Development Director at Alexander Dennis.  
CAVForth was launched on 15 May this year, covering the 14 miles across the Forth Road Bridge between Ferrytoll park-and-ride site in Fife and Edinburgh Park transport interchange.
Mr Lawrence says: "This achievement is a testament to the dedication and hard work of our engineering team and partners. Together, we are driving the future of autonomous transportation, setting new benchmarks for passenger experience, safety, efficiency, and sustainability."
The CAVForth project was part-funded by UK Government's Centre for Connected and Autonomous Vehicles (CCAV) and also involved Transport Scotland, Edinburgh Napier University, Bristol Robotics Lab, and the University of the West of England.
The trial has two staff members on board – a "safety driver" to monitor the technology and a "captain" to take tickets and deal with customer queries.
Mr Stephens adds: "We are proud to have provided the first autonomous bus fleet to the UK and the first service to our local communities in East Scotland. This Self-Driving Industry Award stands as a testament to the belief of our partners, our staff, and our customers, who have all put their trust in our vision. The service is live, and we invite anyone to come experience AB1, autonomous bus no.1, for themselves!"
Rebecca Posner, Head of Social and Behavioural Research at CCAV, was also recognised for her part in the project, winning the Consumer Champion honour.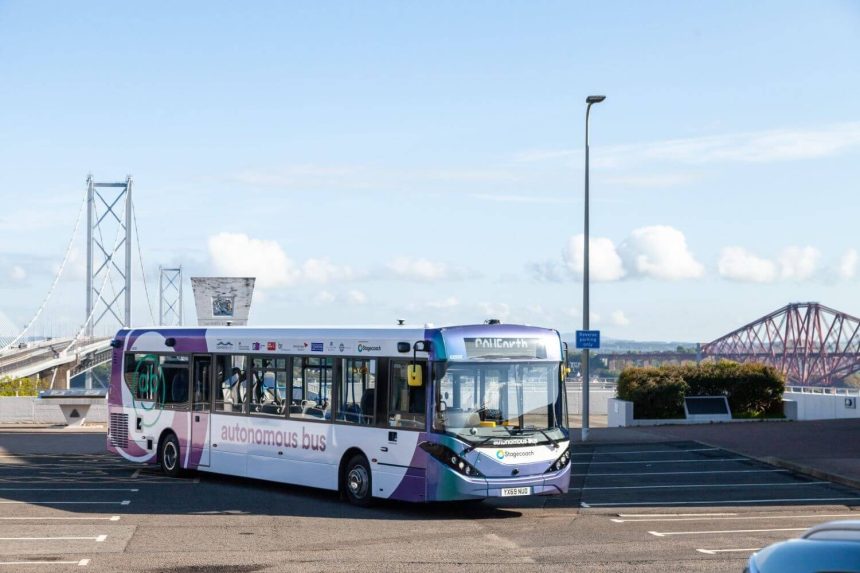 Carsofthefuture.co.uk editor, Neil Kennett, says: "Self-driving is about to completely revolutionise how people and goods move. The tech is already about as safe as the average human driver, and it's only going to get better…
"Apart from the eye-catching livery, the CAVForth buses appear quite ordinary. In fact, they are extraordinary, operating with a safety driver at SAE Level 4 on journeys across the iconic Forth Road Bridge. With partners including Alexander Dennis, Fusion Processing and Stagecoach, we were delighted to present Project CAVForth with the first ever Self-driving Industry Vehicle of the Year Award." 
Named Industry Legend at the awards was Professor Paul Newman, President, CTO and co-founder at Oxa, which will provide the software for the public transport shuttle services which will launch in Belfast in 2025.
Angoka, which is a partner in that Harlander project, won the Trust Award.