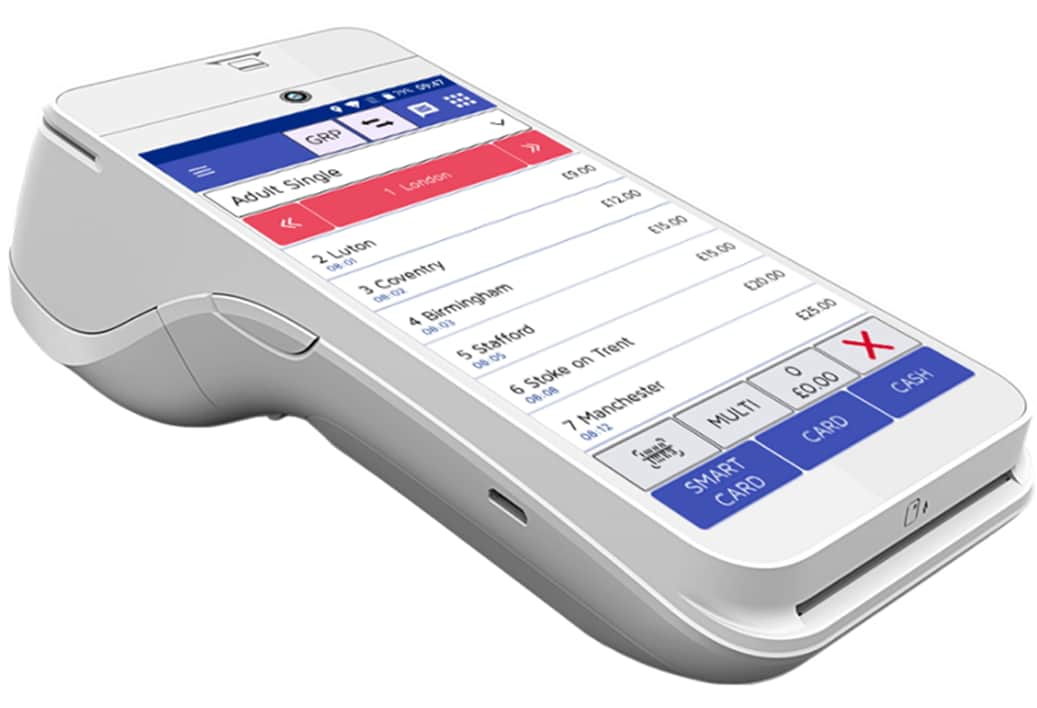 Community transport sub-operator South Beds Dial-a-Ride has rolled out cloud-based ticketing across its fleet, which provides rural bus services in Bedfordshire.
Funded by Central Bedfordshire Council, the new electronic ticketing solution delivered by TransMach assists the operator with improving the process of concessionary fare reimbursement. The solution also features vehicle tracking functionality to support the Council's aim of providing passengers with a constant flow of real-time service information.
Based around TransMach's TM920 mobile payment terminal (pictured), the Integrated Transport Smartcard Organisation (ITSO) compliant solution has enabled South Beds Dial-a-Ride to fully automate the previous time-consuming process of manual concession pass recording and audit reporting.
The 'all-in-one' device scans and validates QR coded tickets and passes, and then logs all boarding data remotely through TransMach's bespoke cloud-based back-office system.
Weighing under 400g and featuring contactless Europay, MasterCard and Visa payments and a built-in thermal printer, the payment terminal has proven to reduce administration significantly, while speeding up electronic reimbursement by submitting automatic concession reports. This represents a key benefit for the sub-operator, whose passenger demographic consists of 95% concession card holders.
The bespoke solution from TransMach has also enabled South Beds Dial-a-Ride to provide passengers with real-time vehicle location information through the use of an optional Bus Open Data Service (BODS) compatible SIRI data feed and GPS tracking. Fully integrated into the TM920 payment terminal and available across the TransMach range, the cost-effective SIRI feed allows the sub-operator to comply with new legislation that came into force in 2021, which requires bus operators to provide data on fares and live vehicle movements.
Commenting on TransMach's ticketing solution for South Beds Dial-a-Ride, Councillor Ian Dalgarno, Executive Member for Community Services at Central Bedfordshire Council, says: "TransMach has provided a cost-effective all-in-one electronic ticketing and vehicle location data solution, which has enabled South Beds Dial-A-Ride to bring its ticketing facilities fully up-to-date with ITSO concession card scanning and automated concession reporting. The incorporation of the SIRI feed to provide vehicle location data now helps to keep passengers better informed and futureproofs our service provision in line with the new Department for Transport requirements."
Minesh Vandra, TransMach's Director, concludes: "We are delighted to be supporting Central Bedfordshire Council with our bespoke electronic ticketing and bus tracking solution for South-Beds Dial-a-Ride, which has removed the administrative burden of concession reporting and keeps passengers much better informed, when travelling on low frequency routes.
"With around 90% of smaller, regional operators still using manual ticketing machines, Central Bedfordshire Council has shown the way forward through its investment in the latest technology, that's been implemented for a highly competitive price."