17 June marked Clean Air Day, the UK's largest air pollution campaign event, and operators, suppliers and trade bodies have taken the opportunity to praise the role that public transport continues to play in cleaning up the country's air – but others have pointed out there is still work to be done, and a car-based recovery after COVID-19 risks harming the UK's clean air objectives.
The campaign, led by Global Action Plan, united organisations and individuals to build awareness of the effects of air pollution and outlines actions that can be taken to tackle the problem. This year, the theme is protecting children's health.
Operators demonstrate clean air credentials
Go North East has long made its progress to lower emissions visible, recently introducing the battery-electric Voltra services, and is following the success of its electric buses with a promise of more zero-emission vehicles in the coming years. Its electric bus micro depot is equipped to accommodate 30 electric buses, and it will shortly be trialling an electric double decker at its Chester-le-Street depot to shape future technology investments.
"Our fleet is already jam packed with high-specification environmentally friendly buses, and we're doing everything we can to progress and make our fleet even greener," says Go North East Commercial Director Stephen King. "Our buses are clean, safe and comfy – embracing public transport is a vital step required to improve air quality and reduce congestion."
Elsewhere in the north of England, Transdev used Clean Air Day to make a fresh promise to cut emissions. In the next few months, the operators says it will have achieved 54% Clean Air Zone compliance across its fleet, thanks to an ongoing order of exhaust treatment retrofits.
Meanwhile, subsidiary The Harrogate Bus Company has become the first in the group to achieve full Euro VI compliance, an achievement it hopes to replicate elsewhere in its fleet.
"We are proud to be playing our part towards protecting the environment through our continuing commitment to low emission vehicles – at the same time as we continue investing in high-specification buses that our customers are proud to be seen on," says Transdev CEO Alex Hornby. "As we continue rebuilding our regional economy beyond the pandemic, we can't just go back to congested streets and traffic jams. Getting back to bus will help us to tackle congestion and pollution in our town and city centres – and soon more than half of our entire bus fleet will meet the toughest Euro VI emission standards.
"We also work closely in partnership with local, regional and national authorities, and share our expertise in electric bus operation and emission-reducing technology with other bus operators. The West Yorkshire Bus Alliance has a target to upgrade all buses to Euro VI standard or better in the next five years – and together, we bid successfully to the government's Clean Bus Technology Fund to support our £8m, five-year programme to make it happen."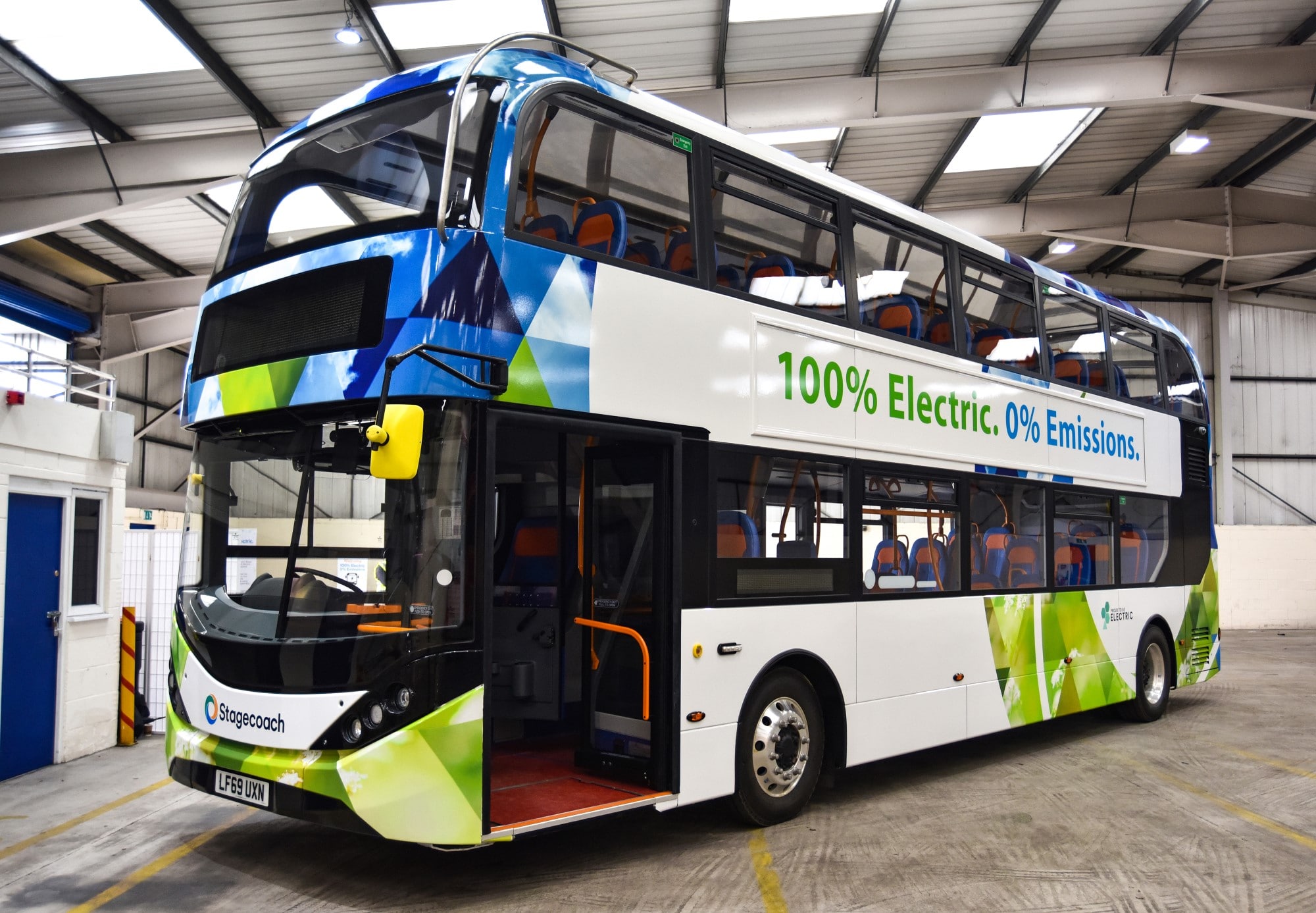 Modal shift key to clean air
Stagecoach, which carries the London Stock Exchange Green Economy Mark for deriving 50% or more of its revenues from environmental solutions, has marked Clean Air Day by calling for post-pandemic modal shift from car travel to public transport, citing a rise in car travel as cause for concern. It reveals that car traffic has been "above pre-pandemic levels and as high as 108% of the position before March 2020," over the last two weekends, while bus use in the capital has been slow to catch up.
Health, Safety and Environment Director for Stagecoach Sharon Vye-Parminter says: "We need a mass switch from cars to public transport, particularly buses, if we are to avoid a growing health and climate crisis. But there are already worrying signs in our towns and cities that car use is growing rather than falling.
"Technology alone will not solve the challenges we face. We need to make real changes to how we all live our lives and there has never been a better opportunity for government and public transport operators to work together to help people make that switch."
One of the operator's solutions to achieving modal shift was seen recently in its discounted bus travel scheme to NHS employees in Scotland.
The operator will publish a sustainability strategy later this summer outlining environmental targets. Meanwhile, it has already announced plans to operate a fully zero-emission bus fleet by 2035. In the last decade it claims to have invested £1bn in greener vehicles and technology, including 32 battery-electric double-decker buses in Manchester last year, and will introduce a further 46 electric vehicles to its key Scottish transport networks in Aberdeen, Kilmarnock and Perth.
Celebrating Clean Air Day in style
In Wales, Newport Bus decided to show off its green credentials with various activities, including demonstrating an electric bus to Welsh Government Deputy Minister for Climate Change Lee Waters MS, and a competition among primary schools in Newport City Borough and Chepstow in line with this year's theme of protecting children's health.
Comments Scott Pearson, Managing Director for Newport Transport: "Newport Bus is proud to be part of the community and Clean Air Day is always a fantastic opportunity for us to raise awareness on the importance of public transport as one of the solutions to improve air quality and shows that it is possible to address air pollution.
"By promoting our fleet of fully electric zero-emission buses, which will make up a third of our fleet by the end of 2021 and our investment in Euro VI double-decker buses, we would like to inspire residents to understand what they can do to reduce air pollution and limit its impact on their health and that of others."
Make air pollution relatable, says Passenger CEO
Coach and bus industry suppliers have also voiced their support of the campaign, with CEO of app and website provider Passenger Tom Quay suggesting ways to convince more people to be eco-friendly. In particular, he points out that making statistics on the damage of pollution will make it more relatable to most people.
"For me, 'shock' tactics are only truly shocking if people can relate to them," he says. "For example, noting the amount of carbon dioxide produced by a 15km car journey is one thing, but equating it to the number of cups of tea you can make – 1,100 cups in this instance – is far more relatable. This is what we've done with our Premium app, so users can see how much impact they're actually having in real-life terms when they take the bus.
"In addition to 'shock' tactics, we need to show people how more eco-friendly practices aren't an added inconvenience. The Centre for Cities think tank recently suggested that a five-day office week could be the norm again within two years. The added inconvenience of having to travel to work means people will want to take the easiest route possible – their cars in most cases.
"This is why we need to make public transport as easy a solution as simply jumping in the car, whether it's operators adopting more convenient journey planning and ticketing systems, or the government investing more in public transport to improve bus frequency and add more routes. Changes won't happen overnight, but we need to do everything we can to convert people to an eco-friendlier lifestyle – and understanding their main decision drivers is key to this."
CPT calls for government campaign
Echoing the call to encourage users away from cars and stressing the need for national messaging from government is Confederation of Passenger Transport (CPT) Head of Policy Alison Edwards.
"As we exit the pandemic, government must actively encourage and back industry efforts to get people back on board coaches and buses rather than travelling by car," she says. "Without a pro-public transport message from government to help counteract some of the unhelpful messaging around public transport during the pandemic, we risk seeing continued reliance on the car, increasing air pollution and damaging our health."
CPT took the opportunity to repeat its call for bus priority measures and fair policies for coaches when it came to Clean Air Zones.
"Just one extra car journey per month by bus would result in a billion fewer car journeys each year, and a fully loaded coach can take up to 50 cars off our roads," adds Ms Edwards. "We must see significant investment in bus priority measures and Clean Air Zones that are fair and reasonable for coaches and charge cars to enter them."