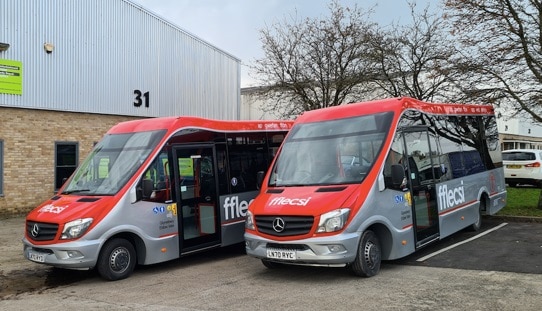 Transport for Wales (TfW) will further extend its Fflecsi demand-responsive transport (DRT) trial on 14 June when the concept replaces two Stagecoach South Wales fixed-route services in Blaenau Gwent. A pair of Mellor Strata-bodied Mercedes-Benz Sprinters have been purchased for the new service and they will be operated by Stagecoach.
The Blaenau Gwent Fflecsi service will observe two zones. It will increase access to employment for those that work shifts in the area and connect to Stagecoach's trunk X4 service between Cardiff and Abergavenny. It will also meet the last train of the day arriving at Ebbw Vale station.
Says TfW CEO James Price: "Fflecsi is a very exciting trial for us as we continue to transform public transport in Wales. The ongoing COVID-19 pandemic has had a direct impact on public transport and as we move forward, the safety of our colleagues and customers continues to be our top priority.
"This offers us the opportunity to look at a new way of operating. We are now running Fflecsi pilots throughout Wales and it is great to see it expanded to Blaenau Gwent."
Stagecoach South Wales has already worked with TfW to turn its previous fixed-route 152 in Rhondda into a Fflecsi service. Says Managing Director Nigel Winter: "DRT has the potential to quickly launch new, technology-driven public transport solutions where the need is greatest, and to complement our existing services across Blaenau Gwent.
"The TfW Fflecsi service has demonstrated how DRT can play a vital part in transforming public transport in other parts of Wales, including the Fflecsi 152 service in the Rhondda Valleys. We are delighted to be playing a part in delivering this innovative new service for TfW and Blaenau Gwent Council."