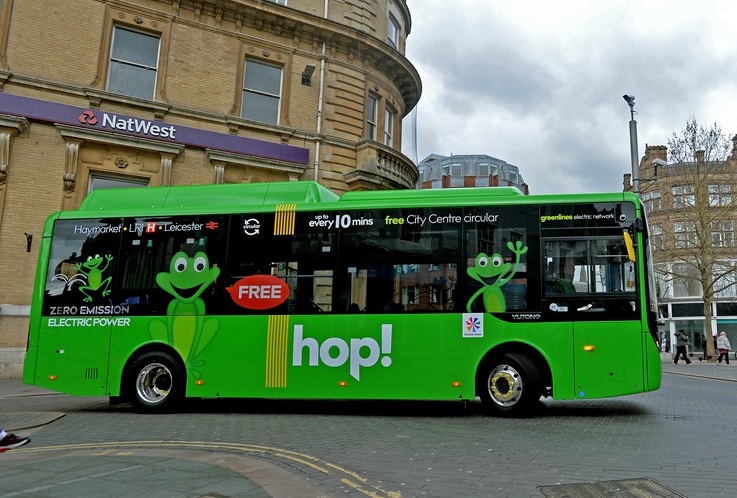 The UK's first Yutong E9 battery-electric small buses will enter service with Centrebus in Leicester on 3 April. They will be used on a new Greenlines Hop free service connecting transport hubs, attractions and other traffic generators in and around the city centre.
Hop will run every 10 minutes between 0800-1800hrs Monday to Saturday as an 18-month trial. It forms part of Leicester City Council's Leicester Bus Partnership commitments. The E9s follow larger Yutong buses with multiple operators in the city and each seats 21. In keeping with the brand, they have been equipped with a distinctive ribbit-effect bell.
Purchase of the Yutong E9 fleet represents an investment of around £1 million, with money having come from the successful Leicester bid to the Transforming Cities Fund. Centrebus will operate the service under contract, while the City Council has provided around £325,000 towards the route and its promotion.
The Greenlines network in Leicester is a major part of improvements being delivered via the Bus Partnership. Subject to funding, Greenlines will grow further over the next eight years.
Says Centrebus Commercial and Operations Director David Brookes: "Hop will be the latest addition to the ever-increasing network of electric bus routes in Leicester. It will not only provide a new and sustainable way to get around the city centre, but will also contribute to better air quality and reduce carbon emissions.
"Centrebus is proud to be working with the City Council on this project. We hope that the new service will prove popular with passengers and we are excited to launch these new electric vehicles in the city centre."
Yutong supplier Pelican Bus and Coach announced in 2022 that it would bring the 8.94m E9 to the UK. The model has 255kW/h of energy storage, with the dealership noting at that time how the 2.42m wide bus will suit both urban and rural applications.