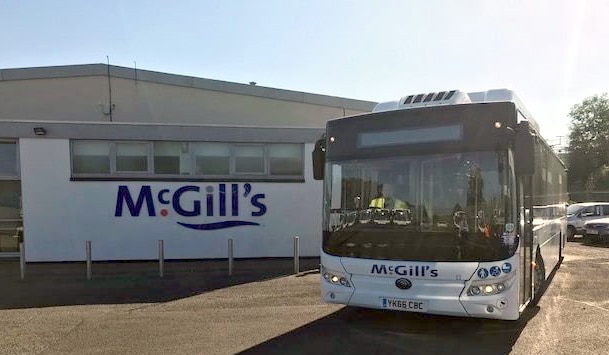 McGill's has placed an order with Pelican Bus and Coach for 22 Yutong E12 battery-electric buses. The operator says the order marks the beginning of a phase-out of diesel purchases in an effort to respond to the air quality and climate crisis.
The 12m zero-emission buses will be delivered in the third quarter of 2021. Each vehicle has been specified with the 422kW/h battery pack, which Pelican claims is capable of daily operational range of over 300km on a single charge. The delivery is aided by the Scottish Ultra Low Emission Bus Scheme.
"After careful evaluation of the full size EV bus products available, we opted for the Yutong E12 which matched our need for a quality product with a long and reliable service life," says McGill's CEO Ralph Roberts. "Operating range is critical in a battery powered bus and the Yutong electric vehicle (EV) fulfils our arduous duty cycles.
"Customer and driver comfort is at the forefront of our specification and we are confident that bus users will enjoy the silence and comfort, safe in the knowledge that their already low-emission journeys are now zero emission at the point of use. This is the start of our zero-emission journey and our aim is that we will phase out clean diesel purchases where possible in favour of EV or hydrogen"
Ian Downie, Head of Yutong Bus UK, adds: "We are absolutely delighted that one of the premier operators in Scotland, McGill's, has started its zero-emission journey with Yutong and Pelican. Pelican is able to offer zero-emission coaches and buses from Yutong, and with over 117,700 Yutong electric vehicles in service around the world, these are the tried and tested, market-leading product.
"We are committed to providing the very best in class vehicle, with fast DC charging and air conditioning fitted as standard. The vehicles will be fully commissioned and completed in the UK by the team at Pelican."