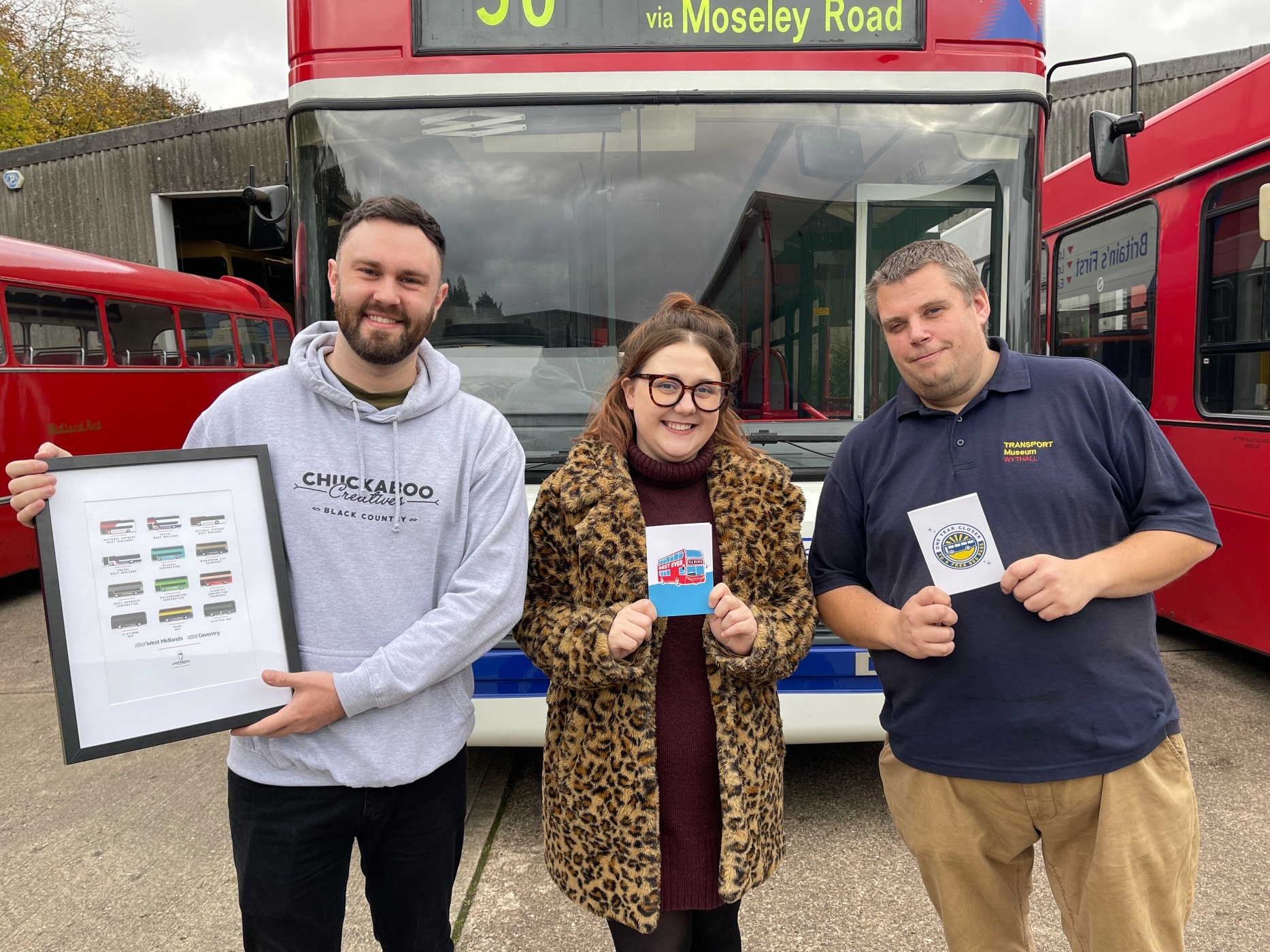 National Express West Midlands (NXWM) has worked with a local designer to support Transport Museum Wythall. Chuckaboo Creatives produced bespoke greetings cards and a poster print that showcases the operator's fleet of heritage liveried buses, and the merchandise has now been gifted to the museum to support it with funds towards vehicle preservation.
The original prints and greetings cards will be available for purchase by visitors to the museum's Twilight Day event on Sunday 31 October, as well as on its website. Twilight Day is the finale of Wythall's 2021 event season and offers rides on preserved buses into the autumnal dark evening.
Says NXWM Marketing Executive Beth Smith (pictured, centre): "I have really enjoyed working on this collaboration with Chuckaboo Creatives. Luke Reader (pictured, left) is such a fantastic graphic designer and he is from the Black Country, so it has been great to work with such talent from my local area.
"We all wanted to do something a little different, and more importantly, to support another local organisation. We are delighted to finally be able to launch this unique new merchandise with Transport Museum Wythall.
"100% of the proceeds from this collection are being sold and collected by the museum. We hope that this will help it to continue preserving its fantastic bus fleet and to support events during 2022."
Transport Museum Wythall representative Dean Howdle (pictured, right) says the organisation is "extremely grateful" to NXWM for its donation of cards and posters. "The merchandise will provide a great boost to our income as the season comes to a close. We look forward to continuing our strong relationship into 2022."