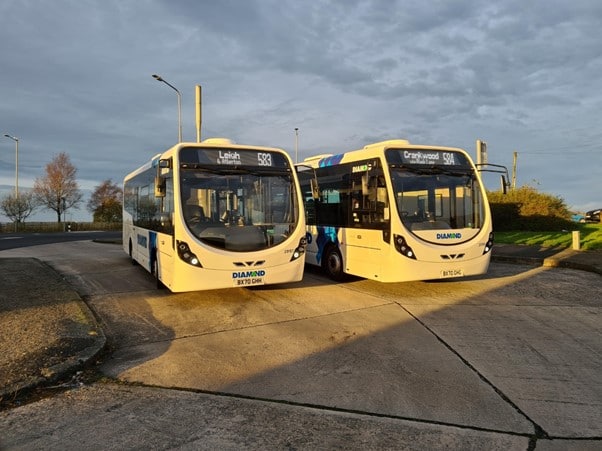 Diamond Bus North West has welcomed four brand new Wright Streetlite buses into its fleet. The new micro-hybrid buses will operate from the operator's Eccles depot and will ply the 583 and 584 local services in the Leigh area, which it inherited from Jim Stones Coaches following the operator's closure earlier this year.
The latest batch of vehicles benefit from lower emissions and improve passenger experience by being equipped with USB charging points, CCTV and e-leather seating.
The company says it is proud to continue its investment in brand new vehicles. The new Streetlites join a growing fleet of cleaner, greener vehicles acquired over the past 18 months and complement Diamond Bus North West's 128 Streetdecks.
Says Bob Dunn, Diamond Bus North West Managing Director: "Following the sad closure of well-respected operator Jim Stones earlier in the year, we committed to taking over two valuable routes in Leigh.
"Despite the difficulties posed by COVID-19 we are determined to improve our local services and this investment supports that ambition."