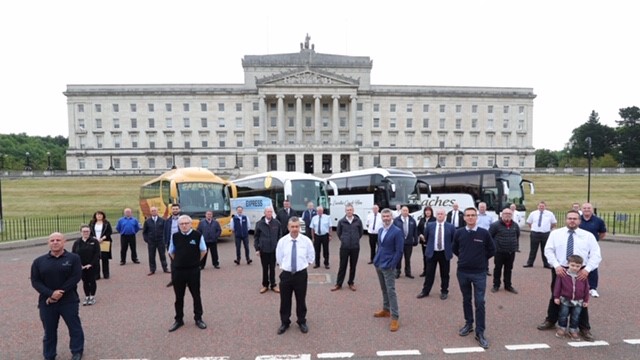 Over 30 coach operators from across Northern Ireland gathered at Stormont earlier in June to call on the Northern Ireland Executive to urgently provide financial support for their industry.
Trade association Bus and Coach NI (BCNI) says that if money is not forthcoming, the coach sector in Northern Ireland will be "decimated" and that thousands of jobs will be placed at risk. The dire financial situation brought on by coronavirus COVID-19 is "worsening by the day," BCNI adds.
BCNI notes that while the tourism sector has been heavily hit, school transport services in Northern Ireland are also under threat if the coach industry is not given financial support.
Says Chief Executive Karen Magill: "Time is running out to save our industry, which is on its knees. Without immediate and ongoing financial support, thousands of jobs could be lost and our once-thriving coach sector could disappear overnight.
"Coronavirus COVID-19 has had a devastating effect on the whole tourism ecosystem. It is difficult to see any light at the end of the tunnel for our members. As each day passes, more businesses are becoming unviable"
Ms Magill says that the loss of coach operators will lead to reduced mobility for visitors to Northern Ireland. That will impact many other businesses in the tourism sector, she continues.
"We are a key part of communities right across Northern Ireland through transporting school children, sports teams or people in those rural communities. This factor must be recognised and acknowledged with financial support now."
The call by BCNI echoes that made by the Confederation of Passenger Transport (CPT) for support for its coach operator members in England, Scotland and Wales. CPT has asked for a package of measures to help the industry through what it has described as "an 18-month winter."