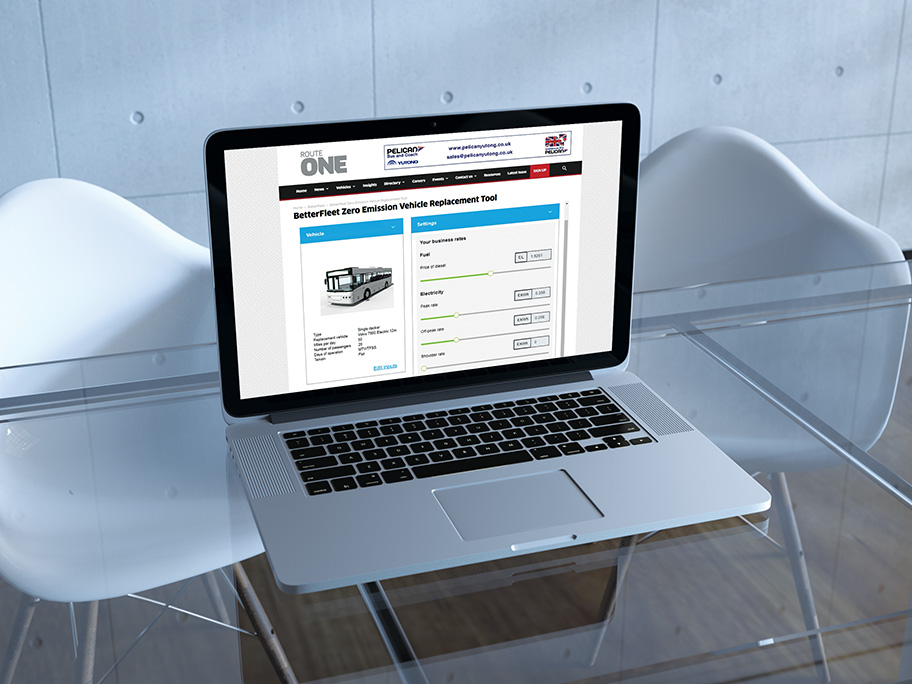 Free BetterFleet tool by Evenergi offers to simplify decarbonisation for fleet operators
routeone has partnered with transport decarbonisation consultancy Evenergi to bring the BetterFleet fleet comparison tool to the UK. It allows operators to see potential emissions savings, range differences and ownership costs between different vehicle types in as little as five minutes.
The free tool is designed to help operators looking for the information needed to support fleet decarbonisation. It asks users to choose from a list of zero-emission coaches and buses currently available in the UK and to fill in predictions for passenger numbers and daily mileage. A report is then generated based on Evenergi's data analysis, which compares emissions, costs and predicted range of selected vehicles against diesel models.
More detailed reports can be generated if operators know their diesel and electricity prices, vehicle charging hours during peak and off-peak times, operating lifetime and battery replacement intervals.
Operators working with Evenergi get access to the full BetterFleet platform, which covers vehicle and infrastructure selection to implementation and integration. The in-depth analysis covers energy and infrastructure planning, route emulation, fleet data analytics, emissions forecasting, and future asset replacement.
Evenergi also helps support business cases or grant applications, and already works with 200 fleets across the Asia Pacific, North American and European markets.
Daniel Hilson, CEO and Founder, Evenergi, says: "We are proud to be partnering with the most trusted and respected publication for the coach and bus market in the United Kingdom and providing a tool that has been in high demand from those operators that do not currently have access to a cost-effective framework for starting the transition to a zero-emissions fleet.
"We are excited about the launch and look forward to feedback in the early days so we can work together to improve the tool over time to ensure it is something that has a tangible impact on accelerating this vital transition in the United Kingdom for the long term."
To request a demonstration, head to route-one.net/betterfleet
or Meet the Evenergi team on stand T36 at Euro Bus Expo