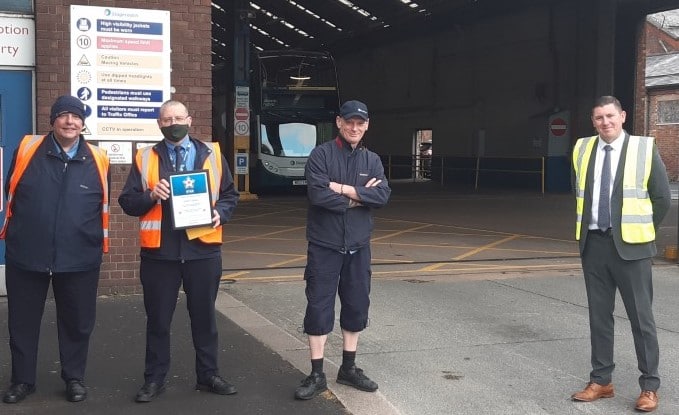 Three drivers from Stagecoach Manchester's Hyde depot have been honoured with the company's Star of the Month award after they stopped to assist a distressed woman on a bridge.
Stagecoach divers Darren Shaw, John Livsey, and Paul Kitchen had been travelling to work in the early hours of the morning when they spotted the young woman on the side of a bridge overlooking the M60 motorway.
The three drivers stopped and comforted the woman until emergency services arrived.
"We just did what anyone else would do. We were in the right place at the right time, and we're just very relieved that the woman was brought to safety," says Darren.
Adds Lee Wasnidge, Managing Director of Stagecoach Manchester: "Stagecoach strives to serve its community, but the actions of these three drivers really goes above and beyond.
"The selfless actions of Darren, John and Paul show the great dedication we see from all of our Greater Manchester workforce, and really showcases the kind of staff we are proud to employ within our team.
"We'd like to thank them for their quick thinking and actions during this extremely distressing incident; they are all very deserving winners of our Star of the Month award."