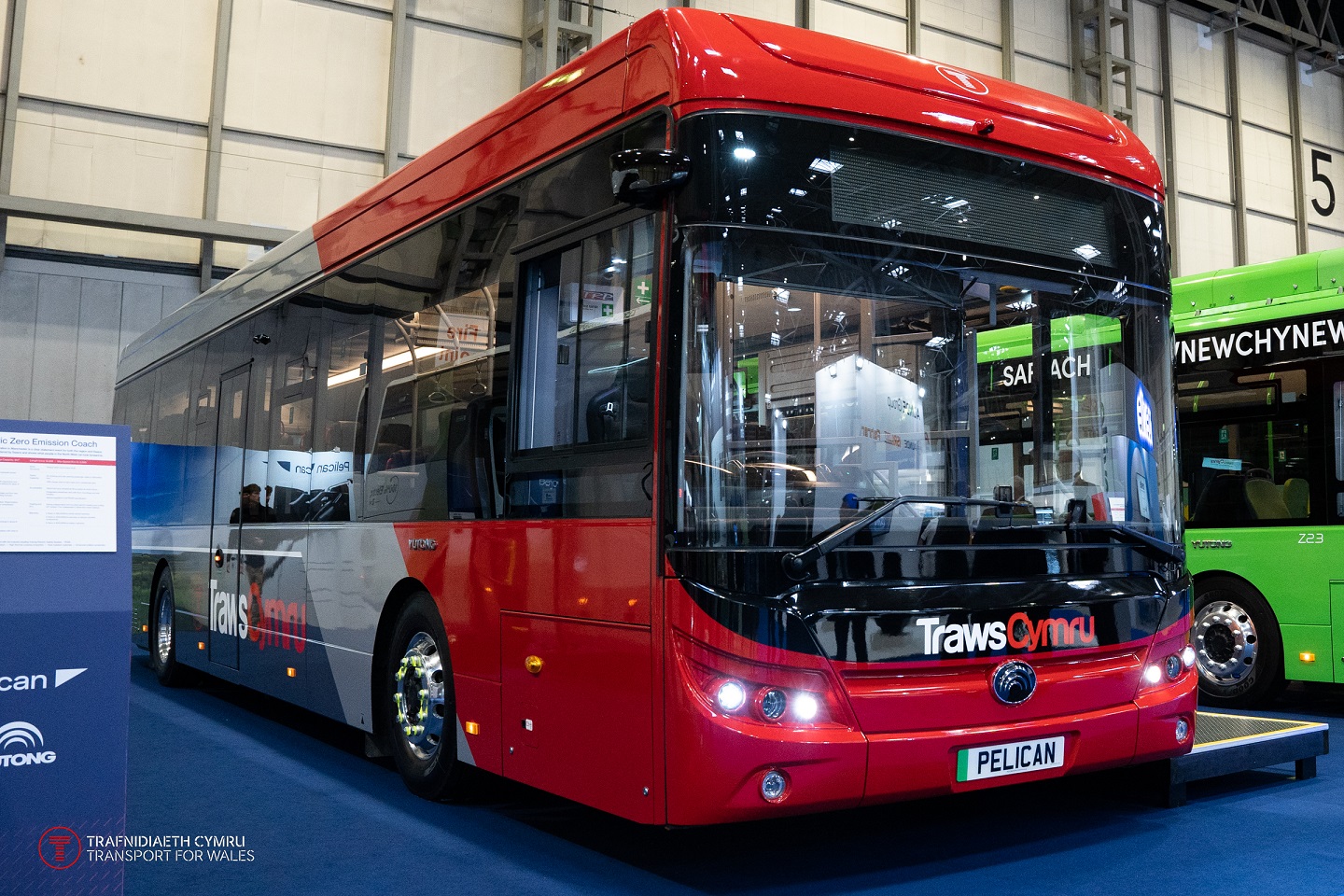 The conversion of TrawsCymru route T1 between Aberystwyth and Carmarthen to battery-electric operation is expected in Q1 2023.
Confirmation of the outline timeframe was given at Euro Bus Expo in early November, when one of the eight Yutong E12 buses to be used on the T1 was presented to representatives of Carmarthenshire County Council. The operator of the E12s is not yet confirmed, with a tendering exercise still underway that closes on 28 November.
Transport or Wales (TfW) says that conversion of the T1 route to zero-emission buses is the first step towards achieving the same across "the entire TrawsCymru fleet by 2027." That is later than the originally planned date, which was advised in April as being the end of 2026.
The E12s for the T1 route are supplied by Pelican Bus and Coach. TfW says that they have been extensively tested for the terrain of the service. The buses can be charged using twin 120kW DC inputs to give a 240kW rate of replenishment. A new charging hub within Carmarthenshire will open to service them.
Internally, the E12s have coach-style seats along with reading lights, tables and phone charging sockets, along with the air-conditioning that is standard on Yutong battery-electric buses for the UK.
Speaking about the Carmarthenshire buses' debut, Deputy Minister for Climate Change Lee Waters says: "This is great news. The introduction of the new fleet of battery-electric buses will provide a great boost to the TrawsCymru service and it is an important step in fulfilling our 20-year ambition for a high-quality, multimodal, integrated, low-carbon network of public transport in Wales."
The contract notice issued by TfW notes that under the new award, operating hours on the T1 service will be increased. Award criteria will involve weightings towards quality (45) and price (55). TfW will provide a "comprehensive driver training programme" to the winner.
Six other Yutong E12 buses are to be used on TrawsCymru routes in North Wales. Those vehicles were delivered to the UK before the Carmarthenshire vehicles in 2021, but they are yet to enter service.