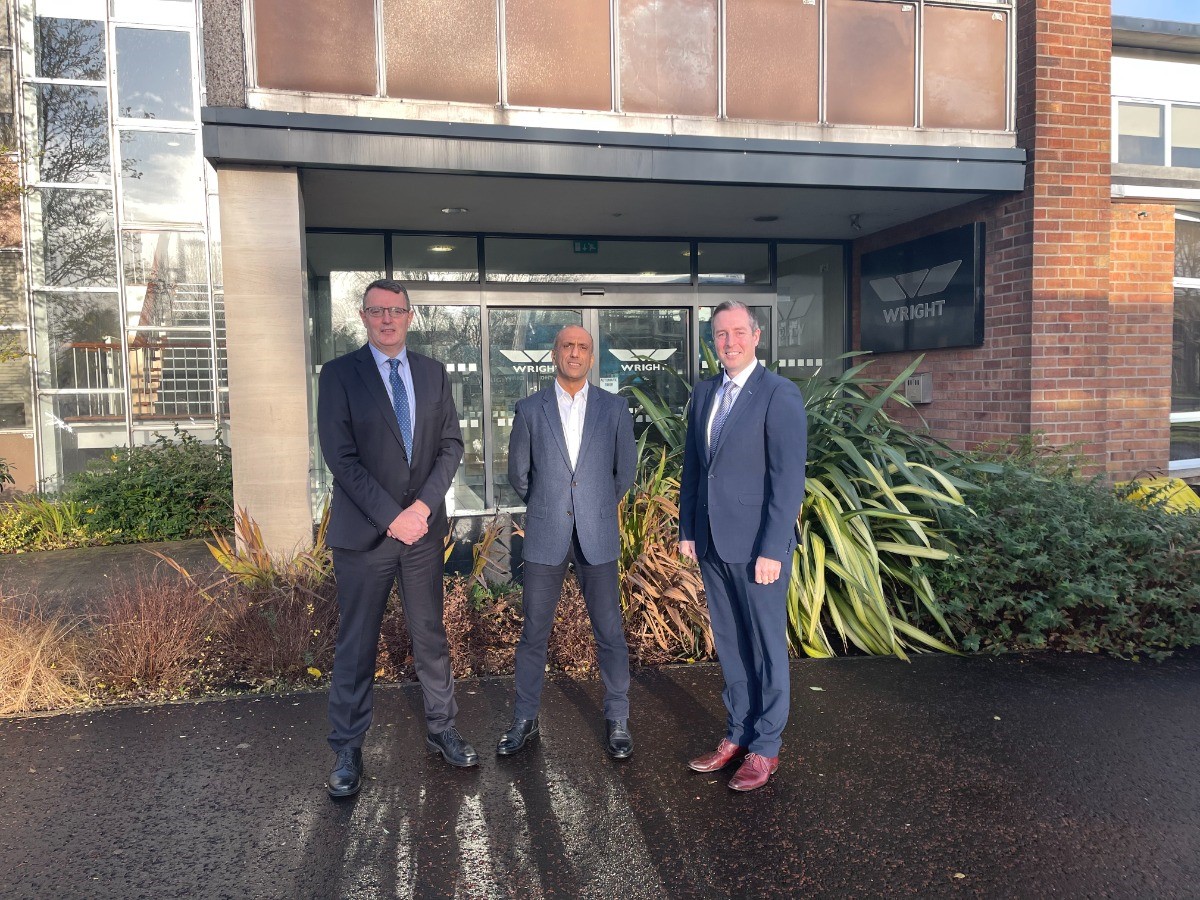 Wrightbus will double its output to approximately 600 buses in 2022 and around 70% of them will be zero-emission, the Ballymena manufacturer has announced.
The percentage split represents an about-turn from this year, when 70% of the 300 buses that Wrightbus will manufacture will be diesel-powered. The shift represents "a fantastic endorsement" of the shift to zero-emission by both customers and the UK Government, says Chief Executive Buta Atwal (pictured, centre).
Wrightbus revealed its expectations for 2022 during a visit to its factory by Northern Ireland First Minister Paul Girvan on 8 December. Mr Atwal also further underlined the manufacturer's "clear plan" to reduce the costs of zero-emission buses so that their total cost of ownership is comparable to a diesel's.
Mr Atwal particularly stresses the relevance of hydrogen fuel cell-electric power in the transition to zero-emission. He says its widespread adoption will support many other businesses and the growth of a hydrogen sector that "will enable us to become a world leader in this low-carbon technology."
Adds Mr Girvan (pictured, right): "I have been hugely impressed by the vision of Wrightbus in working towards decarbonising the transport sector, and it has been of great benefit to meet with the company at its plant and learn more about its ambitious and innovative plans.
"I was particularly pleased to hear how Wrightbus plans to increase production of zero-emission buses to around 70%, bringing real and lasting change to the public transport sector."
The first of 20 hydrogen fuel cell-electric StreetDeck Hydroliner double-deckers recently entered service with National Express West Midlands on its 51 route between Birmingham and Walsall, complementing examples that were earlier supplied to First Aberdeen, London operator Metroline and Translink in Northern Ireland.
In July, Wrightbus Executive Chairman Jo Bamford – who also owns hydrogen supplier Ryze – founded Fuze, an asset finance provider that will work exclusively with Wrightbus zero-emission vehicles.