To many of its members, the coach industry is not just a career, or even a vocation. It is a lifestyle and one that they would not wish to change for any other. Greg White, Director of award-winning operator White's Coaches of St Albans, is among them.
Before 2008, White's was mainly a provider of special educational needs and disability services to local authorities. But that year, Greg purchased the operator's first executive coach and began to mould it into a VIP transport company. White's has come a long way since then, but its private home-to-school contracts have proved valuable during the coronavirus COVID-19 pandemic.
"I am very grateful for that, but it is the VIP and executive work that gives me the buzz. It always has been," he says. On a Saturday earlier in August he was called upon to do a job that fits squarely into the latter box: A transfer for a Premier League football club, the first such work in many months.
That job stirred some thoughts. They were about how the coronavirus COVID-19 pandemic has affected White's, and relating to Greg's wider view of his business – and the industry. Here, he shares them with routeone.
It is Saturday 8 August. All my staff are on furlough and the brilliant self-employed driver I use is away. I have a very late-night transfer for Ellisons Travel to cover, alongside two of its coaches, for a Premier League football club. I am the only person at White's Coaches who can do it. Being trusted to provide smaller vehicles for Ellisons remains one of my proudest achievements. I always take full control of anything that Ellisons requires with driver and vehicle allocation.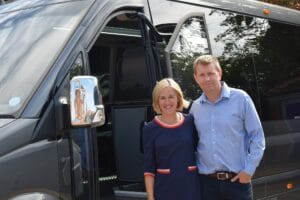 I have been complaining to my wife and a few friends on WhatsApp that I have to work late tonight. But inside, I am quite excited.
The job is from the private jet terminal at Gatwick and the transfer should take about 45 minutes. The flight is due to arrive at 0100hrs, but my contact and friend at Ellisons – Nick – has asked me to get there by 2330hrs.
Gatwick is about 75 minutes away with a clear run. I plan to leave at around 2130hrs. The route from there to the destination is simple. I have been there many times, but never from the south. I text one of the Ellisons drivers to ask what route is planned. The response is that it will be via roads that I do not know. That makes me a little more uncomfortable, so I get on the computer and have a good look first.
2000hrs: My two children are amazed to see their dad come downstairs looking smart and clean-shaven for the first time in six months. Libby and Stanley are now 12 and 14. In the very early years of their lives I pretty much drove on every job, when I only had a couple of really nice vehicles. I tell my wife that I may as well head to the yard a bit early, although I am sure that there will be very little traffic on a Saturday evening, and especially at the moment.
2015hrs: As I arrive, my heart sinks to see all my fleet parked. All but three vehicles are SORN. Normally, seeing the fleet cheers me up. All our vehicles have number plates that begin with G and end with WSA. Tonight I am in G8 – a Noone Turas 600s with 16 VIP seats and tables. It is one of my favourites and I am very proud of it. Once I complete my walk-round check I am ready to leave, after completing a few bits of paperwork in the office.
2045hrs: Off I go. I am nice and early. It is just me, the road and G8. I am free. I am happy. I might stop for a hot chocolate or a coffee. If I am early enough, I will go and do a recce to physically see where I am going.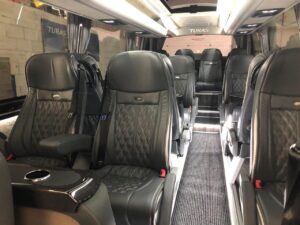 2130hrs: I stop for a hot drink. I have seen no coaches on the way down and there are none at the service station. The roads are dead.
2145hrs: I leave and quickly do the recce. I am happy to know what I am doing. After that, I head straight to Gatwick.
2245hrs: I arrive at the private jet terminal and go in to say that I am there. I then turn my attention to making sure that I do not take a wrong turn on the way out. I drive out. Of course, I end up driving around the north terminal. This cannot be right.
After 15 minutes of driving around I work out the correct way out of there. The Ellisons drivers will know what they are doing. I head back to the private jet terminal and park up.
2345hrs: Two immaculate Ellisons Irizar i6S integrals arrive and park. The drivers and I go inside to the drivers' room. They talk openly about what they have been doing. I think to myself how lucky they are to be working for one of the very few companies that has a market to serve at the moment.
0015hrs: I go and sit in G8 and wait for the flight to arrive. I am told that it is a bit late.
0145hrs: Passengers are arriving. After we are all loaded up, I actually end up following the Ellisons coaches – so my time planning what I was doing was not necessary. But that is the job, so better safe than sorry. It is a smooth run with no hold-ups. The passengers are dropped off safely. They thank me and I am relieved that it all went well.
0300hrs: Heading home. Back on the M25. Just me and some music for the next hour back to junction 22 and our base.
0345hrs: The job is complete. G8 is parked, the yard is locked and I am happy.
As I drive home, it hits me just how hard my business has been affected by the pandemic. At this time of year, White's Coaches would normally be flat out. But after tonight, there is virtually nothing for the rest of August. Like most, I am hoping that at least the schools will be back to normal in September.
But then I ask myself: 'Is the excitement gone forever?' The thought of that is not a good one. This is me and it is who I am. Without this I am not sure I can be me. I loved tonight. I had forgotten who I was.