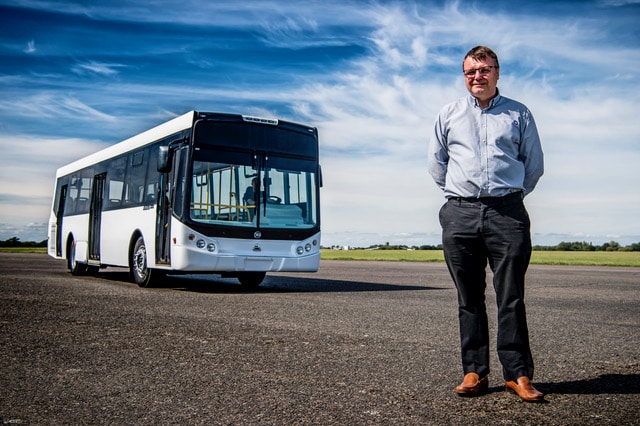 The potential to retrofit a battery-electric driveline to an existing bus should not be forgotten by the government as it plots the UK market's transition to zero-emission, says Ian Foley, Managing Director of Snetterton-based Equipmake
The COVID-19 pandemic has caused huge damage to many sectors of the UK economy – but the bus industry has been hit particularly hard. With the population in and out of lockdowns, and a new trend towards home working, the number of people commuting on buses has been dramatically reduced.
While we are currently in a third lockdown, the rapid roll-out of a national vaccine programme brings a very good chance that life in our towns and cities might return to some form of normality later this year. Another factor to consider is that regardless of the pandemic, we must address urban emissions.
The UK, like every country across the globe, needs to improve the quality of the air we breathe and provide clean, green, affordable ways for people to move around cities in ways that do not involve the private car.
'Retrofit can form part of electric bus transition strategy'
One of the most effective ways to do that is the electric bus. Some 200 electric buses can offset the emissions from 3,700 diesel cars. So said Secretary of State for Transport Grant Shapps twelve months ago when he announced Department for Transport plans to provide up to £50m for one UK town or city to introduce an all-electric bus fleet.
Fast forward a year and two cities have been shortlisted: Coventry and Oxford. That is certainly a step in the right direction, but there is so much more that can be done. We need an optimum transition strategy that helps to fund the adoption of zero-emission buses for the whole of the UK and one that supports UK bus manufacturers and technology suppliers.
As a manufacturer of electric powertrains, you will not be surprised to find we have some strong opinions on that. And a proposal, too.
Demand for electric buses 'is skyrocketing'
Before we talk funding, it is worth taking stock of the huge potential of the electric bus globally. In 2019, there were only about 3,000 electric buses on the road in Europe and the United States – representing just 1% of the total bus market.
But demand is skyrocketing. Worldwide, the market is set to jump from 300,000 per annum to 1m by 2030. It is widely accepted that all buses will be electric by 2035.
Every city in the world is making a commitment to going green.
London has one of the largest fleets of buses in Europe – at around 8,000 vehicles – and from 2025, Transport for London has committed to procuring only zero-emission buses. Already, 15% of The Netherlands' bus fleet is electric, and sales are only going in one direction.
Electric bus retrofit can deliver ZE power quickly.
At Equipmake, we have developed a retrofit electric powertrain that allows any bus manufacturer or operator to go electric almost overnight.
Our first partnership, with leading South American commercial vehicle provider Agrale, will see a new electric bus – developed by us in Norfolk – enter in-service trials in Buenos Aires this year. And Argentina's capital has a fleet that is twice the size of London's.
Of course, one country is already leaving us behind: China, where a staggering 99% of the global electric bus fleet – just over 420,000 vehicles – was operational at the start of 2019. Now, both China's city-wide adoption, and the growth of electric bus technology in the region, has been built on one thing: Large subsidies.
China's approach to subsidies has been a huge success. Like most national schemes, it very much favours domestic technology providers – which is completely understandable. The same approach takes place in many European countries too.
'Including retrofit in plans would benefit the UK economy'
If we look at the UK right now, over 50% of new EV buses used on our roads come from a joint venture between Alexander Dennis – which provides the body – and China's BYD – which provides the chassis, including the electric drivetrain.
Around 30% come from UK bus manufacturers or technology suppliers, with less than 10% from other European companies. We believe even more could be done to support the UK economy.
What's the answer? Well, with a price tag of around £400,000, there is no doubt that a brand-new double-decker electric bus is a major investment. However, a retrofit would cost around £200,000 (the same as a new diesel bus).
Retrofitting technology can turn any diesel bus into a clean, zero-emission vehicle very quickly.
At Equipmake, we can retrofit five EV powertrains to existing diesel buses each working week – the equivalent of one a day – versus a delivery time of up to a year for an all-new EV bus. And we can do so for half the cost, too.
As well as bringing an EV bus more rapidly to market and being more cost-effective to an operator, retrofitting is also greener before the bus even turns a wheel, as it doesn't require a factory to produce an all-new vehicle, instead recycling the existing fleet.
'Government funding strategy should recognise electric buses'
We would really like to see a new funding strategy from the UK government that includes subsidies for new electric buses – and retrofitted ones too. For example, let's imagine the UK government funded 75% of the difference between a diesel bus and a new electric one. That would mean the operator would pay £250,000 – with the government being billed £150,000.
That would certainly be a very good deal and it would further encourage take-up – but it would be even more attractive for retrofits. At half the cost of a new EV bus, the UK government would only have to contribute £75,000 to a £200,000 retrofit, with the operator cost being £125,000.
Or, to put it another way, you could have two EV retrofit buses for the price of a new one, delivered to market extremely quickly and in a more environmentally-friendly way, supporting even more highly-skilled UK jobs and with greater overall benefit to the country – and a lower bill for the UK government.
It would be a win-win – and it would put the UK on the road to being one of the world's leading markets for the adoption of electric buses.
For an earlier routeone feature on Equipmake, see here. Global bus market data source here.