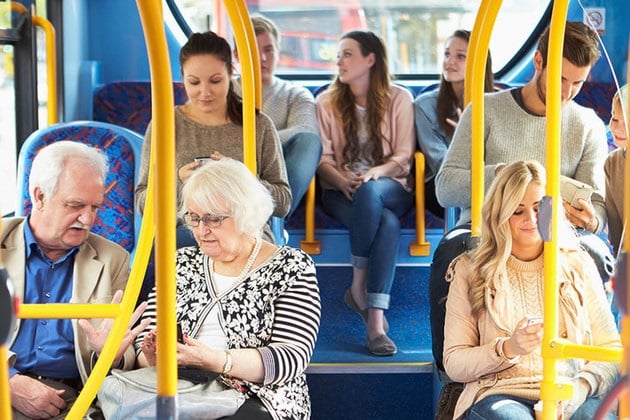 As we move into the autumn season and, perhaps more importantly, edge closer to the Comprehensive Spending Review – which could be one of the toughest in a very long time – it is worth taking time out from the day-to-day issues facing the coach and bus industry to assess the wider economic scene, as that affects every business in the country.
The overall landscape is not too encouraging, even if the UK economy is showing remarkable resilience after the hammering dished out by COVID-19.
Rising inflation and wages: Is economic discontent ahead?
Some commentators have recently suggested that the UK is facing "a winter of discontent" similar in nature, if not scale, to that which broke the Labour government during the winter of 1978/79. I am no economist, and while I don't share that level of pessimism, some signs are not encouraging.
Inflation is rising. It has already increased from 0.5% in February to 2.5% in June, with the Bank of England forecasting that it will hit 4% by the end of the year. That is a far cry from the 20% that we saw in the 1970s, but we have enjoyed very low inflation for some time now, and the government will want to ensure that it stays in low single figures.
But wages are rising fast, of course – over 7% between April and June – which will only increase price pressures as these higher labour costs get passed on to the consumer. Unemployment has creeped up, and the share of the workforce claiming unemployment-related benefits is close to 6%, with a further 6% still on furlough – a scheme that terminates at the end of this month.
Pressure building on many sectors – and union unrest growing
There are also real pressures in supply chains caused by a combination of a built-in shortage of HGV drivers, drivers that are self-isolating, Brexit and other factors. Supermarkets have struggled to keep shelves stocked and some restaurant chains have had to close branches. There is a worldwide shortage of microchips that is causing havoc for the automobile industry and many other products are in short supply, or at least delivery times are much extended. The supply chain pressures are enormous.
And, perhaps most worryingly of all, unions are showing increasing signs of unrest. Teaching and medical unions became more strident during lockdown and the rail unions have threatened industrial action of Network Rail proceeds with a plan to significantly reduce its headcount.
'Pretty bleak picture, but one that is rooted in fact'
On top of all that, we have a budget deficit that is at record levels. That was an inevitable consequence of lockdown, but the worry (for some, at least) is that we have a Prime Minister who seems all too happy to keep on spending with no sign that he really understands the need to get public finances under control. The Chancellor, Rishi Sunak, has a real battle on his hands in this respect.
This paints a pretty bleak picture – but it is one rooted in fact. For coach and bus operators it all matters, because if the short-term economic outlook is challenging, then the likelihood of seeing passengers return in sufficient numbers to restore the public transport industry to some form of rude health seems remote.
Restoring passenger numbers is going to be challenging at the best of times, what with the new home working regime, but in tough economic circumstances it becomes near impossible. And heaven forbid that we should suffer another lockdown. I don't think the economy could take it.
What of the consultation on the Traffic Commissioners?
On matters closer to home, on 11 August the Department for Transport (DfT) published a consultation on the role of the Traffic Commissioners (TCs) with a surprisingly short deadline for responses of 11 September.
The role of the TCs is not a trivial matter, even if the vast majority of the public are blissfully unaware that they exist, so quite why DfT has allowed just one month for responses, especially as the consultation period also falls during the height of holiday season, is beyond me. Actually, I am not sure that it is acceptable.
That said, there is one issue raised in the consultation that caught my eye and is worth some reflection. It is the issue of whether the TCs are best placed to register local bus services outside of London.
In the new regime in which we live following publication of the National Bus Strategy, it is far from clear to me that the TCs should continue with this role. In my view, it should transfer to local transport authorities (LTAs) as the authors and guardians of new Bus Service Improvement Plans (BSIPs) in England. This seems to be a logical consequence of the Bus Strategy.
Time for bus service registration reform to be examined?
Where operators could pick and choose which routes to run and how frequent their services were, I can see that some kind of registration system, overseen by an independent authority, may have been necessary – although I question how valuable it really was to passengers, who probably did not even know that the system existed. Nonetheless, I can see that while private operators could effectively do what they liked, some system of control to register and deregister services was necessary.
But with the advent of BSIPs, authored by transport authorities and which will determine the services to be provided in their areas, I wonder how important a registration system will really be. LTAs will have far more control over service provision than they have ever had since 1986, and it seems that BSIPs, and the policing of them, can become an alternative mechanism for 'registering' services.
With LTAs in England so much more empowered by the National Bus Strategy, it seems logical that the registration system should pass to them. We will see what emerges from this all-too-short consultation.