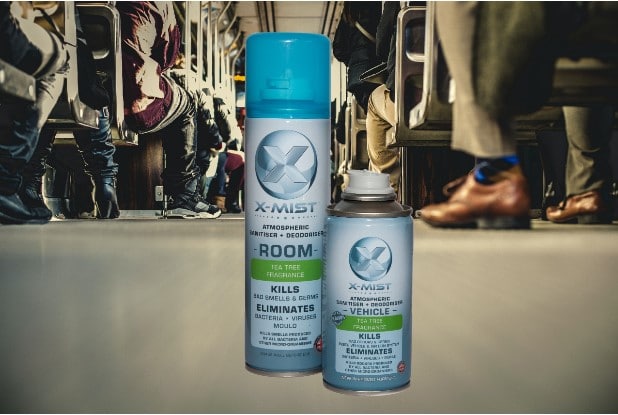 X-Mist has appointed Davy Engineering as the exclusive supplier of its aerosol sanitisers to the coach and bus industry.
X-Mist offers a wide range of products that includes vehicle sanitiser and room sanitiser, as well as hand and surface sanitisers. They help to keep customers and staff safe by killing coronavirus while it is airborne and on surfaces.
Those products release a disinfecting mist that kills the virus while it is airborne and on surfaces. They have BSI accreditation and their active ingredients are effective for seven days after application, killing any new pathogens that appear in that time.
X-Mist formulas mean it 'is strongest aerosol sanitiser on the market'
The new formulas are the strongest aerosol sanitisers available on the market today, X-Mist says. The complete range is fully BSI accredited. BS EN 14476 confirms its viricidal effectiveness against things such as coronavirus. BS EN 1650 & 1276 confirms its effectiveness against bacteria and mould including E. coli and HIV.
The products leave behind a fragrance to illustrate that treatment has taken place. Stickers are available to show customers and staff that steps are being taken to protect their welfare.
X-Mist is also an air disinfectant spray that acts additionally as a powerful odour remover. That, says the manufacturer, is because it eradicates bacteria and mould, both of which are generally the source of smells. No training is required to apply X-Mist, which is more powerful than bleach but food safe.
Davy Engineering embraced the product during the early stages of the pandemic after it was used to sanitise the company's offices. Over 30 coach and bus operators in the UK now use X-Mist regularly. The manufacturer says that it has several advantages over 'fogging' treatments, particularly relating to cost and to labour and time requirements.
Davy Engineering already has pedigree within the industry
Davy Engineering already works with Continental, Dunlop and ZF Lemförder. "It understands that by treating coaches and buses with a lasting viricide at the touch of a button, passenger confidence and safety can be increased. That can only be a good thing," says X-Mist Director Martin Lewis.
Adds a representative of Davy Engineering: "We have worked closely with X-Mist. It responded quickly to our customers' queries, such as proving how long X-Mist is active for. That was subsequently confirmed by an independent laboratory as being for over seven days.
"When some larger operators needed BS EN 14476 accreditation to categorically confirm that the product kills enveloped viruses, including coronavirus, X-Mist appointed a specialist laboratory to test and award that accreditation."
Davy Engineering additionally reports that many customers wanted to let customers know that their vehicles had been fully sanitised. Because of that, it has provided posters and stickers stating so. The over 30 operators that use X-Mist report that easy application and the product's fresh smell are both positives.
To find out more about X-Mist, visit the manufacturer's website. For sales enquiries contact Davy Engineering via email or by phone on 0121 711 4060.