The past six months in the coach and bus industry have been anything but normal, which is why the industry's innovative suppliers have stepped up with a suite of solutions
The coach and bus industry has long been at the forefront of pioneering technology. At no other time has this been more apparent than during the global pandemic, which has shaken up old ways of working and thrown many operators into new and unknown territory.
In this together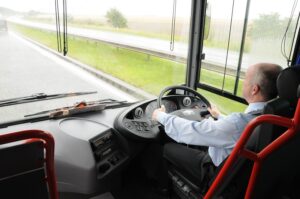 Suppliers have stepped up to ensure safety inside vehicles is paramount and that services are equipped to deal with the unique challenges of social distancing, reduced demand and the need to track and trace passengers – all while protecting things such as passenger privacy and service sustainability.
For many operators and suppliers, coronavirus COVID-19 may well have had hidden benefits. Technology providers have joined the race to create safer and sustainable public transport during and well beyond the pandemic. In many cases the virus has proved a catalyst in the speedier roll-out of long-awaited services – for instance, the capturing of passenger and route data and the digitisation of booking systems.

Concern over safe commuting has necessitated the need for online booking services with scores of operators, through mobile apps or websites, better equipped to manage capacities and encourage social distancing. With the digitisation of booking systems, contact tracing has rapidly followed, with anonymous messages sent to those who may have been in contact with an infected traveller. That has proven useful for boosting confidence among parents whose children returned to school on dedicated services this month.
Focus on digitisation means ridership data has been published through apps and online services, allowing commuters to easily see the capacity of a vehicle on their intended route from the comfort of home. Some operators and suppliers have taken this a step further, using existing data to make predictions on how bus capacity will look on intended routes in advance. Live tracking without time delays is the standard to aim to, and a bus capacity checker is even more effective if it can predict how many passengers a vehicle will shed when it reaches the user's stop. Quite often the term 'artificial intelligence' will be seen – a phrase that has firmly entered industry lexicon and is no doubt here to stay.
Knowledge of passenger numbers on services serves to benefit the industry beyond the pandemic. Data on vehicles, passenger numbers and the success or decline of routes can guide operators on where savings can be made. Extra vehicles can be allocated to bus routes where capacity limits are frequently reached, and fuel savings can be made on those quieter routes – with smaller vehicles taking the place of larger, emptier ones.
Brian O'Rourke, CitySwift co-founder and CEO, summed up the potential of data recently: "It's really exciting. We've always used data to quite a degree, but big data is bringing in a greater element of forecast potential – looking at factors that are likely to influence demand."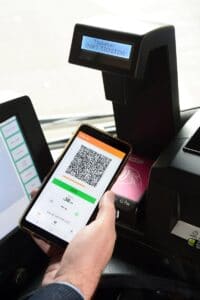 Data also lays the foundation for flexible fares and Uber style bus ticketing, where passengers pay only for the time spent travelling on the vehicle. That technology may be closer than previously thought.
When it comes to meeting demand, the advent of 'pop-up' commuter services is another answer. Coach operators are able to pre-register their availability to run services online, allowing the rapid establishment of bespoke, commuter-led routes anywhere in the UK.
We must always remember the commuter side, too. And the constant push for convenience and ease-of-use is one of the biggest factors in pressing for modal shift.
Disrupting the workshop
The benefits of technology during the disruption of coronavirus COVID-19 have not just extended to the vehicles, but the workshop too. At a time when operators are keen to avoid having drivers and staff inside depots to minimise transmission of the virus, remote download technology has eased the frustrations of chasing vehicle and driver card data.
There was a time when information technology (IT) was looked at as something of a novelty. Now, the idea of an operator without some kind of software – whether tachograph analysis, walk-round checks or transport management systems – is almost inconceivable.
Part of the growth in IT use has been the nature of regulation, argues Roadtech Sales Manager Maureen Ballance, but primarily it has and continues to make life easier. "The industry is so regulatory now that you cannot afford to make mistakes and not be compliant. Apart from that, people don't want to spend time doing tasks that needn't be done manually. IT is not an expense now – it is a way to save money and become more efficient."
Across the industry from the largest companies to owner drivers, everyone stands to benefit from automated systems. Whether the reason for that is to minimise contact with others or removing the hassle of chasing vehicles to download vehicle and driver card data, it provides a more efficient means of completing essential tasks.
Customers who wish to benefit further are even able to pursue options with highly-skilled development teams, should they so wish.
The industry and expectations have massively changed, both during the pandemic and in the years leading up to it. Perhaps not surprisingly, many of the innovations introduced to save operators during coronavirus COVID-19 had been long in development before – reflecting the ongoing effort within the coach and bus industry to constantly change, improve, and challenge itself for the better.