As we move through the turbulent times that the coronavirus COVID-19 pandemic has wreaked upon the world, there are many questions that remain unanswered: What effect will it have on the leisure industry? Will passengers switch from air travel to coaching holidays in the UK? What hygiene protocols will passengers demand? What will the 'new norm' be, post coronavirus COVID-19?
Ultrafabrics does not propose to have the answers to these fundamental questions. It can, however, provide solutions for the comfort, wellbeing, and safety of coach passengers now and in the future.
Engineered for comfort
Coach operators recognise the need to deliver an experience to their customers that exceeds their expectations. Certainly, one of the biggest factors that affects passenger experience is the interaction with coaching staff – but undoubtedly this will be closely followed by the comfort of the interior, including material used to cover the seats.
Ultrafabrics specialises in the design and manufacture of high-performance polyurethane seating fabrics utilising innovative Takumi technology. Its intelligent materials are engineered and crafted utilising the highest quality polycarbonate resins and ingredients benefitting from the Japanese reputation for complete quality control.
Comfort could be defined as how our senses react with our environment. Touch, temperature, and moisture all combine to communicate what we perceive as comfortable.
Ultrafabrics imparts one-of-a-kind sensorial experiences to its fabrics giving a soft, luxurious feel expected by any discerning passenger. It creates fabrics that interact positively with the human sense of touch.
The unique micro-foam layer provides ultimate thermal comfort for body climate regulation. In cold conditions the micro air pockets provide insulation maintaining body heat, while in hot conditions they help both dissipate the heat, keeping the fabric cooler to the touch, and conduct heat away from the body. This unique characteristic of an Ultrafabric imparts thermal comfort not seen in other leather-free performance fabrics.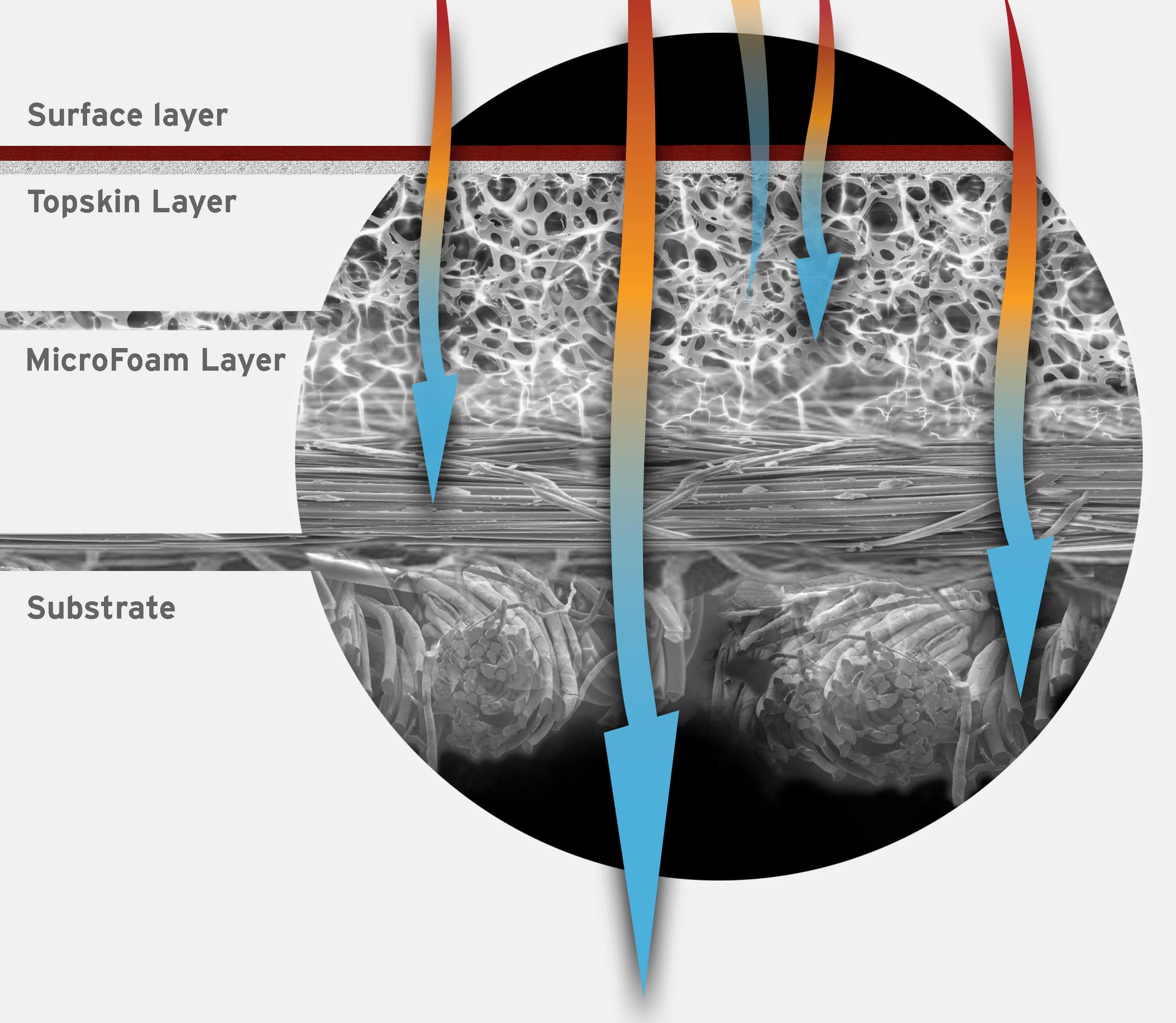 Using the combination of its bespoke polycarbonate resins, Takumi technology manufacturing process and the resulting micro-foam layer, Ultrafabrics allows moisture vapour to pass through while still being able to repel liquids.
Other seating materials, including natural leather, may tend to either absorb moisture vapour or cause the moisture vapour to sit on the surface, creating a potentially unhygienic environment or uncomfortable travelling experience.
With leading softness and pioneering technology, Ultrafabrics provides the ultimate experience in comfort.
Passenger wellbeing
We are all taking the wellbeing of ourselves much more seriously and even more so in a stressful and rapidly changing world.
In the post coronavirus COVID-19 world, passengers are going to need an interior that speaks to their wellbeing and sense of cleanliness. Ultrafabrics goes beyond the basic expectations of function and comfort by interacting with the human senses. Providing a soft and tactile environment with luxurious textures and an extensive colour offering, an interior with Ultrafabrics can promote mindfulness and calm.
Transformative Times is an Ultrafabrics series of colour and texture inspirations for 2020. In its Mineral Springs story, Ultrafabrics speaks to the calming effect that colours have combined with organic textures. Minty sage colours create a soft and sensuous palette that embodies a calming sense of luxury and imparts a sense of fresh cleanliness. The organic textures of its fabrics speak to the aesthetic of comfort.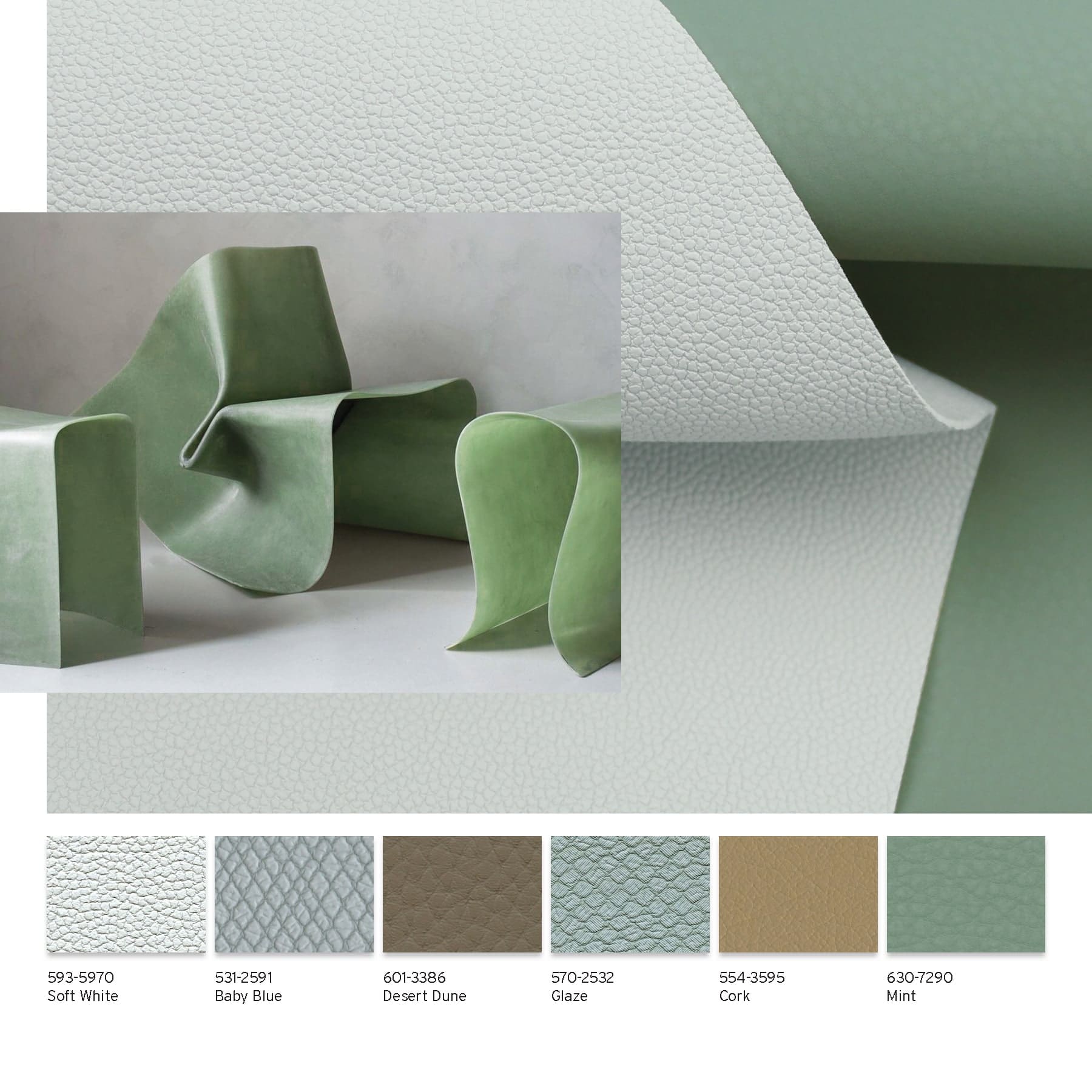 Continuing with the theme of colours that evoke a sense of fresh cleanliness, then potentially designers and operators could incorporate elements that we see in a clinical setting. Pure white is not a practical colour in most coach interiors, but the use of pastel or lighter shades of blue can suggest a perception of hygiene and purity.
While we do not suggest that coach interiors should suddenly change to minty sage or pastel blue colours, they can be used as highlight or accent colours which are offset against a neutral grey or darker colour. With the help of these accent colours a more hygienic, cleaner environment can be conveyed to the passenger.
Ultrafabrics collections are non-allergenic, skin friendly, and odour free, which enhances passenger wellbeing.
Many components within a coach interior emit chemicals into the interior by 'off-gassing'. All ultrafabrics collections are SCS Indoor Advantage Gold certified, promoting healthier indoor air quality by meeting the most stringent VOT chemical emission limits, and are REACH compliant.
In choosing Ultrafabrics you will be improving passenger wellbeing through a cleaner environment with healthier, fresher surroundings.
A new definition of safety
The effects of the coronavirus COVID-19 pandemic will be with us for years to come. In the future the perception of safety by the coach travelling public is probably going to include how clean or hygienic an interior looks and feels. It is likely that interior hygiene, and how we disinfect and safeguard our customers, will come under increased scrutiny.
This will undoubtedly affect the choices of seating materials for the coach interior. Passengers may start to perceive, possibly incorrectly, fabrics as being unhygienic. They may well come to expect seating materials that are seen to be clean and hygienic.
Although existing seating materials such as fabrics and leathers can be cleaned, there is a question as to how they can be disinfected effectively and how, over time, they are able to withstand sanitising products.
Ultrafabrics products have been used in the medical and healthcare sectors for many years, from dental patient centres to hospital furniture. The superior construction of its fabrics means that all of its collections can be cleaned with bleach-based disinfectants including 1:5 bleach/water solutions, alcohol-based cleaners and disinfectants, quaternary-based disinfectants and hydrogen peroxide-based disinfectants, without having any detrimental effect on the appearance or performance of the fabrics.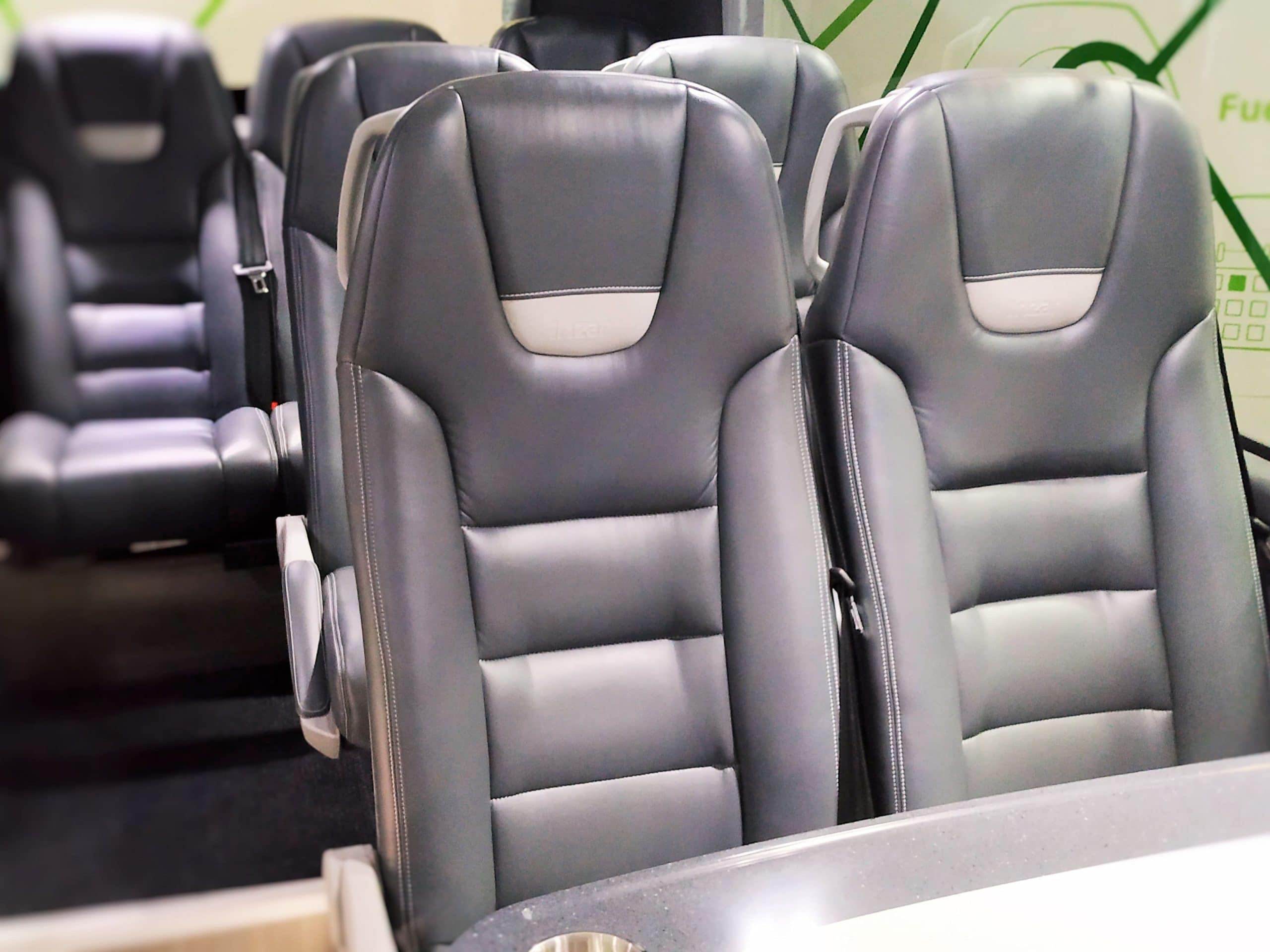 In the post coronavirus COVID-19 world, using Ultrafabrics will give the coach operator the confidence that even after years of being cleaned with a disinfectant, its fabrics will continue to provide superior appearance and performance.
For added safety, Ultrafabrics offers several fabric collections that have inherent antimicrobial protection, preventing the growth of both gram-positive and gram-negative bacteria. Although it is a great benefit and provides added peace of mind, the antimicrobial protection in itself does not replace regular cleaning and disinfection.
Customer safety is the primary objective, so too is their perception of safety if we are to win back the confidence and trust of our passengers.
Let's not dream about tomorrow, let's create it. Softer, better, stronger, more beautiful and higher performing Ultrafabrics is the answer to the human needs of a rapidly changing world. Ultra means beyond, and Ultrafabrics goes there. Utilising pioneering technology for category defining performance, Ultrafabrics provides the luxury, comfort, passenger wellbeing, and safety for a post coronavirus COVID-19 world.
Ultrafabrics – touch the future.