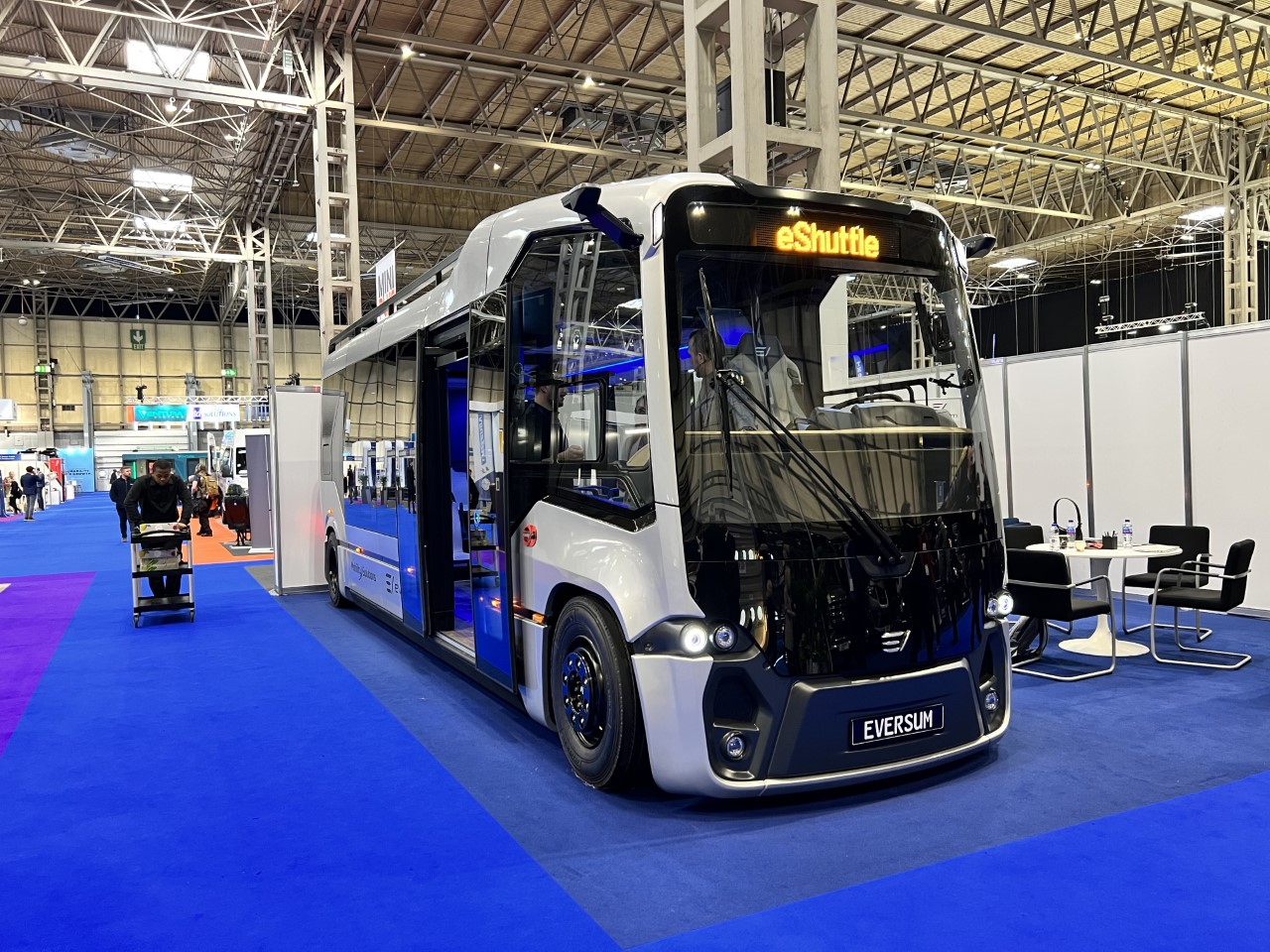 e-Shuttle autonomous-ready electric shuttle bus makes its UK debut at Euro Bus Expo
Austrian EV manufacturer eVersum was present at Euro Bus Expo to showcase the e-Shuttle, a battery-electric shuttle bus for inner-city and airport use that can be specified in an autonomous-ready version, up to level four. Designed in-house, with an integrated electric drive axle with four-stage automatic gearbox, the e-Shuttle comes in three lengths of 5.4m, 6.9m and 8.4m, seating between 30-55 people. A modular design means the manufacturer is flexible with the door positioning and length.
Battery chemistry choices include lithium titanate oxide (LTO) and lithium, nickel and manganese (Li-Ion NMC). A low-floor design throughout, achieved through specially developed 13.5cm high battery packs placed in the floor, both gives the vehicle low centre of gravity and means interiors can be optimised for multiple duties. Battery capacity ranges from 42-84 kW/h in smaller models to 118-236kW/h in larger sizes; charging is done via a 22kwon-board charger or via pantograph-style options. Batteries are supplied by Microvast, and eVersum says it is looking at fuel cell range extender options up to 22kW.
It is the first time the bus has been presented in the UK, shortly after its exposure at an exhibition in Germany. "Historically we have had good experiences here of quantity and quality of interactions," says Managing Partner Pete Speck, who capitalises on the fact the bus is "e-born", with every component optimised for zero-emission application.
"It is a European-built vehicle. If you look at it, there's nothing out there like this. It's e-born, it' s consequently built."
Other features include a digital mirror-replacement system, audio-visual passenger information systems, and wheelchair ramp integrated into the vehicle floor. "We try to cater to whatever the customer needs," adds Mr Speck. "As a market, if you have a route somewhere where you need something smaller, or where you might want to test autonomous driving down the road, this is the perfect fit."