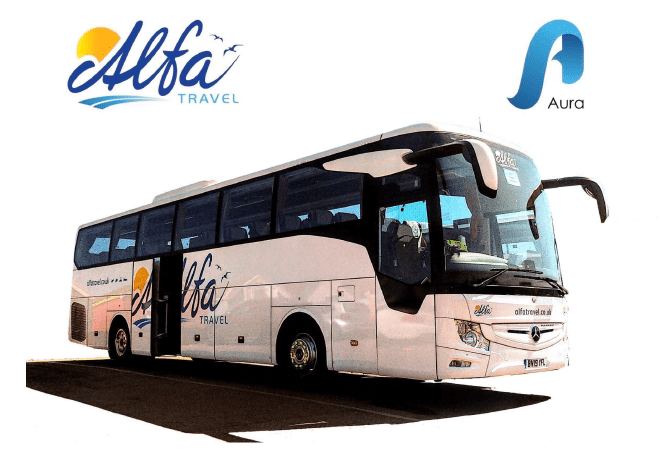 download the case study below to claim your exclusive 12.5% discount
Business recovery in the PCV sector hinges on passengers feeling that it is safe to travel again.
It has never been more important to reassure your customers that you are doing everything within your power to improve air quality on board, and in doing so, minimising risk of infection. A sophisticated ventilation system can do just that.
Aura Air is the only "all-in-one" air monitoring, purifying and disinfecting system for coaches, buses and minibuses. It targets and disinfects 99.9% of viruses, bacteria, mold, and volatile organic compounds. It removes gasses and captures 99.9% of airborne particles as small as 0.3 microns, including allergens.
Aura Air is the only product that has undergone successful clinical tests related to the Coronavirus
It is the only product for the transport industry that allows real-time monitoring of air quality, including the build up of aerosol droplets known to carry the Coronavirus in the air
It is the only product that achieves five air circulations (5 x ACH) of the total air volume of a 49-seater coach, every hour at full power (almost up to the air quality recommendation of 6 x ACH for a private hospital bedroom!)
Alfa Travel have just completed a Case Study using the Aura Air Filter, Disinfecting & Monitoring system deployed across their Fleet of 48 Mercedes Tourismo Coaches.
Says Paul Bull, Operations Director at Alfa Travel Ltd: "It was really important to Alfa Travel that to find a solution that would keep our customers and drivers safe. The COVID19 pandemic brought our business to a grinding halt in March and it was important that we were positioned for a restart with a product that would efficiently deal with aerosol particles. After searching what was becoming a very confusing market in the summer with companies making lots of claims it as clear that the Aura Air filter was the only solution. Aura Air not only sucks away and destroys the virus but provides us with the ability to monitor particle levels."
Download the case study to see the results Aura Air delivered for Alfa Travel over 4 weeks of active commercial use 
Download the Alfa Travel Case Study