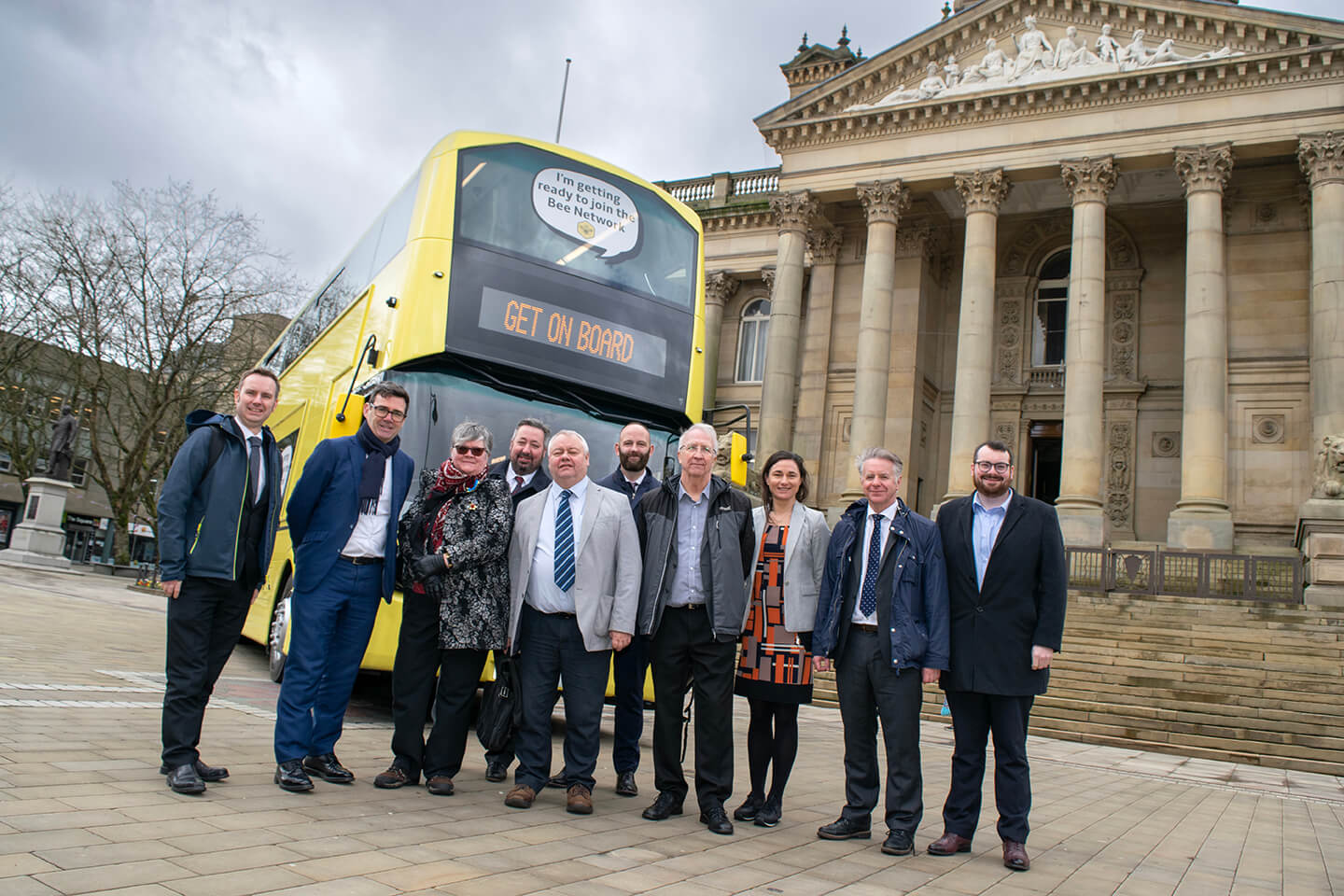 The first of the Manchester's new Bee Network-branded yellow buses has been unveiled and an order for 170 electric buses has been announced to mark six months to go until the start of franchising.
The co-branded bus has been put into operation today on the number eight Bolton-Manchester city centre route by Diamond, who will continue the rebrand of its vehicles over the coming months. Together with Go North West, it will run the first franchised services in Wigan and Bolton and parts of Salford and Bury from 24 September.
Also announced today by Transport for Greater Manchester (TfGM) was a commitment to building a new 250-vehicle electric depot, with Central Park a potential site.
The new electric buses ordered will be in operation in and around Stockport by 2024 and have been funded by £37.2m from operator Stagecoach, Greater Manchester's Zero Emission Bus Regional Areas (ZEBRA) fund and a local contribution of £12.5m.
When franchising begins, 50 electric buses plus new Euro VI-vehicles will join the other yellow buses from day one. A further 50 electric buses will be added in phase two of the franchising in March 2024.
The 270 electric buses will be fully accessible, with wheelchair bays, hearing induction loops, audio and visual announcement systems and anti-slip flooring.
TfGM stresses that today's move involves only branding and that current services will remain unchanged via the same operators until September.

Andy Burnham: 'Start of a journey'
Mayor of Greater Manchester Andy Burnham, says: "Today is a significant day on our journey towards the Bee Network – marking six months until we start to bring buses back under public control for the first time in decades.
"To get ready for the change – and I hope start to build some excitement – we're working with Diamond and other operators to introduce co-branded Bee Network buses onto those services that will be amongst the first to come back under local control.
"This is very much the start of our journey that will ultimately deliver a greener, integrated and more inclusive transport system that will transform how people travel around our city-region."
Alongside the new depot, which will be funded by £7.5m from the Department of Levelling-Up Housing and Communities, TfGM will to seek to buy or lease existing depots before refurbishing them.
Together with an announcement earlier this week of the trials of new digital information displays, which would be used at key locations in Manchester City Centre, a new app will allow customers to buy tram and bus tickets, access real time information on services and eventually see walking and cycling routes.
Transport Commissioner Vernon Everitt, says: "This preparation of the bus fleet for franchised operation in six months' time marks a further significant step towards the integrated Bee Network and transformation of public transport and active travel in our growing city-region.
"From September we'll also have dozens of new, state-of-the-art buses serving passengers in Wigan, Bolton and parts of Salford and Bury. These will be the first of many across Greater Manchester that will, alongside the new lower fares – which are already increasing ridership – and improvements to travel information, improve bus travel for everyone who lives and works here.
"All buses will be operating under franchised arrangements by January 2025, which will for the first time enable effective planning of the network alongside Metrolink and active travel facilities. Under the recently announced Trailblazer deal, we will then work towards integration of local rail services into the Bee Network by 2030."