Training and safety encompasses every part of your operation. The cost of errors can be huge, but there are suppliers to help you cover every base – from the workshop to the wheel
You cannot afford to scrimp on proper training and safety.
Statistics from the Health and Safety Executive (HSE) alone demonstrate the cost of injury and ill health in the workplace, with over a million workers injured or made ill by their work in Great Britain every year.
As well as the immeasurable human cost this has on the individuals concerned, there is the financial toll to be considered. Estimates compiled by HSE between 2017-2018 and 2019-2020 show an average of 610,000 workplace accidents annually, costing £5.6bn in healthcare and lost work.
Suppliers exist which can help ensure your staff and drivers are trained well and that vehicles and workshops are equipped and prepared for safe operation day-to-day.
Safety in the workshop
If your workshop is the home of your operation, that's where safety should start.
TotalKare began supplying column lifts to workshops in 1980. According to Marketing Manager Steve Braund, safety is at the forefront of everything TotalKare does.
That is reflected by the key safety features built into TotalKare's equipment to ensure operator safety, such as a fail-safe which force lifts to re-synchronise if they should drift outside of a 50mm tolerance. But Steve warns that the human factor always comes into play: "Our mobile column lifts can be used to lift vehicles weighing up to 60 tonnes, and even though they do this with ease, the workshop operative needs to have received the proper training," he says. "Lifting any vehicle incorrectly can be hazardous, be it a bus, truck, van or car – common sense can get you so far, but it is no substitute for proper training."
Lifting begins by respecting the reality of lifting a vehicle of several tons into the air to work beneath it, Steve says. And while there is no formal, recognised qualification required to operate mobile column lifts, compliance with the Provision and Use of Work Equipment Regulations (1998) and the Lifting Operations and Lifting Equipment Regulations (1998) is a legal requirement. "In practice, this means an operator must ensure its lifting equipment is kept in safe working order," Steve explains, "which TotalKare supports through its service visits at routine intervals – and by making sure anyone operating the equipment has received a basic level of training." TotalKare even introduced CPD-certified online mobile column lift training in 2018 to ensure all staff could be trained regardless of turnover.
"There is always work to be done to ensure that we all go home safely at the end of each day," Steve adds. "At TotalKare we issue safety points bulletins, toolbox talks and other communications to reinforce the safety message, while our field service engineers are available to provide on-site advice and guidance while attending routine service visits."
Safety onboard
There is no question now that CCTV onboard vehicles is widely adopted to contribute to the safety of both drivers and passengers.
Timespace Technology manufactures digital video recorders (DVRs) which are installed in thousands of PSVs worldwide. One of its most popular products, the Timespace V400 DVR, exceeds the Transport for London specification for vehicle CCTV and has been widely adopted across London bus fleets.
Founder and Managing Director Robert Heylen says Timespace DVRs formed the building blocks of vehicle CCTV in the UK. Its distributors put the complete CCTV package together, with the DVR range compatible with a variety of premium cameras by suppliers such as Hik, Stortech and Synectics. Operators can also choose to install the Timespace CANLink system for vehicle engineering data, or its Bridge Alert low bridge warning device.
Footage is recorded to Timespace Technology's proprietary XBA file type, which have SHA-256 watermarking with additional password and encryption features for security. Playback is via Timespace's PCLink software, which comes with user-friendly timeline, playback and review controls. It provides hard disk storage up to 4TB, in hard disk cartridge or solid-state disks.
"Our market-leading PCLink software enables users to retrieve, analyse and share footage easily," says Robert. "GPS mapping and GSensor data is included, and PCLink's powerful live view and remote playback tools give solutions for remote monitoring."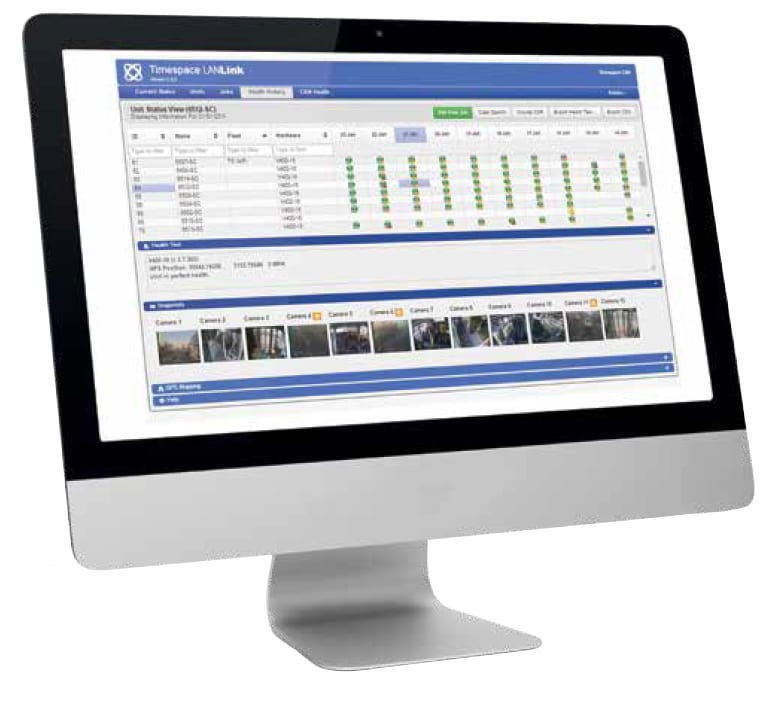 Digital recorders have a life in excess of 15 years and some recorders installed in the early 2000s are still going strong. But Timespace is continually improving its DVR software, using in-house development and end-user feedback to inform regular software updates and new releases. "We have excellent relationships with our distributors and end-users, and we work closely with them to develop our products. We value the customer feedback which helps us continue an active process of product improvement," Robert says.
All products are designed and manufactured in the UK and supported from the company's Cambridge offices. The forthcoming V600 AHD recorder promises to be Timespace's first DVR to support analogue high-definition cameras.
Safer staff
To take full advantage of safe workshops and safe vehicles, operators need safe staff. That's where companies like Midland Transport Training (MTT), and its Director, Perry Preston, come in.
Perry started MTT over 10 years ago, having spent a decade working for one of the UK's largest PCV and LVG training companies. He has been involved in the transport for over 30 years, having first started in driver recruitment before moving onto driver training, where he was involved with bus and truck in-cab, National Certificate of Professional Competence (CPC) as well as Forklift and ADR training.
MTT offers tailored courses to determine what training is required, and how to meet shortfalls in driver knowledge. "We take videos, photos, interviews and build the course to an approval level to roll out to a company's drivers. This is totally bespoke and unique to us and the client," Perry says.
Courses are written in-house by MTT. "We have courses that no-one else has in the UK and we are the only transport training company in the UK which offers free tailored, written and approval of Driver CPC courses."
Perry feels Driver CPC training still may not be taken seriously enough, though, with many generic courses still available which may not have the ability to get drivers to "sit up and pay attention" like bespoke courses can. Perry also believes Driver CPC would benefit from being testable, with a pass or fail.
In addition to driver training, MTT offers Transport Manager refresher courses – another essential component to ensure safety and compliance in day-to-day operation.