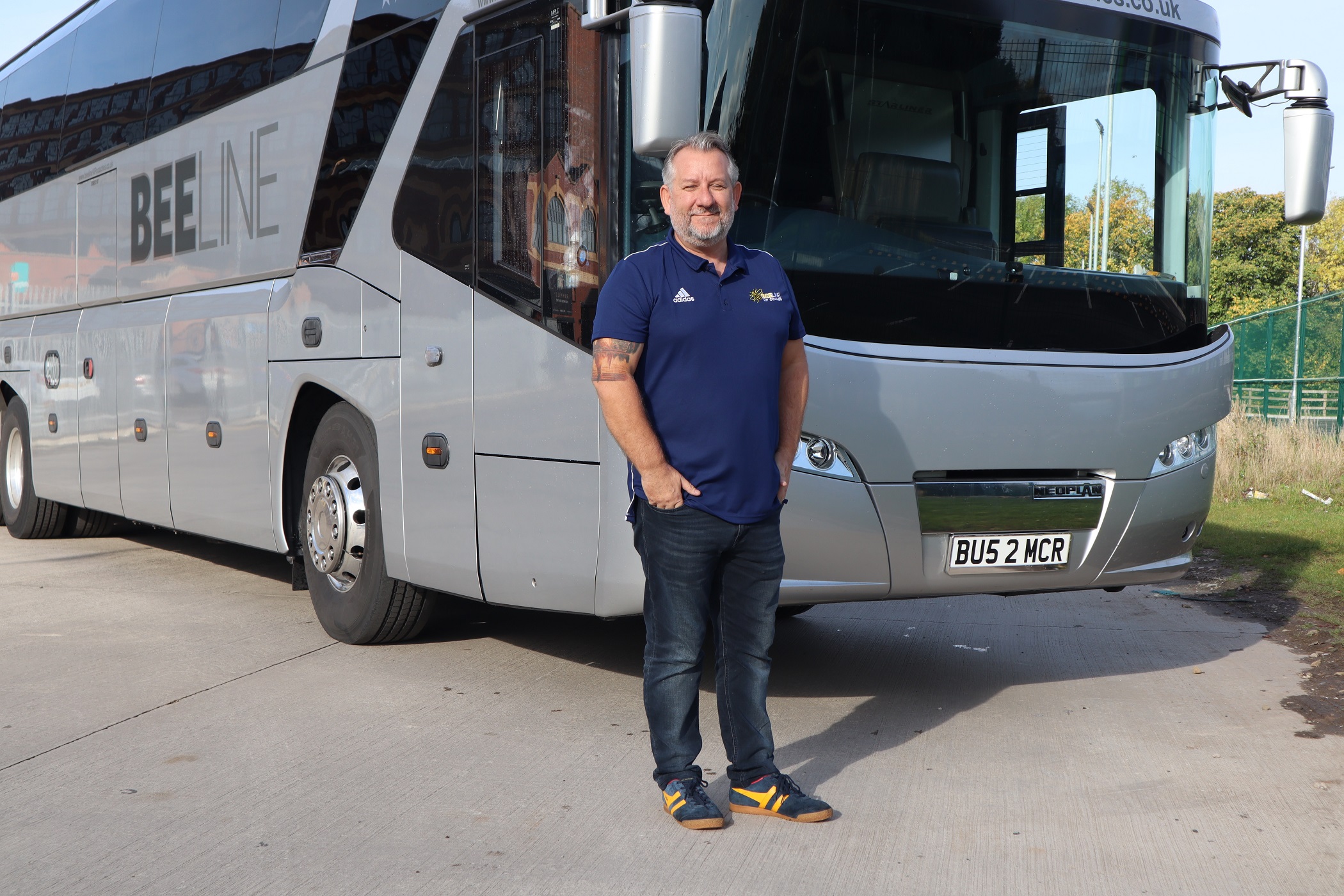 Finding a niche and developing it has been part of the recipe for many businesses' success, and so it continues to be the case for Manchester operator Beeline VIP Coaches. It was established in 2018 by Adam Bradshaw (pictured, above).
Adam has been part of the coach industry for much longer, having started his career as a driver before progressing to sales and management roles at multiple operators in and around Greater Manchester. That gave him a good grounding in how the sector works, and today his fleet – which recently grew to three tri-axles with the arrival of an Irizar i6 integral – majors on the top end of the market.
That is not how it began, however. The business commenced as The Beeline Mini Buzz Company with a single minicoach. From that point onwards, Adam held ambitions to grow, and even with the Irizar's recent purchase, those are not yet fulfilled entirely. But the start was difficult after the Sprinter caught fire and was destroyed within three weeks.
"My insurer was great and paid out quickly, so I got another Sprinter that was a bit better; it was a coachbuilt 16-seat example that attracted more work. I kept that for around a year but by then I needed a larger vehicle."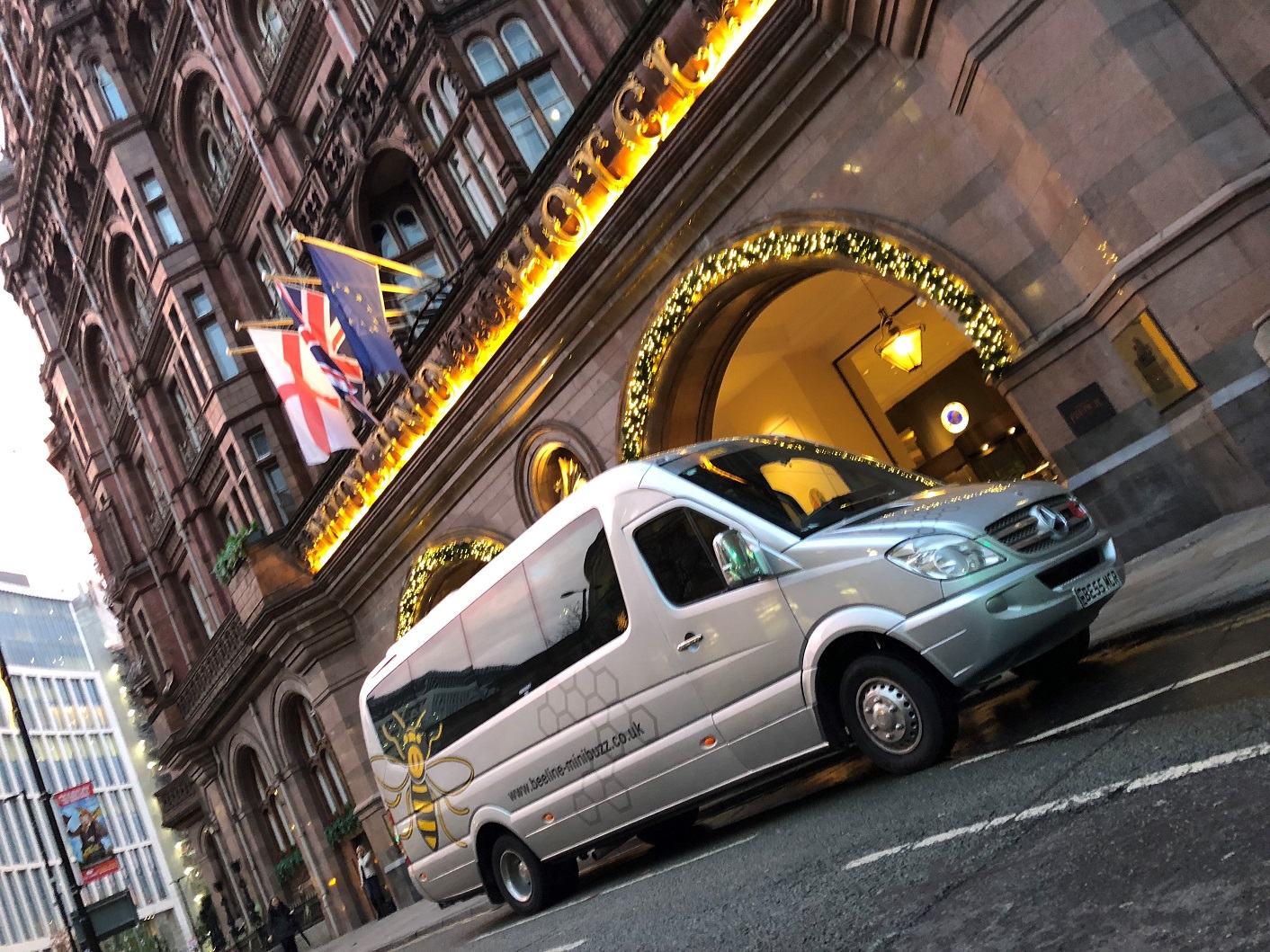 That transition saw the arrival of a Mercedes-Benz Tourino 30-seater, which Adam describes as "a belting motor."
New customers followed, and while the Tourino served what was now Beeline VIP Coaches well, it struggled to provide sufficient luggage space.
A high specification Van Hool Astron with 36 seats came up for sale at a nearby operator. A deal was struck, and a move into full-sized coaches began.
Beeline quickly identifies niche for VIP coaches
After disposal of the Tourino, Beeline's fleet consisted solely of the Van Hool. As a 36-seater with the running costs of a coach with a much higher capacity, it precluded the business from engaging in the bread-and-butter 53/57-seat area. That was deliberate. At that stage Adam never intended to enter that competitive part of the market. Instead, he had identified demand for corporate class travel from clients that recognise it comes at an appropriate rate.
Timing was also key for the Van Hool's arrival. It joined the Beeline fleet not long before March 2020. A great deal of work for it was then cancelled and it sat idle for a period, but restart of professional football fixtures brought an opportunity. Many teams required two coaches where previously one would suffice. That suddenly spurred requirements in an area of the coach industry where supply has always been modest.
"Demand went through the roof because most operators that previously provided one team coach now needed two," Adam explains. That saw the Van Hool start work for football teams from the Premier League downwards. He believes that had Beeline moved towards high capacity in full-sized coaches, the young business would not have weathered the pandemic period.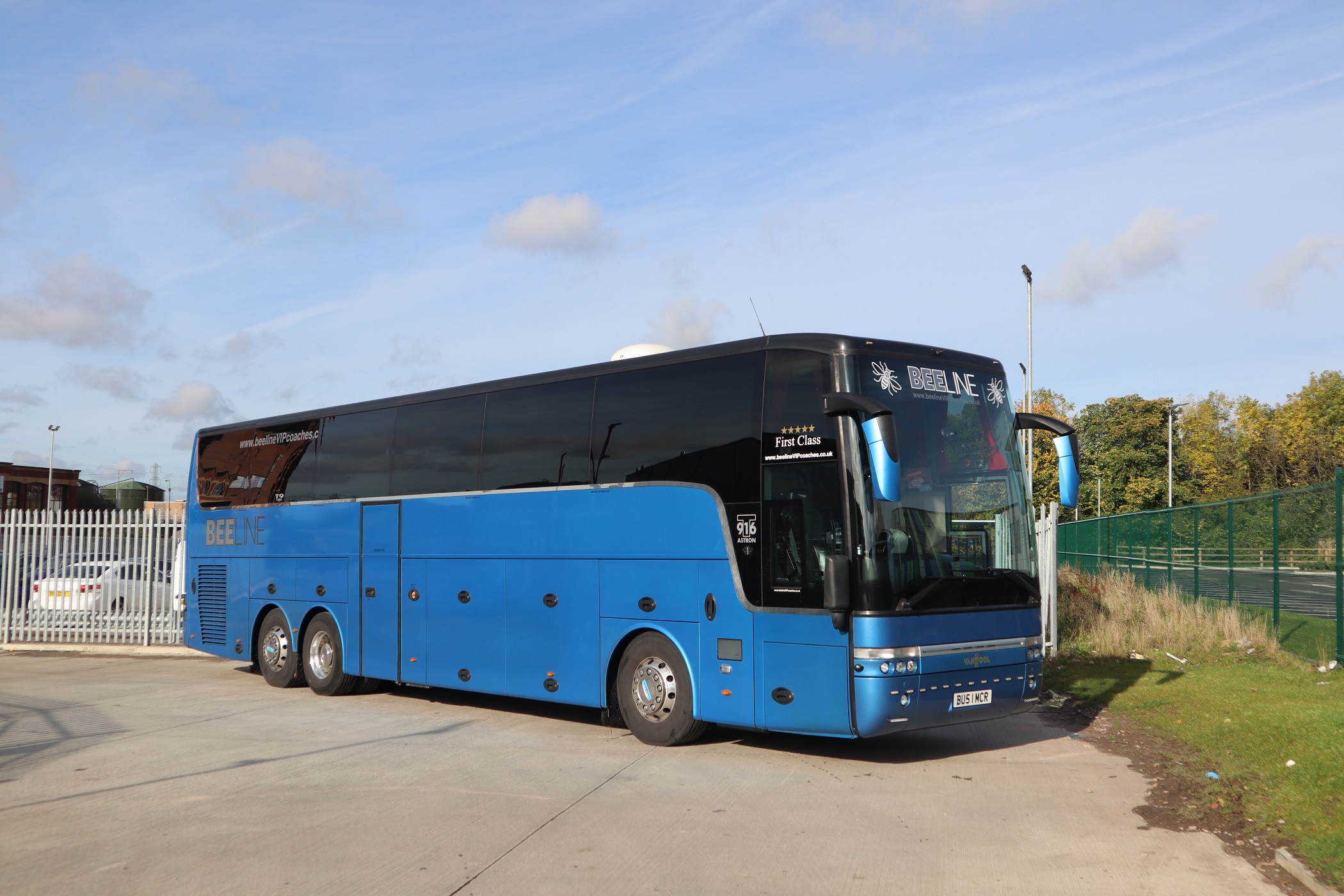 Football clubs continue to form part of Beeline's basket of work.
It provides team transport for one local EFL League Two side and a semi-professional outfit on a contracted basis, and works with other professional clubs on academy and reserve team transport.
Incoming sports groups also provide a solid income. A significant amount of 2023's diary is accounted for by clients from the sports world already.
Sports transport complemented by other workstreams
Sports is a major part of Beeline's work programme, but it is bolstered by other duties. Growth into day trips came as pandemic restrictions eased; the table arrangement in the Van Hool coupled with its rear kitchen has enabled a VIP offering in that sphere to be introduced. Such a product has proved successful and it allows a premium price to be charged.
Holidays are operated on behalf of another operator, an area that has also allowed the coach specification to be leveraged through a premium offering by that business.
Undertaking a corporate staff shuttle during the pandemic period opened that avenue of work, and private hires, sometimes over short distances in central Manchester, are in hand as required. Some sports trips for private schools are also undertaken.
Neoplan Starliner joins Beeline as second VIP-spec coach
As work for the Van Hool grew, a second coach was needed. On the market was a Neoplan Starliner, for sale with Maynes Coaches. It was to a very similar layout to the Van Hool and would allow the two to be used interchangeably. Agreement was reached, the coach arrived earlier this year, and driving work is now shared between Adam, a full-time staff member and two part-timers.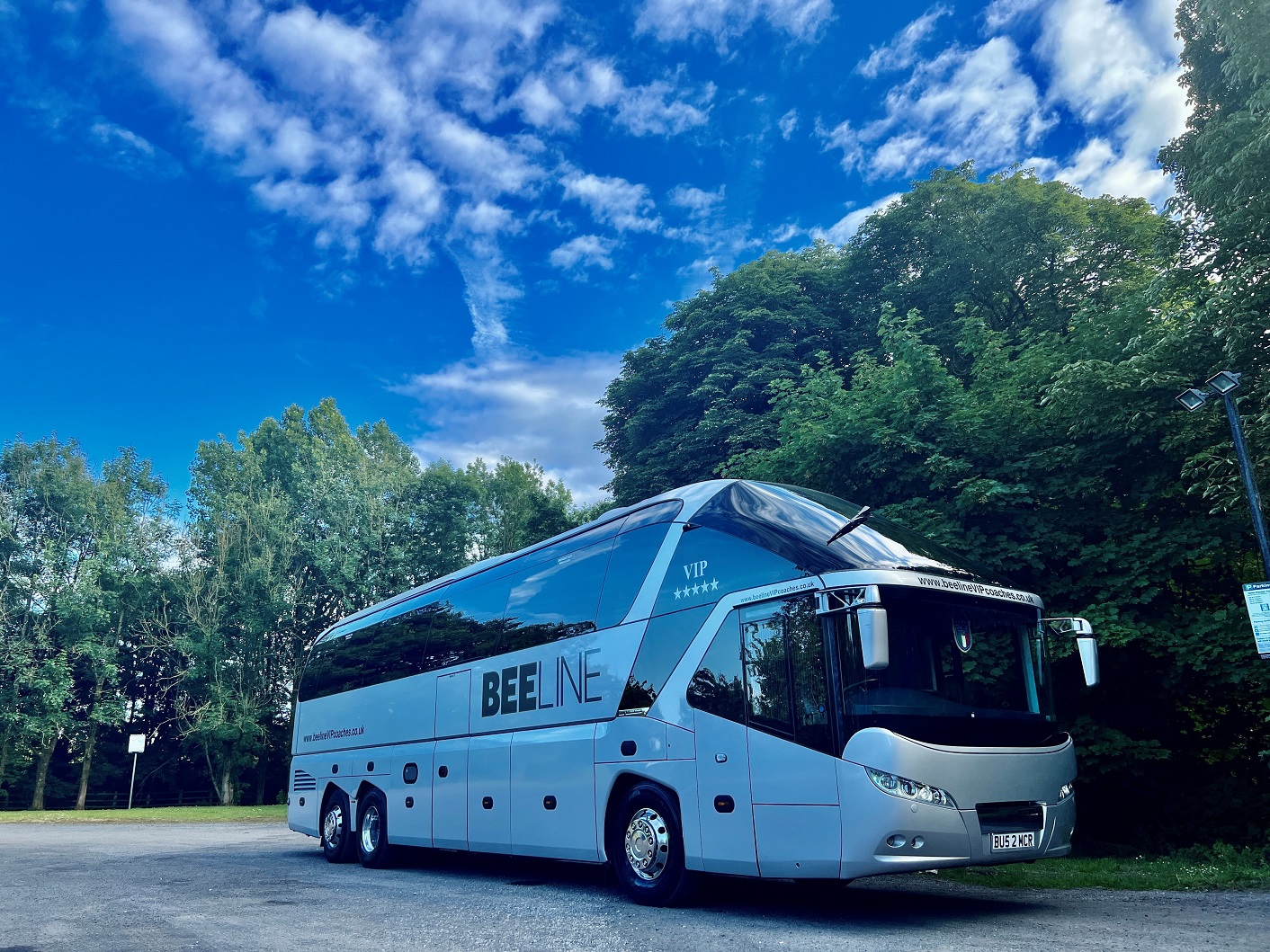 Although the Starliner brand has always been associated with VIP work, Adam's first thought was to buy a second Astron.
While the Altano interdecker was available on the used market, an Astron was not, hence the Starliner purchase. Reluctance to go with an Altano was down to a simple reason, Adam explains.
"On VIP jobs I believe it is important for the driver to be part of the travelling group, which is difficult in an interdecker," he says.
A focus on service has worked well in retaining customers. At the VIP end of the market, many place more weight on quality than price. That leaves Adam mindful that failure to meet standards will send clients elsewhere.
The same challenges as everyone else
The Irizar – purchased from a nearby operator – is to a similar specification to the Astron and the Starliner. Adam's aspiration remains to settle the business size at five or six coaches. While VIP is still his focus, there is potential to add a higher-capacity coach after an existing client indicated that work is available to support it.
Fuel returns for the Neoplan and Van Hool are in the 8-9mpg range. While the cost of diesel has increased, Adam reports that rates are rising at a faster pace and cushioning those costs. Drivers are more complicated, and there is evidence that applicants now prefer work around Monday to Friday hours. That is difficult to impossible to accommodate where football teams are involved.
All three of the Beeline coaches are Euro V models. For work to London, it is currently easiest to pay the Low Emission Zone charge. Introduction of the Bradford Clean Air Zone (CAZ) has complicated matters, but it is the Greater Manchester CAZ that stands to most influence fleet direction. Presently, a likely course of action in Greater Manchester appears to be a non-charging CAZ with incentives towards compliance.
Each of the Beeline coaches can be retrofitted to Euro VI standards, and Adam has been approved for funding towards vehicle upgrades. "If I have to retrofit to get to Euro VI I will, but I am also open to replacing with OEM Euro VI coaches," he explains.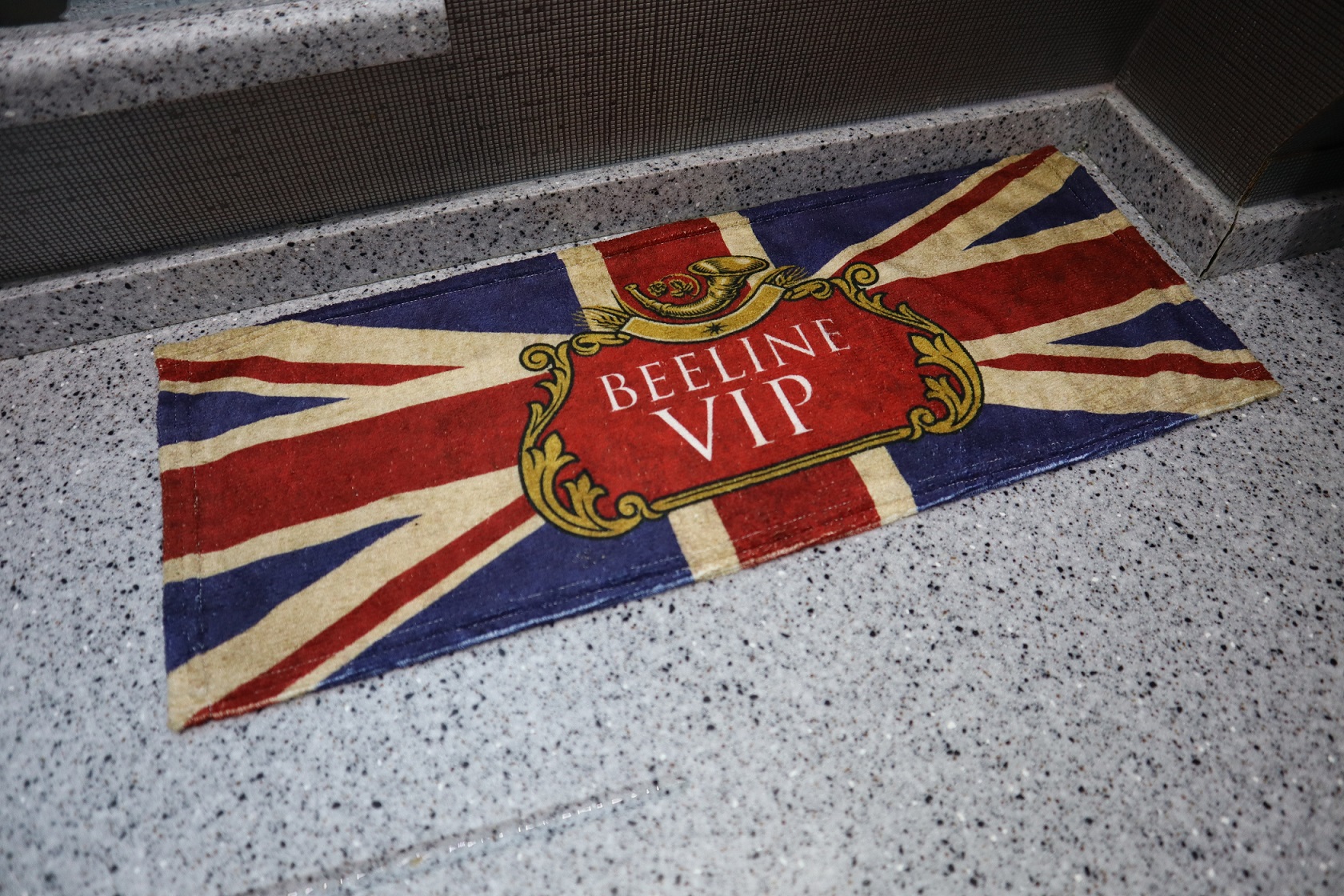 One thing is prominent among Adam's plans for Beeline: Securing a team transport contract for a Premier League club.
He has already carried several such teams when working with other operators. While such a step will be a major one, Adam is confident that it can be delivered, a belief that is built upon successful delivery of existing sports team work.
More than one Premier League club currently uses Beeline for transport requirement other than first team movements.
Seizing opportunities as they arise is the key
The four years since Beeline's formation have been a rollercoaster, with the transition from the first minicoach to today's Astron, i6 and Starliner trio having captured a lot of challenge and change.
The first part of that journey will be familiar to many operators; buying a cost-effective vehicle to commence a business is where lots came from, but a rapid move into the VIP segment is where things diverge. Reintroducing a minicoach does not form part of plans, and there are no aspirations to develop beyond the small operator size class.
Instead, Adam's focus is on his niche, with the potential to leverage that with an existing customer. He is also clear that Beeline VIP Coaches would not have seen the success it has without the help of close family and colleagues within the industry.
"I never intended to carry football teams, but a call one day from another operator seeking assistance led me into that area of work. If I had been asked four years ago whether I'd be where I am now, with three vehicles, I'd have said 'no way'. But things materialise and things grow, and as that has happened the business has grown with it."