Among the handful of boroughs in the capital that run large PSVs in-house, the London Borough of Havering has perhaps attracted most attention in recent years as its fleet of coaches and buses grew.
That has come about due to the tightened funding landscape across the local authority (LA) segment and a wish on the council's part to make its passenger transport arm more commercially-minded.
Operating those vehicles is nothing new for Havering. A browse of the internet shows its double-deckers running rail replacement and Tube strike extras several years before 2020. Its minibus fleet – used for statutory transport services, but also available for hire – is well-established, and has seen core demand grow. The LA thus holds a 45-vehicle standard international O-Licence.
Papers hosted on Havering's website show that the call for special educational needs and disabilities (SEND) home-to-school transport in the borough is expected to increase by almost a quarter over the coming two financial years. "The reason for us seeking to be more commercial is, ultimately, to cut the cost of running our department for the council," says Head of Transport Simon Blake.
He notes that with LA budgets pressured, only two options are in play to deliver on that: Reduce vehicle numbers and headcount, or go the other way, and see what opportunities exist in the wider market. The former was not an option, so Transport Contracts Manager Ian Dunsdon was tasked with building the basket of work undertaken on a commercial basis.
A changing landscape for other operators in Havering
In the London Borough of Havering, a further factor was to hand. The pandemic period had taken a toll on the privately-owned operator landscape locally. When coupled to returning demand for transport, scope for growth presented itself.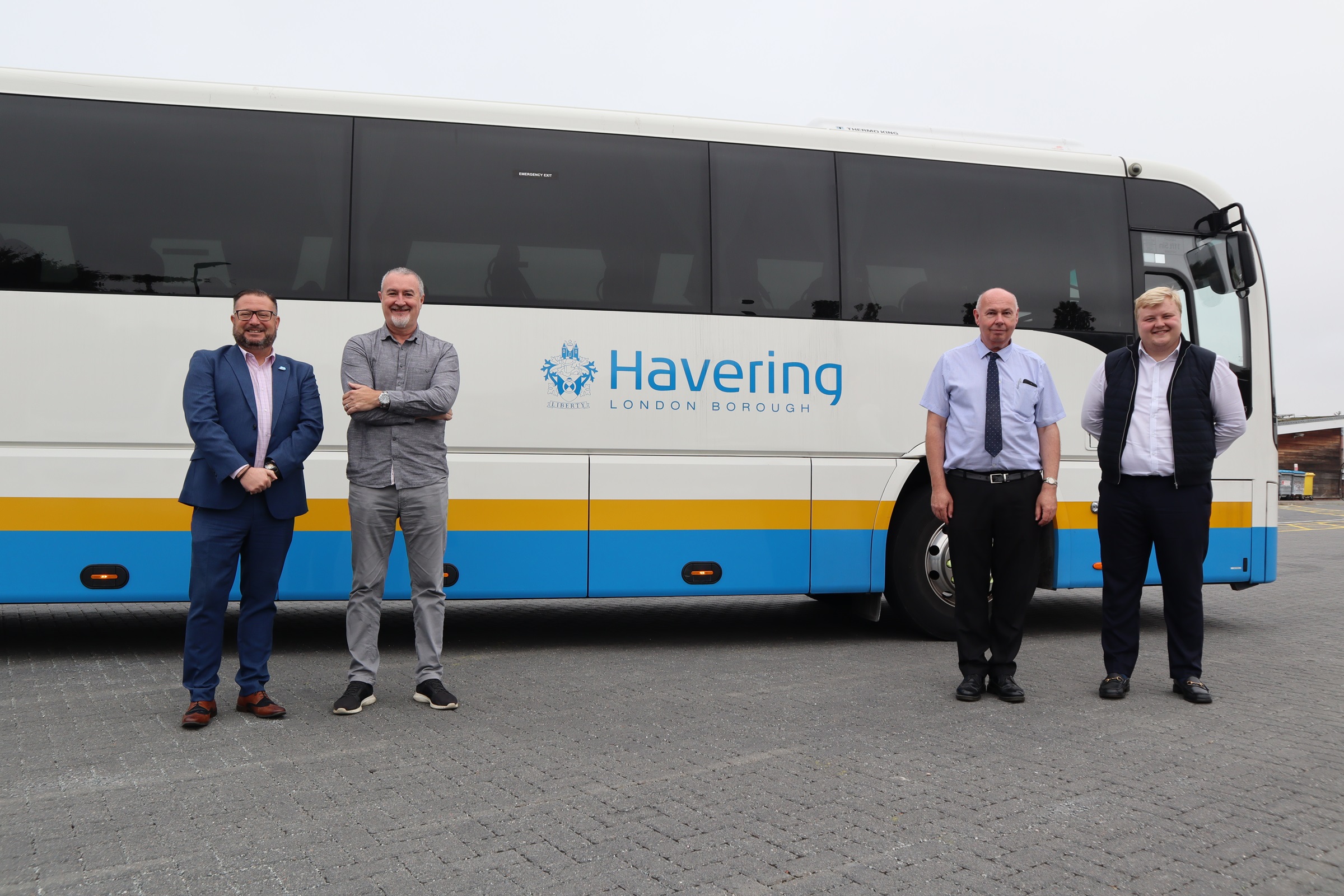 "I quickly realised that there was a market to tap into," says Ian. As the commercial arm had begun to grow before 2020, three Plaxton Leopard coaches on Volvo B8R chassis were ordered. They were delivered that year as 59-seat examples. Two 72-seaters have since followed, with a third due in early 2024.
Sitting alongside the Leopards and accessible minibuses are a small number of Volvo B9TLs with Wrightbus Gemini 2 bodywork, and nine Alexander Dennis Enviro200s at a mix of 8.9m and 10.8m. Two more at the shorter length will arrive at around the same time as the sixth Leopard.
"I had been pushing for the Enviro200 for some time," Ian continues. "It is the right vehicle for us; not just for local work such as swimming trips and educational visits, but for rail replacement." Those with Havering have three-point belts on forward-facing seats and, unusually, lap belts in tip-up positions. The smaller Enviro200s are also useful for home-to-school applications where demand is increasing.
Previously, the mid-sized market for Havering was captured by accessible high-floor, front-engined vehicles with Nu-Track bodies. Simon notes that while those did the job in hand, they were not suited for much in the commercial sphere. Enquiries were being turned down as a result, indicating that an external market already existed for the Borough's passenger transport services.
More recently, work there was required to promote the expanded offering. "We needed flyers to explain what we are about," he continues. "Our website was redesigned to simplify the enquiry process. That worked very well." In addition, strong links with other operators through rail replacement were bolstered. Acceptance by a third Transport for London (TfL) red bus contractor for that workstream is in hand, while a longstanding relationship with nearby Ensignbus continues.
Commercial business growth a necessity for local authority
Gradual expansion of coach and bus fleets operated by LAs has been a factor of recovery life for the wider sector. It has been greeted with a degree of concern by some operators, but Simon notes that financial pressures on those public bodies is the major influence on that growth.
The pandemic period hurt councils' reserves, and he believes that other LAs will look to reduce the cost of their passenger transport operations to mitigate funding shortfalls and growing demand for statutory services. For Havering, that extends to working in partnership with other London boroughs, but expansion into the TfL red bus market is not on the agenda.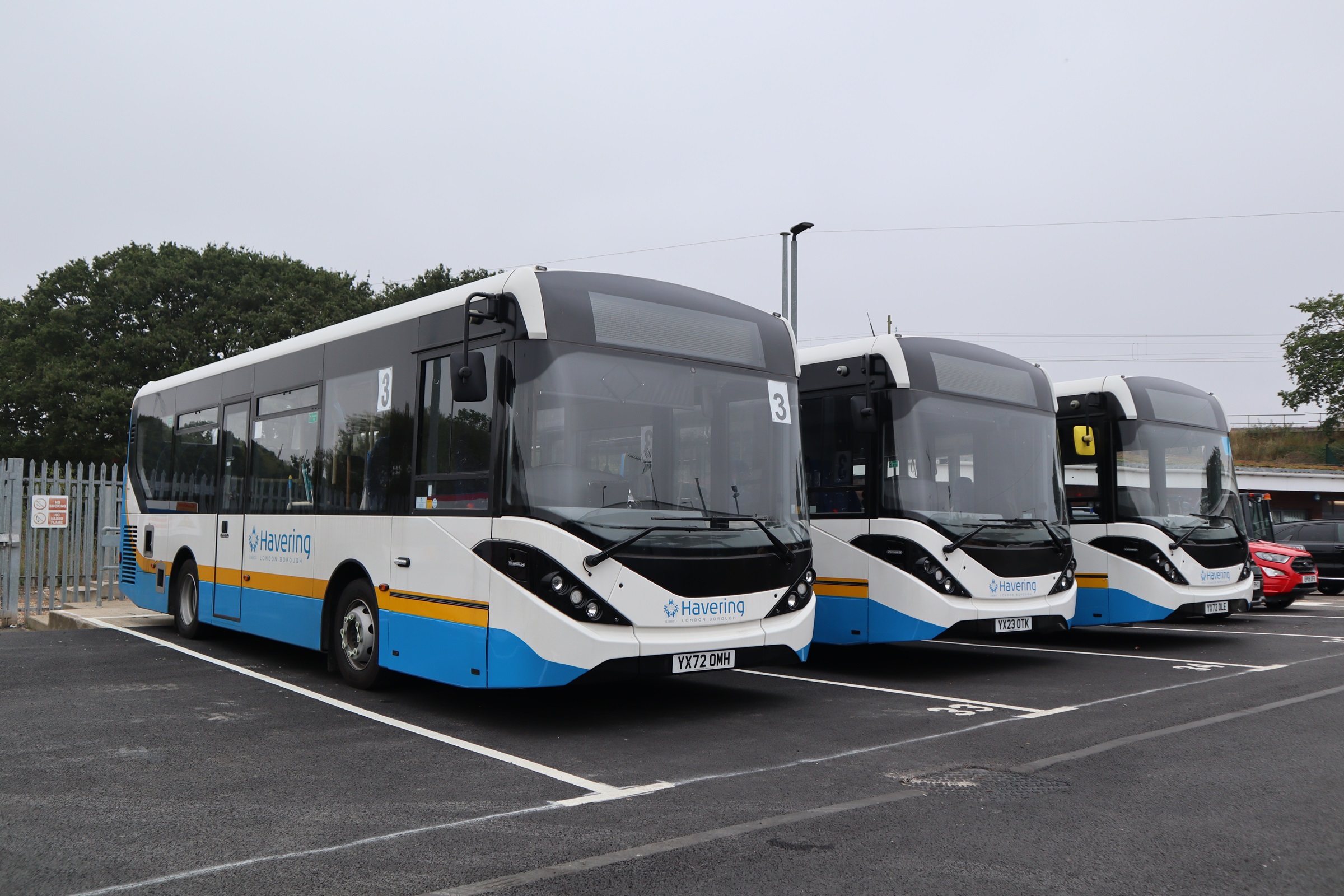 Call for its commercial services continues to rise. While most jobs are local or within South East England, longer-distance work also factors in. Havering has a task in hand to Cumbria in early 2024 with a 72-seat Leopard, while residential school trips for PGL also take vehicles – including the Enviro200s – further afield. The double-deckers stay closer to base.
All fleet members that are in scope of PSVAR comply with the Regulations. That is a line in the sand for Ian and Simon. They agree with the aspect of PSVAR that advocates inclusivity for all travellers, in addition to accessibility, while demand for accessible vehicles is increasing. Havering's first three Leopards were to a then-unique specification that enables the carriage of three wheelchair users, although Alexander Dennis can now offer that to all buyers.
Alexander Dennis and Mistral favoured as vehicle suppliers
Alexander Dennis is prominent among talk of Havering's commercial passenger transport expansion. Also relevant is Mistral. The two suppliers have a long-established relationship through the Enviro range and Plaxton products.
For coaches, the Leopard ticks the right boxes for Havering, Simon explains. He describes it as "an impressive product," and notes that while it is a low-height coach, it is still able to carry a respectable amount of luggage.
The first Leopards were purchased, with Alexander Dennis winning a tender. As commercial demand grew, further vehicles were needed. On the recommendation of Alexander Dennis Regional Sales Manager Mark Taylor, Mistral was courted. Long-term rental from Mistral, with maintenance handled in-house by Havering's technicians, was then adopted.
"Because we are still expanding the service, rental works at the moment," says Simon, although he notes that with future direction still developing, other approaches to funding vehicles may come later.
Both suppliers are seeing increased interest from LAs in larger products, hinting that more may be in the throes of expanding, or founding, their own fleets. Mistral Regional Sales Executive Oli Fuller observes that much of that activity is still at the enquiry and quotation stage, with a tilt towards Enviro200, but with the Leopard also represented.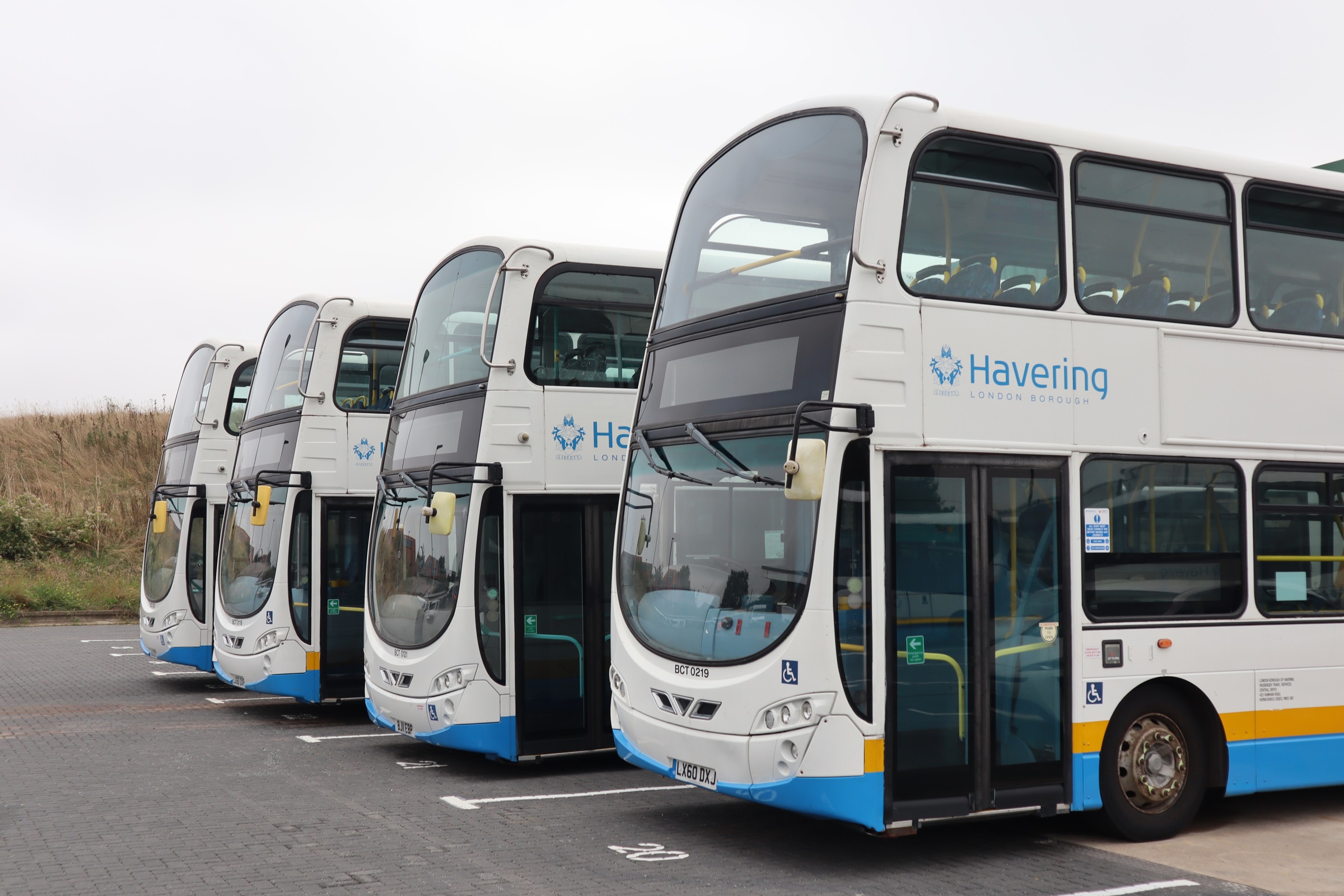 Mark notes that scope to retrofit seatbelts to the Enviro200 makes it attractive to LAs, although he and Oli agree that while vehicles may enter build as stock, few roll of the line like that; demand for new coaches and buses is strong, and expected to stay like that for the foreseeable future. All stock Enviro200s are built as seatbelt-ready, Mark adds.
Further opportunities to be evaluated by Havering
As commercial growth has come for Havering, more drivers have been needed. They are often drawn from red bus companies, with Ian noting that with Havering, antisocial hours are less and there is a good variety of work. All office staff hold PCV driving licences, and expansion of the transport operation has been accommodated within the existing management team.
Future growth is contingent on direction from council leaders, but Ian and Simon are confident that thus far, the work had delivered on the LA's objective. Colleagues in other London boroughs are supportive, and the operation has developed its commercial basket nicely.
Simon is cautious on zero-emission. Discussion is ongoing at council level around how Havering's overall fleet makes that shift, although the depot is already configured with ducting for cables to chargers. Although SEND minibus services are generally lower mileage, Simon notes that not all are.
Despite that, fossil diesel does not feature. Instead, gas-to-liquid (GTL) fuel is used. GTL producers advise that it burns more cleanly than diesel, thus reducing particulate and NOx emissions. While GTL is more expensive, problems with diesel particulate filters have ceased. GTL is also less problematic from a respiratory position; Simon notes that Havering has many elderly people among its residents.
What next? Three new vehicles are due over the coming months. Simon expects that after they have settled in, a review of further opportunities, including what work has been turned down, will be undertaken. The operation is slick, with a modern depot and a well-presented fleet. Don't be surprised if such an approach spreads to more local authorities in the future.