As one of London's most respected coach operators reaches its 60th anniversary we meet the founders and hear about some of the challenges being faced today
On 4 November around 135 guests, family and friends gathered in St Albans to celebrate 60 years of operation of Southgate and Finchley Coaches.
The event, very much a dinner dance in the traditional style, echoes the development of the business, a business started in 1963 by Michael (Mick) Rice supported by his wife Val.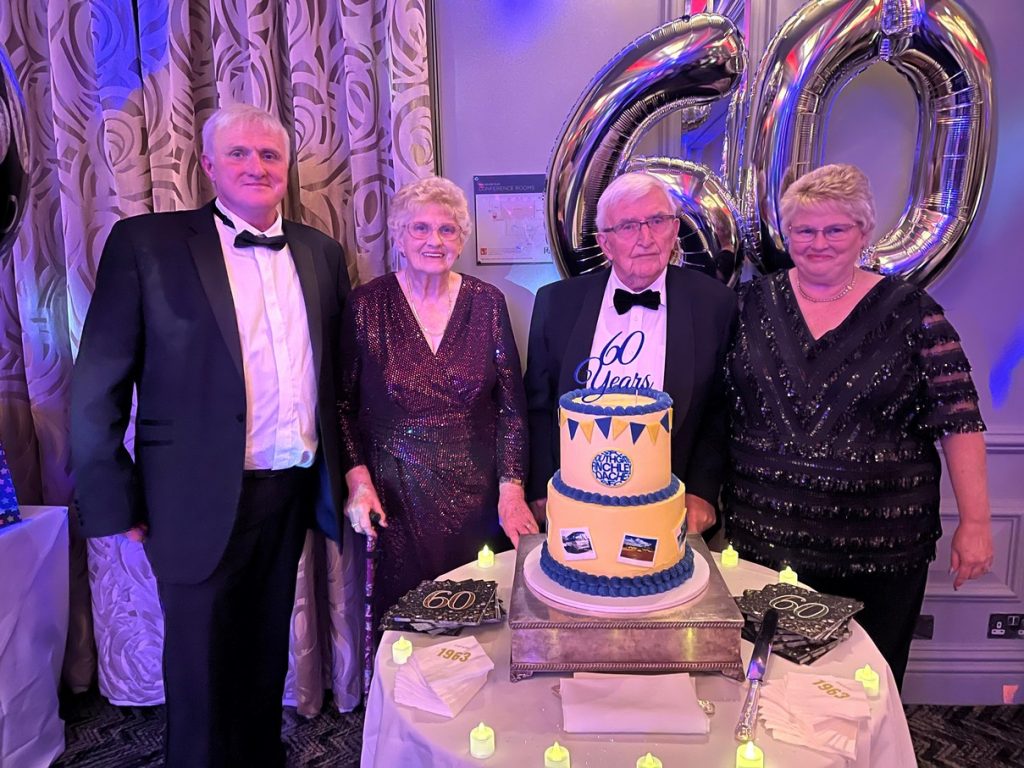 The young Mick started out as a motor mechanic at Lindsay Brothers, a Rootes dealer in North Finchley. Moving on to other garages in north London he found himself working for the owner of Finchley Coaches, Tom Trebilcock, a business Tom set up in the early 1950s.
"When my wife Val and I were first married we didn't have a penny to our name so I used to do repairs for people," says Mick. "In 1963, after working for Tom at Finchley Coaches for a while, I bought a coach. I recall Tom being unimpressed! Val and I started trading as Southgate Coaches and parked the coach outside our home in New Southgate. In those early days we did quite a bit of work for the then Greater London Council."
By 1974, Mick had built up his own fleet to around 13. At the same time, Tom had decided to sell his business and another operator acquired it. But Mick was watching proceedings and was soon able to buy the business himself. For a while the Finchley Coaches and Southgate Coaches continued operating as separate businesses.
"We stayed in the New Southgate area until we bought Finchley Coaches," says Mick. "Finchley had moved into a large site beside Finchley Football Club in Summers Lane. It was a large site and easily accommodated the two fleets together.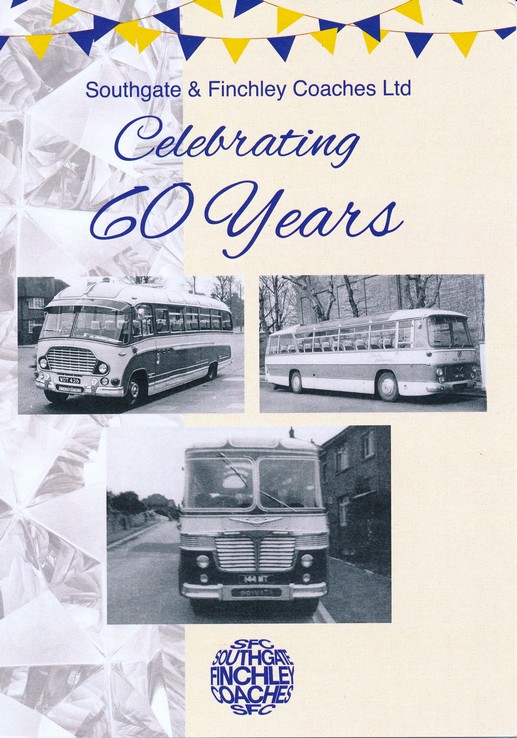 Moving site, twice
Val remembers that Mick was very determined.
"He used to work until three or four in the morning, repairing and servicing the coaches when it was necessary to keep them on the road," she says. "Without his knowledge of mechanics we probably couldn't have afforded to run the business!"
But the council had plans for the site and a new plot was offered in nearby New Southgate.
Mick took the opportunity to erect a new building with pits, as well as moving the company offices under the one roof. But the need for new housing saw the council redevelop part of the site for housing. In 2000, as a result, Mick and Val were offered the current premises in Colney Hatch Lane.
"We were very fortunate because the council arranged to build the current garage complete with four bays, inspection pits and workshop facilities," says Mick. "But bringing a coach to check everything out, Peter scraped the bottom on a bump in the ground at the entrance. It took three months to get the entrance levelled out, relaying the main road and lifting it by eight inches. We leased the site to begin with but today we have the freehold."
The Finchley Coaches and Southgate Coaches businesses were amalgamated in 2004 in a move to reduce duplication of costs. At that point the fleet stood at 26 coaches and a minibus.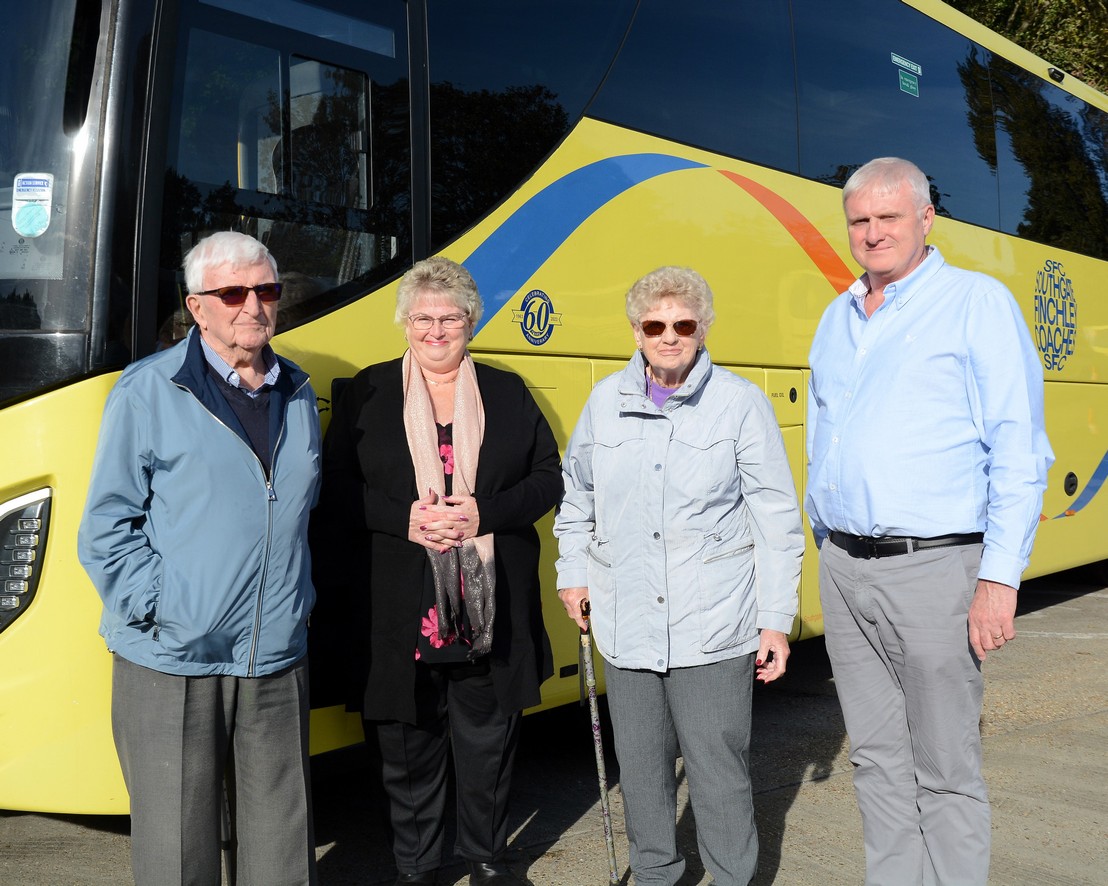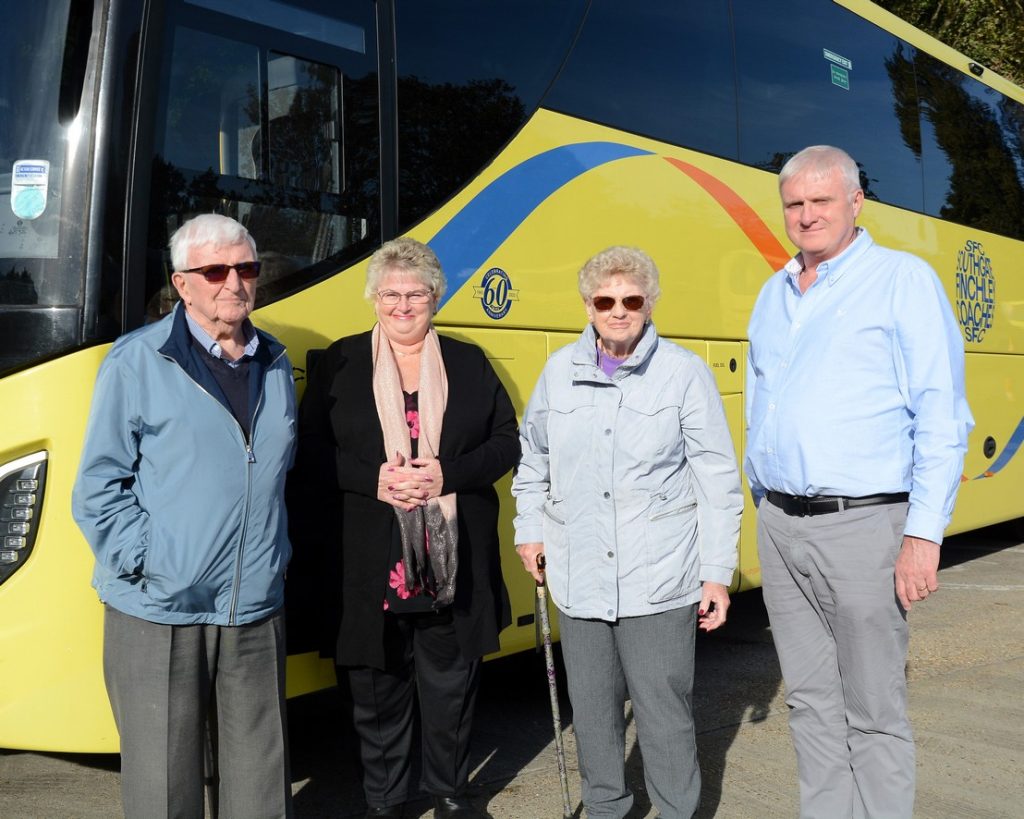 Cleaning for pocket money
Today, it's Mick and Val's son and daughter, Peter Rice and Elaine Scrivens, who are joint Managing Directors.
"In those early days I used to accompany my father on Saturday mornings working on the coaches," says Peter. "I then went full-time as a trainee mechanic when I left school. I remember Elaine coming in to the office on Saturday mornings to clean the coaches to earn some pocket money."
Peter's reference to family reveals another part of why Southgate and Finchley Coaches continues to thrive.
"The family is at the heart of all of this," he explains. "My daughter Amy looks after operations and allocation. Elaine's daughter Kerry looks after finance while her son, Carl, is workshop manager. Keith, Elaine's husband, is a qualified toolmaker and spends his time either repairing bodywork or making parts on his lathe to fix a problem. Then we have Dave, Kerry's husband, and another Dave, this time Amy's husband, both part of the workshop team."
As Peter runs through the family connections the smiles on his and Elaine's faces are evidence of the pride they feel in what is clearly a family business.
"We also have Danny, our paint shop manager," says Elaine. "He's not family but to us he's like a second son. Danny and Keith have been with us for over 40 years. Then we also have Maxine and Ewelina, our two booking administrators. It's a great team."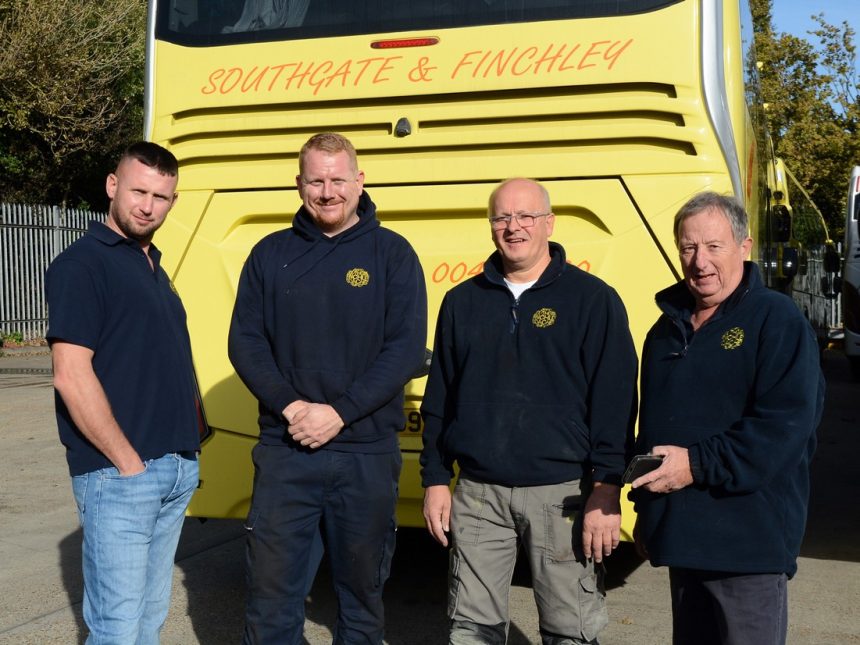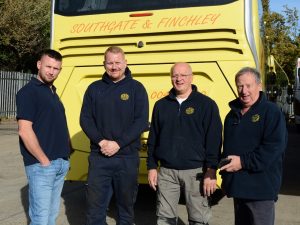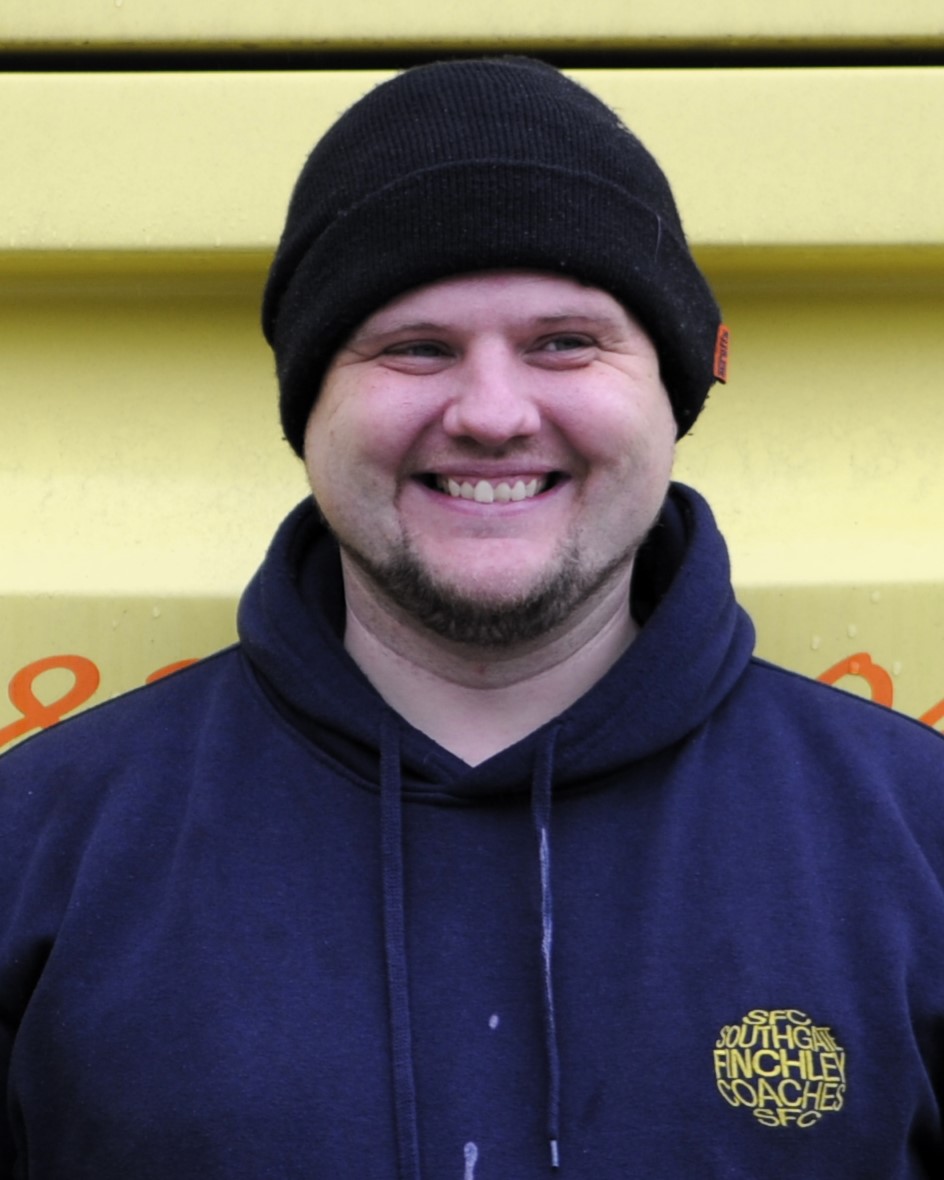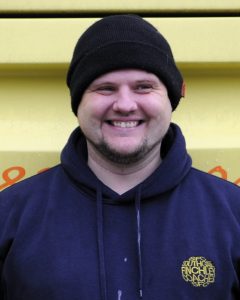 Retrofitting and congestion
Talking with Peter and Elaine it's clear that the operating conditions in London are presenting their own challenges.
"The introduction of the low emission zone meant that we needed to retrofit 16 of our older coaches to Euro VI," explains Peter. "That all took place over a two-year period. We knew it was coming of course and we'd started putting money aside. But with each coach costing in the region of £16k to retrofit we've had to re-finance one coach to complete the process."
Peter notes that traffic congestion has meant that over the last 10 years or so he's had to extend running times for schools.
"It can now take an hour to do 11 miles," he says. "We used to be able to do a school run to the Science Museum in west London, come back to the depot, then do a school run, then go back to the museum. We can't do that now."
Southgate and Finchley coaches belongs to two trade bodies: UKCOA and CPT.
"I'm Finance Director of the UKCOA," explains Peter. "I've always liked UKCOA. It's run by and for coach operators. But it's also important to support CPT. We need to constantly remind government that coach is a very different animal to bus. I feel we get either lumped in with bus, or forgotten as a vital part of the industry."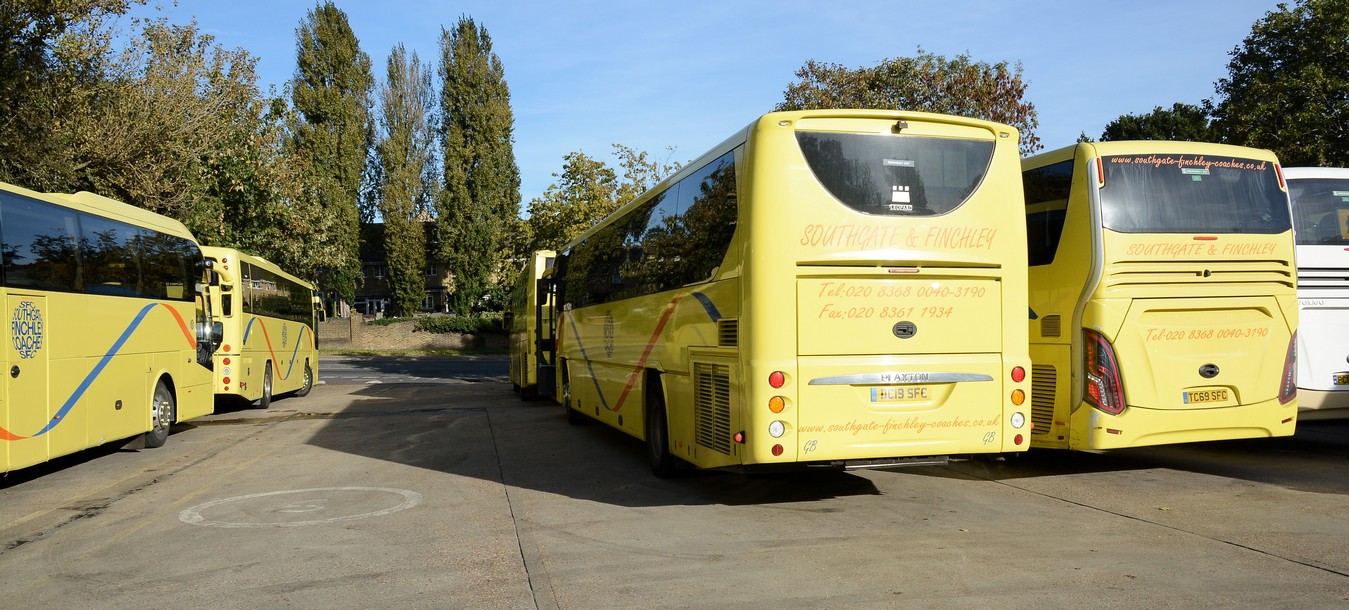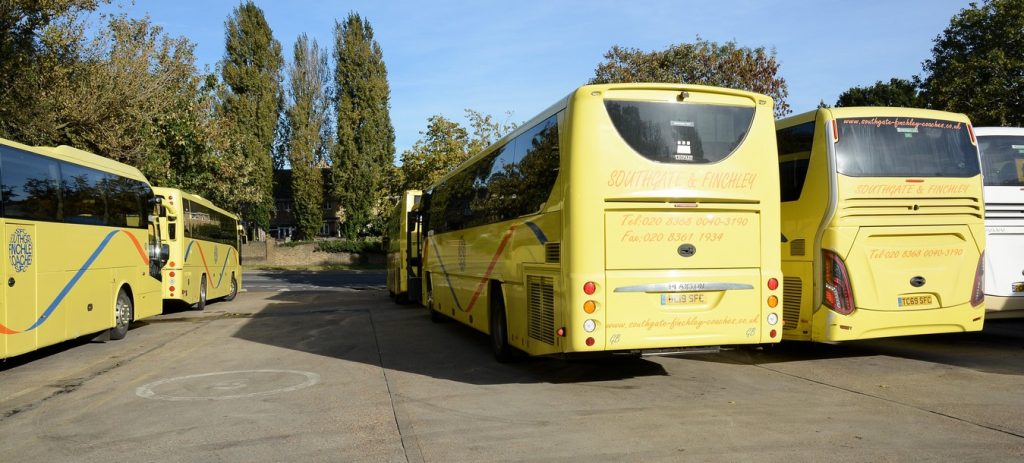 Looking after their staff
The company has 14 full-time and four part-time drivers, with most of the family taking turns behind the wheel as well.
"We gave our drivers an 18% pay rise this year," says Elaine. "That was needed to quell signs that some drivers weren't happy. But in general we have a great team. They work hard to provide the excellent service and care that our customers have grown to expect. We have an annual barbeque at the end of the summer term as well as a Christmas party to thank our staff. We also provide Driver CPC and other training courses for our staff every February half term."
The fleet make-up is perhaps typical of many operators. Newest deliveries brought seven Volvo B11R MCV 53-seaters into the fleet in two batches in 2019, along with two 37-seat Yutong TC9s and a 72-seat Volvo B8R Plaxton Leopard. The rest of the fleet is a mix of Jonckheeres and Plaxton Panthers.
"The fleet is predominantly Volvo," says Peter. "We have an excellent relationship with Volvo Truck and Bus in Enfield. We're finding that our 70-seaters and 37-seat midibuses are proving popular. It's perhaps interesting to note that a Plaxton Cheetah we bought in 2015 was our very first vehicle bought new!"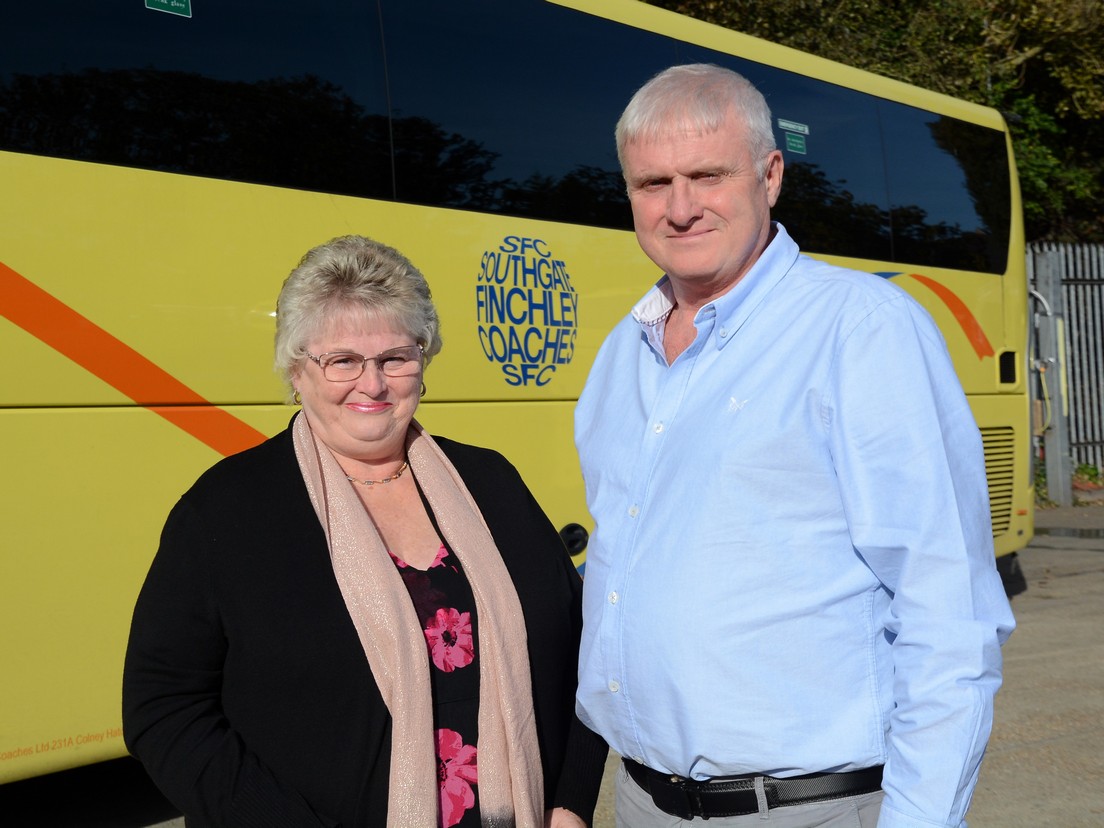 Getting on with the job
With the third generation of the Rice family actively involved in the business, the future is looking good. Summing things up, Mick highlights an important point.
"It's never been an easy industry," he says. "There have always been challenges. But you face those challenges and get on with the job. Peter and Elaine have done brilliantly."
In 2013, at the company's 50th anniversary celebrations, Mick was reminded that if it hadn't of been for his and Val's determination and tenacity it was doubtful that the business would have survived as it has. Now, 10 years on, Peter, Elaine and all the family, together with Mick and Val still popping in from time to time, are clearly continuing the tradition. Congratulations to Southgate and Finchley Coaches on its 60th anniversary.