With Eurotunnel limiting the number of coaches that can use Le Shuttle, and the fall-out from the P&O Ferries staffing announcement testing the loyalty of many operators, crossing the English Channel has become a major headache
Back in May, Eurotunnel announced that it was limiting the number of coaches that could be accommodated on Le Shuttle during the peak July and August period. Existing bookings were being honoured but no new bookings were being taken.
A company spokesperson said that the reasons for the limits were due to limited staff resources, pressures on capacity and the fact that post-Brexit border regulations meant it was taking longer to process a coach of 50 people.
Operators, caught up in the hiatus, noted the spokesperson saying that the situation would be reassessed in June. That announcement is awaited.
Operationally, the Eurotunnel situation is causing significant concern among operators who prefer the route over a sea crossing. Reputationally, Eurotunnel is taking a hit.
A kick in the teeth
John Martin Coaches, based in Radstock in Somerset, feels let down by Eurotunnel.
"We're feeling frustrated and disappointed," says Director Martin Rawlings. "We've given the company our business over the years and this is how it treats us. This new announcement feels like a real kick in the teeth. I read the reasons it gave for not wanting coaches. To my mind it's clear that car traffic brings in the money, and Eurotunnel needs the spaces used by coaches to accommodate taller vehicles, including those carrying bikes on the roof."
Martin explains that the current situation means they're likely to change the way they cross the Channel.
"Our passengers like the tunnel, and we'd be happy to pay a premium. But we would need a guarantee of service. We have a booking in September and still assume that booking will be honoured. But because of what's happened we're planning ahead to use the ferry. At the moment that probably means DFDS. But to be honest, even taking the ferry can be a real faff. Look at Dover. Compared to the French side, the UK side feels really antiquated. We returned from Switzerland in early June and came through the new system at Calais. It was good but needs more staff. The process took too long, we got caught in a backlog in front of us and ended up on a later ferry."
Martin says the effect of all of this means fewer continental holidays in the future.
"We're a small company, but in 2019 we ran 10 continentals. We've cut that back to just four in 2023. Perhaps Eurotunnel will do something to restore confidence in its product. We shall see."
Operational burden
For Bognor Regis-based Woods Travel, the situation it faced was even more challenging.
"When P&O Ferries stopped operating we found ourselves
having to consider which of the alternatives we should use," says director Tina Shaw-Morton. "Knowing that the other ferry operators would be very busy we decided to turn to Eurotunnel. Now look what's happened. We're unable to book our coaches with them and we're having to return to using a sea crossing.
However, as Tina explains, the usual popularity of continental
holidays has been affected because many people are still reluctant to travel.
"Our Christmas Market tours would normally be showing more
bookings by this point in the year. We'll see an increase in the weeks to come but it's likely we might have to cancel tours. The appetite for continental tours isn't where it used to be."
Tina says that the current frustrations extend to the company's
door to door offer.
"There are fewer taxi drivers in our area so the taxi companies are having to prioritise their home to school contracts. There are times when there aren't enough taxis to cover all our door to door pick-ups. We've had more than two years of disruption now. It seems to be just one thing after another. The situation with Channel crossings adds to that disruption. It will settle of course, but we don't know when. On top of that, the shortfall in staff in the hospitality industry is prompting complaints. Customers that have been shielding and are now only just coming back to us are expecting things to be just as they were. But of course they're not."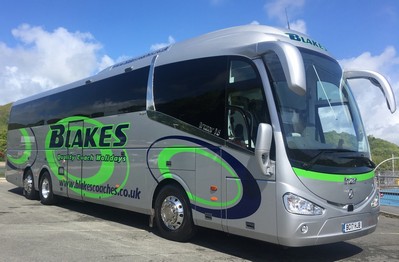 In Tiverton in Devon, Blakes Coaches has moved its cross-Channel business to DFDS.
"We used to use Eurotunnel for our private schools work and P&O Ferries for almost all our continental holidays," says Janet Blake. "The DFDS team has been excellent. I'm not going to cut off my nose to spite my face, so I'm not going to say we won't P&O Ferries again, but for the time being DFDS is getting our business. Like many operators, we're waiting to see what Eurotunnel does next."