Independent bus operators across the country have reacted to Bus Back Better, the National Bus Strategy for England. The strategy is ambitious, but will it work for everyone?
While the Chartered Institute for Logistics and Transport Busmark and Bus and Coach Forum debate on 22 April gave the opportunity to air concerns about the deliverability of policy objectives outlined in the National Bus Strategy for England, independent operators outside of major urban areas have aired their own concerns about the strategy's relevance to much of the country – and of the ability of local transport authorities (LTAs) to deliver results in the timeframe expected.
National Bus Strategy an urban-centric model?
Describing the policies set out as a "wish list", Director of Bourne operator Delaine Buses, Anthony Delaine-Smith, is viewing the strategy as a basket of tools that LTAs may be able to use to selectively suit their application. He does not believe every aspiration is going to be achievable in every area. Delaine Buses is involved with three LTAs – Lincolnshire County Council, Cambridgeshire County Council and Rutland County Council.
Communication with all three reveals that the authorities are equally as concerned as operators about how plans are to be finalised within the set timeframe. "I think everybody is waiting for further guidance from the Department for Transport (DfT) to get a further steer on where to go," says Anthony. "The primary concern, particularly from operators, is that this is an urban-centric document and it's not really tailored towards rural and semi-rural, even interurban operations. Trying to make the shires fit into an urban-centric model does not work – rural life is very different."
An example Anthony cites is bus priority infrastructure such as bus lanes, held up as one of the best tools for modal shift in the document. Such measures are less relevant in rural areas or in small towns where streets cannot accommodate them. "I'm concerned about how we are supposed to achieve passenger growth when we cannot put this infrastructure in," he adds.
Regions praised as being successful for modal shift such as Brighton and Hove, Harrogate and Bristol have, for Anthony, little in common with Delaine's own area, and emulating that success, if taken as a benchmark standard, could prove difficult.
Until further guidance, Anthony says pressure should be made to discourage motorists however possible, while better bus stop infrastructure and awareness about availability should be prioritised: "Raising the profile of the industry is one tick box we can achieve in a rural area."
Traffic light priority is another easy win. Holding local highways authorities more accountable and involving bus routes in their strategies and decision making is a big positive point for Anthony. In particular, installing technology on disruptive temporary traffic lights to enable bus priority is a must. "One of the biggest problems we suffer which affects punctuality and people's trust in and reliance on the bus is temporary traffic lights and the inability of local authorities to keep disruption to a minimum," he explains.
But Anthony struggles on major issues set out within the strategy on how numbers can be turned around to government expectations. This leads to concern about not meeting the six-monthly targets, potentially difficult to achieve both by the operator and the local authority through no fault of their own. That may prove especially difficult in counties where car use is endemic. "In a region like Lincolnshire, a bus service could be free, but that doesn't necessarily mean people will abandon their cars, and I don't see a simple solution for that," Anthony points out.
// The primary concern, particularly
from operators, is that this is an
urban-centric document and it's
not really tailored towards rural
and semi-rural, even interurban
operations //
One particular point of disappointment and evidence for the lack of understanding about bus services in rural regions is the demand for evening and Sunday service aspirations. "I can see the benefit in urban areas, but in rural areas, people do not typically travel on buses in the evenings," explains Anthony. "It is not something I see as sustainable, and would be a wasted resource that could be put into better frequencies during the day."
Interurban services, however, have a bright future if operated right. Anthony sees no reason for them not to thrive moving forward. But unless passengers live along these routes, public transport will be different in rural areas to what has come before. Talk of demand responsive transport is good for those who need it, and the success of Lincolnshire's Call Connect service is delivering on that.
But such schemes may not, he warns, result in mass modal shift. Management of the partnership between operators and LTAs will be key for the future prosperity of buses under the new strategy, but could a threat of withdrawn funding from DfT cast a shadow over long term success? "Target tables have been responsible for a lot of problems in other sectors and can risk taking people's eye off the ball," Anthony warns. "Short term box ticking is a trap we should be wary of falling into."
As a traditional operator, Anthony also wants to see independents retain their identity, an important element of localism where independent branding and operator identity is trusted by generations of travellers.
'The devil will be in the details'
For Managing Director at Yellow Buses David Squire, the founding principles of enhanced partnership working are already in place through a longstanding quality partnership between Yellow Buses and its LTAs.
David suggests the devil will be in the details when it comes to the National Bus Strategy, but meetings have already begun with local authority officers to set out what both partners think the future will look like, and to fine tune plans as more guidance is released by DfT.
While the bulk of the operator's work is with BCP Council, some services stray into Dorset and Hampshire County Council's remits and so cross-boundary services are a cause for some concern. "Clearly a lot of buses don't sit within the local authority area as such and hopefully we will see some guidance as to how to treat those," David says. "We do not want differing situations on either side of an imaginary line."
BCP Council and Hampshire County Council both bring Transforming Cities Fund money to the table and so have declared their support for the bus. This is of particular importance as David sees the main potential benefit for Yellow Buses in priority infrastructure. Despite support from the Transforming Cities Fund, congestion remains a problem and David hopes the strategy will allow for bus lanes in key locations to deliver the benefits of faster running times.
Politicians must grasp the opportunity, he adds – success will come for those authorities that take full advantage of the allocated funds. Authorities seeking a bare minimum approach, or which fall behind because of a lack of expertise, puts the sector at risk of a two-tier system. Those authorities overly reliant on consultants, he points out, might be set down the wrong tracks and stray away from the advice of operators.
What David does not yet know is what some of the more "headline grabbing" features will mean. The political thinking behind fares remains murky and he believes the longstanding political belief of better ticketing integration between operators is, realistically, affecting only a small proportion of people; but Yellow Buses is working with other operators in the region to roll out intervailability of ticketing.
Questions also need to be answered for specialist services such as sightseeing tours, which may be registered bus services but not necessarily part of the local bus network.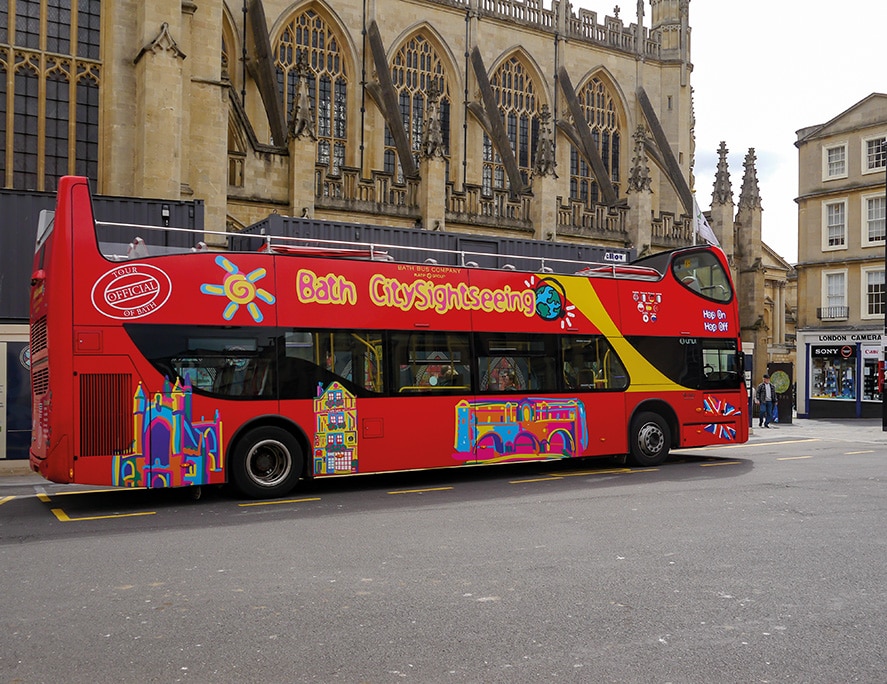 Long term viability important
For many operators, the National Bus Strategy represents the biggest change since the deregulation of bus services in 1986. But with that comes opportunity, according to BorderBus Managing Director Andrew Pursey. Following a meeting in early May, Suffolk County Council is already putting together proposals and partnership details. But like the others, Andrew says a lot more guidance is needed. "We need to know what the council's thinking is on enhanced partnerships, as I would imagine most LTAs would go down that route," he says. "At the end of the day, it's a means to get passenger growth which has got to be good for everyone – operators, councils, passengers and rural communities."
However, Andrew acknowledges that the document does seem geared heavily towards cities and urban areas, where plans are not compatible with the isolated villages of rural Suffolk and Norfolk. "It would be nice to have the same degree of frequency there, but that isn't going to work," he says. "There needs to be some creative thinking done on how this will integrate."
Understanding the criteria by which DfT will measure success will be key to establishing a sustainable strategy in those areas, and a degree of common sense will be needed to ensure cash injections have the most effect on modal shift, deliver commercially viable services, and – as others have warned – are not simply box-ticking exercises. There is a risk there that rural areas could get left behind. But good relationships with LTAs create the potential for all operators to enhance networks. If it is done right, it will be a kickstart to retain new passengers. Buses must present a distinct advantage over the car from either a cost, or a time perspective. Preferably both.
Politicians should be especially wary not to look for quick wins or uniform success across the country in order to measure the effectiveness of the strategy. In their recovery from the impact of COVID-19 and Brexit, many towns and their bus services may be further from prosperity than others.