routeone celebrates 20 years this month. It debuted as a print-based weekly title on 6 November 2003. That issue included a high-specification Volvo B7TL Wrightbus Gemini from the Blazefield fleet on the cover, while concern over long-running difficulties with Section 19 permits led news coverage. Details of 2004's 50th UK Coach Rally also featured.
The Whisperer – ubiquitous ever since – made his (or her) shadowy debut, and legal journalist Mike Jewell – another contributor from the start – wrote of PCV goings-on in the Traffic Commissioners' hearing rooms.
Vehicle deliveries were in full flow – including the first of the long-forgotten Irisbus Agora Line buses for the UK – and a strong showing of support from advertisers, many of which remain loyal to routeone two decades later, was also present.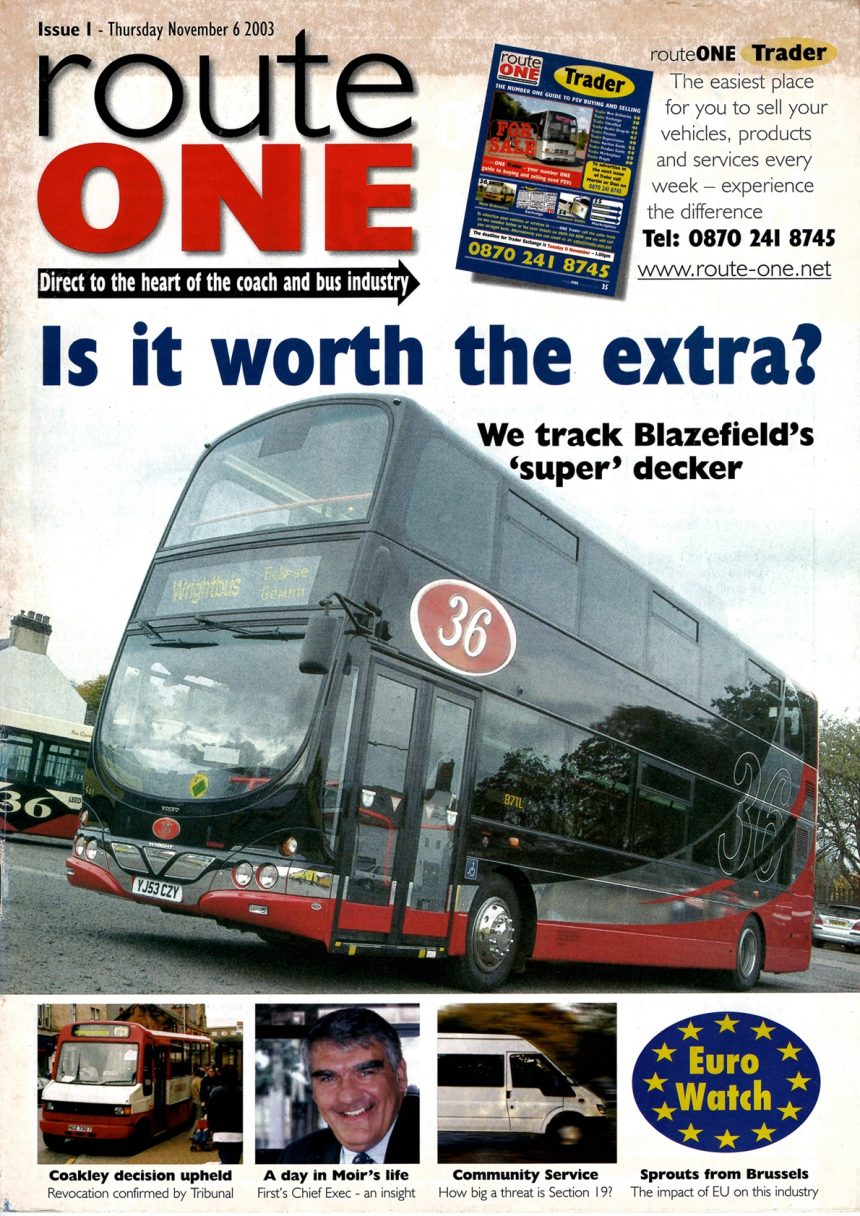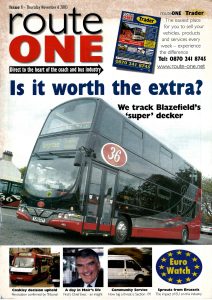 The upstart title sprung onto the scene against an established trade press backdrop. It had one or two familiar names as part of its editorial team.
Leading was Mike Morgan (pictured above, left) as founding Editor, with a long career in coach and bus journalism. He was assisted first by mysterious freelancer Tom Black, later unmasked as Deputy Editor Mel Holley (pictured above, right).
Ably supported by others, and with a sales team anchored by Daniel Lunn and Martin Laverton – both of whom remain involved 20 years later – Mike captained routeone until retirement in 2014.
Mel then stepped up and sat in the Editor's chair until 2018. Both brought great experience in the transport trade press to the new publication and planted strong foundations.
routeone after 20 years: The more things change…
Since then, 20 years, and 874 issues, have passed. For the industry and routeone alike, lots has changed in the meantime, but other aspects remain largely constant. The magazine of today is wholly committed to print, but it has a presence split between paper and a growing digital platform.
While websites were in their early stages of development during 2003, Mike notes that digitalisation played a major part in the founding of routeone. All production was handled that way, a decision that was forward-thinking for its time.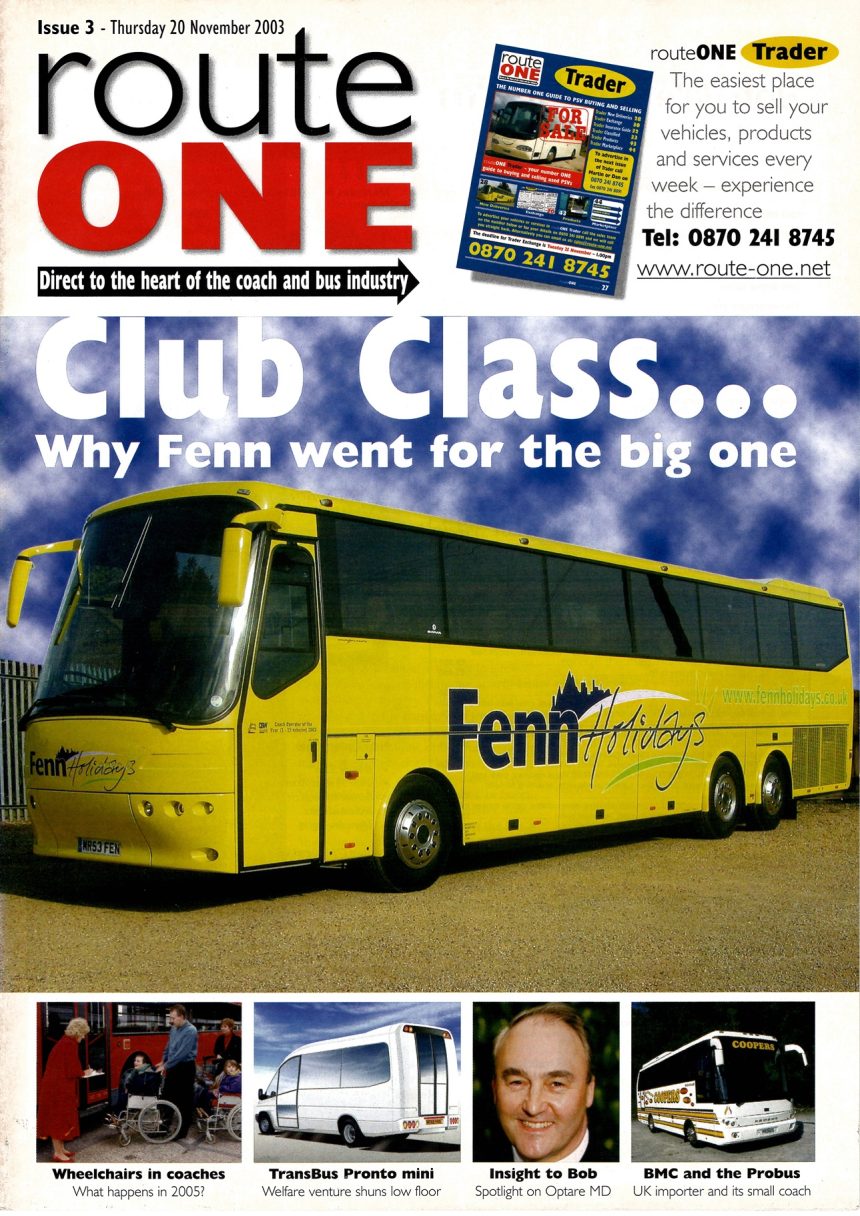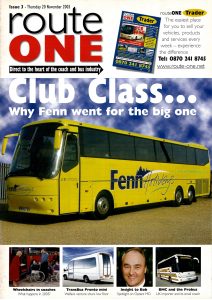 That the UK Coach Rally – then still in Brighton – should have been mentioned in issue 1 was fitting.
At the 2003 Rally, Mike had encountered Mark Griffin. Mark – a former operator himself – was organising and staging trade shows, including those for the coach and bus sector at the NEC Birmingham. He had plans to create a magazine in support of those.
"That was a meeting of minds," Mike explains, although he notes that founding a new trade title was also on his horizon at the time.
"Linking a magazine with an industry show was key," he continues, noting that such an approach later grew to "a three-legged stool" with the debut of the routeone Awards in 2005.
Similarly, Mel – with a background in railway journalism – was looking for a new challenge. Mike scoured the market for people with the right skills. With the idea cemented and people in place, thoughts then turned to launch.
New kid on the block makes surprise debut at 2003 show
With a tie-up cemented, the obvious point to launch the new magazine was 2003's Coach & Bus show at the NEC. More urgently, a title for the publication was needed. The easy option would have been to use the words 'coach' and 'bus', but that was quickly discounted.
"The biggest difference for routeone was its name," recalls Mel. "It took some time for that moniker to become accepted and established, but when it was, it stood out." The answer came courtesy of sight of an Arriva bus in Chester, operating route 1 to Wrexham. "The more I thought about it, the more it made sense," Mike adds.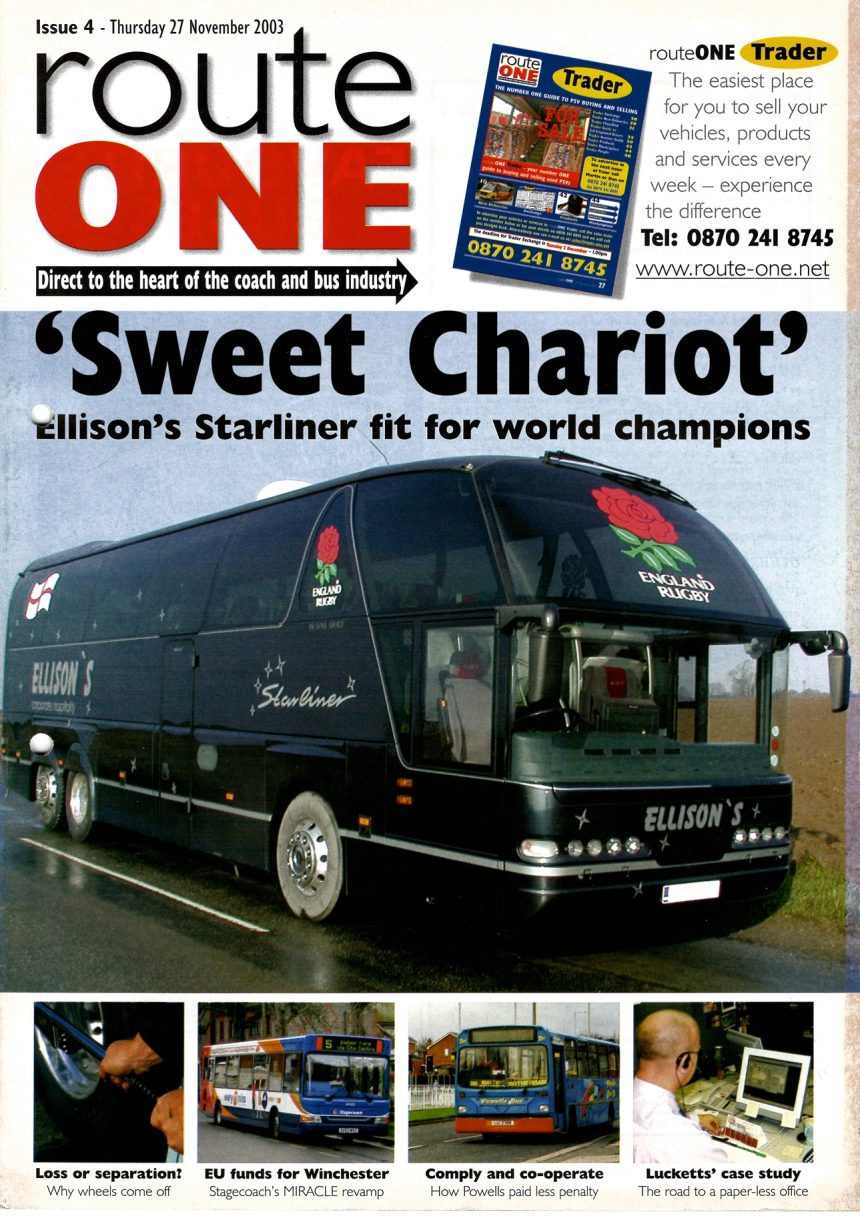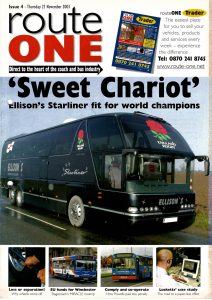 Such a name then needed to be sold to Mark Griffin. A cover was designed as a precursor to a 'dummy' test issue that was produced before publication proper began.
It sealed the deal; the logo sat in the same place as it does today, and was different to anything else in the market.
Other work followed in readiness for launch, including the opening of commercial efforts; compilation of the all-important database; and gathering the first stories.
In the latter regard, Mike gives great credit to Giles Fearnley, who in 2003 was Blazefield Group Chairman.
Giles offered one of that operator's then-new Gemini double-deckers, to a ground-breaking specification for route 36 between Leeds and Harrogate, for the cover feature.
The new magazine debuted as planned at the NEC. "We surprised a lot of people. Things had been kept very close to our chest," Mike says. Mark – who retired shortly after selling what had become the Expo Management business to current routeone owner Diversified Communications in 2014 – had invested ahead of the launch.
"It was a proud moment when we walked into the NEC and saw the routeone stand," Mike recalls. "People were not expecting it."
'Did people think we were mad?'
Examination of the route 36 approach up to the current day can be found here. The enduring tactic adopted by Giles and Blazefield closely aligns with routeone from their twin seminal moments in 2003. "Many people in the industry thought Giles was mad, and that the new buses would be ruined in short order, but he pushed ahead. History shows us that he was right," notes Mike. A parallel there can be drawn with routeone, he adds.
While bus was prominent in the first edition, coach quickly gained traction. The first such vehicle to be a cover star was a 13.8m Bova Futura of Fenn Holidays, on 20 November 2003. At the time, it was described as an "extra-long" coach; today, that length of tri-axle is part and parcel of the landscape.
Also prominent that week were accessibility requirements in coaches, which at the time applied only to those used on express services. To have suggested that such a topic would have no endgame in sight two decades later may well have been seen as absurd back in 2003.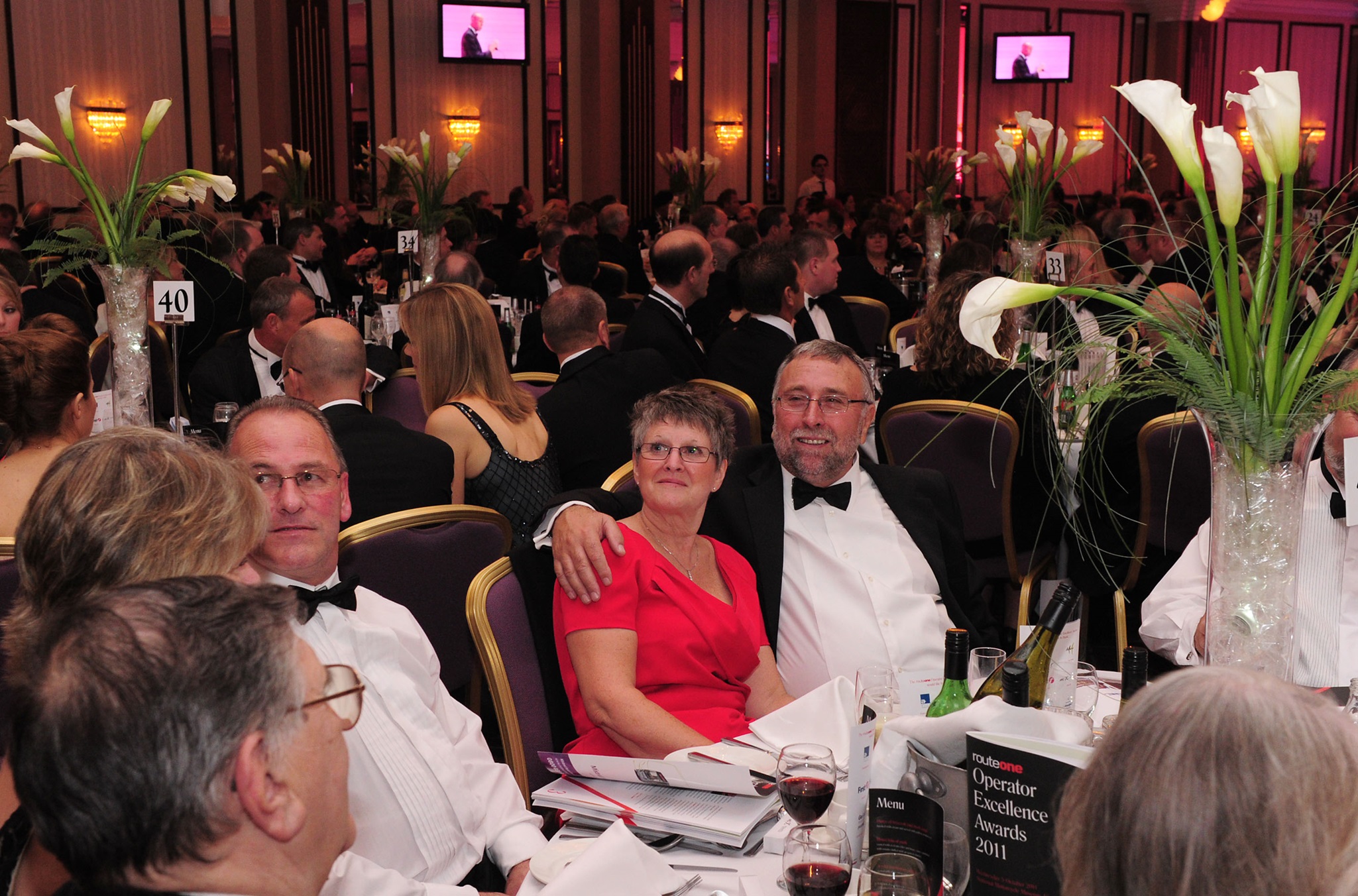 routeone was quickly seen in a positive vein by its readers and supporters. "We got a warm response and were viewed as a breath of fresh air," Mel continues. Mike credits a number of factors for that besides a strong team. "We made is very clear from the outset that we were writing for operators. That meant airing the industry issues of the day. The reaction we saw was to the content provided, not the magazine."
Coach and bus – and minibus, with Section 19 prominent – was a happening place in 2003. Bus continued to see former state-owned operators completing transition from management ownership into the large groups. Change also continued in the municipal sector. A lot of new products were finding their way into the coach industry, and Euro IV was on the horizon.
A policy of actively meeting industry members was in place from the beginning. "This is a people business," Mike notes, adding that a weekly highlight at the time was the response to each magazine. "Every Thursday, the phone would ring," he explains.
Continuing to reflect a rapidly-evolving industry
A further contributor to success was launch of the routeone Awards in 2005. It was a key moment, Mike recalls. "Founding a recognition scheme was part of the plan at the beginning. We saw a sustainable business as needing to have multiple revenue opportunities. A publication, a show, and the Awards delivered that."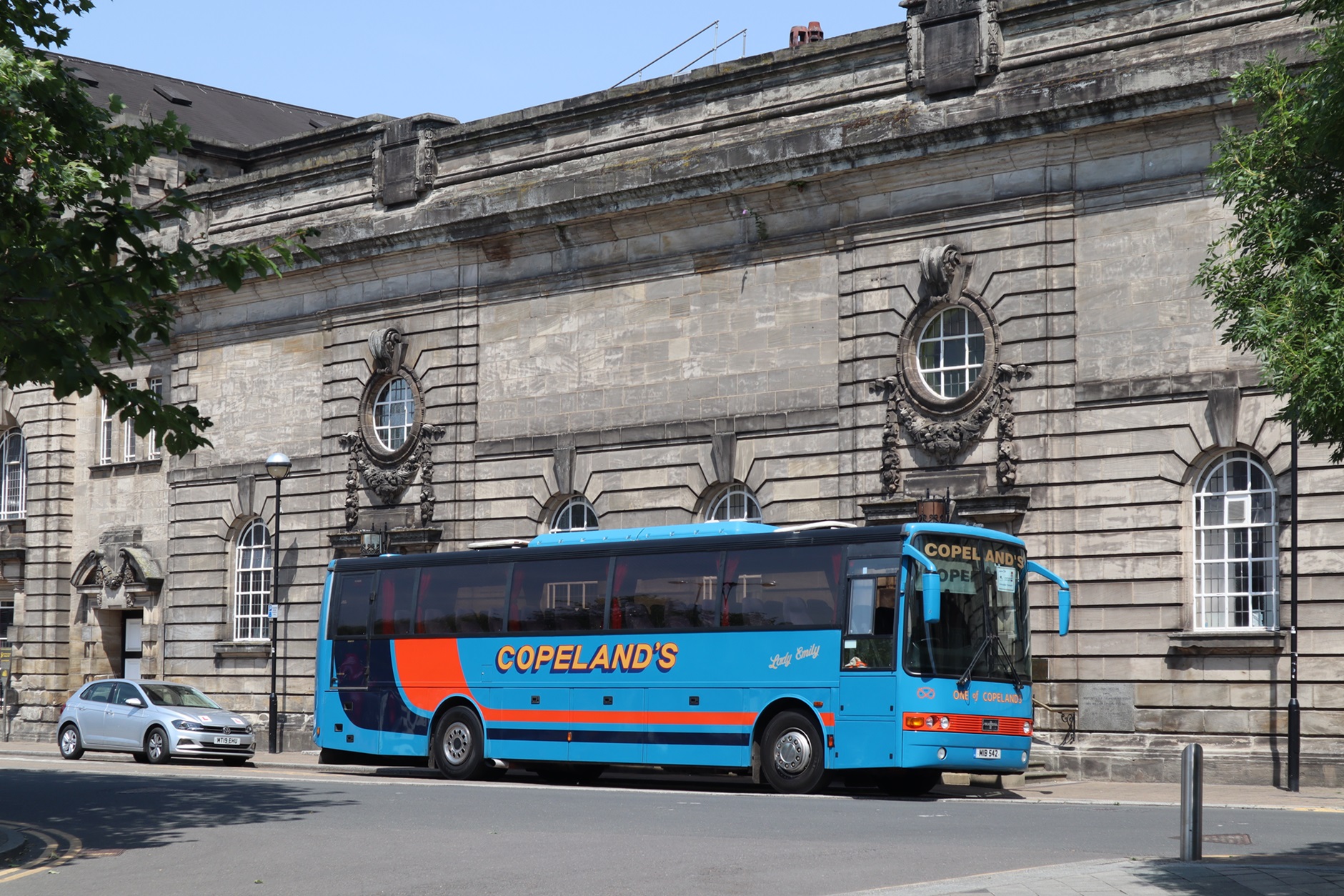 Now part of Diversified Communications, a changing industry landscape has seen routeone print frequency shift to monthly, backed by an ever-strengthening internet presence. That has worked hand-in-hand with industry partners' desire to move some marketing presence online.
Meanwhile, the trade show calendar has been revised to biennial in reflection of developing wishes among some suppliers. The Awards have remained constant, with the exception of the pandemic period.
20 years after its debut, both Mike – now retired for almost a decade – and Mel – back to his passion for railway journalism – have stepped away from routeone. But the ethos of 2003 remains. Some long-serving team members, there at the beginning, remain in place. Other young and ambitious colleagues have arrived in the meantime.
Above all, there would be no routeone without its readers. Your support for the past two decades has been the most important part of our journey.