The Sherpa'r Wyddfa network was relaunched in July with better frequency and connections. We speak to Gwynedd Council about work that is underway
In March, the Welsh Government published its white paper on the future of bus services and bus franchising in Wales and Christened it One Network, One Timetable, One Ticket.  
Aspirations in that document included expansion of the bus network in Wales, integrated connections, and higher frequencies. Much of those ambitions are reliant on ensuring the necessary funding is in place, but where money has been secured, good things have been seen.
routeone reported on expansion of the Trawscymru network in August last year and of its plans to lead zero-emission operation by the end of 2026; and this issue also sees a feature on the Fflecsi Trydan demand-responsive transport experience, where efforts have been made towards expanding access to public transport and making it attractive to new demographics.  
Also counted among recent changes has been a regeneration of the Sherpa'r Wyddfa (Snowdon Sherpa) service, which was officially relaunched on 8 July in Nant Peris with an expanded network, branding and timetables.  
There are noble ambitions behind the improvements; they stem from public consultations held last year with an aim to improve sustainability of tourism in an area of Wales defined by honeypot sites and car-based journeys. The efforts by Gwynedd Council, Transport for Wales (TfW) and the Snowdonia partnership (Partneriaeth Yr Wyddfa) has already seen a boost in patronage – up 17% in 2022 from the same period in April-July 2019 (pandemic figures were discounted).  
To find out more about these changes, routeone speaks with the local authority's Transport Co-Ordinator Llinos Williams about the work that is going into the early stages of the project.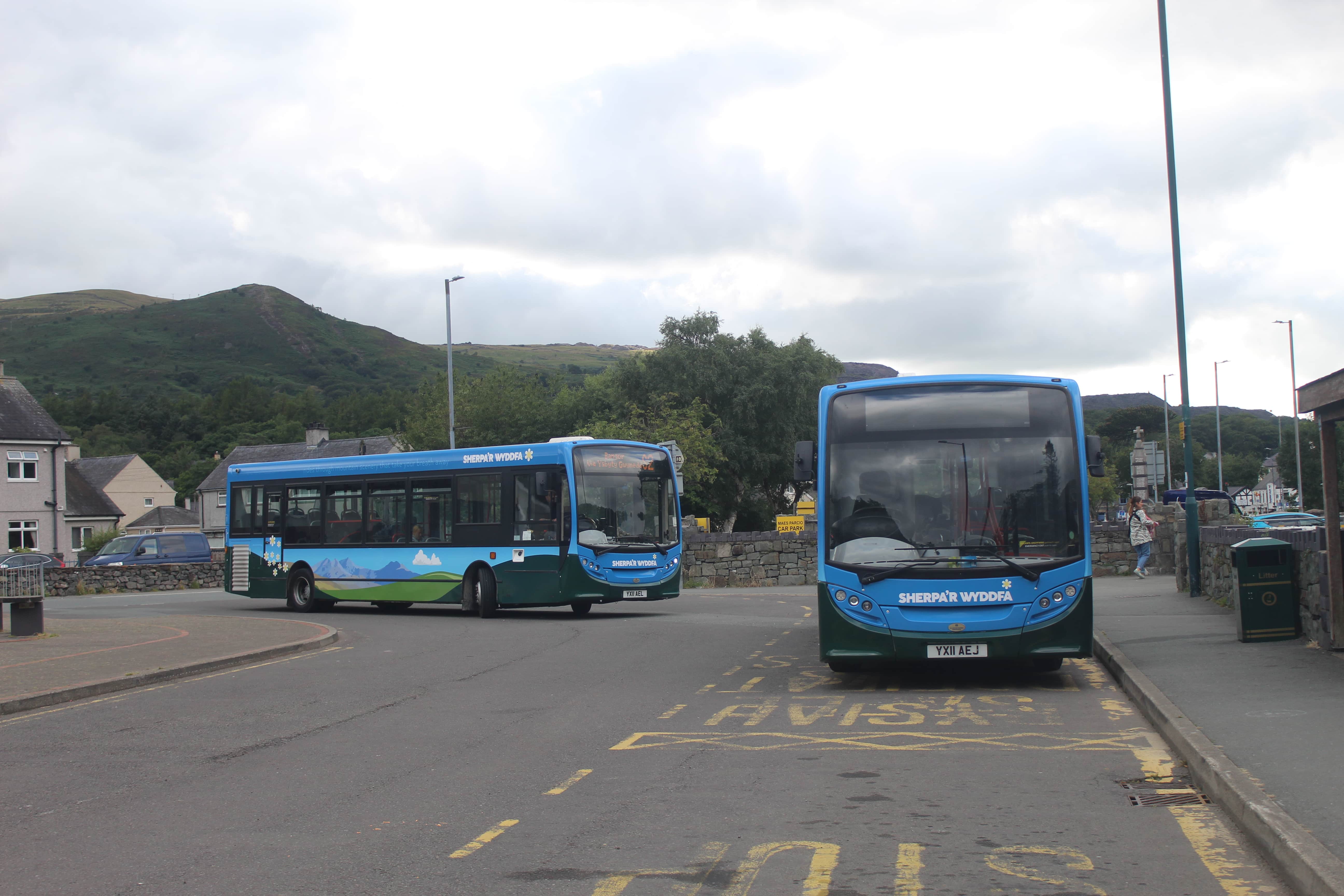 Sherpa'r Wyddfa delivers better connections

Although officially launched on 8 July, new services and timetables for Sherpa'r Wyddfa began to operate for the benefit of residents back in April.  
Better frequency and connectivity are the key ingredients of the network overhaul. For example, the new network now provides an hourly service every day between tourist hotspot Betws-y-Coed and Caernarfon. According to Llinos this has eliminated a previous requirement for passengers to change buses at Llanberis, and has removed the connection time needed between them.  The new network also provides daily through journeys between Bangor in the north and Pen-y-Pass at the foot of Snowdon (Yr Wyddfa). 
Among other improvements to connections are those that have been provided at Pen-y-Pass for customers making onward journeys to Nant Gwynant, Beddgelert and Porthmadog, and "robust connections" have been provided between Betwsy-y-Coed and Llanberis, reducing a connection wait time from 45 minutes in previous summer periods to 10 minutes. 
Just beyond the border of Snowdonia National Park, the S3 service provides a new cross-Caernarfon connection, delivering through buses between the villages of Caeathro and Waunfawr towards the Byw'n Iach Arfon fitness centre within the town. That service has a Monday to Saturday hourly frequency between Beddgelert and Llanrug via Waunfawr, Caeathro, Caernarfon and Bethel, with connections to Beddgelert through service S4 buses to and from Pen-y-Pass and Porthmadog.  
Service S4 sees a daily 30-minute frequency on the Llanberis-Pen-y-Pass corridor via Nant Peris, with additional buses on Saturday, Sundays and public holidays, and on Monday-Friday school holiday periods, providing a 15-minute frequency. 
A total of 11 vehicles operate the Sherpa'r Wyddfa network at peak time – a fleet which includes two double-deckers and nine single-deckers. All are operated by Anglesey-based Gwynfor Coaches. Eight of those vehicles have now been branded in a new livery, which includes two double-deckers, five Alexander Dennis Enviro200 single-decks, and an Optare Solo. 
TfW has been approached by routeone for comment on the funding situation for the network improvements but has so far not responded. However, Gwynedd has revealed two budgets have been provided, both for the service itself and for rebranding and signage.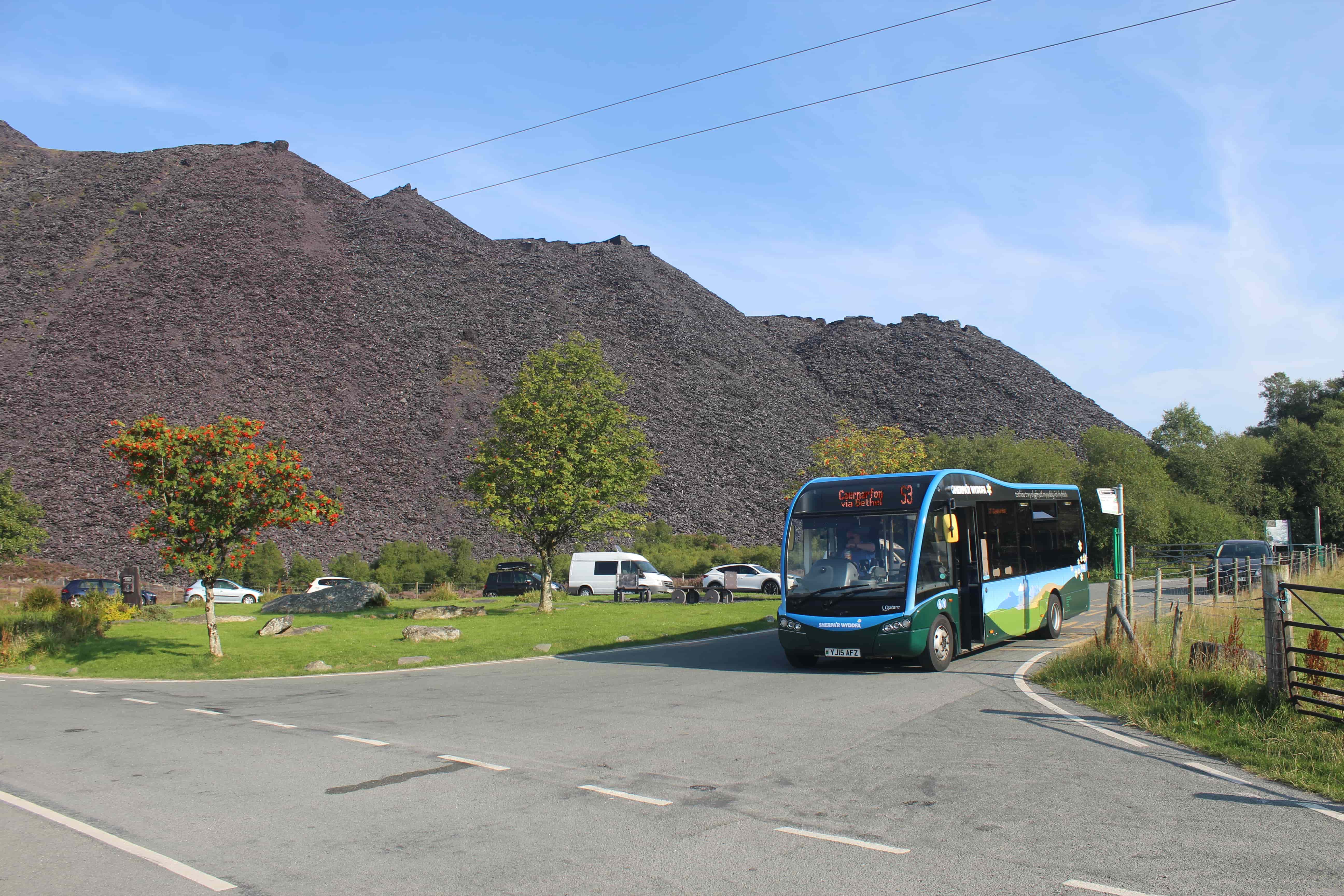 Partnership approach
between local authority and operator

Gwynfor Coaches has been the sole operator of the Sherpa network since January 2018. That has made it easier to change and amalgamate routes on the new network. When Gwynfor first started operating on the Sherpa routes, the network had been scaled back owing to the loss of two operators in the Gwynedd area.  
"We were trying to piece together a network to provide a service and much as we could," explains Llinos. "And that has always been in partnership with Conwy County Borough Council and Snowdonia National Park." 
When TfW began to review bus services in the region, Sherpa'r Wyddfa was taken on as a project for improvements to enhance service to locals, make the best of a booming tourist market, and to tackle pervasive parking issues. The latter has already seen some improvement, according to Gwynedd Council, with additional frequency allowing travellers to reach Pen-y-Pass from other areas without having to rely on cars.
Sherpa'r Wyddfa network followed wider consultation
Efforts to address concerns on congestion also stem from public consultations held in March and April 2021 by the Snowdonia partnership, Partneriaeth Yr Wyddfa, which in February this year published its Yr Wyddfa and Ogwen parking and transport strategy.  
Encouragingly, the strategy has at its heart ambitions to improve bus services – particularly by provision of longer hours and better reliability – "following concerns from… communities and partners regarding the huge pressures facing communities due to the high levels of vehicles during specific times of the year." 
The author of the review, Martin Higgitt, reveals how a focus on tourism in the area is at the heart of improving the transport offer, and in making Snowdonia sustainable. "It seems evident to us that minor tweaks to parking supply or parking tariffs and bus services aren't going to change the fundamental dynamics, and what we really need to do is to change norms and expectations of how visitors access and interact with the area," he explains in an introduction.  
Instead, the focus is on visitors, as "they are the cause of the problems". According to Martin, their numbers offer "the opportunity to provide a much-enhanced level of transport provision while also improving their experience. By better managing their access into the area and where they park, we can capture more visitor spend locally, and direct them to visitor attractions and facilities to the benefit of the local economy and tourism businesses – and we can reduce the traffic and parking problems they cause to local communities as well as providing improved transport services for the benefit of local residents, and all this while protecting the very special landscape." 
The partnership reveals that "substantial investment" will see the strategy's vision realised in between five and 10 years. Ambitions include a new fleet of "zero-carbon" buses, the potential for demand-responsive transport services that can connect popular visitor sites, and a shuttle bus network that interchanges with rail and long-distance coach and bus services. Improved coach parking is also listed among ambitions.  
In addition, parking will be moved to "gateway villages" and removed in the national park, discouraging car travel within. This is underpinned by a high-frequency bus network that provides connections and links from surrounding towns.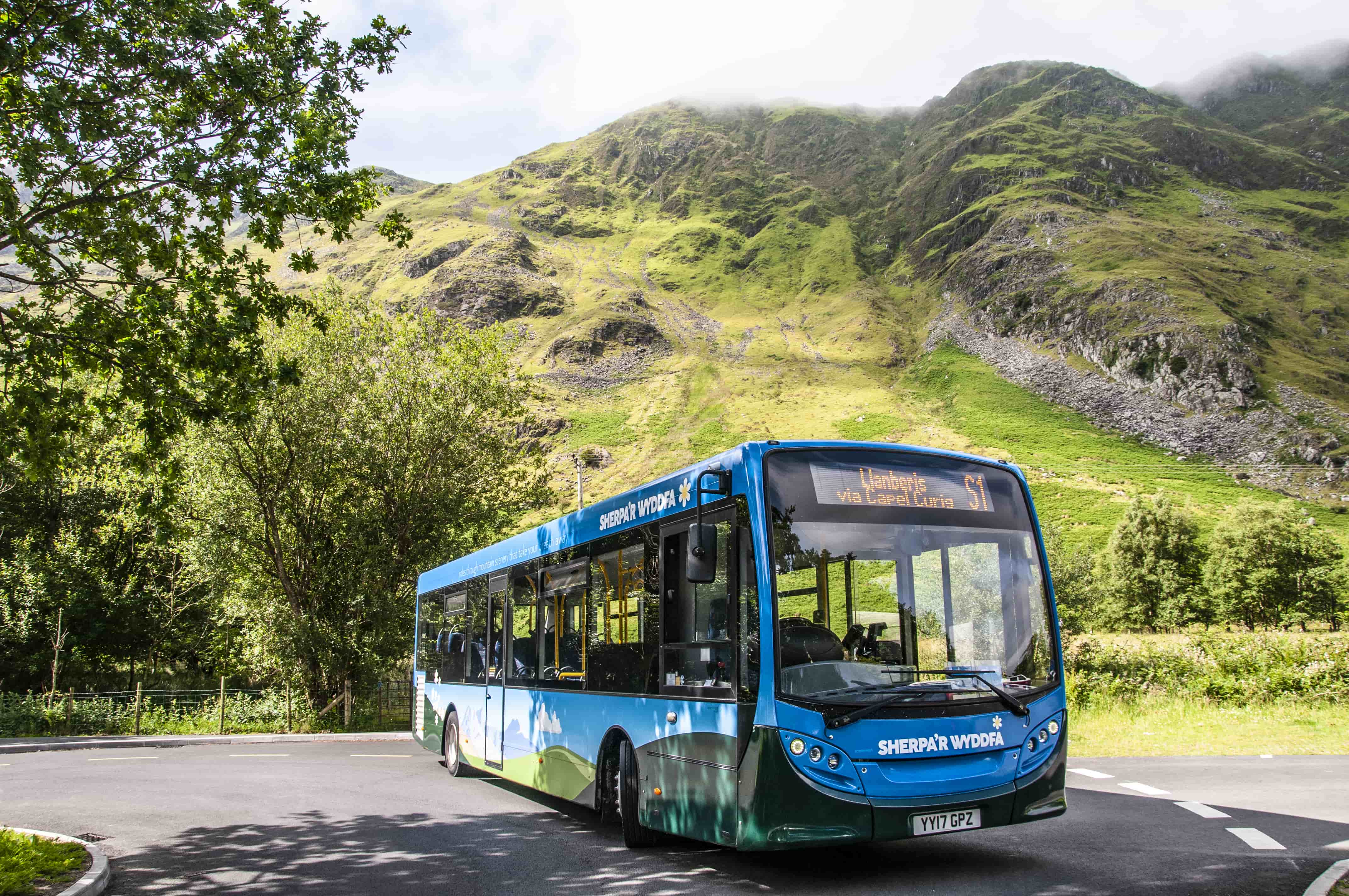 Remembering locals
While the priority for Sherpa'r Wyddfa has been bus-to-bus connections, Llinos acknowledges now that more train connections are necessary to make the most of the work already carried out. "It would be ideal because you have Bangor and Porthmadog to bring people from the south of the county upwards, and it's mathematically impossible to connect everything. There are discussions with TfW Rail to try and improve the connections for the winter." 
And while much of the discussion and strategy has been focused on capitalising on the tourism offer, another difficulty for Gwynedd Council is prioritising school and commuter journeys which do not necessarily follow tourist routes. "We have to prioritise those first and foremost to give passengers good value for money," says Llinos. 
Ease of network use for locals has been improved through the use of clock-face scheduling. The plan for the summer is to uplift the hourly journeys on the main strategic routes on tourism sections, such as Llanberis to Pen-y-Pass, and use the profitability from that timetable to subsidise more frequent services for locals throughout the year.  
An extending tourism season may help to make that easier. Llinos reveals that Gwynedd Council has noticed the traditional tourism season now extending into late October and often early November. "So we have three or four months between November and Easter which are quiet, but that needs to be maintained to ensure locals have a service and that we can keep it running for when the season starts up again." 
But what are the plans to ensure the network appeals long-term, and continues to attract passengers? For a start, Sherpa'r Wyddfa will soon have its own website. Leaflets have been printed and promoted at four locations across the network, and are available on buses. The route is promoted throughout the national park, on its website, and on the Gwynedd tourism website too. It is being pushed out the various sectors of the tourism industry, with pamphlets distributed in hotels and AirBnBs, tourist information sites, and through TfW. 
Llinos remains optimistic that patronage will continue to increase and that the need for government subsidy will decrease with the increased profitability of the strategies outlined. "What we want is to provide the best service we can both for locals and for tourism, and that it carries enough passengers to reduce the subsidy required." 
While there are no plans to increase the size of the network, improvements to frequency are an ongoing ambition – though locals have responded positively so far to the updated network.  
But attracting passengers is not the only issue facing the network. Predictably for Iwan Hughes, Transport Manager at Gwynfor Coaches, what the improvements have highlighted is the shortage of drivers in the area.  
"We have trained up seven drivers in the last year. Wages have been increased by 16.5% in the last year. But we are still struggling to attract drivers," he reveals. "Practically every company in the area has been advertising for drivers over the last couple of months. I think the main problem is that a lot of the older and part time drivers decided not to renew their medicals or Driver CPCs, and retired during the first lockdown period, which understandably was a really uncomfortable time to be driving buses." 
But Iwan also reveals the response from passengers has been excellent, with increased frequencies "without doubt" helping to mitigate parking problems in the area.  
"It has also gone down very well with the local users, who now have much more choice when to travel," he adds.