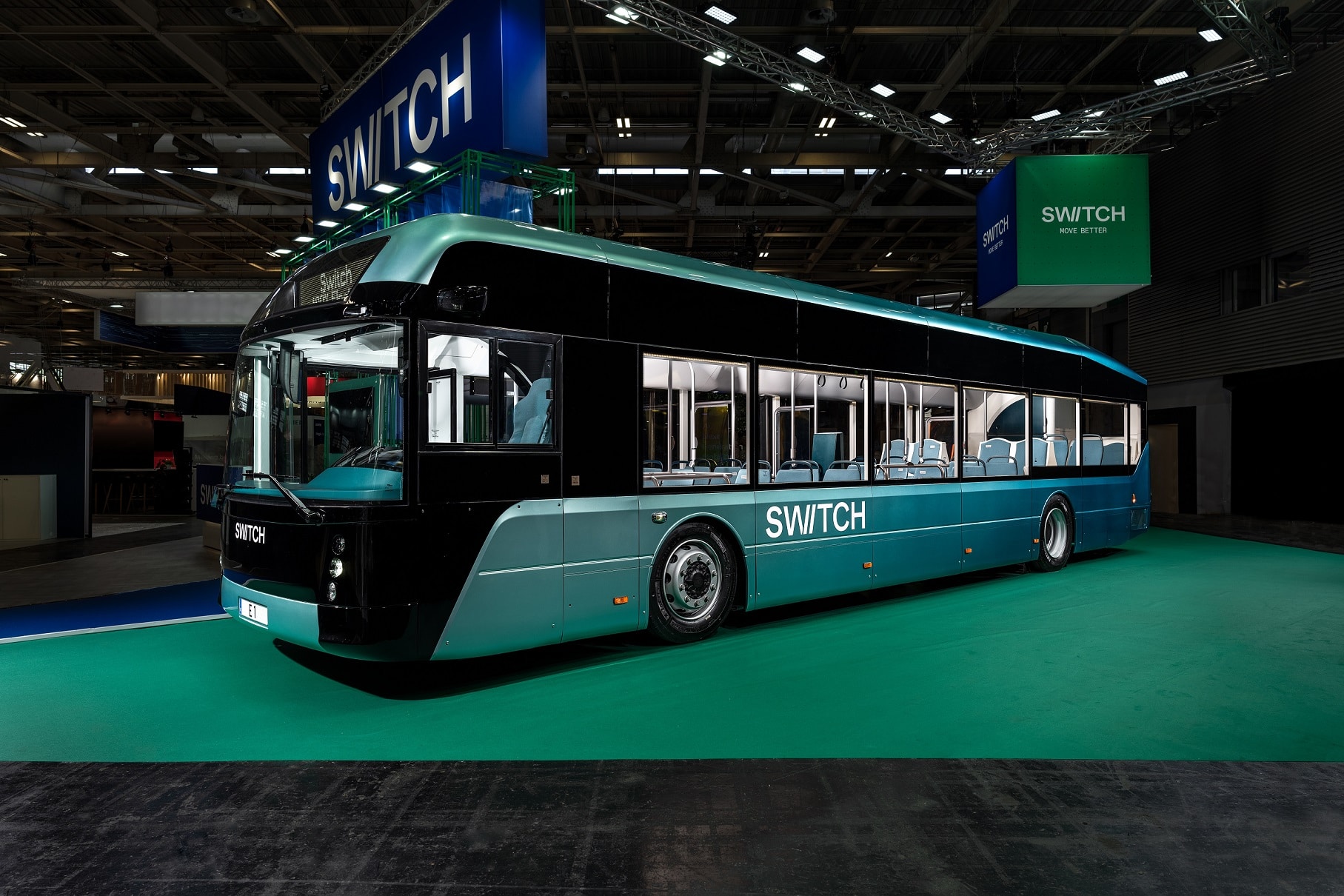 While Switch Mobility does not plan to offer its Switch e1 battery-electric single-decker here, the manufacturer – which absorbed the Optare business – says that the new product contains multiple cues that are likely to influence development of its offerings in the UK market. 
The manufacturer debuted a left-hand drive Switch e1 at European Mobility Expo in Paris in early June. Although it is not intended for the UK at this stage, Chief Engineer – Bus Platform Amit Mulay does not completely rule out a right-hand drive variant should demand dictate. But the Switch e1 is a product with strong British involvement already, however. 
All design work has been done here and all of the eventual eight prototypes will be built at Sherburn in Elmet in Yorkshire, before work transfers to Switch's newly established Valladolid facility in Spain when series production begins. 
Low weight is central part of TCO focus
for Switch e1
Chief Marketing and Sustainability Officer Peter Freedman says that construction of the prototypes represents phase one of the Switch e1 project. The timeframe for that "is not over-ambitious," he adds. But the manufacturer is already in discussions with potential customers in a small number of key markets for the new product. 
The Switch e1 has 389kW/h of energy storage using NMC battery chemistry. Switch claims an unladen mass of below 10,800kg, which is impressive for a 12m battery-electric bus. That translates to a range of 390km and a low total cost of ownership (TCO), Peter says. The low weight means that up to 93 passengers can be carried in a typical European multi-door, low seating capacity layout.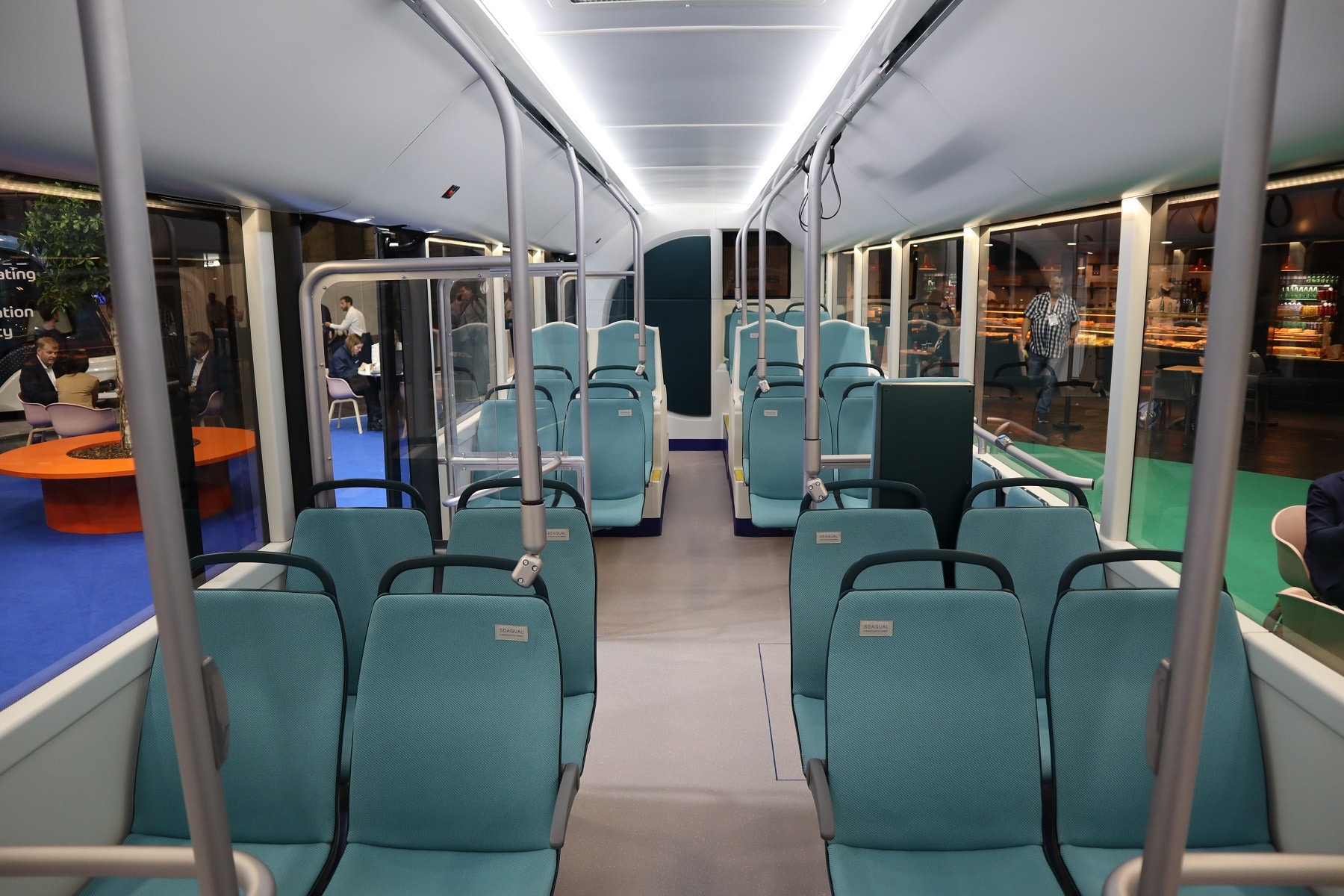 TCO will be key to the bus's prospects in the competitive European market, Switch acknowledges. "We are not entering this segment naively, and we realise that this will not be an easy journey," Peter continues.
"That is why we have spent a lot of time ensuring that the Switch e1 is lightweight."  
Minimising downtime and assuring serviceability is another key to the Switch e1. Amit explains that substantial work has gone into making the bus as simple as possible. The vulnerable lower corner panels are split into modestly sized segments to reduce the cost and speed the job of replacement when damage occurs. Access to electrical components has also been made straightforward. 
'Start of a new legacy' for Switch Mobility
Switch is not naming the manufacturer of the batteries for the newcomer, but it says that they represent a subsequent generation to those currently used in its UK line-up. Energy density is greater, and Amit confirms that the type used in the Switch e1 will subsequently come to legacy products. That will deliver either greater range or a higher passenger capacity. 
Charging options are multiple on the Switch e1. A CCS2 connection that can accept either AC or DC is utilised. The first demonstrator has two such sockets: One at a typical location at the rear, and another below the nearside B-pillar. Opportunity charging via inverted pantograph forms part of later plans for the Switch e1. 
Befitting its positioning in the mainland European market, the Switch e1 has a flat floor throughout. ZF axles are used, with that at the rear having hub motors.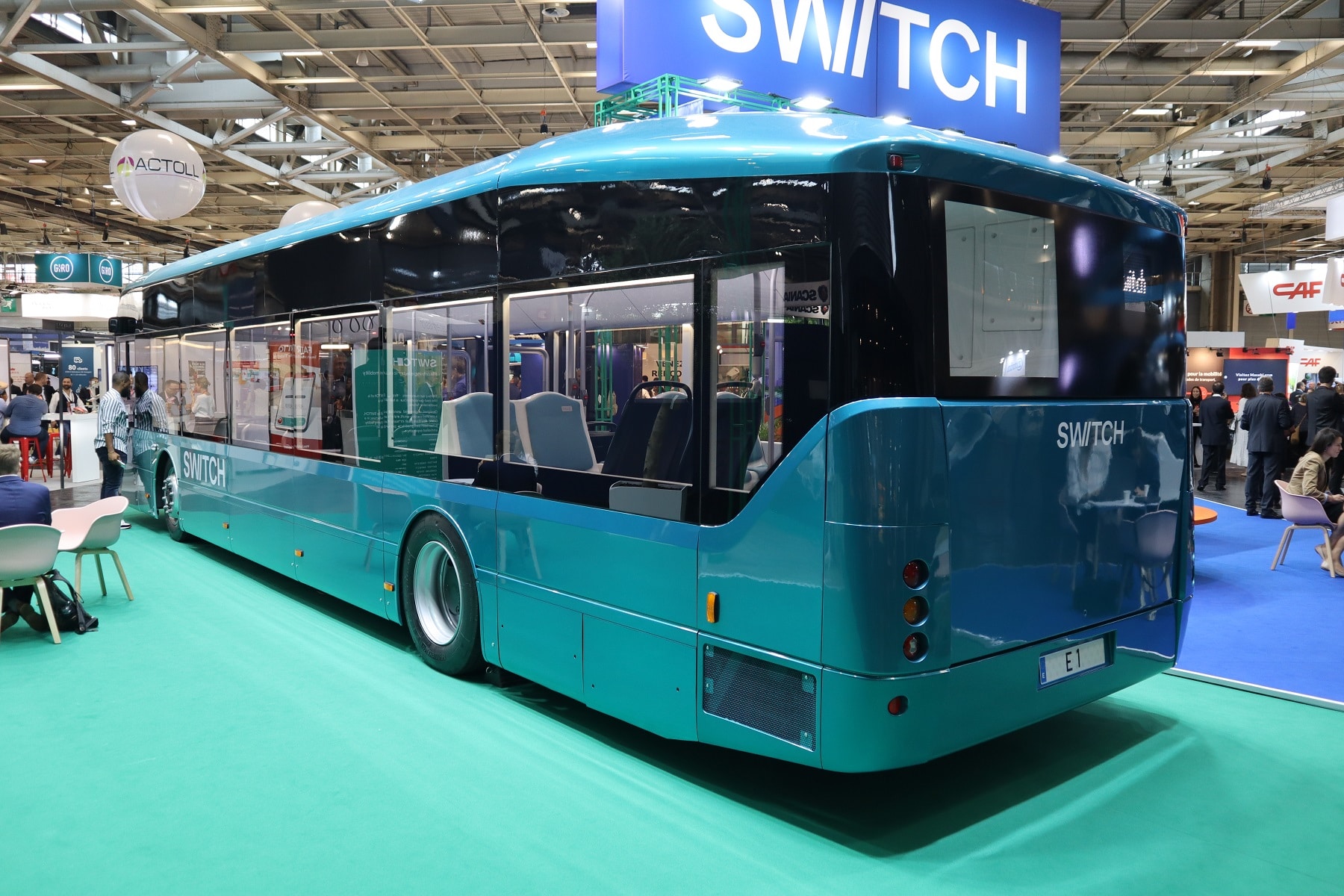 The Switch e1 also has a distinctive external look. Although it has the well-established monocoque approach to construction as used successfully for many years by Optare, Amit says that the new model deliberately bears no resemblance to products inherited from that business. 
"The Switch e1 introduces a new legacy for the company," he explains.
"Some technology has been taken forward from the Metrodecker, but we also want to signify a new beginning. That is why it is so different to what has gone before." When further new products and refinements of existing models are forthcoming, they will lean on the design language used in the Switch e1. As an example of that, the Switch e1's windscreen is compliant with the Transport for London Bus Safety Standard. 
Interior style key to Switch e1
, OEM says
The manufacturer is also keen to demonstrate the work it has done to deliver the interior of the Switch e1. Examination of the first prototype – a three-door model – shows that it does indeed have a nicely flowing style, something that Amit says has been achieved through the model having been designed from the wheels up as a battery-electric bus. 
The debutante unusually has two wheelchair ramps, with one at each of the first and second doors, as part of work to demonstrate what is possible. Amit adds that there is significant further scope for interior customisation beyond what is visible on the first prototype. With a large expanse of white trim the interior is airy, although whether customers will so readily choose an easily marked colour remains to be seen. 
Amit explains that a significant amount of effort has gone into ensuring that the air flow from the air-conditioning unit is well insulated before it reaches the saloon in the name of maximising energy efficiency. Plans call for the later use of heat pump technology to recover heat from the batteries and driveline, but for now the air-conditioning unit fitted lacks that. 
Switch Mobility CEO and Executive Vice Chairman Dr Andy Palmer has previously championed the manufacturer's zero-carbon work. The prototype Switch e1 builds on that by using Seaqual yarn for its seat fabric. Seaqual utilises marine plastic waste that is collected from the oceans and then recycled.  
Cab design a step change
for drivers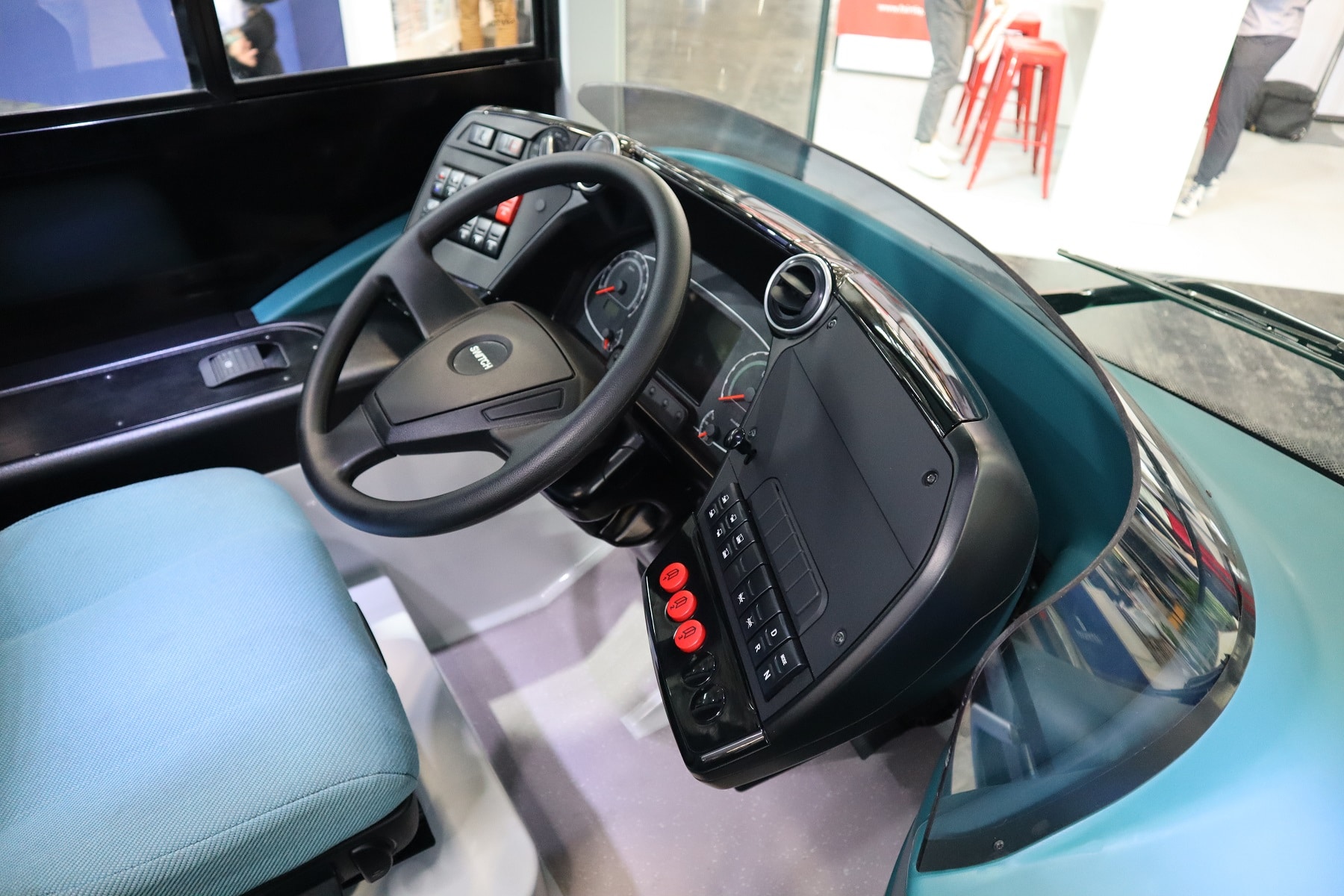 In addition to work to make the passenger areas as welcoming as possible, Switch Mobility has also gone to lengths to ensure that the driver is as comfortable as possible. 
Amit describes the Switch e1 as having two customers: The operator and the driver. Its cab area is unrecognisable from products developed by Optare. Instead, it is comparable with any of the more advanced working environments for drivers that have debuted in recent years. 
In a notable change, the steering wheel and dash binnacle move as one unit and there appears to be more generous space for the driver than in products with Optare heritage. The first prototype has a half-height cab door that has been produced by a 3D printer. Amit notes that 3D printing is unlikely to be adopted on production buses, but it is an interesting option for rapid component production. 
While the Switch e1's windscreen is Bus Safety Standard compliant, it is also heavily curved at each side to accommodate A-pillars that are pulled back by around three inches. The OEM says that has been done to aid visibility. The prototype also includes rear-view cameras. Amit says that Switch is supplier-agnostic for these and that it will be led by customers' requirements; conventional mirrors can also be specified. 
'Breadcrumb trail' laid for other models
in UK

Although Switch does not entirely rule out adapting the e1 for the UK – where the bulk of battery-electric single-deckers delivered thus far have been in its weight category – the OEM for now sees its single-deck future here lying with the lighter and smaller Metrocity and Solo products.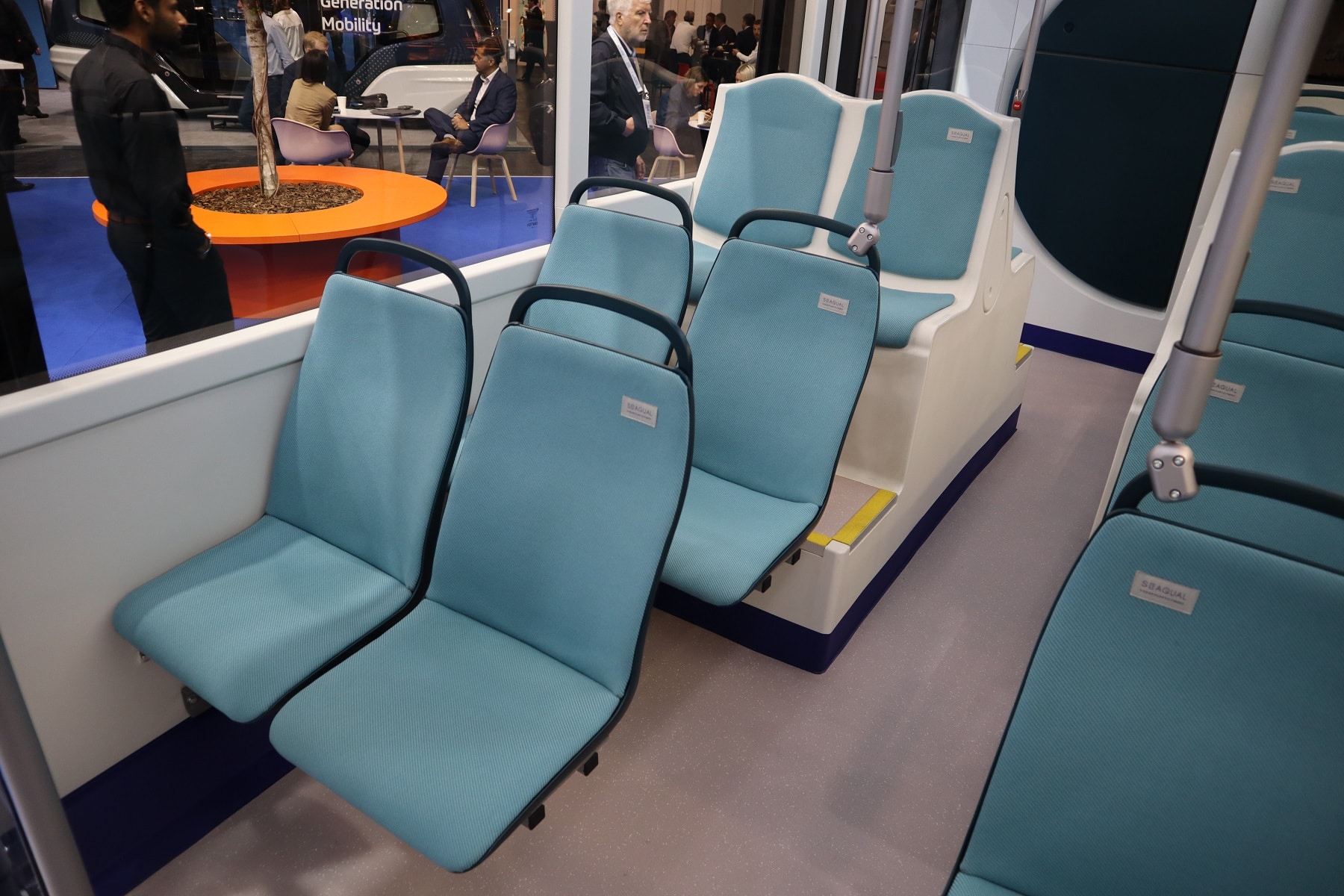 The UK market is now one of Switch's "three pillars" alongside mainland Europe and India, Peter continues.
Across those, it had at the time of writing 2,200 vehicle commitments in place.
"The UK is still one of our core areas, but we decided to enter mainland Europe because projections show it will see the biggest level of growth in demand for battery-electric buses in the western world," he continues. 
"The Switch e1 gives us the opportunity to grasp some of that. We are confident that we can obtain the market share and volumes we need to make our Valladolid site a success." 
Some of the developments on the Switch e1 that will eventually port across into UK market buses are more obvious than others. But Amit describes the model as the start of a new era for the manufacturer. He refers to a "breadcrumb trail" being laid for other vehicles to follow. The first Switch e1 attracted strong interest in Paris, giving every reason to believe it will do as the manufacturer hopes.