In November, Van Hool revealed T, the successor to the T8, T9 and TX series of coaches. routeone takes a closer look at its new aerodynamic design
On 21 November, journalists gathered in Koningshooikt to witness the unveiling of the successor to the Van Hool T8, T9 and TX series of coaches. For Van Hool's latest single-deck luxury coach offering, the numerical designation has been dropped – going forward, Van Hool will sell its coaches as just 'T'.
At time of writing, contracts have already been signed for the delivery of 38 vehicles. Three coaches were displayed in pre-production form: The T 15 Acron in 12.5m, The T 17 Acron in 14m, fitted with a wheelchair lift; and the T 17 Astron in 14m. The Alicron, Acron and Astron names will be retained, and the brand positioned within the company's portfolio of luxury coaches, sitting as the single-deck range alongside the EX series and TDX Altano and Astromega, which will continue relatively unchanged.
No opportunity was given to drive the vehicles on their static displays, and some materials were yet to be finalised – but the event gave visitors the opportunity to glimpse at how the new coaches are expected to look in their final form.
Models in 2023 will initially be marketed as the two-axle T Alicron in 12-13m, the T Acron in two-axle or three-axle variants in 10-14m, and the three-axle T Astron in 13-14m. All are set to beintroduced in right-hand drive in 2024.
Power comes from Euro VI DAF engines in 11 and 13 litres with a power range of 270kW/367bhp to 390kW/530bhp. A choice of automated manual and automatic gearboxes from ZF TraXon, ZF EcoLife and Allison are available.
A new method of design
The preview coincides with the company's 75th year as a coach and bus builder, giving the opportunity to celebrate Van Hool's history. From its first coach in 1947, the family company built its first integral in 1958 – built upon the Fiat 306 chassis – followed by the T8 in 1979, the T9 in 1995, and the TX in 2011. The new T range, building on an ambition to launch a new coach every 10 years, will set the tone for Van Hool's look over the next decade.
Four main themes have guided the redesign, according to Van Hool. They are aerodynamics, design, comfort, and safety.
For the first time in Van Hool's history, aerodynamic calculations have informed the final product. That results in a bold new convex windshield and wraparound front and rear styling. Fog lights and cornering lights have been integrated into the bodywork, and integrated fairing fins and roof spoiler guide airflow towards the rear. Construction is in stainless steel to improve durability, and emphasis has been placed on sustainability, with a high percentage of the vehicles being made of recyclable materials.
Newly designed wing mirrors come as standard, and all models have the option of digital camera monitoring systems – called MirrorCams – which streamline the body further. As well as reducing drag, Van Hool says the design reduces wind noise, contributing to one of thebrand's core values – comfort. "Van Hool owes it to itself not to makeany concessions when it comes to comfort," it says. "In the development of the Van Hool T, this theme was naturally at the forefront."
Comfort is king
On the inside, striking LED interior lighting illuminates new environments for the driver and passengers. The T series sees the introduction of a new generation of seats, with a weight saving of up to 6kg per seat over its predecessor, contributing to lower fuel consumption. Options include a cradle function in which the seat moves back as the backrest is reclined, giving passengers "armchair" positioning.
Steps have been widened and larger grab handles installed to ease boarding, and folding guide seats are hung up for more space up front. Above, customers benefit from newly designed luggage racks, slightly tilted to improve storage volume and increasing cabin space by being placed further to the side. Passengers seated in aisle seats can now stand up straight without being obstructed by the racks. Doors hinge inwards to not obstruct standing passengers. Black is emphasised on surfaces such as window framing, seat frames and rails, offset by strips of brushed chrome to emphasise a premium finish.
Focus was placed on a new climate control system developed for the T range, which provides more efficient cooling and heating, and lower operating noise of six to 10 decibels over its predecessor. The T Astron is equipped with an integrated air conditioning system with separate evaporators.
Four individual compact air-conditioning units are recessed into the roof and provide "even climate control" in four zones of the cabin. All air conditioning systems come with "antiviral capabilities" as standard.
The driver, meanwhile, enjoys a new heating system at the front with a separate connection that improves air distribution between the windscreen and the driver. This joins a new workspace, with a dashboard that features multimedia system with touchscreen and physical keys, and plenty of storage space and cubby holes.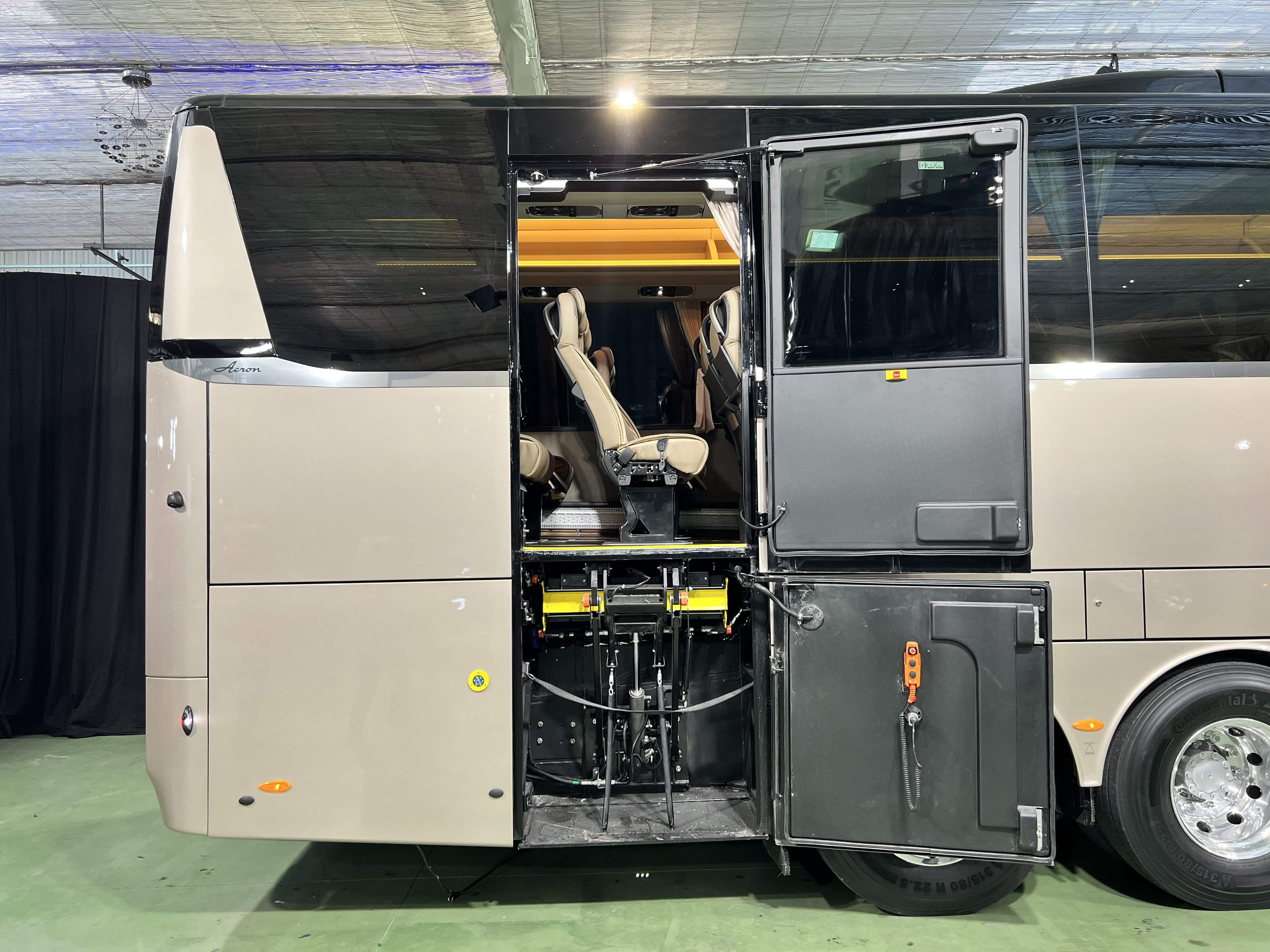 Spotlight on safety
Van Hool has also introduced new safety technology into the range with supplier Mobileye and its Shield+ safety programme. Its features include Turning Assist, which detects vulnerable road users when turning and provides the driver a warning; Pedestrian Collision Warning, which detects moving pedestrians in front of the vehicle and warns the driver of the risk of collision; Speed Limit Indication, which recognises traffic signs with speed limits and displays them on the dashboard, and a feature which does the same for other traffic signs; Highway Monitoring Warning, which monitors safe distances between vehicles in front; and Turn Signal Reminder, which warns the driver when an indicator has been left on for too long.
This equipment is boosted further with Driver Drowsiness Indication, which monitors the driver's steering behaviour and provides a warning with an audible and visual alarm if it detects something is wrong.
Question mark over future drivetrains
While Van Hool has done the groundwork with zero-emission coach operation in the USA, no answer yet has come on whether an electric drivetrain will be introduced on the T range. "Around the technology, we cannot really say," says Chief Commercial Officer Erland Morelissen, who cites range limitations and charging infrastructure as the current barriers. "It will be zero emission. Initially, we were looking to battery-electric, like we have done for the USA. That technology was our initial plan, and now we are re-evaluating whether that is still what we would need to have for a luxury coach. The solution should work for our customers.
"We were early adopters with hydrogen fuel cell-electric [in buses]; that is why we also take that as another way to reach zero emissions. It would be worth investing in it."
CEO Filip Van Hool suggests the answer will come from market demand: "When there is especially demand, we can boost preparation. For instance, there is a customer in Norway that is insisting on a battery-electric coach at the moment. We canintegrate it. What will come first is dependent on that demand."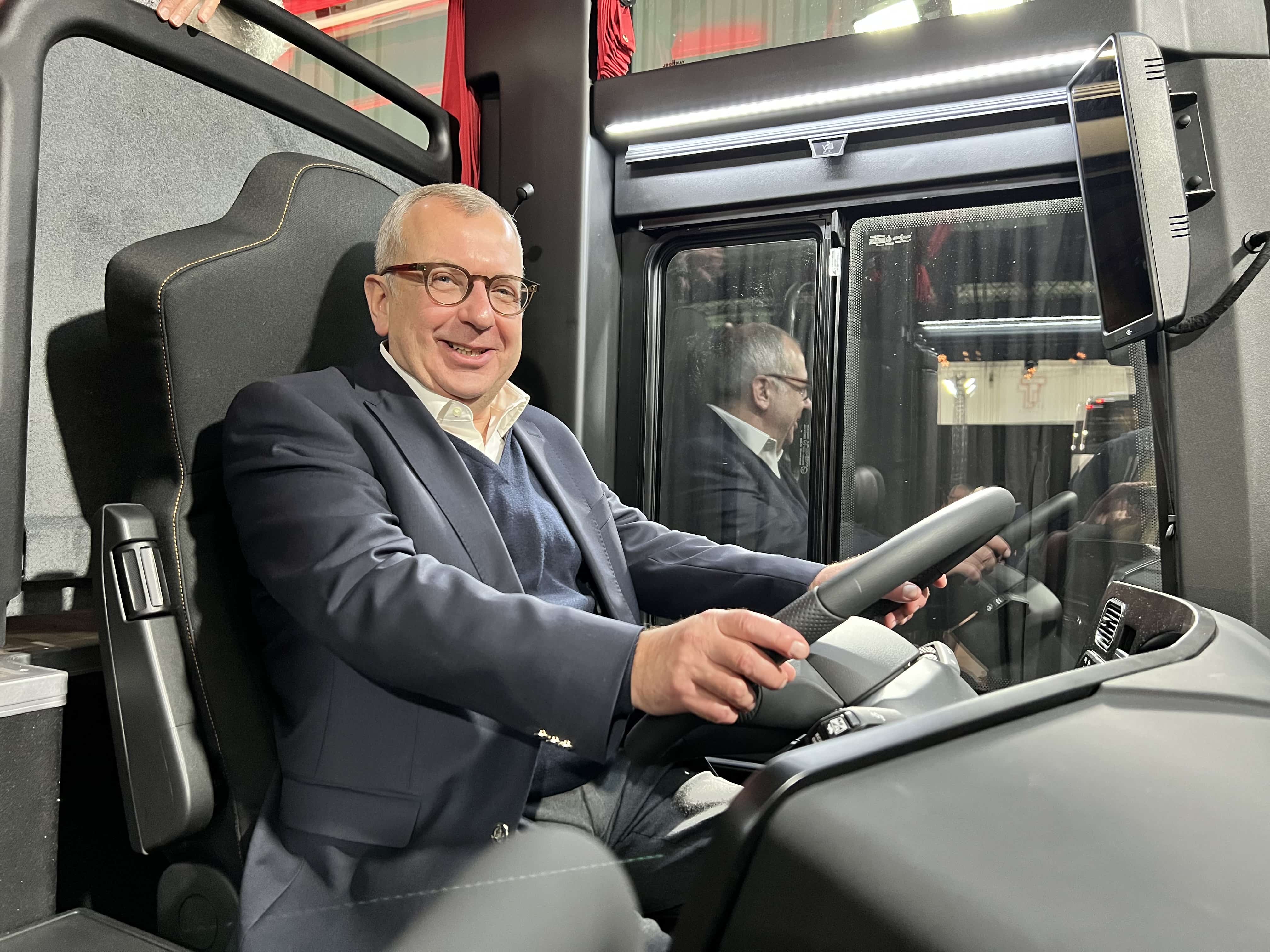 Reunion for Van Hool
As well as the launch platform for its new coach, the event marked the first time after the pandemic that Van Hool has hosted a large group at its factory and provided the opportunity for Filip Van Hool to give comment on the mission, vision and strategy of the manufacturer.
The launch comes after a serious drop in activities from COVID-19 and cost-saving measures from losses sustained in 2021/2022. But the company reports it is now in recovery. Focus continues to be on regions with potential and Van Hool remains active in the USA and Canada, Europe, and Japan. A series of double-deckers to Japanese specification will be shipped there before Christmas.
Plans remain to build a factory in the USA to fulfil the Buy American Act, postponed by the pandemic.
"I expect 2023 to be a transition year, and for things to become normal again in 2024," says Filip. "That's how we see it, how we expect it, and how we programmed it. It seems that what we have in mind is that we can realise it – we are on schedule."
One exception to cost reductions, according to Filip, was research and development – the result of which was partially revealed in the T."
Our strategy was focused on liquidity during the crisis, and even today, non-necessary investments are on hold," he adds. "The project in the USA we put on hold, but also other investments. Only if they were necessary did we do them. That included a lot of investments in new products. One of these products we revealed as the T model.
"We are ready for the future. We have adapted ourselves to the new reality. And we further expand on our strengths. We keep the focus on innovation, quality and zero emissions. And of course, we continue, as usual, our investment into research and development, to be ready, as we are now proving, after the COVID-19 period. Although we have new challenges with supply chain problems, with interest rates and with energy costs, we will also deal with them.
"And I will say, you can see we are very proud of that. The new T model is a real Van Hool. It's innovative, but traditional. It's elegant, and especially, timeless."