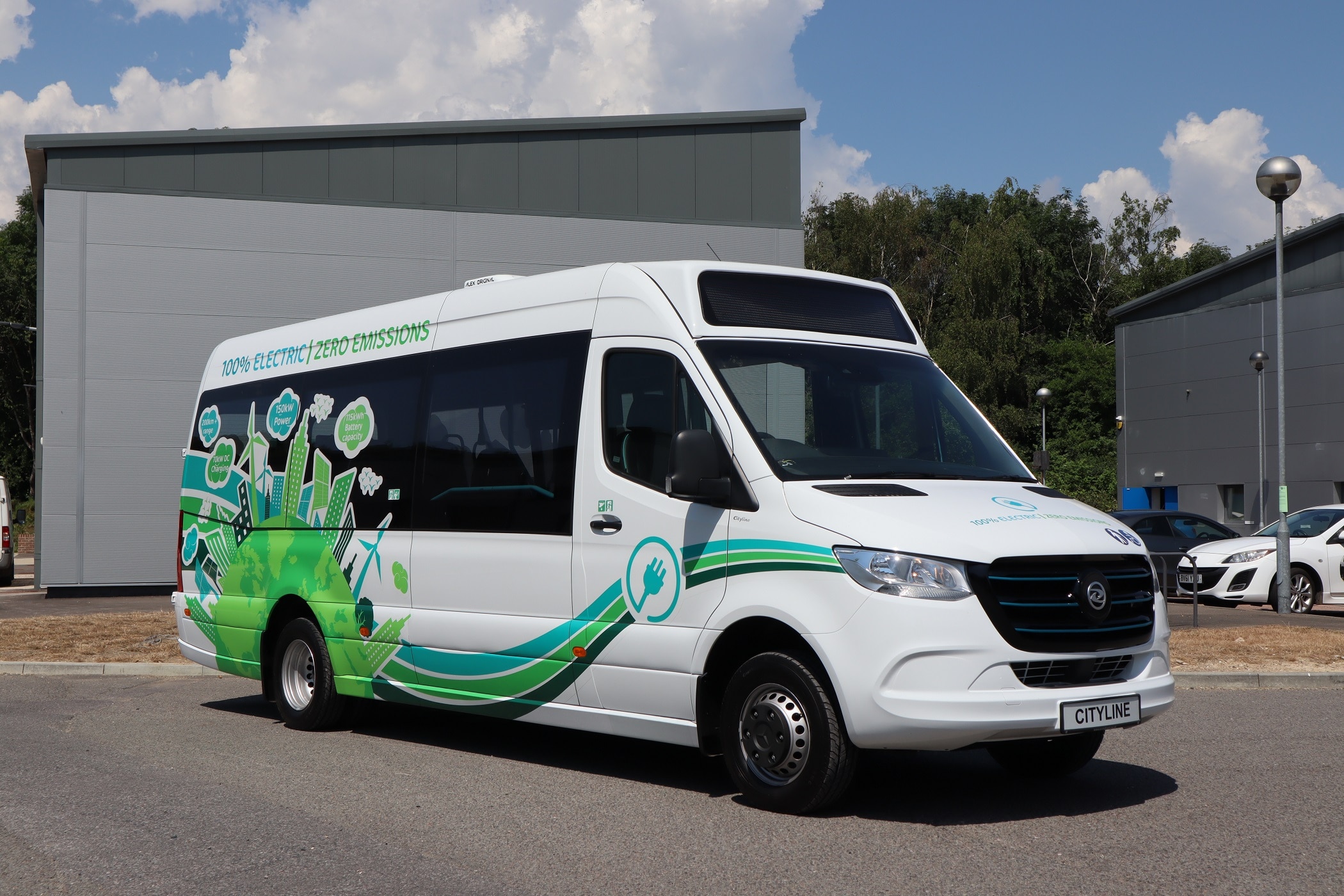 Zero-emission is well on its way into the minibus sector, with a handful of battery-electric products available to order and more promised. In the former category, having debuted earlier this year, is EVM's low-entry e-Cityline van conversion. It represents an extension of the diesel Cityline platform.
The e-Cityline has 115kW/h of energy storage and a range that EVM says has recently been validated as exceeding 170 miles. Its capability between charges is expected to grow further thanks to ongoing development by driveline supplier Elinta.
Replenishment of the NMC batteries is from a simple wall-mounted AC charger and the e-Cityline can also accept a DC input. The motor has a peak output of 150kW and 1,250Nm of torque.
While the e-Cityline is a joint venture between EVM and Lithuanian manufacturer Altas, most EVM-badged examples will undergo work to convert them from the diesel base vehicle, including driveline integration, at its plant in Kilbeggan. EVM is currently training staff to carry out that work as part of its wider plans relating to battery-electric power.
5,500kg GVW transition in early 2022 for EVM e-Cityline
As the e-Cityline uses a Mercedes-Benz Sprinter as the base for conversion, it shares a great deal with the existing and successful Cityline. The first battery-electric example has a 5,000kg GVW, and thus its seating capacity of 15 with four standees is less than a comparable diesel version. However, from Q1 2022, the e-Cityline will transition to a 5,500kg GVW base vehicle and it will also be available with 18 seats.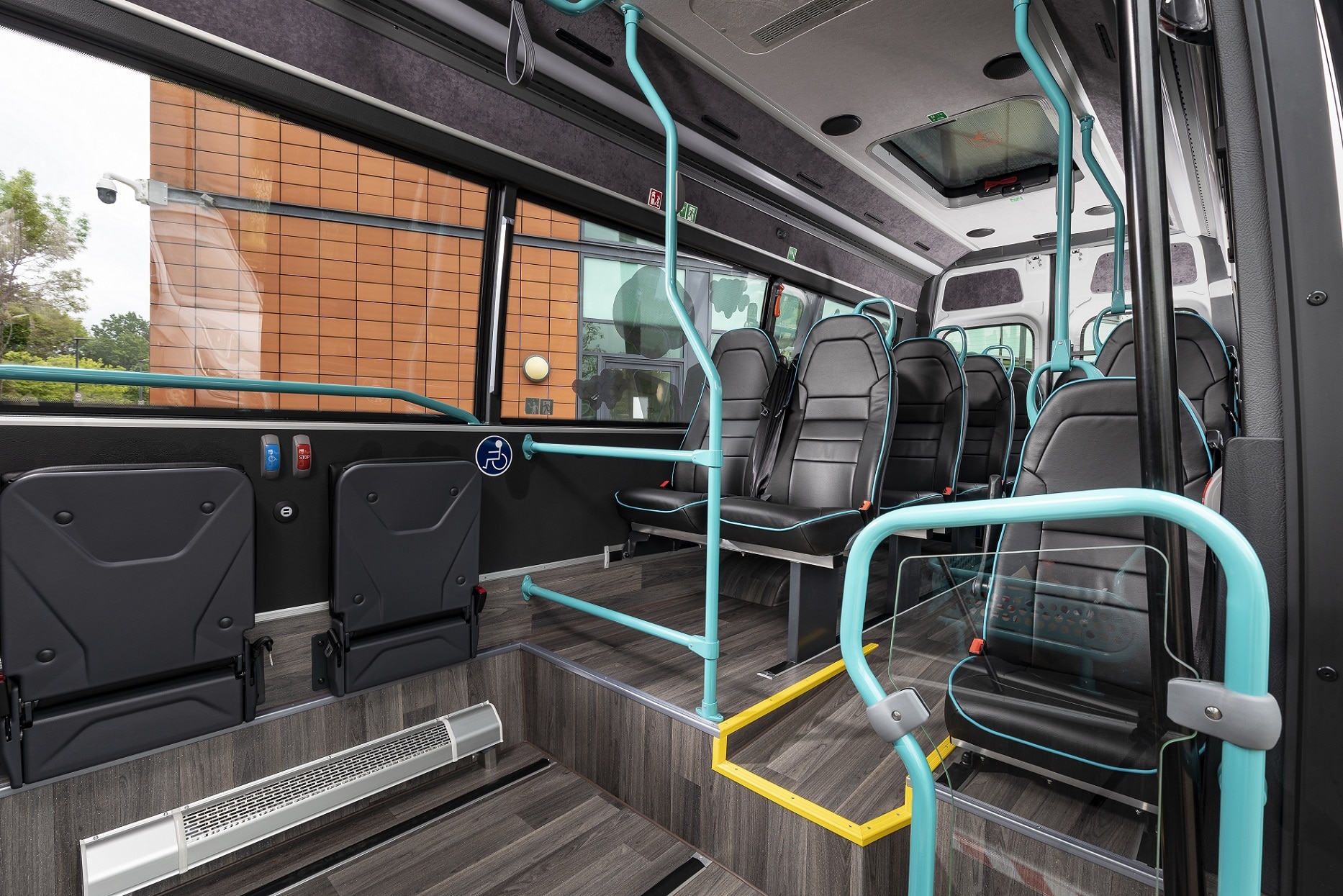 The e-Cityline comes with three battery packs that are spread within the chassis for weight distribution.
In the first example, the low-entry 'box' is slightly shorter than it would be in a diesel because of the location of a battery pack at the front, but in later e-Citylines the same dimensions for that unit as in a diesel model will be achieved.
Use of a zero-emission driveline simplifies the installation of the 'box' section, says EVM Sales and Marketing Director Peter Flynn. In a diesel low-entry minibus, work is required to divert both the exhaust and the prop shaft. That is not necessary on the EVM e-Cityline, which retains the Mercedes-Benz axles of the diesel donor vehicle.
Because of the degree of modification to the base Sprinter, EVM assumes responsibility for more of the warranty cover on an e-Cityline than a comparable diesel. It provides two years on both the driveline and the conversion, while the batteries come with five years' coverage.
Continual work from driveline manufacturer to improve efficiency
Elinta is continuously working to improve driveline efficiency. Software is key, but relatively minor component modifications can also deliver significant gains. Peter expects that the battery-electric minibus's range will progressively rise. Also potentially to change is the charging socket location. It is currently on the nearside but will likely move to the grille.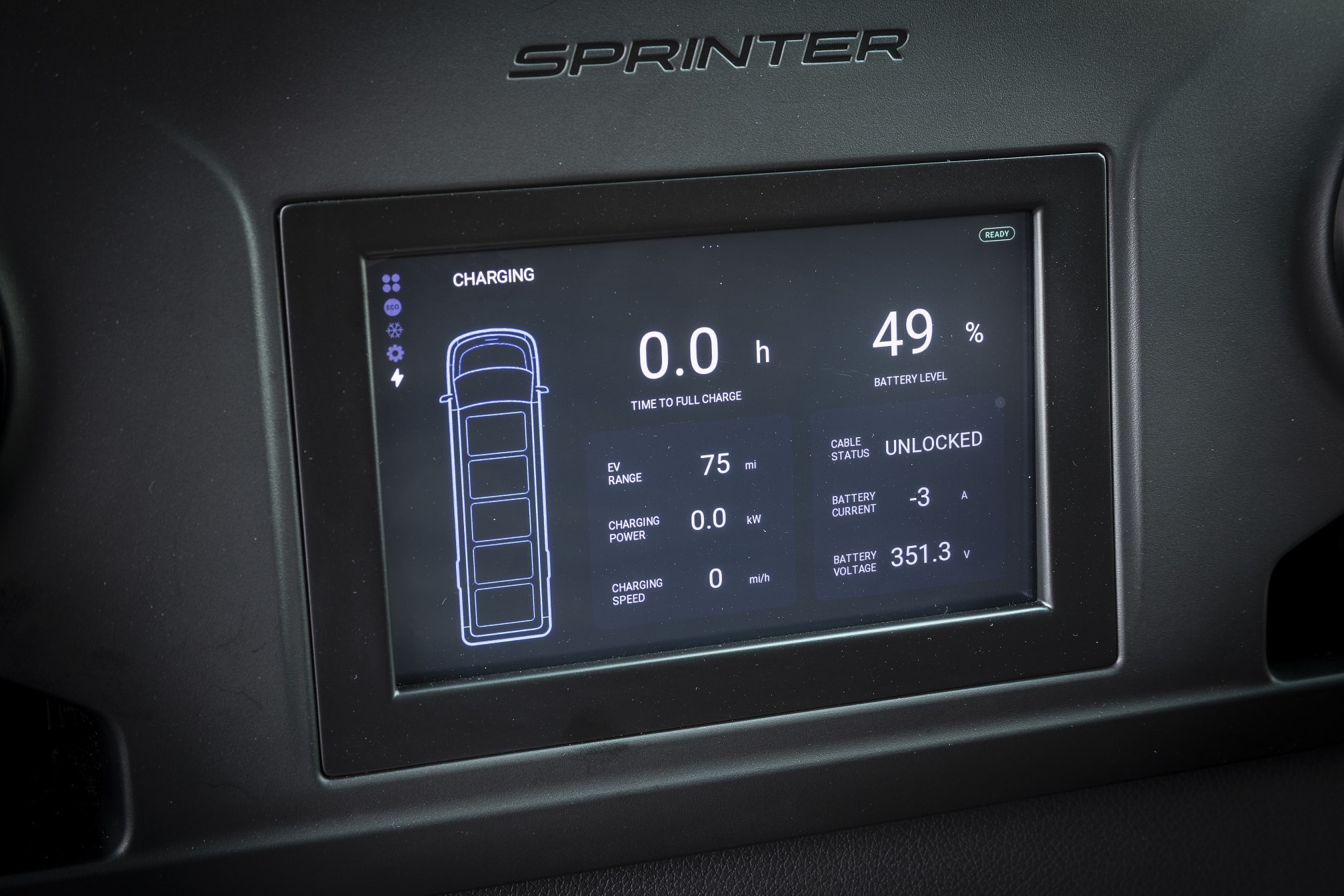 Additionally, EVM and Altas are examining the potential to fit roof-mounted solar panels.
They would provide a 'trickle charge' and contribute to a further modest increase in range.
Maximising that capability will be important for some customers, but to others it will be less of an imperative. EVM is seeing interest in the battery-electric minibus from a wide range of potential buyers, with an equally expansive scope of work.
Those organisations extend from large bus companies and businesses in the demand-responsive sphere to small community transport operators (CTOs). In the latter case, daily mileages are likely to be modest. However, there will be a definite demand among CTOs, Peter believes; they are adept at raising funds for vehicle purchase and the zero-emission factor is now of relevance to their sector.
Refined passenger specification on first EVM e-Cityline
As its demonstrator, EVM has specified the first e-Cityline highly. While its seating capacity is currently lower than a comparable diesel, it will grow in due course. That aside, the battery-electric minibus can be equipped with any amenity that is available on the diesel.
Perhaps the most striking aspect of the demonstrator is the interior colour scheme. While it is largely restrained, it includes turquoise in the handrails and within the seats' grab holds and piping. When combined with the black synthetic leather and wood-effect flooring, the effect is pleasing. The driver's position is identically trimmed, and the front-mounted luggage pen is also turquoise.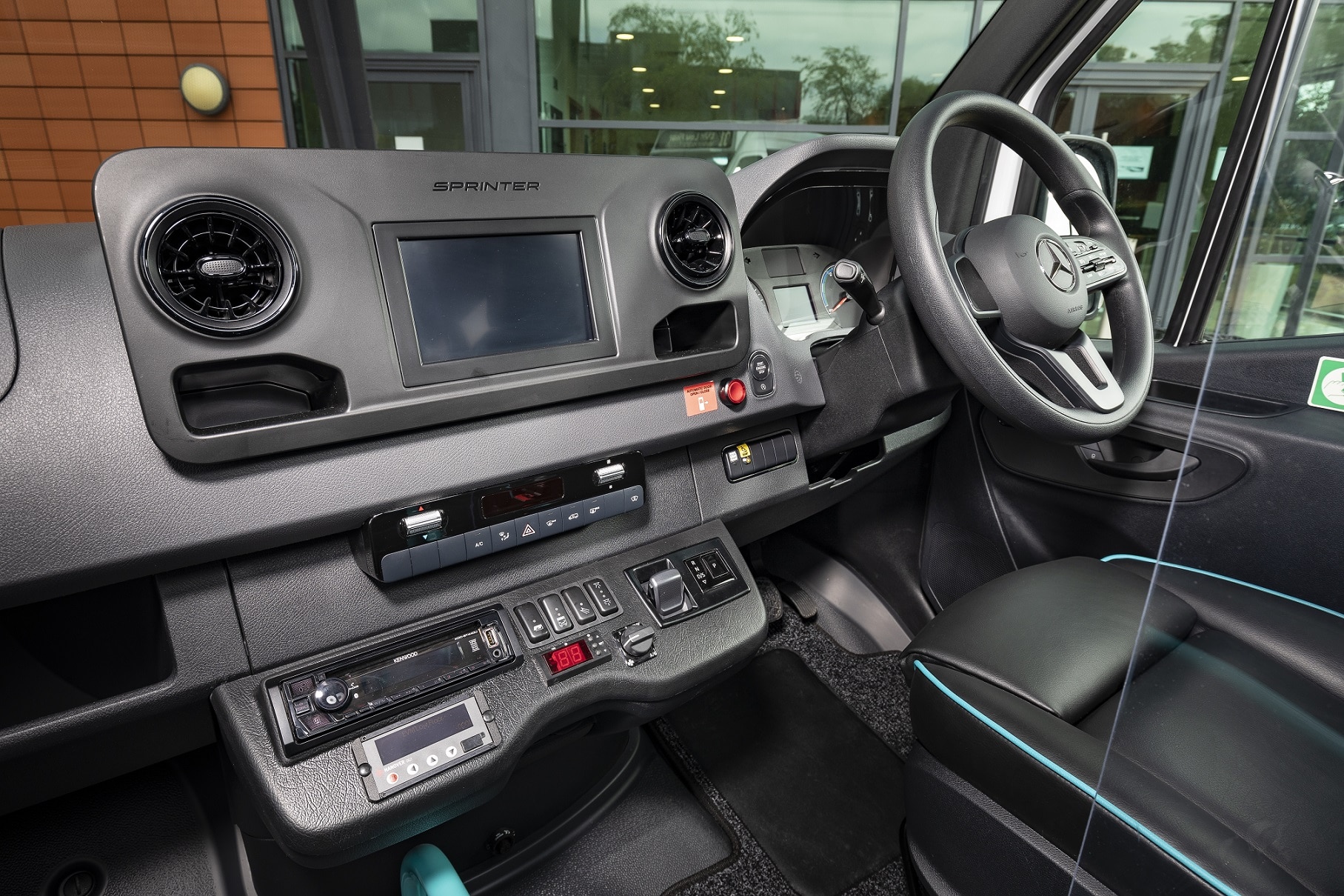 Seats in the demonstrator are from Kiel, but EVM may move to Sege in the future. Three, including the two tip-ups, can be accessed without encountering a step.
A variety of upholstery is available, including real leather, although the synthetic type is standard fit. Also standard is the wide Masats twin plug door and a manually-extended wheelchair ramp.
The roof-mounted air-conditioning unit is rated at 5kW currently, but development work is underway to increase that to 12kW. In addition, the e-Cityline comes with convector radiators through which water is circulated.
The travelling environment is good. Lack of driveline noise intrusion is welcome and – albeit when empty – the air-conditioning brought the saloon temperature down nicely. EVM expects to eventually adopt rear air suspension, but the demonstrator has springs.
All is well behind the wheel of the battery-electric minibus
The driver's area has some differences from a diesel-powered Sprinter that largely relate to the e-Cityline's battery-electric drivetrain. What is particularly impressive is how these aspects have been integrated with both the cab and CAN bus architecture. There is no 'aftermarket' feel to the EV-specific switches, dials and displays. They look like they were there from the beginning.
In place of the usual gear selector is a small unit that contains both a paddle to select drive, neutral and reverse, and an electric handbrake button.
Adjacent to that are buttons that control body functions, including heating and air-conditioning, the Hanover destination display equipment and a radio/CD player. Above are the OEM ventilation controls. The test drive took place on a very warm day and the powerful cab air-conditioning was most welcome under such circumstances.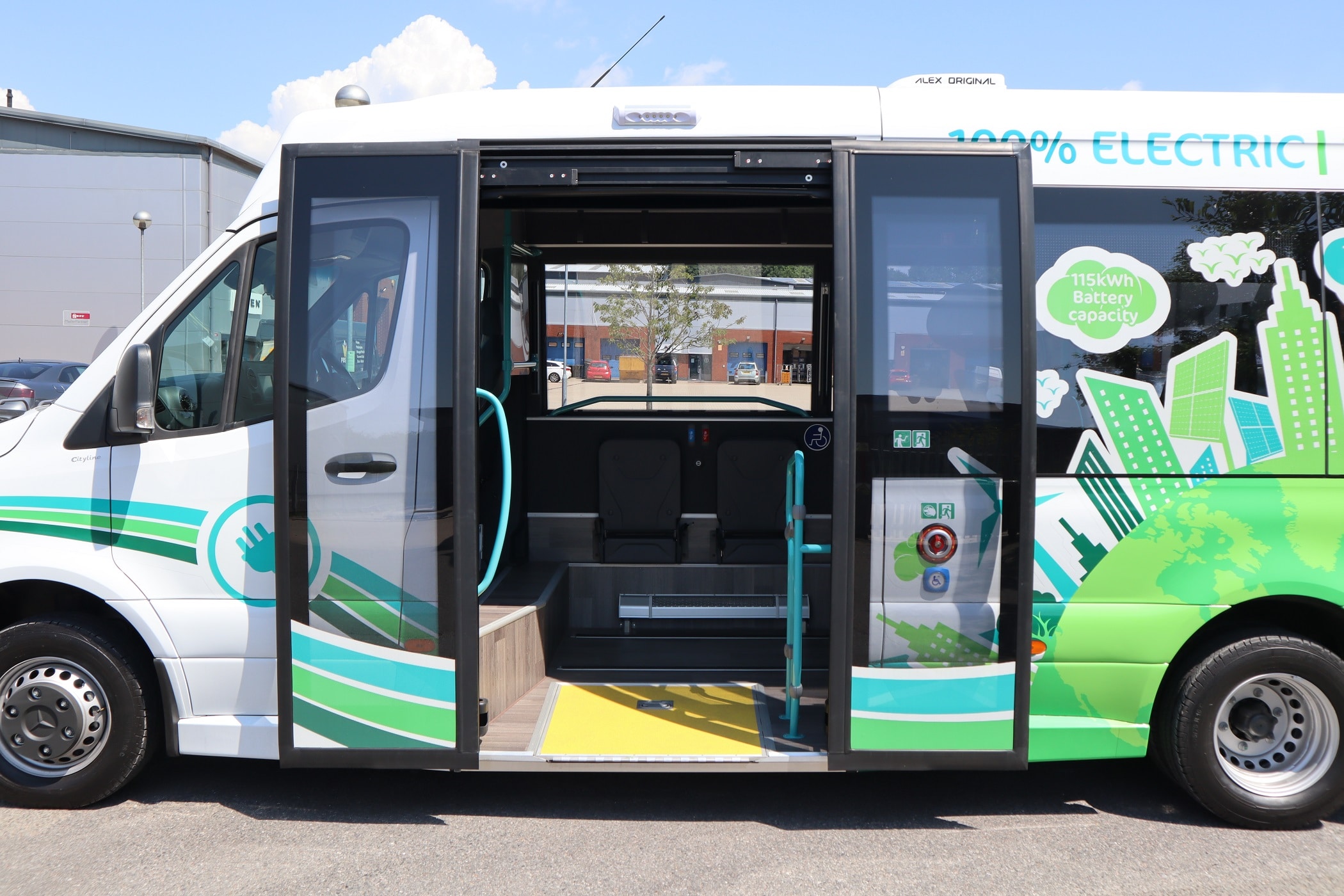 Further up, the fascia unit now includes a display that provides comprehensive information on energy consumption and regeneration. When the vehicle is plugged in, it delivers data for charging variables.
In place of a tachometer, the dash binnacle has a large economy dial that displays energy usage as a percentage of the motor's maximum available power.
On the road: Silence is golden
The e-Cityline is simple to handle. Once the driver is familiar with the controls it is a 'point and shoot' vehicle. To maximise energy efficiency, it is necessary in some cases for more thought to go into the act of piloting the minibus, but the general principles are easily understood.
Utilising the capacity for regeneration is most obvious among those. That process begins as soon as the accelerator is released, although at a high state of charge it is less pronounced. Not much of the motor's power is required for a responsive take-off. It is thus possible to make a sharp start with moderate accelerator pressure.
Speed is limited to 50mph. That is adequate on dual carriageways, although it may be the case in some applications that a little more would be useful. Other than a small amount of tyre noise and a muted motor hum when under load, the journey passes almost silently. That is a significant change from a diesel Sprinter.
During a pass through a congested housing area in Crawley, the e-Cityline demonstrated is suitability to use in such urban landscapes.
With a multitude of junctions, mini roundabouts and speed humps, progress was controlled largely by the accelerator alone.
When driven sensibly, it is not necessary to touch the brake until walking pace – an indicator of the quality of the driveline integration.
Will politicians now do their bit to help zero-emission minibuses?
Peter says that interest in EVM's Cityline range has remained strong throughout the COVID-19 pandemic. He expects that to continue, with governments' policies for both urban and rural mobility as a strong influence. The converter will deliver around 100 vehicles from its low-entry portfolio this year.
How many of those are e-Citylines remains to be seen, but EVM reports that the demonstrator already has a busy diary.
The partnership with Altas allows the Lithuanian company to take up work on EVM's behalf should demand dictate. Like one of its peers within the minibus world, EVM believes that take-up of zero-emission models could be increased with government support in a similar manner to funding already allocated to larger buses in England and Scotland.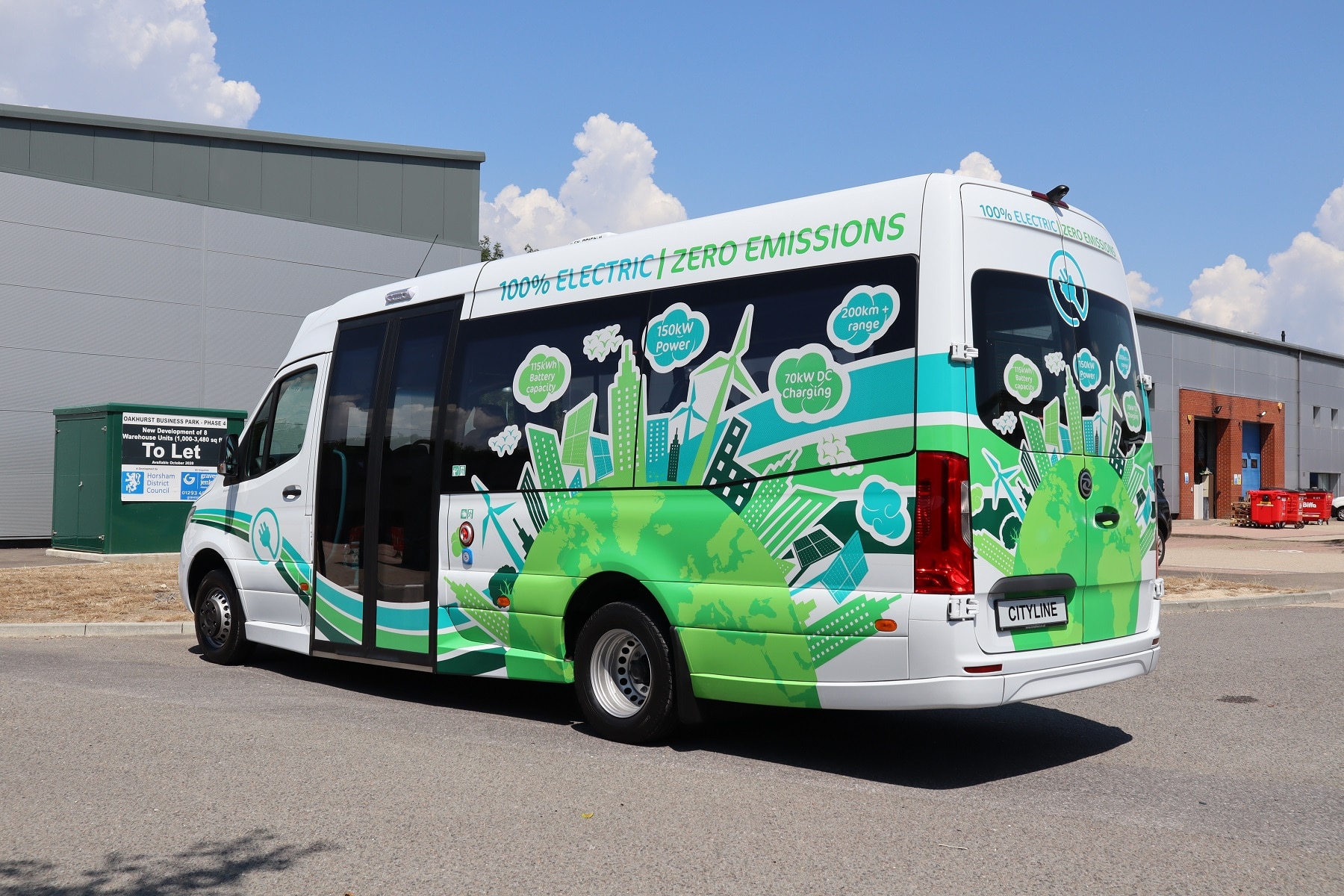 Currently, the barrier to the purchase of zero-emission minibuses on a wholly commercial basis – like their bigger brothers – centres on cost.
But the £2,000 price of the AC wall charger is evidence that the overall cost of operation need not be excessive. The expense of fully energising an e-Cityline is a fraction of doing so for a diesel.
The e-Cityline is a significant development for the minibus industry. It drives nicely and for the passenger, gives a very pleasant travelling environment. Its claimed range is already enough to satisfy most applications. There can be no doubt that this, and other zero-emission products, represent the future of the sector. All that is needed now is for politicians to come along for the ride.
Facts and figures
Motor: Elinta
Power: 150kW (201bhp)
Torque: 1,250Nm
Emissions: Zero
Tyres: 195/75 R16
Length: 7.37m
Height: 2.70m
Width: 2.02m
Wheelbase: 4.33m
Gross weight: 5,000kg as tested
Unladen weight: c4,000kg