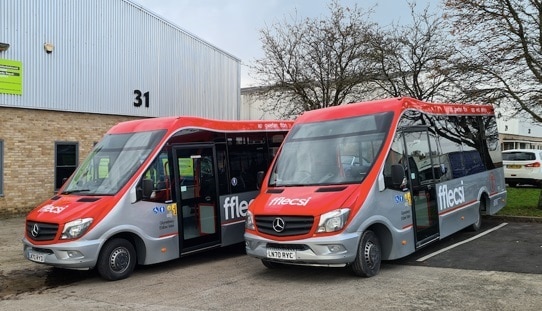 The Fflecsi demand responsive minibus service pilot in Blaenau Gwent has delivered over 30,000 passenger journeys in less than 11 months of operation and is now averaging nearly 1,000 rides per week, Transport for Wales has announced.
Stagecoach South Wales operates the Blaenau Gwent service, which began on 14 June 2021 and is the most successful of the multiple Fflecsi pilots that Transport for Wales (TfW) has introduced.
TfW says there are now "more than 250 regular active riders" of the service in Blaenau Gwent, among which are new-to-bus users using it to access destinations that were previously not part of the bus network.
Approximately 80% of all booking requests are made via the Fflecsi app, but TfW is now working with Blaenau Gwent County Borough Council and technology provider Via to introduce an online booking facility at six public libraries. Staff at those locations have been trained to use the online system and will book trips on behalf of passengers who may not have access to the app.
TfW Chief Executive James Price says that the adaptation to the booking process has come about from customer feedback. He adds that changes recently made to scheduled bus services "will free up Fflecsi and enable us to provide more journeys to more people across the zone."
TfW will introduce further third-party booking locations for other Fflecsi pilots across Wales in coming months.