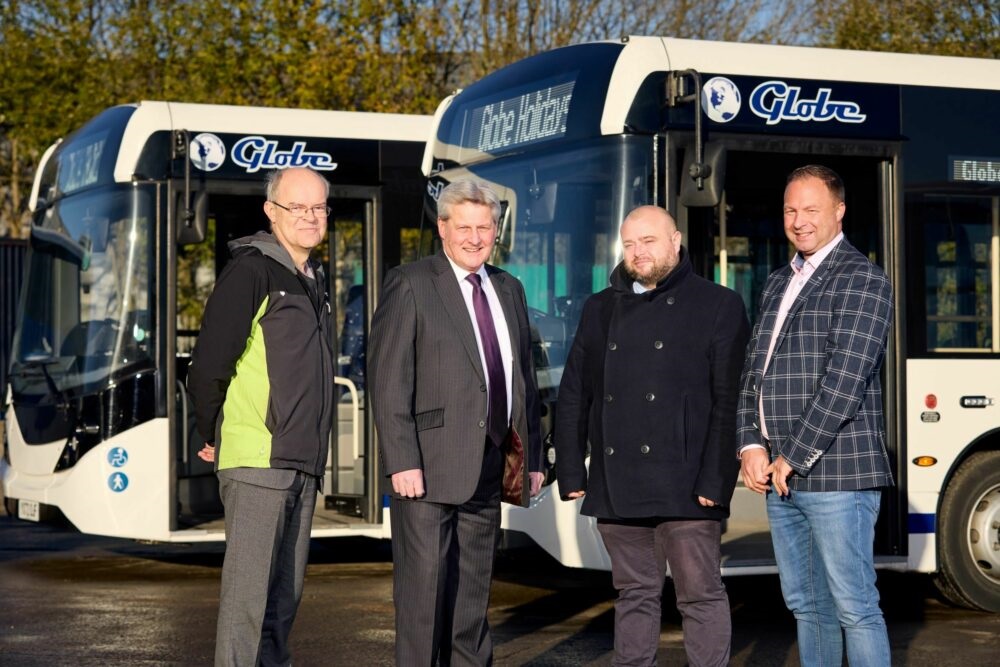 Globe Holidays of Barnsley has received a £180,000 investment from Finance Yorkshire. It will support the purchase of new vehicles and on-board ticketing technology for the coach and bus operator.
The money has come from Finance Yorkshire's business loan fund. That is part of a wider regional pot that is expected to provide "more than £50 million" to SMEs over the coming five years. Investment is also available from the Finance Yorkshire growth fund and seedcorn fund, the business support network notes.
Globe Holidays Managing Director Scott Woolley (pictured, second from right) says that the investment from Finance Yorkshire "comes at a time of rapid expansion for the business." It now runs 28 buses and 16 coaches. 11 of those vehicles have been added over the past year, alongside 18 additional staff members and several new bus routes.
Mr Woolley adds that Finance Yorkshire "recognised our need for gap funding and quickly developed a good understanding of our business. The investment has enabled us to further expand our team and ensure reliable connections for local communities within South and West Yorkshire."
Finance Yorkshire Chief Executive Alex McWhirter (pictured, second from left), says: "Our investments are designed to support growing companies to realise their potential and create jobs in Yorkshire and Humber. This is especially true when traditional finance providers are unable to meet their requirements.
"As the travel industry continues to recover from the pandemic, we are looking forward to seeing Globe Holidays continue to cement its status as one of the region's leading passenger transport providers."
Mr Woolley notes that the investment in ticket machines will see users of Globe Holidays' bus services benefit from "the latest in technology." The Barnsley business also runs an extensive day trip and coach holiday programme, with shops in Barnsley, Bradford and Rotherham.