The Honk for Hope movement arrived in Scotland on Thursday 6 August when around 160 coaches gathered in Edinburgh. The operators involved once again aimed to highlight the industry's plight. They also underlined the sector's ever more desperate need for bespoke government support.
As with some previous Honk for Hope protests, the Edinburgh event saw coaches rendezvous outside the central area. They then proceeded in convoy through the city. Police Scotland co-operated with organisers to ensure that things went smoothly – perhaps more so than the Metropolitan Police did when Honk for Hope came to London two weeks earlier.
Honk for Hope illustrates decimation in Edinburgh coach tourism
While coaches headed through Edinburgh via Regent Road, along the key tourist thoroughfare of Princes Street and out along Corstorphine Road, a small and vocal number diverted via the Scottish Parliament Building.
Coaches from Scottish companies naturally made up most of the numbers, but other operators made the trip to support their peers. Some travelled significant distances. Participants from London, Luton and Gloucestershire were among them. At least one had made a midnight start to be present. For some, it was their fourth Honk for Hope event.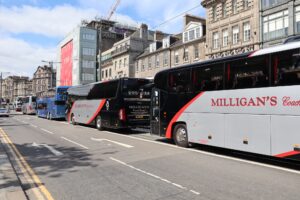 As with the earlier gathering in London, that in Edinburgh served to illustrate a decimation of coach numbers within the city during what would normally be peak season.
Other than those participating in the protest, and those in use on scheduled services, only a tiny number were evident.
On a slightly more positive note, the number of tourists in Edinburgh has started to rise, someone familiar with the city observes. It must be hoped that will translate to the coach industry soon. Even so, the need for support from government remains. Otherwise, the dreaded spectre of an '18-month winter' looms large.
Sounding off after Honk for Hope Edinburgh
After passing through the centre of the Scottish capital, the convoy proceeded to East Calder to park for a short while before dispersing. There, a brief tribute was paid to Victor Furay and Gordon Mayne by bagpipe player Jamie Starr of AAA Coaches. Both men were respected members of the Scottish coach industry who passed away recently.
It was then revealed that the next Honk for Hope protest is likely to be held in Cardiff on a date in mid-August. Further action beyond that has not been ruled out. Whether any takes place hinges on decisions from government about support.
In a sign that the industry will attract future leaders, eight-year-old Theo Taylor, son of Applegates Coaches owners Ceri and Helen Taylor, addressed the gathering.
Theo has already found social media fame for contacting public figures – including the Queen, Boris Johnson and Rishi Sunak – to present coaching's case. At Honk for Hope in Scotland, he pointed out that there must be a future for family businesses if youngsters like him are to join the industry.
No long-term solution to PSVAR conundrum is a further concern
Theo's father Ceri also spoke. Many operators have already taken expensive steps to comply with the growing requirement for Euro VI in urban areas, he says. The industry has also made progress in upgrading vehicles to comply with PSVAR.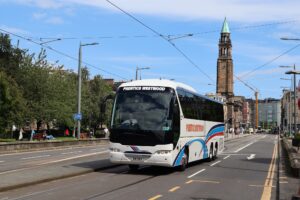 But while the government dallied on giving a concrete answer to initial proposals from the Confederation of Passenger Transport for support – before eventually rejecting them – its approach to PSVAR has created further uncertainty for the industry.
"In 2020 we were going to convert three of our older coaches at a cost of around £60,000," says Mr Taylor. But because exemptions had previously been awarded, Applegates hedged its bets and postponed that conversion work based on the likelihood another would follow.
As expected, closed-door home-to-school services were given a further exemption from PSVAR that lasts until 31 July 2021. While that was both welcome and unavoidable given the industry's current woes, short-termism makes planning difficult.
The latest exemption was issued around two weeks before schools in Scotland return for the new academic year. It offers no obvious path to how compliance will ever be achieved. One industry figure notes that compliance for home-to-school services is now further away than ever. Such is the financial distress caused by the coronavirus COVID-19 pandemic.
Industry crisis means it must 'save every penny'
If Applegates had proceeded with three PSVAR conversions, it would now be in a position where any return on a £60,000 investment had been nullified for a year. That is no small figure in an industry that now finds itself in a struggle so serious that operators must "save every penny," says Mr Taylor.
"We were asked to invest. Now we have been dropped," he adds. Those feelings are echoed in many other parts of the sector. While £40m for more dedicated home-to-school services in England will benefit some operators, others will not see any of it. That includes many of those present in Edinburgh.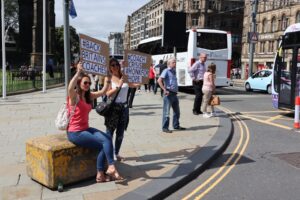 The impetus for support to benefit the wider industry has never been greater. A glimmer of hope has been provided by a suggestion that the government is now more seriously looking at whether it can deliver sector-specific backing for coaches, apart from that relating to home-to-school services.
If any such help materialises, it will come not a second too soon for some operators. That was demonstrated in an otherwise coach-less Edinburgh.
For a photo gallery of the Honk for Hope protest in Edinburgh, click here.