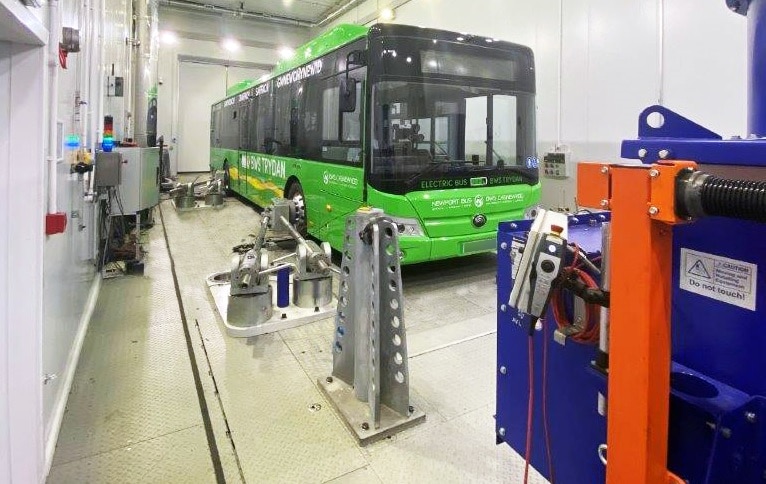 The Yutong battery-electric single-deck bus range is "best in class" in terms of energy efficiency, potential range and charging efficiency, supplier Pelican Bus and Coach has said after testing work at UTAC Millbrook on an E12 was undertaken in March.
Validation of Pelican's statement was undertaken via the Zemo Partnership-accredited Ultra Low Emission Bus testing mechanism. Certification issued by UTAC Millbrook shows that with 422kW/h of onboard energy storage and its air-conditioning unit in use, the bus demonstrated a maximum theoretical zero-emission range of 505km and energy consumption of 77.5kW/h per 100km in the rural phase of the test.
Consumption during the Outer London phase was 99.1kW/h per 100km and for the Inner London segment, 110.4kW/h per 100km. 92% charging efficiency has also been proved via the testing. The E12 used is part of a further batch for Newport Transport.
The work at UTAC Millbrook also demonstrated that the Yutong battery-electric bus range is 77% better in terms of well to wheel greenhouse gas emissions than a comparable Euro VI diesel, says Head of Yutong Bus UK Ian Downie.
"The certificate we have received shows that we are best in class in terms of energy efficiency, potential vehicle operating range and charging efficiency," adds Mr Downie. "Our integral vehicle is optimised to provide the most efficient operation in service." The air-conditioning unit maintained the E12's saloon temperature at around 10oc above ambient during the test.
In addition to their efficiency characteristics, Mr Downie notes that Yutong battery-electric buses now come with the Yutong Electrical Safety System. Among its features is a constant circulation of nitrogen over the batteries. "This means that not only are they the most efficient, but we have established new, market-leading safety standards, too."