The Honk for Hope movement furthered its march across the country on Monday 17 August when it descended on Cardiff and Bristol. Honk for Hope continues to publicise both the strife faced by the coach industry and the sector's urgent need for government backing to guarantee survival in its current form.
As with most previous Honk for Hope events, the Cardiff and Bristol protest began with a gathering before proceeding via a road run. It culminated with a final stop for speeches and refreshments, after which attendees headed home.
On this occasion, coaches rendezvoused in the Welsh capital before passing through the city centre, onto the M4 and across the Second Severn Crossing. They then took the M4 south before heading towards Bristol beneath the Clifton Suspension Bridge. After a procession through the city centre, they returned to the M4, traversed the 'old' Severn Bridge and congregated at Chepstow Racecourse.
Welsh operators figure strongly at Honk for Hope Cardiff and Bristol
While the turnout for the Cardiff and Bristol Honk for Hope may have been less than that seen in Blackpool, Edinburgh and London, the diverse nature of the businesses represented was the same. A handful of participants travelled from as far away as North East England. Others also covered long distances to be there.
Representation from Welsh operators was strong, as would be expected. Justly leading the convoy was Edwards Coaches' award-winning Red Dragon-branded Mercedes-Benz Tourismo. Among its duties is transporting the Wales rugby team. Edwards also turned out a handful of its 'blue fleet'.
Following on from the Honk for Hope gathering in Edinburgh, South Wales Police complemented their Police Scotland colleagues by working closely with the organisers to ensure that the procession through Cardiff went without hitch.
That outcome was aided by Williams Coaches of Brecon. It provided several of its staff at intersections in the city centre to guide the convoy. At Chepstow, Applegates Coaches did the same to control the marshalling of gathered coaches. Both teams' efforts were appreciated and assisted with the smooth running of the day's event.
'The coach industry must not give up its hopes'
Upon arrival at Chepstow the gathered crowd was addressed by several industry figures. Among them was Ian Jones, Director of transport legal firm Backhouse Jones.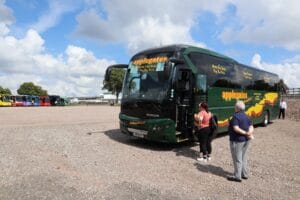 While Mr Jones is normally noted for his smooth and humorous oration, that was anything but the case at the latest Honk for Hope event. Accompanied by his daughter Tallulah, Mr Jones' message was more of a rambunctious rallying call.
He drew upon the seven-year siege of Harlech Caste in the 15th century as inspiration. Lasting for seven years, the siege is an example that the 'little man' must not give up, says Mr Jones. While the coach industry is in a difficult place currently, its members should not abandon hope, he adds.
Mr Jones also returned to the thorny subject of personal guarantees. He reiterated earlier calls that they should be immediately suspended. Doing so would reduce worries for many operators. Tied in with that is an offer from Backhouse Jones to advise any operator that feels it is not being treated fairly in dealings regarding vehicle finance payments.
CPT was represented… as were the industry's future leaders
Other speakers included CPT Regional Manager John Burch and President Steve Whiteway. Mr Whiteway implored attendees to put aside any thoughts of perceived unjust treatment of the coach industry when compared to other sectors. Instead, operators must continue to badger their elected representatives to have their voice heard.
Theo Taylor, eight-year-old son of Applegates owners Ceri and Helen Taylor, also addressed a Honk for Hope gathering for a second time.
Theo has written to Prime Minister Boris Johnson no fewer than 22 times asking him to help the coach industry. He is yet to receive a solitary reply. A further youngster speaking was Thomas Southby, son of Heathside Travel Director Tim Southby. He thanked those attending as a Heathside Travel coach – an Irizar i6S integral – made its debut as part of the Honk for Hope movement.
Completing the round of speeches was Jenna Rush. The Managing Director of North East Coach Travel has been the driving force behind the Honk for Hope movement in the UK, assisted by several other operator representatives.
One more Honk for Hope gathering planned – again in London
Currently, one more Honk for Hope gathering is planned. It is pencilled in to return the movement to London on 1 September. Whether that protest takes place is dependent on how, and if, the government changes its approach to support for the coach sector. More details will be found on the movement's Facebook page in due course.
But based on the strength of feeling at the sixth Honk for Hope demonstration, the industry is not done by a long way with robustly presenting its case.
While home-to-school transport has returned in Scotland, and will do so soon in England and Wales, not all operators can benefit. Nor can they all obtain some of the additional money made available for more dedicated capacity in England. The need for wider industry support is still front and centre for them.