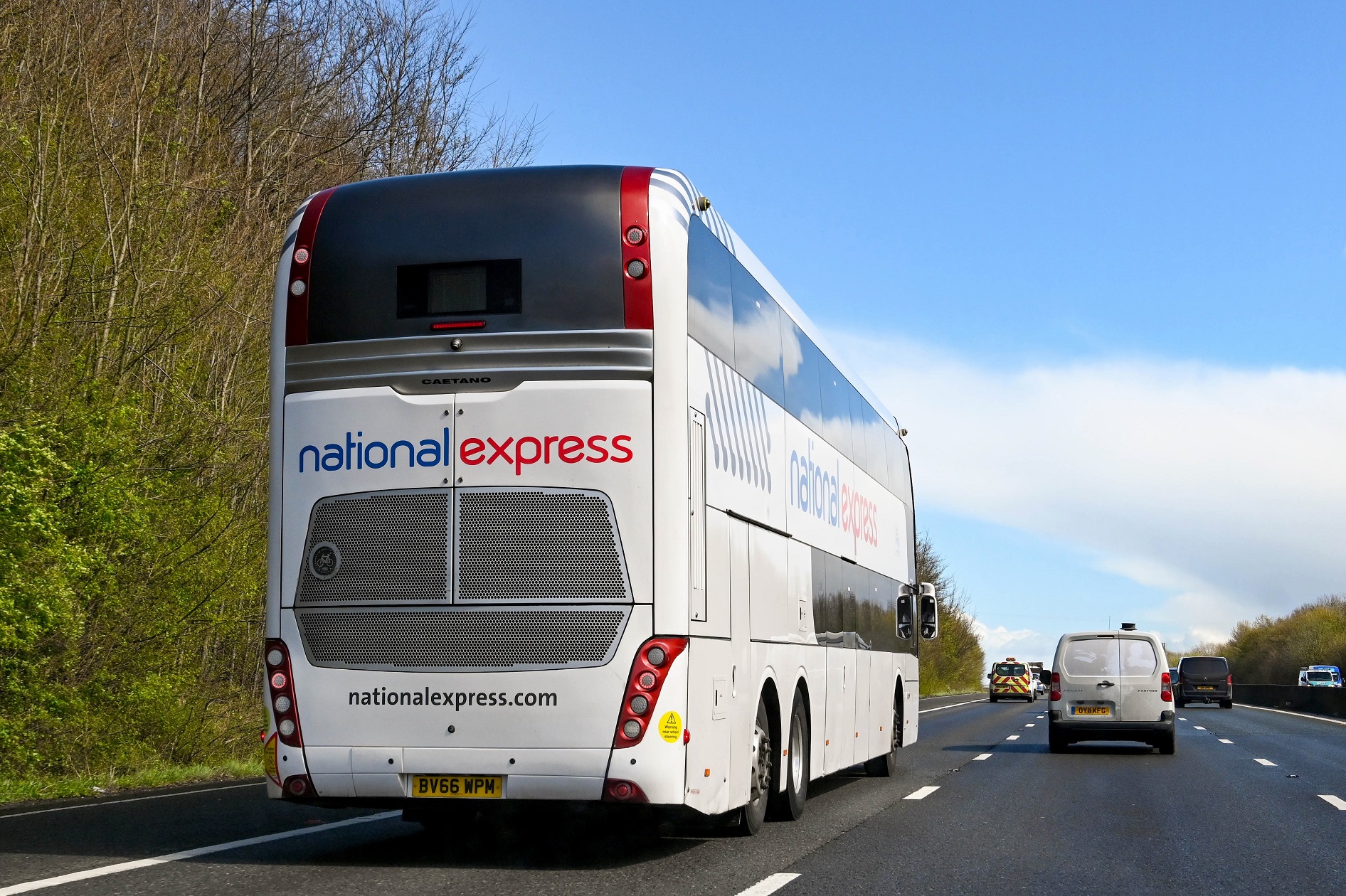 Being the son of UK Coach Operators Association Managing Director Peter Bradley, I can no longer use public transport without wanting to share my opinions of it. When I used a National Express coach to travel home from London to Bath, I had many musings that I felt could be shared.
My journey took me from Victoria Coach Station (VCS) on the 1130hrs route 403. It was estimated to take around three hours and 15 minutes and would have us in Bath a little before 1500hrs.
I arrived around 35 minutes before departure, giving plenty of time to examine the lovely Art Deco frontage of VCS. I headed to the gate and had around a 15-minute wait until called for boarding.
I was welcomed aboard by a very friendly driver warning us of traffic around Hammersmith that could lead to some significant delay. A rather septic smell greeted me as I boarded, but it soon passed. I chose a seat in the middle of the coach and admired its comfiness compared to that on an equivalent train service.
The USB charging point and drop-down table is always welcome, as was the footrest. I was also easily able to connect to the wi-fi. So far, very impressed.
We departed on time and began our journey out of the capital. I have taken this journey once before, albeit in the opposite direction. I was travelling with a friend who had been to London relatively little, and so was mesmerised at the sights you pass that a Londoner, such as myself, would take for granted. Again, not something one would see had they taken the train.
Miraculously, the traffic that we had been warned about had vanished and we were soon gliding past Chiswick onto the M4 motorway. Our first stop at Heathrow seemed to come all too soon. While it feels painful to make this detour progress-wise, the high turnover of passengers here helped me understand why it is made. I figured it adds only around 25 minutes to the journey.
In no time we were back on the M4 and coasting towards Chippenham. This is the longest gap between stops on the journey and is almost all on the motorway, so it was a perfect time to do some reading or have a snooze.
After arriving in Chippenham, the coach enters the final leg of the journey, arguably the best part. Rather than a busy motorway, we were now travelling through the quaint towns and villages of Wiltshire, such as Corsham and Box, both having lost their railway stations in the 1960s.
You would miss these places usually, as the M4 bypasses here, and not see cottages or get a delightful look at Brunel's famous Box Tunnel. I had chosen to sit on the left of the coach to get the best view.
We arrived in Bath five minutes early, which I say is pretty good going. Obviously, I was travelling off-peak and there were many opportunities for potential delays, but I guess I was fortunate not to encounter any. A friendly goodbye from the driver marked the end of my journey.
My ticket cost £11.90 with a £1 booking fee. I purchased it directly from the National Express website, which I found very easy to navigate. The equivalent journey by train would have cost £37.70, so the reduction was significant even if the journey time was doubled.