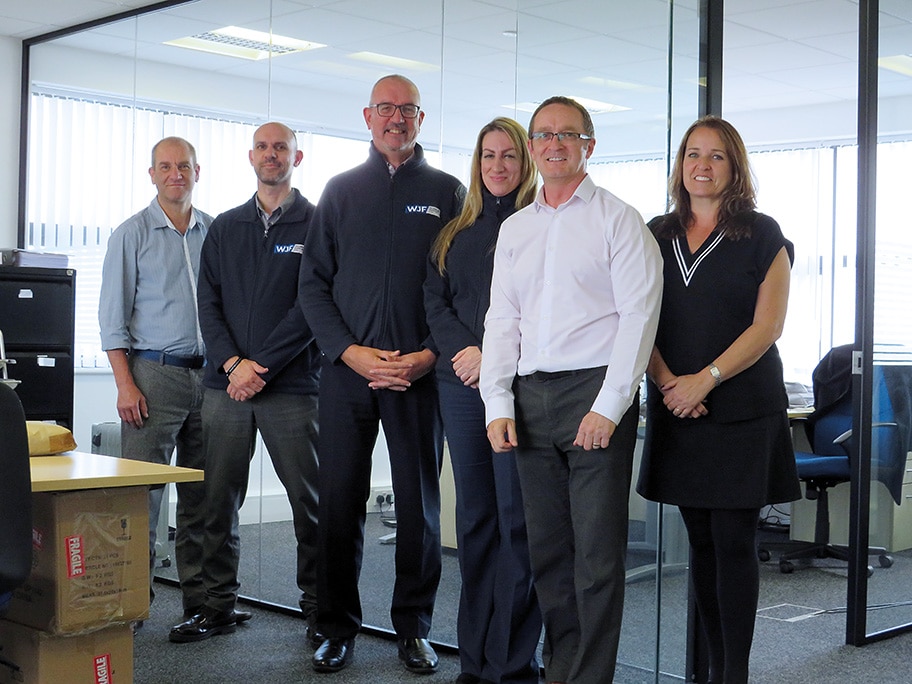 After 10 years in recruitment, Tim Freshney knows there are no quick fixes to labour rates and staff shortages. But he has some solutions up his sleeve…
There are no quick fixes when problems arise with labour rates and
the pool of available technicians and mechanics within an industry.
routeone's meeting with WJF Technical Support Managing Director Tim Freshney precedes his meeting with engineering management staff at one major operator, where he is due to offer thoughts and ideas about the challenges of sourcing technical staff for the coach and bus industry. Those challenges are manyfold, and the landscape of coach and bus recruitment has changed substantially over the 10 years Tim has been in the business.
Prior to recruitment, Tim was a mechanical engineering apprentice in the nuclear industry. He latterly worked in structural engineering and pressure systems, welding and inspection. Now, in addition to running WJF, he is Vice President of the North and Western Lancashire Chamber of Commerce. The latest issue about which he is vocal is changes to off-payroll working rules*. IR35 has, in his own words, "knocked the industry sideways". No doubt, it won't be the last thing to do so.
But changes to IR35 rules leads to a pertinent question, and one which the industry has to grapple with. Is permanent employment the solution to recruitment going forwards?
Finding the right people
In spite of being adroit at both permanent and contract positions, a shrinking pool of available labour, higher contractor rates and the growing prevalence of permanent roles sourced through WJF seems to suggest permanent is the way forward. Tim wants customers to know WJF is here to support them in filling those permanent roles.
WJF's extensive work in the offshore industry is informing the shift: "We've been doing more and more permanent roles, from the semi-skilled shop floor roles up to senior management," Tim explains. "It's nothing new. We've done this in other industries. It seems to have just started in coach and bus."
WJF brings forward understanding of the difficulties presented to sectors sourcing labour thanks to its involvement in a broad portfolio of industries. There are "multiple strains" to finding staff for both contract and permanent roles: A mixture of social media, advertising, and even headhunting, which means "hard work and grafting" for Tim and his team. "If you're going to sit and wait for people to come to you, they won't necessarily be the right people," he explains. "The best ones are already working. You have to persuade them to come to you, whether it's a contract or full-time employment."
WJF is at the heart of efforts to keep up with a changing coach and bus industry which is seeing contractor rates rising and a chronic shortage of new labour. Tim is passionate about finding solutions to the question of how the industry can be revived to ensure enough skilled labour is coming through the ranks. Apprenticeships are an obvious answer, but Tim argues that this doesn't present a short-term fix: "There is a big gap between the older end and the younger members coming into the industry who may be skilled, but do not have the experience."
Wherever we need to look,
we will look… The next part
is training them, and if they
have a willingness to learn,
they will succeed
10 years ago, WJF saw a much larger pool of labour. "The phone would ring, and in a day, we would have a dozen people to send to a job," he adds. "Now, we're happy we've got someone."
Bridging the gap between inexperienced younger staff and the dwindling pool of older staff is hot on Tim's mind. He is not vocal about all the ideas he has, but high-quality training is one suggestion. He has been in meetings with training companies and funders, and is hoping this will present some solutions. WJF is happy to have conversations with operators about training and funded training to help draw people in, moving forwards with the best training providers. "That's where we've got something many of our peers don't have," adds Tim. "We've done it already in other industries. We source people all the time. One college we work with nearby was built bespoke for the energy industry. We have a relationship with it and the local Job Centre, which keeps us in touch with other Job Centres nationally. We can source people through these, and access training and funding."
In the rail sector, to which WJF is accredited, conversations have been ongoing about a similar project to source staff for lower-end type work across some 20 depots in the North of England.
That network gives WJF an advantage over competitors. The company has a willingness to source candidates from further afield than others: Ex-offenders, or ex-servicepeople, for example. "Wherever we need to look, we will look," says Tim. "We can find them. The next part is training them, and if they have a willingness to learn, they will succeed."
Training also has a role to play as the industry changes with electrification of fleets. "The goal posts are moving in terms of the skills needed," Tim points out. "New apprentices coming through will have those skills from the start, but many of our older staff will need some retraining." While this isn't a new concept either, WJF is willing to work with customers to bring that kind of training to the table through its providers.
A unique industry
But how does one sell the coach and bus industry in the first place, to draw people in? Tim elucidates: "Now more than ever, people want to talk money. Until you reach the upper rungs of the career ladder, bus industry salaries are possibly on the low side, and you have to be able to sell it."
One solution is to talk about an industry that is exciting to work in. A career path sells it to some. But there is no quick fix to wages. "You look for people who want to work in the bus industry," Tim adds. "But sadly – and we see it all the time – it can just end up being a springboard to something else." Tim knows personal stories of that happening. When salaries do not stand out early on in a career, other incentives often make up an attractive job package – cash back, or a company car for example. Some people will, of course, always follow the trade they are passionate about, and hope for the best rates while climbing the ladder: "If you aspire, there is a career path in the coach and bus industry, we all know that. You can go from the shop floor to a chargehand, to a foreman, to a manager, pretty quickly, if you've got something about you."
However things change, Tim is adamant that WJF will continue to adapt to the changing needs of recruitment. His engineering background plays a strong part in that, and the company has been recruiting long enough to know how to ask the right questions. "If you learn your art and your craft, which is bred into WJF through the same working ethos, you make sure customers are happy. We manage to do it time and time again. Our candidates stick."
That working ethos shines through in Tim, who would be personally "mortified" if a candidate did not meet WJF's standards – whether that is in the role of a road-sweeper, or a high-end engineer.
*All staff that WJF employs as contractors pay tax at source.